Top 10 Best Crossfit in Sydney Australia

If you're looking for the best Crossfit gyms in Sydney, Australia, look no further! This article will provide you with a comprehensive list of the top 10 Crossfit gyms in Sydney. Whether you're a beginner or a veteran Crossfitter, each of these gyms offer something unique that caters to your fitness needs. From experienced instructors to a variety of class times and options, these gyms are sure to give you an unforgettable experience.
---
#1 – CrossFit 168 Sydney
Introduction:
At 168, they deliver the highest quality of CrossFit, and strength & conditioning programming and coaching, not only to their members but to the wider community. This includes local schools, sports clubs, and other fitness professionals.
Their tailored sessions are customized for your organization and the varying levels of training experience. These sessions can be a one-off workshop, or a weekly, fortnightly, or monthly development program. They deliver based on your requirements and focus on areas of development in CrossFit, Olympic Weightlifting, and Gymnastics.
They currently run programs for high schools, Junior and Senior swim squads, and soccer clubs, as well as specialty workshops for other fitness coaches and trainers both in and out of the CrossFit community.
Type of Services:
Olympic Weightlifting
Gymnastics
Swim Squads
Soccer Clubs
Location:
259 Sussex St, Sydney NSW 2000, Australia
Contact: +61 414 696 574
Website: Website Link Here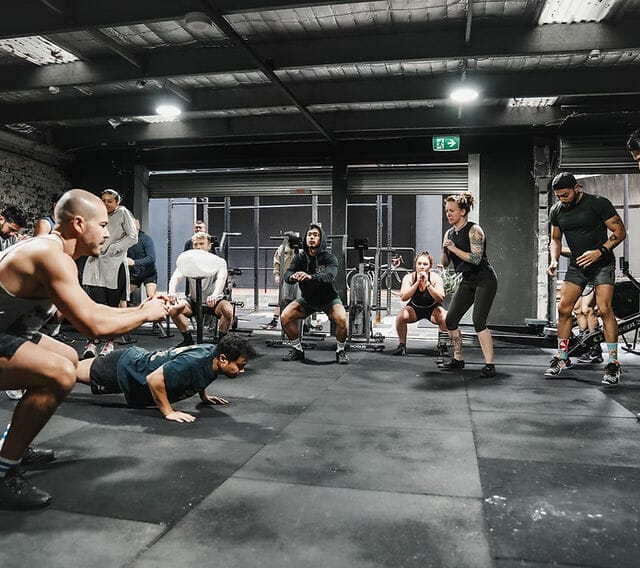 ---
#2 – Be Athletic City
Introduction:
Be Athletic Brookvale encourages ongoing membership for consistency in training and personal relationships, both with fellow members and coaches. New members are invited to get started with our 14-day trial! For those that wish to take their training to another level. With a combination of strength, lifting, gymnastics, conditioning, and new skills, this program will have you in peak physical shape, learning new tricks and doing things you thought impossible.
Type of Services:
Metabolic Conditioning
Functional Strength Training
Aerobic Endurance Program
Vitality Plan
Location:
Basement Level, 28 Margaret St, Sydney NSW 2000, Australia
Contact: +61 450 452 729
Website: Website Link Here
---
---
#3 – CrossFit Sydney
Introduction:
CrossFit Sydney is a purpose built Strength and Conditioning facility that has CrossFit methodology at its center for training individuals to obtain fitness goals.
Strength and Conditioning protocols suit any fitness goals from sport specific beginner to elite athletes, outdoor pursuits, daily life, and rehabilitation from injury.
Strength and Conditioning Protocols apply to all individuals with a focus on creating functional strength, strength endurance, and anaerobic and aerobic recovery.
Type of Services:
Olympic Weight Lifting
Hand Balance
Kettlebell Sport
Bar and Rings Straight and Bent Arm Strength
Mobility Flexibility Locomotion Development
Location:
32 McCauley St, Alexandria NSW 2015, Australia
Contact: [email protected]
Website: Website Link Here
---
---
#4 – CrossFit RJ
Introduction:
With more than 10 years of coaching, our house will welcome you, no matter your background or your fitness levels, to help you to achieve your fitness goals while you grow and become your best version. You'll experience that you're making a step ahead, developing new skills, and becoming stronger, while you're part of a big family. No matter what your fitness goals are, we will help you get there! CrossFit is a catalyst for health, growth, camaraderie, and safe exposure to new challenges. It's a place where you get to do things you never thought possible. And the emphasis on community means you get to experience it with friends.
Type of Services:
Crossfit
Weightlifting
The Hour of Power
Shaping Kids
Location:
50 Francis St, Glebe NSW 2037, Australia
Contact: 0430 838 919
Website: Website Link Here
---
#5 – CrossFit Bondi
Introduction:
A gym in the Eastern Suburbs of Sydney graced with the iconic Bondi Beach. A CrossFit Box by design built for Strength and Conditioning. Because the CrossFit Methodology is at the heart of their program. They believe in consistency of effort, taking ownership of their successes, and not riding on excuses. Training individuals to achieve their fitness goals and reaching to be fitter and healthier every day drives us.
Strength and Conditioning protocols suit any of your fitness goals. Ranging from strength training, sport-specific beginner to elite athlete, outdoor activities, daily life, and most importantly, return from injury.
Crossfit Bondi's, Fun, Varied and Challenging workouts are a combination of weightlifting, cardio, strength, and conditioning but are not limited. A Bondi gym with a soul and a team environment that really pushes you to be your best.
Type of Services:
CrossFit
Bondi Barbell Club
Beast
Thursday Throw Down
Location:
2/31 Newland St, Bondi Junction NSW 2022, Australia
Contact: +61 498 281 066
Website: Website Link Here
---
#6 – CrossFit Play
Introduction:
Put simply, their workouts are fun, and challenging and will make you feel, move and look better. You will make new friends and be encouraged to push in ways you couldn't on your own. Then leave the gym feeling inspired to take on the world. Play is for those who want variety and creativity in their day-to-day training, while also understanding the importance of consistency.
There is a false impression that you have to be fit to do CrossFit. The beauty of this sport is that you can modify each workout to suit your current ability and skill set. This results in improved performance – just be patient and trust the process!
Type of Services:
7-day On-ramp
3 CrossFit classes
Location:
55 Denison St, Camperdown NSW 2050, Australia
Contact: +61 481 977 614
Website: Website Link Here
---
_

Read Also:

Top 10 Best Freight Forwarders in Singapore

_
---
#7 – Crossfit 168 Alexandria
Introduction:
168 is the most supportive and exciting training experience. Every workout is varied and can be adapted to suit your level of fitness and abilities. Their coaches guide you through every exercise of the 1-hour session. They ensure you are being challenged whilst moving correctly and continuously improving.168 is the challenge you have been looking for.
Type of Services:
Olympic Weightlifting
Gymnastics
Swim Squad
Soccer Clubs
Location:
92 Euston Rd, Alexandria NSW 2015, Australia
Contact: +61 413 053 514
Website: Website Link Here
---
#8 – CrossFit Marrickville
Introduction:
CrossFit keeps you motivated and working hard. Working with a coach keeps you safe and injury-free. Each day, we'll build you a challenging workout that combines the best of all fitness methods, grounded in exercise science. You will have a network of people to connect with about your progress and goals. Get lifestyle advice from other class members, push each other, or hang out after training.
Type of Services:
CrossFit
Weightlifting
Personal Training
Nutrition
Location:
72/74 Shepherd St, Marrickville NSW 2204, Australia
Contact: +61 401 540 942
Website: Website Link Here
---
#9 – CrossFit Active
Introduction:
Active began in 2009. Over the years they have learned what a training facility should be. They have built a community of positive people who will challenge you, help you grow, and inspire you to maximize your potential!
Active was founded on the principles of fitness, community, accountability, and integrity. It is their mission to offer the best possible service aimed at helping people of all fitness levels improve their quality of life. Their community-based strength and conditioning fitness programs have been proven globally and deliver unparalleled results.
Type of Services:
CrossFit
Weightlifting
Clean and Jerk
Artarmon
Waverton
Location:
5/94A Bay Rd, Waverton NSW 2060, Australia
Contact: +61 434 610 470
Website: Website Link Here
---
#10 – Flat White CrossFit
Introduction:
When you join Flat White CrossFit, you become part of a community of like-minded people from all walks of life, where everyone supports and celebrate your progress. Get stronger, learn to lift with better technique, improve your endurance and learn some gymnastic skills while having the best time you ever had in a gym.
Their training program is designed for any fitness level and capabilities, and their coaches are there to support you reaching your goals. Their goal is to provide an environment of success, where your coaches will guide you every step of the way.
Type of Services:
Crossfit Classes
Olymphic Lifting
CrossFit Kids
Personal Training
Nutrition Coaching
Location:
6a Leeds St, Rhodes NSW 2138, Australia
Contact: +61 430 098 656
Website: Website Link Here
---
Have a Place to Recommend?
Your contribution is valuable to us! Are there any outstanding businesses that you believe should be added to our list? If so, please send your recommendations to us at [email protected]. Tropika Club will review your suggestions and update the list accordingly. Thank you for your help in making our list of businesses as comprehensive and accurate as possible.
---
Meanwhile, Check out Tropika Club's Ecosystem of Websites

Tropika Club Magazine – Tropika Club Magazine is a Singapore-based publication that features articles on a wide range of topics with a focus on local businesses and content for the region. The magazine emphasizes supporting local businesses through its #SupportLocal initiative, which includes coverage of everything from neighborhood hawker stalls to aesthetic clinics in town. In addition to highlighting local businesses, Tropika Club Magazine also covers a variety of local content, including beauty, lifestyle, places, eats, and what's on in Singapore and the Asia Pacific region.
Tropika Club Deals – Tropika Club Deals is a leading online deals and voucher shopping site in Singapore, offering amazing discounts on beauty, wellness, and fitness products and services. It's the perfect platform for customers who want to discover the best deals without having to commit to a specific appointment date and time. These deals are available at major beauty stores, facial salons, hair salons, and other brands in Singapore, with no minimum spend required. Choose from guaranteed discounted deals in the categories of hairstyling, hair removal, facial & aesthetics, body slimming, brows & lashes, nails & makeup, massage & spa or fitness & wellness. Tropika Club Deals is also ideal for customers who want to buy vouchers as gifts or to use for the future. So whether you're looking to save money on your next haircut or want to treat yourself to a relaxing massage, Tropika Club Deals has got you covered with the best voucher and coupon deals in Singapore!