Top 10 Best Eats at Geylang Bahru Food Centre
Geylang Bahru Market and Food Centre is a must-visit place for foodies in Singapore. It offers a variety of tempting food options, from local delicacies to international favourites. The market also has a wide range of groceries, making it the perfect place to pick up essentials for a quick meal or snack. Geylang Bahru Market and Food Centre is located at 69 Geylang Bahru, Singapore 330069, within a minutes by foot from the nearby MRT station. If you are nearby, check out these 10 recommended food stalls at the food centre.
---
#1 – Sheng Ji Soya Sauce Chicken Rice/Noodle
Introduction:
Here's a food stall you should go to when you eat at Geylang Bahru Food Centre. It's an ordinary-looking food stall ith a large red signboard you can not miss out on– Sheng Ji Soya Sauce Chicken Rice/Noodle. The shop was tended by a couple of senior females– among them chopping the chicken while the various other taking orders and also serving out the bowls. A lot of the customers in the line got noodles as well as according to the pricelist, it just costs $3 a dish. The noodles come saturated with a moreish, pleasant soy-based sauce, and also we totally urge you to toss a spoonful or more of their housemade chilli sauce right into the mix to provide the meal a kick.
Menu Items:
Soya Sauce Chicken Rice/ Noodles
Wantan Mee
Location: 69 Geylang Bahru #01-13 Geylang Bahru Market & Food Centre, Singapore 330069
Website: https://the.fat.guide/singapore/eat/sheng-ji-soya-sauce-chicken-rice-noodle/
---
#2 – Hui Wei Chilli Ban Mian
Introduction: Hui Wei Chilli Ban Mian, like its name suggests, is known for their Chilli Ban Mian. Doused in their spicy and fragrant chilli sauce, their evenly coated noodles are springy and flavourful. This popular dish can be enjoyed as a light meal or as a side dish to heavier fare. Known for its extensive selection of noodle dishes, as well as white rice, the restaurant is perfect for those who want to cater to a larger crowd. Offering a variety of options meant to please any palate, the restaurant has something for everyone. Whether you're looking for a hearty bowl of noodles or something more delicate and savory, there's sure to be something on the menu that fits your needs. Hui Wei Chilli Ban Mian is indeed one of those stalls that has its own loyal fanbase which spots a regular queue during meal-hours. The stall's auntie and uncle are among the most friendly and polite. The ban mian (chilli noodle dish) here is definitely worth trying, as it is both savory and spicy.
Menu Items:
Signature Chilli Ban Mian
Dry Mee Hoon Kueh
Sliced Abalone Ban Mian
Location: Blk69 ,Geylang Babru # 01-58 S330069
---
---
#3 – Cheok Kee Boneless Braised Duck
Introduction: Mr Ong is the proprietor as well as cook of Cheok Kee. He has been selling duck rice way back from 1974 at two different hawker centres before settling at Geylang Bahru in 1990, with the refined, secret dish for his braised duck rice. He takes care of Cheok Kee with his spouse, and also their experience shows in the means they run this 29-year-old store. They are always prepared for the lunch group 15 mins sharp prior to the store's opening at twelve noon. The two of them move around the little stall effortlessly– she welcomes customers as well as plops domes of rice on plates while he chops the duck and ladles sauce over it.

The basic Duck Rice is paired with a fiery chilli that packs a great deal of flavour as well as the rice is spammed with their delicious lu zhi (braised sauce). Enjoyed by many, the tender and juicy duck is kindly portioned in addition to a cozy bed of flavourful rice.
Menu Items:
Braised Duck Rice ( Price $3)
Braised Duck Porridge (Price $3)
Location:Blk 69 Geylang Bahru, Geylang Bahru Market & Food Centre #01-35 Singapore 330069
---
Read Also:
---
#4 – Hua Ji Carrot Cake
Introduction: At first look, the Black Carrot Cake had not been as black, boasting just a brown colour. In spite of that, the meal was pretty tasty, with the slight sweetness of the dark soy sauce and the smoky flavour from the charred egg bits. However, it was the crunchy egg that coated every piece of soft carrot cake that won us over. The contrast in between both made every bite enjoyable.

Hua Ji sells both Black and White variations of their carrot cake, yet if you can't choose which to get, you can get the Mixed Carrot Cake which will certainly provide you the best of both types and colour.
Menu Items:
Location: 69 Geylang Bahru #01-52 Geylang Bahru Market & Food Centre, Singapore 330069
---
#5 – Pu Tien Ya Zhu Mei Xiang Xiao Chi
Introduction: If you are looking for comfort food then Pu Tien Ya Zhu Mei Xiang Xiao Chi's Pu Tien Lor Mee is a dish of thick soup, normally sweetened by the seafood and also pork made use of, and paired with a lot of mee. Also after taking in the soup, the noodles still keep a bouncy structure. For all you adventurous eaters, choose their sharing dishes such as Lychee Pork. You can help on your own with different chilli sauces and also green chilli which they prepare themselves.
Menu Items:
Lor Mee
Fried Bee Hoon
Lychee Pork
Location: 69 GEYLANG BAHRU #01-2779 SINGAPORE (330069)
Website: https://www.huntingmama.com/dining/pu-tien-ya-zhu-mei-xiang-xiao-chi/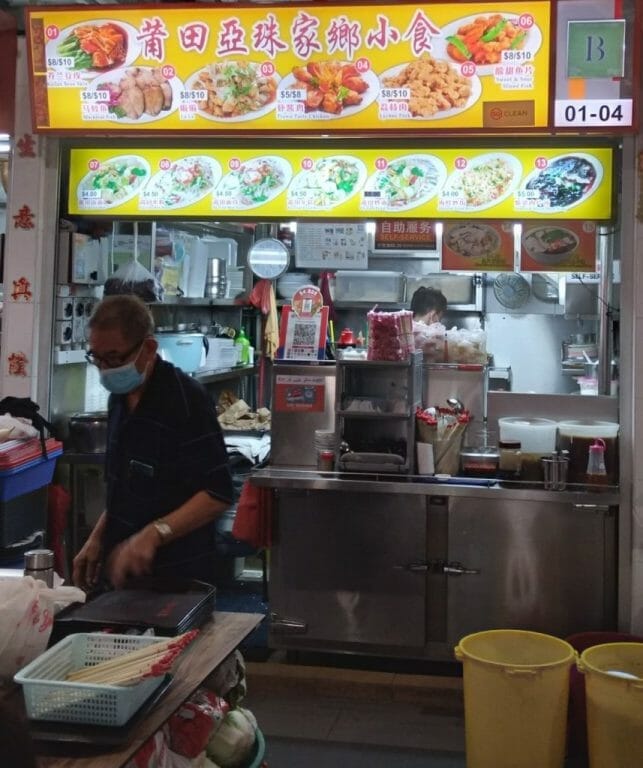 ---
---
#6 – Red Stove Fried Prawn Mee
Introduction: Red Stove Fried Prawn Mee is the store's most popular dish, and for good reason. The husband-and-wife duo, Mr and Mrs Chua, have been serving Hokkien Mee for more than 40 years now and the recipe has not changed a bit. The noodles are cooked to perfection, the prawns are succulent and not overcooked, and the gravy is delicious. It's easy to see why their customers keep coming back for more. Mr Chua takes a few hours each day to prepare his delicious prawn soup broth where he also adds fried chicken, ikan bills and prawn head into the mix to make it taste fantastic. His noodles are cooked with this broth and they are simply delicious. Mr Chua is a master of creating delicious flavours that will tantalize your taste buds. If you're looking for some tasty noodles then you must try Mr Chua's!
Menu Items:
Location: 69 Geylang Bahru #01-27 Geylang Bahru Market & Food Centre, Singapore 330069.
---
#7 – Red Bake
Introduction: Are you seeking a tasty snack to complete your morning meal/ lunch/ tea break at Geylang Bahru Market & Food Centre? You might attempt to check out Red Bake. Red Bake is selling quite a whole lot version of fresh baked buns, breads and also cakes. All the buns, breads and also cakes that they sell look scrumptious. All confectioneries are made in-store including prominent products, such as Hokkaido cakes as well as Castella in addition to the regular types of bread and also cakes. If you ever long for baked items or desire even more treat choices, you can consider dropping in at Red Bake.
Menu Items:
Almond Cookies (Vegetarian)
Hokkaido Cake
Castella Cake
Curry Puffs
Location: 69 Geylang Bahru Market #01-56 Singapore, Singapore 330069
Contact: +65 9234 2687
Website:https://www.facebook.com/pages/category/Bakery/Red-Bake-272425849925516/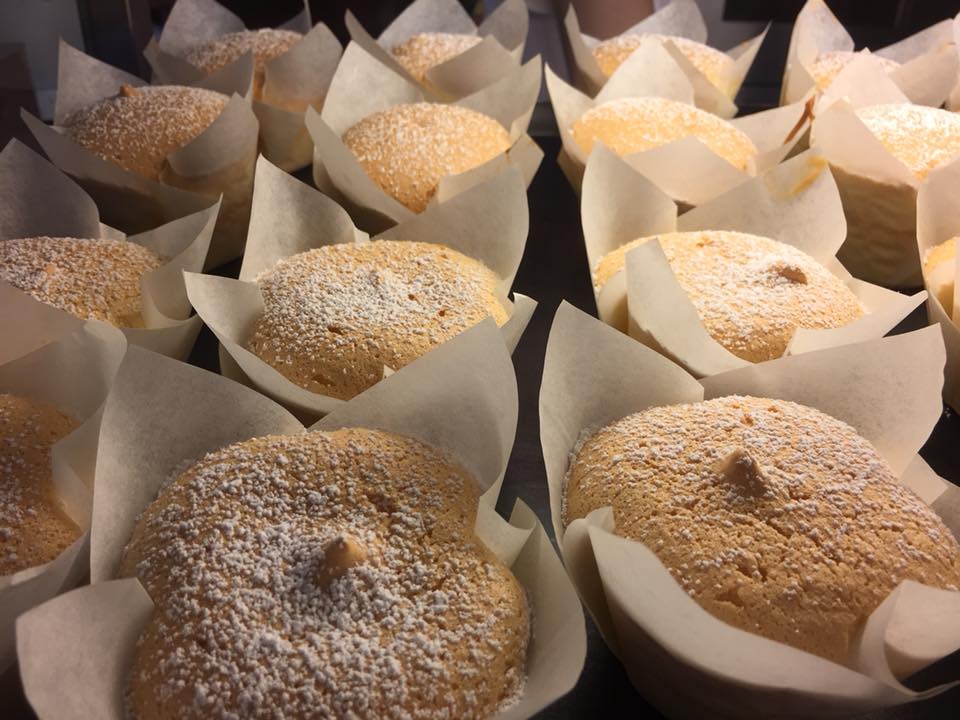 ---
#8 -Victory hainanese curry rice
Introduction: Victory Hainanese Curry Rice is a restaurant specializing in Hainanese curry rice. There are a selection of dishes to choose from, including pork chop and chicken chop. The pork chop is not the thin crispy type. Its fried crust is mostly soft. Tastes decent though. Similarly for the ngo hiang, it is done to that point that it is not crispy at all. It has moist meat and tastes decent as well. Also, the typical Egg omelette is just normal. The curry however is quite nice. It isn't spicy and has nice coconut milk flavourings. This plate of curry rice maybe quite ordinary but it is still quite decent.
Menu Items:
Location: 69 Geylang Bahru, #01-40, SG 330069.
Website:https://the.fat.guide/singapore/eat/victory-hainanese-curry-rice/
---
#9 – Mei Ji Fishball Noodle
Introduction: Mei Ji Fishball Noodle gives that high quality fishball noodle alternative in this market. The portions served right here make their noodles terrific worth for cash. The fishballs were light and also bouncy, matching the flawlessly cooked noodles. Although the fish dumplings were more sharp than others, you do not hear us complaining. Despite the sauce being absolutely nothing uncommon, the other elements made it a strong dish of noodles worth queueing for.
Menu Items:
Fish Ball Noodles
Mee pok with Fuzhou Fishballs
Location: #02-03 Bukit Merah Central Food Centre 163 Bukit Merah Central, Singapore 150163
Website: https://the.fat.guide/singapore/eat/mei-ji-fish-ball-noodles/
---
#10 – Wen Wen Pork Rib Big Prawn Mee
Introduction: This simple hawker stall in Geylang Bahru hawker centre looks like your common prawn mee stall throughout the day, but come nightfall, all the tables around the delay will detect a steamboat pot loaded with some of the freshest and best quality seafood you can locate in Singapore! The person running the delay is 65-year-old Richard Sng that used to run a printing shop before he made a job button to being a hawker. He had absolutely no expertise of food, so he occupied a job at Noo Cheng Shellfish Mee and started finding out the ropes. He quickly ventured out on his very own with Wen Big Prawn Noodles yet took him a long time prior to business grabbed. In 2013, he started the seafood soup idea. The trick of his success is in having the ability to obtain a few of the most effective fish and shellfish offered.

The all-natural sweet taste of the definitely prawns pulled its weight below as the highlight of the broth. The broth was light yet robust in flavour and aroma. I was expecting tons of prawns considering that it's from a shellfish mee store yet this was among those chapalang kind of boat. Besides shellfishes, there are various other treasures like la la, pig's intestines, pork ribs, pig's tail and a whole crab. If you're not a fan of ingredients like pig's intestines, let them know upon ordering so they can swap those for even more of your favourites.
Menu Items:
Chilled Crab
Crab Steamboat
Crab Bee Hoon Soup
Location: Blk 69 Geylang Bahru Market #01-22, Singapore, Singapore
Website: https://m.facebook.com/wenwenbigprawnmee/
---

Have a Place to Recommend?
We need your help! Do you know any other noteworthy beauty clinics or salons that deserves to be added to this list? If so, do write to us via our email at [email protected]. Tropika Club will do a review of your recommendations and update the list accordingly.
---
Meanwhile, check out Tropika Club's Ecosystem of Websites

Tropika Club Magazine – Tropika Club Magazine crafts articles on all things Singapore, but with a greater emphasis on local businesses based on our #SupportLocalSG initiative. We check out and feature local businesses of all categories, ranging from your neighbourhood hawker stalls to the aesthetic clinics in town. We also cover local content ranging from beauty, lifestyle, places, eats and what's on in SIngapore. Our Top 10 rankings include local food and service establishments based in different regions in Singapore.
Tropika Club Deals – Search for the best voucher and coupon deals. Tropika Club Deals is ideal for customers who want to discover the best deals without having to commit to a specific appointment date and time. Choose from guaranteed discounted deals in the categories of hairstyling, hair removal, facial & aesthetics, body slimming, brows & lashes, nails & makeup, massage & spa or fitness & wellness. Customers can also buy vouchers as gifts or to use for the future.