Top 10 Best Japanese Restaurants in Sydney, Australia
Are you looking for the best Japanese restaurants in Sydney, Australia? Look no further! This list of the top 10 best Japanese restaurants in Sydney will help you find the perfect spot for your next meal. From sushi to ramen, these restaurants have it all. So whether you're looking for a casual meal or a fine dining experience, you'll be sure to find what you're looking for on this list.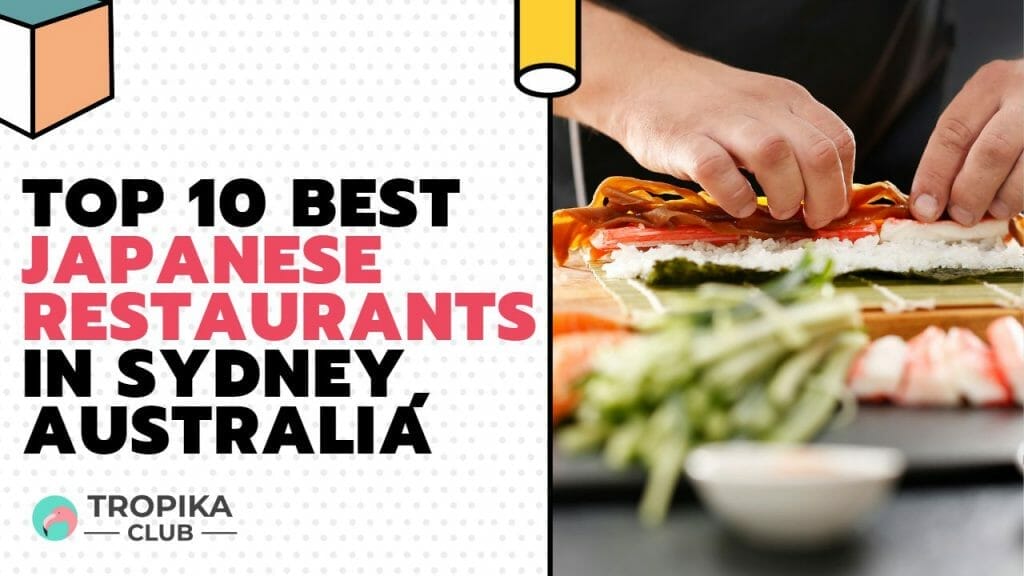 ---
#1 – Sokyo
Introduction:
Sokyo continues to pay homage to Japanese heritage whilst infusing it with a modern touch using the finest Australian produce.
It's where tradition and innovation collide.
Their refreshed menu and interiors take the Sokyo experience to new heights, complete with a sunken dining room and bold, rule-breaking Japanese calligraphy.
Sokyo's philosophy of Ritual meets Art is evident in every dish and every little detail, everywhere you look.
They can't wait to share it with you.
Menu Items:
Dinner from $8-$130
Lunch from $7-$90
Breakfast from $6-$48
Kid's Breakfast from $4-$20
Vegetarian from $9-$20
Dessert from $7-$25
Kids from $3-$38
Sokyo Bar from $6-$22,888
Location:
Level G, The Darling, The Star, 80 Pyrmont Street
Pyrmont NSW 2009
Contact: 1800 700 700
Website: Website Link Here
---
#2 – Tetsuya's
Introduction:
Tetsuya's Restaurant is located in the centre of Sydney at 529 Kent Street. Chef Tetsuya Wakuda refurbished this heritage-listed site, with influences of traditional Japanese-inspired style, to create a serene dining enclave in the city.
Tetsuya's serves a degustation menu, based on the Japanese philosophy of using natural seasonal flavours, enhanced by classic French technique. Within the restaurant, chef Tetsuya Wakuda has designed his own on-site "test kitchen". This personalised kitchen enables him to create the constantly evolving and inspiring dishes on which he has built his esteemed international reputation.
Tetsuya's offers one of Sydney's most comprehensive wine lists and our sommeliers will, upon request, match the dishes with wine available by the glass. Tetsuya's is fully licensed, and does not permit BYO.
Menu Items:
5 Course from $110-$195
8 Course from $170-$295
Location:
529 Kent Street, Sydney, NSW, 2000
Contact: 02 9267 2900
Website: Website Link Here
---
---
#3 – Cho Cho San
Introduction: Cho Cho San serves a generous taste and satisfying touch of Tokyo in Sydney's Potts Point. Don't be fooled by the minimalist interior, which is a modern backdrop for inventive Izakaya-inspired dishes that deliver maximum enjoyment.
Menu Items:
Izakaya Snacks from $6-$130
Set Menu from $65-$95
Drinks from $9-$44
Location: Location Here
Contact: 02 9331 6601
Website: Website Link Here
---
_

Read Also:

Top 10 Sake Bars to "Kampai" in Singapore

_ _ 
---
#4 – Sake Restaurant & Bar
Introduction:
Enjoy an elevated, non-traditional take on Japanese food. Splurge big on super-fresh, sustainable seafood, including Bluefin Tuna, Hiramasa Kingfish and Glacier 51 Toothfish, or graze on luxe little bites such as smoky robata meats, hand-made sushi and sashimi, and signature maki rolls.
Japanese flavours pervade the drinks list, from house-infused cocktails to whisky, gin, shochu, umeshu, craft beers and over 30 bins of sake, all sourced from the Land of the Rising Sun.
Open kitchens and sushi counters take centre stage, as a touch of theatre unravels with every course. Sit counter-side and watch sushi masters craft delicate sashimi, artful sushi and intricate starters and main courses. Catch the sensational aromas of centuries-old, Japanese robata grilling. Hear the expression irasshaimase (meaning welcome) chanted by team members as guests arrive. Enjoy the dramatic arrival of the famous Dragon Egg dessert, in a flourish of dry-ice smoke, then watch as it melts under a sensational pour of hot caramel sauce.
Stylish bars, sushi counter dining, intimate tables and elegant private dining rooms combine to create breathtaking spaces for occasions of every kind: from business lunches to product launches, date nights and group-friendly social soirees.
Take in the buzz of the busy bar and soak up the ambient pulse of a Saké's signature soundtrack. Absorb the atmosphere and enjoy an experience that is intoxicatingly and exclusively Saké.
Menu Items:
A La Carte from $7-$109
New Classics from $64-$109
Beverage from $8-$208
Location:
12 Argyle St, The Rocks NSW 2000
Contact: 02 9259 5656
Website: Website Link Here
---
#5 – Masuya Japanese Seafood Restaurant
Introduction:
Masuya Restaurant is located in a building, which has been designated as a cultural asset, on O'Connell Street in Sydney. This is the same place as the office of Kanematsu Gosho, the pioneer of Australia – Japan trades, was situated in 1980. Masuya Restaurant opened in 1993, then full renovation was implemented in 2006.
The approx. five meters long sushi counter, designed by architect Robert Toland in 'kabuki red' with an idea of the stage of kabuki, has since fascinated not only local Australian customers but also various people with different backgrounds.
A showcase displays more than 20 different sushi ingredients everyday including locally produced fish, which is purchased on the day. Other carefully selected ingredients are wagyu beef, free-range pork, and seasonal vegetables. Specially designed tableware of Malcolm Greenwood and tables made of Tasmanian Oak is also creating a great atmosphere. Along with a range of carefully selected high-quality wines, enjoy your time in this amazing space of hospitality.
Menu Items:
Lunch Menu from $4-$98
Dinner Menu from $4-$138
Takeaway Menu from $3.80-$138
Location:
Basement, 12-14 O'Connell St.
Sydney NSW 2000 AUSTRALIA
Contact: 02 9235 2717
Website: Website Link Here
---
---
#6 – sushi e
Introduction: Sushi-making is not only an art form, it is instant theatre. In a display of age-old techniques, our chefs prepare each dish in front of you with precision and flair. Their experienced sushi chefs hand-select everything, so only the very best ends up on your plate. Their attention-to-detail extends to the curated sake list. An intimate sushi experience, melding modern and ancient techniques, where every detail is considered, sushi e (which sits alongside hemmesphere) is the place for voyeuristic chef-watching.
Menu Items:
Lunch & Dinner Menu from $5-$105
Omakase from $225 per pax
Tasting Menu from $115 (min 4 pax)
Cocktail from $29-$37.5
Wine from $14-$146
Sake from $19-$1715
Beer from $9.5-$18.5
Low & Non Alcoholic Drinks from $6.7-$18
Location:
252 George Street, Sydney, New South Wales, Australia
Contact: 02 9114 7314
Website: Website Link Here
---
#7 – Azuma Japanese Restaurant
Introduction:
Azuma is home to the art of quintessential Japanese dining, a harmony of style and substance, tradition and authenticity.
Azuma's authentic Japanese cuisine, prepared by chef /owner Kimitaka Azuma and his team, offer diners an enticing, adept menu created with the freshest seasonal ingredients. The atmosphere is convivial and alluring owing largely to the friendly and professional team who pride themselves on excellence of service.
Kimitaka Azuma has a huge appreciation for local and Japanese art, both traditional and contemporary. This is not only reflected in the décor of the restaurant, but in the whole Azuma dining experience.
Azuma offers a menu of premium Sake and Whiskey, to be enjoyed by both novice and serious sake devotee alike, as well as a beautiful balance of local and international wines catering to every pallet.
Menu Items:
Azuma Seasonal Tasting Menu from $95-$180
Wagyu Hotpot from $85-$180
Sashimi from $24-$80
Sushi from $70
Sushi A La Carte from $7-$19
Appetizers from $8-45
Entree from $25-$60
Main from $5-$80
Salad from $22
Kaiseki Menu from $250 (min. 2 pax)
Dessert from $6-$24
Location:
Level 1, Chifley
2 Chifley Square
Sydney NSW 2000
Contact: 02 9222 9960
Website: Website Link Here
---
#8 – Kid Kyoto
Introduction:
Meet Kid Kyoto, Sydney's rebellious Japanese izakaya. Experience modern dining with a killer beverage selection, hidden in plain sight on Bridge Lane, Sydney CBD.
But don't expect the traditional! Rhys Watson-Lamb puts his own twist on Japanese food using some incredible Australian native ingredients, great local produce and pairing them with Japanese flavours. He is inspired by the small laneway bars of Tokyo and the incredible Kaiseki restaurants of Kyoto, bringing the best to the Sydney dining scene.
Restaurant Manager, Tom Sinclair, and his team have also selected some killer Japanese whiskies and sake to enjoy alongside the menu. They've also brought together ingredients like yuzu, sake and natural local botanicals to create an incredibly unique signature cocktail list.
Step inside Kid Kyoto and let the team change the way you think about Japanese dining.
Menu Items:
Trust Us from $65-$85 (min. 2 pax)
Snacks & Small Plates from $6-$18
Raw & Cold Bar from $12-$26
Mains from $24-$48
Sides from $6-$16
Desssert from $16-$20
Drinks Menu from $6-$245
Location:
George Street Entry Via, 350 Angel Pl, Sydney NSW 2000, Australia
Contact: 02 92230158
Website: Website Link Here
---
#9 – Hisshou Teppanyaki
Introduction: Teppanyaki, Teppanyaki, all they do is Teppanyaki, decades of experience in Teppanyaki makes Hisshou truly Teppanyaki & truly committed to only delivering the Best Teppanyaki to our guests. Convivial joint executing truly teppanyaki with a chef at every table to cook & entertain.
Whether you are on your own or with a group of friends, for a birthday party or a hen's night, whether it be an anniversary or a very special occasion, either private or business function, your precious time & occasions are in good hands at Hisshou Teppanyaki – Sydney. A unique joyful dining experience that you and your companions will never forget!
Menu Items:
Banquet Set from $42-$220
Side Dish from $8-$29
Main from $5-$67
Vegetarian from $5-$42
Vegetarian Banquet Set from $42-$67
Drinks from $6-$141
Dessert from $11-$23
Location:
752 George Street, Surry Hills, NSW, Australia, 2000
Contact: 02 9211 1234
Website: Website Link Here
---
#10 – Sushi Rio
Introduction: Sushi train restaurant.
Menu Items:
Sushi all $3.5
Side Dishes all $3.5
Donburi all $7.8
A La Carte from $1.5-$
Location:
Sussex Street, Shop7
Sydney NSW, Australia
Contact: 02 8288 9014
Website: Website Link Here
---
Have a Place to Recommend?
Your contribution is valuable to us! Are there any outstanding businesses that you believe should be added to our list? If so, please send your recommendations to us at [email protected]. Tropika Club will review your suggestions and update the list accordingly. Thank you for your help in making our list of businesses as comprehensive and accurate as possible.
---
Meanwhile, Check out Tropika Club's Ecosystem of Websites

Tropika Club Magazine – Tropika Club Magazine is a Singapore-based publication that features articles on a wide range of topics with a focus on local businesses and content for the region. The magazine emphasizes supporting local businesses through its #SupportLocal initiative, which includes coverage of everything from neighborhood hawker stalls to aesthetic clinics in town. In addition to highlighting local businesses, Tropika Club Magazine also covers a variety of local content, including beauty, lifestyle, places, eats, and what's on in Singapore and the Asia Pacific region.
Tropika Club Deals – Tropika Club Deals is a leading online deals and voucher shopping site in Singapore, offering amazing discounts on beauty, wellness, and fitness products and services. It's the perfect platform for customers who want to discover the best deals without having to commit to a specific appointment date and time. These deals are available at major beauty stores, facial salons, hair salons, and other brands in Singapore, with no minimum spend required. Choose from guaranteed discounted deals in the categories of hairstyling, hair removal, facial & aesthetics, body slimming, brows & lashes, nails & makeup, massage & spa or fitness & wellness. Tropika Club Deals is also ideal for customers who want to buy vouchers as gifts or to use for the future. So whether you're looking to save money on your next haircut or want to treat yourself to a relaxing massage, Tropika Club Deals has got you covered with the best voucher and coupon deals in Singapore!