Top 10 Best Landscaping Services in Melbourne Australia
Welcome to Melbourne, Australia! Home to some of the most beautiful landscapes in the world. If you're looking for the best landscaping services in the area, look no further. In this article, we will be reviewing the top 10 best landscaping services in Melbourne, Australia. With a combination of experience, price and customer service, these services stand out from the rest. They have collected extensive research and reviews to ensure that each service is truly worth your time and money.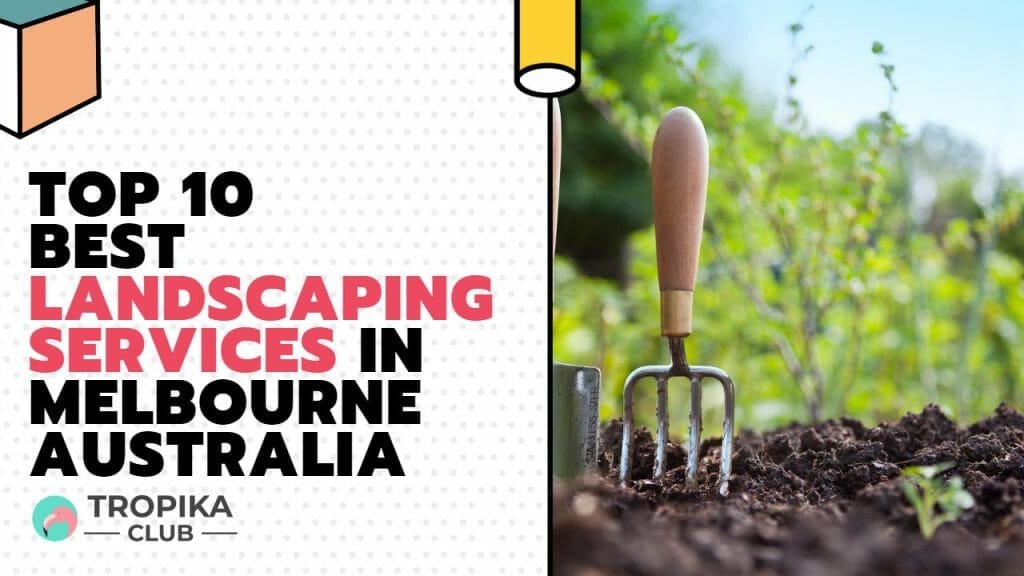 ---
#1 – Van Leeuwen Green Horticultural Services
Introduction:
Since 1995 Van Leeuwen Green have established hundreds of beautiful, long-lived gardens using their deep knowledge and experience of plants, horticulture and landscaping. They provide detailed itemised quotations, quality workmanship, attention to detail and a broad range of services including garden design and garden maintenance.
A locally based landscaper in St Kilda, contact them today to discuss your garden or landscaping needs.
Type of Services:
Landscape Construction
Garden maintenance
Plants and Planting
Location:
1 Addison Street, Elwood 3184
Contact: 03 9888 9988
Website: Website Link Here
---
#2 – Intrinsic Landscapes
Introduction:
Intrinsic Landscapes is a family owned landscape design and construction company based in Melbourne. Their aim is to create stunning outdoor spaces that blur the line between indoor and outdoor living. Their landscapes inspire people to get outdoors all year round, no matter the season or weather.
Their concept to-completion method is a completely collaborative process with their clients aimed at building and maintaining an excellent working relationship through the consultation, design and construction stages. It is always their objective to deliver a landscape that reflects and enhances their clients' lifestyles.
Everything is based on their company values and is backed by a dedicated and diligent team that share a love of landscaping and bringing their designs to life. They insist on a high standard of finish and are meticulous in their construction method. You can be sure everything will look fantastic and is built to last.
Type of Services:
consultation
design
construction
Location:
intrinsic landscapes melbourne australia
Contact: 03 7038 0500
Website: Website Link Here
---
---
#3 – Normark Landscapes Garden Design
Introduction:
Established in 1977, they are a second generation family business specialising in landscape design and construction across Melbourne.
The Normark philosophy is to provide a seamless client experience, overseeing the complete garden design process – from landscape design and architecture through to landscape construction and garden maintenance.
From inner-city Melbourne courtyards to large commercial open spaces, Normark will deliver.
Type of Services:
Design
Construction
Maintenance
Location:
15 Lambeck Drive
Tullamarine 3043
Contact: (03) 9334 2212
Website: Website Link Here
---
---
#4 – Supreme Green Landscaping
Introduction:
At Supreme Green Landscaping we have an experienced and dedicated team focussed solely on completing all the missing parts externally to make your new home complete.
Necessities like driveway, front fence, crossover, paths, permits, gates, retaining walls are all tied together and need to be included in one contract.
They handle all paving, decking, pergolas, security intercom, parcel letterbox, BBQ, low maintenance gardens and lawns, automatic irrigation and landscape lighting with apps, the list goes on…
Type of Services:
Excavation
Retaining Walls
Lighting & Features
Gardens & Lawns
Location:
1A Burwood Hwy, Wantirna, Vic 3125
Contact: 1300 322 888
Website: Website Link Here
---
#5 – Lawn Masters Landscaping
Introduction:
The LAWN MASTERS LANDSCAPING SERVICES team conducts business in a hassle-free and organised manner, making your project as cost-effective as possible.
From the initial consultation and design, through to the construction and maintenance tasks, they work according to your specifications to ensure satisfaction. You won't be disappointed for choosing their landscapers.
Type of Services:
Landscaping services
concreting driveway services
deckling & pergola builder
Location:
Kingsford Dr, Point Cook VIC 3030, Australia
Contact: 1300 851 954
Website: Website Link Here
---
#6 – Caroline Springs Landscaping
Introduction:
Caroline Springs Landscaping Pty. Ltd. specialise in affordable landscaping solutions to suit all budgets.
Whether it be a new home crying out for a garden, or an established home requiring a face lift to improve street appeal – Their specialised team can provide a range of modern, affordable, low maintenance options to match.
Servicing the Western and Northern suburbs of Melbourne, they satisfy all aspects of cosmetic landscaping including synthetic turf installation, natural turf installation, general planting, nature strip toppings and of course, new garden designs.
Type of Services:
Landscaping Packages
Landscape Design
Installation
Location:
11 Katherine Dr, Ravenhall VIC 3023
Contact: 03 8390 0068
Website: Website Link Here
---
_

Read Also:

Top 10 Best Freight Forwarders in Singapore

_
---
#7 – Easy Landscape Solutions
Introduction:
Easy Landscape Solutions is a professional landscape company in Melbourne. They work closely with their clients to ensure every stage of garden design & construction is met to a professional standard. You can count on their reliable team to have the job done on time and within the budget. They do all their own: • Brickwork and blockwork • Retaining • Irrigation systems • Paving • Artificial and roll on lawn • Plant selection and placement • Feature trees • Edible gardens • Pre-sale garden improvements. The only trades they sub-contract are decking, and concrete (including exposed aggregate). They only use the best contractors. All work is Guaranteed!
Type of Services:
Brickwork and blockwork
Retaining
Plant selection and placement
Location:
Easy Landscape Solutions melbourne australia
Contact: 0497 587 508
Website: Website Link Here
---
#8 – Blossom Landscaping & Concreting
Introduction:
If you're looking to build Driveways, Landscaping or fence for your home contact BLOSSOM LANDSCAPING. They serve at Western Melbourne, Wyndham Vale, Melton, Geelong and Lara.
Taking into account your site, specifications and budget, their team of professionals design and create durable and low maintenance landscapes.
Their passion, skill and experience allow them to finish all projects to the highest standards, using quality materials. Call them today.
Type of Services:
Landscaping
Artificial turf or Real Turf installation
Driveways and Concreting
Fencing
Decking and Retaining Walls
Location:
Point Cook VIC 3030
Contact: 0490 536 583
Website: Website Link Here
---
#9 – KD Landscapes
Introduction:
KD Landscapes is your one stop shop for landscapers in Melbourne's eastern suburbs. They offer the full range of landscaping services for all of your residential landscaping needs.
Founded by Kris Dillon in 2011, KD Landscapes area family owned and operated business from their offices in Narre Warren North. Kris began landscaping at 18 and was qualified at 22 and has extensive experience across the eastern seaboard in both domestic and commercial settings. His love of outdoors and passion for creating landscaping constructions that stand the test of time led him to stablish the business in the eastern suburbs in 2011 and has since grown it to a full-service landscaping company with multiple crews across Melbourne.
Landscaping is their passion and our qualified team of landscapers share our love of everything outdoors. They have been servicing the eastern suburbs and south east suburbs for over20 years and have a combined knowledge of over 50 years of landscaping experience and knowledge. Their landscapers come equipped with the knowledge, passion and understanding of the Melbourne climate and quality landscape design, ensuring your landscaping is executed to the highest level.
Type of Services:
Landscape design & construction
Paving
Decking
Feature walls
Location:
Melbourne Eastern Suburbs
Contact: 0434 238 966
Website: Website Link Here
---
#10 – Brisk Landscaping
Introduction:
They are a Melbourne based company, specialists in Landscape architecture. Paving, decking, pergolas and Beautiful Entertainment Areas is just the beginning.
They cover all the Eastern, Western and Northern suburbs of Melbourne.They service a wide array of clients from Commercial, Display Homes to Residential. Brisk Landscaping started out as a small business in the West and grew rapidly. They offer honest advice, great rates and excellent service.
Type of Services:
Water Features
Mosaic Tiling
Irrigation Systems
Gardens & Ground Maintenance
Location:
Brisk Landscaping Melbourne Australia
Contact: 1300 027 475
---
Have a Place to Recommend?
We need your help! Do you know any other noteworthy beauty clinics or salons that deserves to be added to this list? If so, do write to us via our email at [email protected]. Tropika Club will do a review of your recommendations and update the list accordingly.
---
Meanwhile, check out Tropika Club's Ecosystem of Websites

Tropika Club Magazine – Tropika Club Magazine crafts articles on all things Singapore, but with a greater emphasis on local businesses based on our #SupportLocalSG initiative. We check out and feature local businesses of all categories, ranging from your neighbourhood hawker stalls to the aesthetic clinics in town. We also cover local content ranging from beauty, lifestyle, places, eats and what's on in SIngapore. Our Top 10 rankings include local food and service establishments based in different regions in Singapore.
Tropika Club Deals – Search for the best voucher and coupon deals. Tropika Club Deals is ideal for customers who want to discover the best deals without having to commit to a specific appointment date and time. Choose from guaranteed discounted deals in the categories of hairstyling, hair removal, facial & aesthetics, body slimming, brows & lashes, nails & makeup, massage & spa or fitness & wellness. Customers can also buy vouchers as gifts or to use for the future.