Top 10 Best Screen Printing Companies in Singapore
Screen printing is a printing technique that uses a mesh to transfer ink onto a substrate, usually fabric, by pressing the screen against the material to be printed while the ink is wet. Screen printing is also a method of printmaking. Screen printing companies are essential for businesses who want to create custom apparel and promotional products. In Singapore, there are many screen printing companies to choose from. So, how do you know which one is the best for your needs? Check out our top 10 recommendations now.
---
#1 – MonsterPrints T-Shirt & Gifts Printing
Introduction: Here at Monster Prints, they provide a whole host of different services to suit your every printing need! From a customized print of your own design to providing you the best designs with their inhouse designers, to even hosting an interactive workshop for your event, T-shirt printing in Singapore has never looked better! Check out some of their MONSTER SIZED services that are sure to make you scream in delight!
About
T-shirt design, T-shirt supplier, Branding assistance, Logo design assistance, Image editing assistance, T-shirt wholesale, Fun T-shirt printing workshop
Location: 25 Bukit Batok Crescent #03-04, The Elitist, Singapore 658066
Opening Hours: Mon – Fri: 10am – 8pm
Contact: 8188 8172 / 8288 9442
Website: Website Link Here
---
#2 – Asia Apparel Pte Ltd
Introduction:
Asia Apparel built for the convenience of their customers. Asia Apparel serves for a wide variety of apparel from corporate uniforms, t-shirts to casual wear, and hope to provide a one-stop service to all your needs locally or overseas with own sewing, printing, embroidery, and manufacturing capabilities & partners in Singapore, Malaysia, Indonesia, Thailand, Vietnam, and China.
Asia Apparel carries & distributes all kinds of t-shirt supplies ranging from Gildan, Printwears, Orensport, Kings, EXXT, and more suitable for your t-shirt print requirements. Asia Apparel also provides training and consultant services to t-shirt printing companies.
About
True to their mission, Asia Apparel believes in benefiting our society and the community to make a difference for the future. This is done through the sponsorships of t-shirts for non-profit organizations. Organizations that have benefited from their sponsorship program include the Breast Cancer Foundation and Eden School.
Location: Singapore
Opening Hours:
Business Hours
Mon-Fri 9.30am-6.30pm
Closed Sat/Sun/Public Holiday
Price of Admission:  No provider
Location & Address:
80 Playfair Road
Kapo Factory Building #01-01
Singapore 367998
Contact: Tel: (65) 6747 0105
Fax: (65) 6747 0574
[email protected]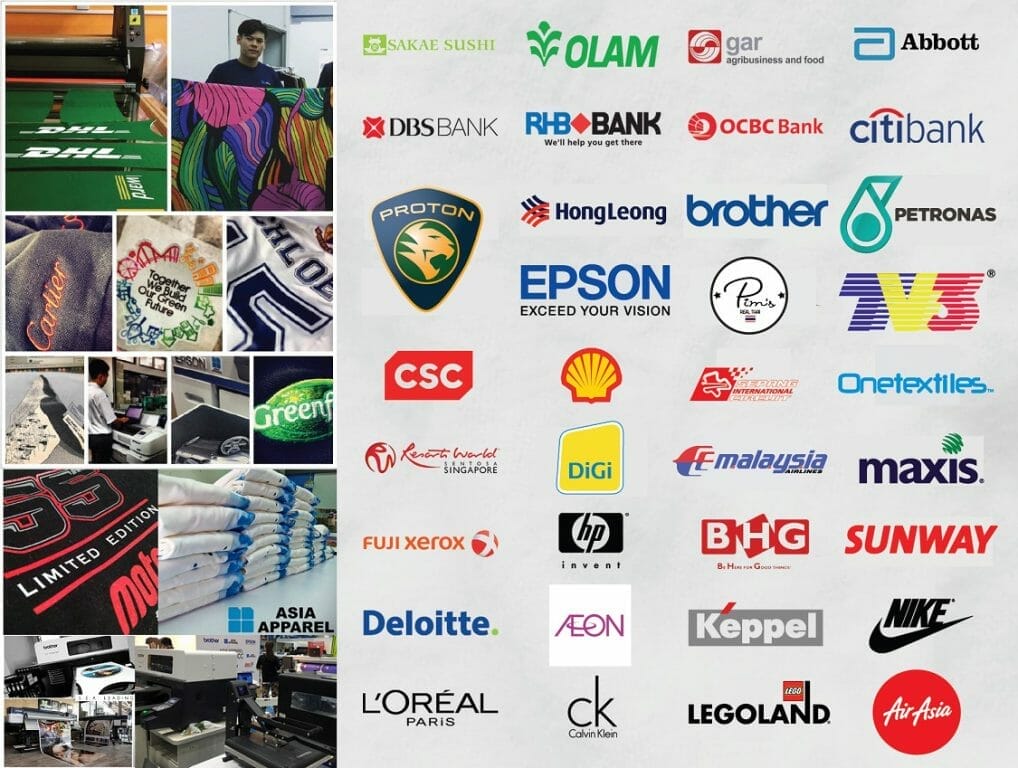 ---
---
#3 – MeowPrint T-Shirt Printing
Introduction: MeowPrint was founded with the intention to bring ease and convenience to customers when it comes to Custom T-Shirt Printing in Singapore.
About
To focus on bringing the best quality apparel at affordable prices and the quickest lead-time, so you don't have to keep searching.
To provide the best customer service for your T-Shirt Printing needs! When you have peace of mind, so do we!
Opening Hours:
Mon – Fri: 9am – 6pm
Sat, Sun & PH: Closed
Price of Admission: No provider
Location & Address: 8 Boon Lay Way, #07-15, 609964
Contact: 91778449
Website: Website Link Here
---
---
#4 – Vision Display Pte Ltd
Introduction: They envision to be Asia's leading company for full-house visual design and production, in the retail and public sectors. Their Services go beyond printing and include retail visual merchandising, events design, and warehousing & storage.
About
as core values. Therefore their value and respect each individual's perspective, and are committed to ethical and trustworthy practices. Everyone at Vision Display is accountable and accepts full responsibility for all actions.
Location: Singaore
Opening Hours:
Monday to Friday 10am -9pm
Saturday 9am -1pm
Sunday Closed .
Price of Admission:  No provider
Location & Address: OFFICE & WORKSHOP
52 Ubi Avenue 3, #05-43 Frontier,
Singapore 408867
Contact: +65 6392 3321
Website: Website Link Here
---
#5 – Ark Industries
Introduction:
Their story began in 2005, and since then Ark Industries has earned a reputation as one of the top embroidery and printing companies in Singapore.
They have grown from a company that provided only embroidery and printing services to one with an in-house design team and an extensive portfolio of recognized clients. You can expect high-quality products and service, with quick turnaround times at affordable prices
About
Their dedicated in-house design team will work in close collaboration with you to create customized apparel designs.
Your customized apparel will be made with the highest quality materials. Enjoy high-quality threads from the European brand, Madeira and print materials from TheMagicTouch.
Location Singapre
Opening Hours:
Monday to Friday 09;00-18;30,
Tuesday 0800;-18;30
Weekend ,Public Holidays ; CLOSE
Price of Admission: $No provider
Location & Address:
Blk 24 Midview City Sin Ming Lane #02-100 Singapore, Singapore 573970
Contact: 6352 0988
Website: Website Link Here
---
#6 -Butter Prints Private Limited
Introduction:
They provide high quality t-shirts, apparels, and corporate for you.
Quality checks are run strictly for every order production.
Affordable pricing – They will try to work around your budget and advise which t-shirt printing products are suitable. In fact, with high quantity and less print colors, you can customize t-shirts for $5/pc or less!
Their fast lead-time including full customization is also why many choose Butter Prints as their printer. Let them know your deadline and we will work around it.
About
T-shirt Printing Services
Custom Masks + Apparel
Corporate Gifts & Premiums
Opening Hours: Weekdays exc. ph, 9 am to 5 pm
Location & Address: 62 Ubi Rd 1 #06-02 S408734
Contact: +65 96567157
Website: Website Link Here
---
_

Read Also:

Top 20 Best Tailors in Singapore for Bespoke Handmake Suits
---
#7 – TJG PRINT
Introduction: TJG Print is a T-Shirt printing Singapore Company that specializes in customized T-Shirt printing. They deliver good quality printing at competitive pricing, reinforce with reliable delivery. With vast experience and knowledge in this industry, you are assured to have peace of mind printing with them
About
Embroidery
Silkscreen Printing
Dye Sublimation
Opening Hours:
Mon – Fri: 10am – 6pm
Sat, Sun & PH: Closed
Location & Address: 184 Jelebu Rd, Block 184, Singapore 670184
Contact: 8774 0792
Website: Website Link Here
---
#8 – OrangeBox
Introduction: They are experts in Custom T-shirt printing in Singapore. Founded in 2009, we had grown from a small print shop with a few products to now a shirt printing company with the largest ready-stock T-shirt, Jersey, Polo Tee & Jacket catalog in Singapore. They carry both local and international brands with over 1000 SKUs. If you can't find any t-shirt design that you like, they are also able to customize the order according to your design.
About
Singapore T-shirt Printing Services – They specialize in customized Silkscreen printing service, dye sublimation printing, and embroidery for Custom T-shirts, Jerseys, Polo Tees, Jackets, Hoodies, Windbreakers, Varsity Jackets, Formal Jackets or Blazers, and Sports Jackets. We accept custom t-shirt orders for both small and large quantities. No job is too small or too big for our professional staff, so send them your order and see how good they can make you look in your fashion choice
Location: Singaore
Opening Hours:
(No walk-in, by appointment only
Price of Admission: No provider
Location & Address: 10 Ubi Crescent
#01-20 Ubi Techpark
Singapore 408564
Contact: +65 9696 9605
Website: Website Link Here
---
#9 -The Printing Room Pte Ltd
Introduction:
They are your local based printing business that started off with all them t-shirt printings done in our very own room.
They provide all types of printing services for fabrics and gifts.
One of the few local companies that prints using them own machines!
About
silk crceen
heat transfer ,dye sublimation , embriydery ,custom printing
Location Singaore
Opening Hours: –
Location & Address:
2 Tuas South Avenue 2, Tuas Vista
Singapore 637601
Contact: +65 85881599
Website: Website Link Here
---
#10 -SWS Apparels Printing
Introduction:SWS Apparels Printing is a local Singapore printing company that specializes in premium quality printing for t-shirts, towel, cap, and corporate gift. Since our inception, our mission has been to provide our customers the best service their can give.
About
Local custom t-shirt printing company with cheapest printing services in Singapore
specialising in silk screen printing, heat transfer and embroidery services.
Location:Singapore
Opening Hours:
Monday to Friday:09:00 am – 6:00 pm
Showroom/Collection:By Appointment Only
Saturday & Sunday:Closed
Public Holiday:Closed
Location & Address: Ruby Industrial Complex
80 Genting Lane #05-05A
Singapore 349565
Contact: +659824-4760
Website: Website Link Here
---
Have a Place to Recommend?
Your contribution is valuable to us! Are there any outstanding businesses that you believe should be added to our list? If so, please send your recommendations to us at [email protected]. Tropika Club will review your suggestions and update the list accordingly. Thank you for your help in making our list of businesses as comprehensive and accurate as possible.
---
Meanwhile, Check out Tropika Club's Ecosystem of Websites
Tropika Club Magazine – Tropika Club Magazine is a Singapore-based publication that features articles on a wide range of topics with a focus on local businesses and content for the region. The magazine emphasizes supporting local businesses through its #SupportLocal initiative, which includes coverage of everything from neighborhood hawker stalls to aesthetic clinics in town. In addition to highlighting local businesses, Tropika Club Magazine also covers a variety of local content, including beauty, lifestyle, places, eats, and what's on in Singapore and the Asia Pacific region.
Tropika Club Deals – Tropika Club Deals is a leading online deals and voucher shopping site in Singapore, offering amazing discounts on beauty, wellness, and fitness products and services. It's the perfect platform for customers who want to discover the best deals without having to commit to a specific appointment date and time. These deals are available at major beauty stores, facial salons, hair salons, and other brands in Singapore, with no minimum spend required. Choose from guaranteed discounted deals in the categories of hairstyling, hair removal, facial & aesthetics, body slimming, brows & lashes, nails & makeup, massage & spa or fitness & wellness. Tropika Club Deals is also ideal for customers who want to buy vouchers as gifts or to use for the future. So whether you're looking to save money on your next haircut or want to treat yourself to a relaxing massage, Tropika Club Deals has got you covered with the best voucher and coupon deals in Singapore!