Top 10 Best Slimming Centres in Sydney Australia

Finding the right slimming centre in Sydney can be a challenge. With so many options available, it can be difficult to know which one is best for your needs. To help make the decision easier, this article outlines the top 10 best slimming centres in Sydney, Australia. All of these centres have been thoroughly assessed on factors such as customer reviews, services offered and pricing.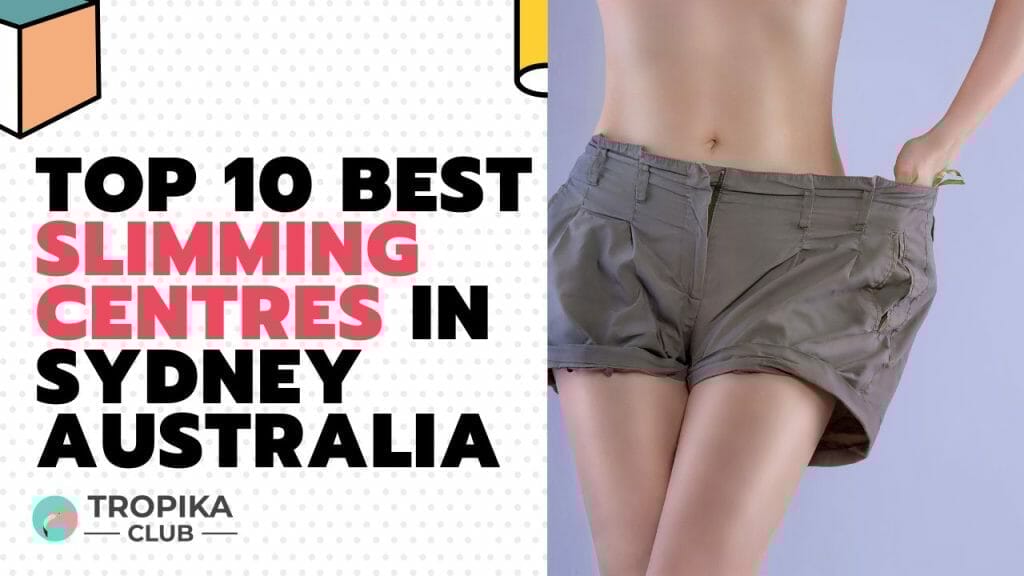 ---
#1 – Body Catalyst Sydney CBD
Introduction:
At Body Catalyst, they stand for more than body shaping treatments. That's what they do, but who they are is so much more. They believe the best thing anyone can have is a positive self-image, especially about your body. It's not vanity, it's self-love. Do they sculpt their tummies? Freeze their fat? Yep.
Care for their own and each other's mental and physical wellbeing? You bet your sweet ass, they do. They are the shift from seeing their bodies as the enemy to celebrating each and every inch of them. Their philosophy on technology is simple – only work with the best. Their equipment is medical grade and entered on the Australian Register of Therapeutic Goods (ARTG). Being the largest and most established Body Shaping and Wellness Clinic in Australia means they have access to the very best technology partners globally and superior training for their team. Not only are you getting the very best science has to offer, but you can rest assured you're in the safest hands.
Their team of experts are not just masters of what they do, but as trained nutritionists, health professionals, and aesthetic experts, they are not only invested in helping you reach your body goals, they also help you maintain them. Their process starts with a initial consultation and comprehensive analysis with one of their Body Experts. There is no 'one size fits all' when it comes to the body, so every client is prescribed a personal treatment plan that's as individual as you are.
Type of Services:
Fat Freezing
Fat Cavitation
Body Contouring
Cellulite Reduction
Non Surgical Facelift
Skin Tightening
Skin Rejuvenation
Muscle Definer
Pelvic Floor Strengthening
Location:
Level 8, 235 Macquarie Street, Sydney, NSW, 2000
Contact: +61 02 4210 7765
Website: Website Link Here
---
#2 – Rapha
Introduction:
Irene Yimsung has been in the beauty industry since 1978. She was trained in London and has received the highest Diploma (CIDESCO INTERNATIONAL DIPLOMA) which is widely recognized around the world. She has received many other beauty diplomas, is a member of the British Association of Beauty Therapy and Cosmetology and is also a full first grade member of the Association of Professional Aestheticians of Australia.
Irene Yimsung has been in the beauty business since 1984 to present day. She owns and manages the Rapha Beauty Slimming Centre and with her qualifications and experience; she is one of a few Singaporeans who founded beauty training schools that led students into taking external diploma examinations from England. She has also traveled to China and India to provide the beauticians with professional advice on how to start up beauty centers and schools.
With her expertise of wide experiences and knowledge many clients have benefited through Irene's advice in terms of health, confidence in outlook and more youthful.
Type of Services:
Lymphatic Drainage
Skin tightening & body contouring
Rapha fat buster
Location:
Suite 302, Level 3, 84 Pitt St, Sydney 2000
Contact: +61 0487 542 638
Website: Website Link Here
---
---
#3 – Body Sculpting Clinics – Macquarie Centre
Introduction:
They specialize in treatments advanced treatments. The old saying is true: if you try and be great at everything you will be good at nothing. They are masters in the art of non-surgical, non-invasive, and non-toxic body sculpting, contouring, and firming treatments. This allows them to assess the ideal candidate and create a customized plan. Body sculpting is an art form, that takes learned practice and repetition.
They are trusted and nationally recognized, with 2 major nationally recognized awards under their belt. Their clinics also have and consistently perform more cryo lipolysis treatments than anywhere else in Australia. They know how to apply this treatment correctly and work closely with their clients, pre, during, and post-treatment. They are the busiest because they're the best.
Type of Services:
Fat Freezing
HIFU for Fat Removal
EMBODY Ab Sculpt
EMBODY Gluteal Sculpt
EMBODY Ab Separation
Location:
Macquarie Shopping Centre, Level 4 (opposite JB Hi-Fi), Cnr Herring & Waterloo Rd, North Ryde, NSW 2113
Contact: +61 02 9878 1496
Website: Website Link Here
---
---
#4 – The BMI Clinic
Introduction:
The BMI Clinic is the largest and most experienced specialist practice of its kind in Australia. They provide a multidisciplinary and holistic approach to weight loss and weight management through their experienced and dedicated team of surgeons, gastroenterologists, bariatric physicians, nurses, dietitians, psychologists and exercise physiologists.
The BMI Clinic specialises in minimally-invasive and non-surgical weight loss techniques. Established in 2005, they have more experience with procedures like the gastric balloon (Orbera® and Spatz3®) and endoscopic sleeve gastroplasty (ESG), than any other clinic Australia-wide.
Their specialist doctors are world leaders in this field and are regularly called upon to train other medical specialists in the use of various weight loss devices and procedures. Learn more about the team and their range of programs by clicking below.
Type of Services:
Elipse "Procedureless" Gastric Balloon
Spatzz3 Adjustable Intragastic Balloon
Orbera Gastric Balloon
Endoscopic Sleeve Gastroplasty (ESG)
Aspire Assist
Location:
Level 1, 451 New South Head Rd, Double Bay NSW 2028
Contact: +61 1300 859 059 / +61 02 9096 3199
Website: Website Link Here
---
#5 – Slimming Studio – Fat Freezing Sydney
Introduction:
Slimming Studio offers various non-invasive medical treatments using the latest advanced range of medical cosmetic equipment available. Their services are tailored for the individual, treating every client for their specific needs. This is one of the reasons they offer complimentary, obligation-free, consultations with experienced clinicians at all their clinics. With a continuous focus on the latest proven treatments, their aim is to deliver a superior, tailored client service that's centred on the most advanced techniques.
Their comprehensive service offering includes… Fat Freezing (Cryolipolysis), lifting and strengthening, skin repair and rejuvenation, fat reduction, body contouring, skin tightening, and beauty treatments. Their excellence lies in their ability to formulate treatment plans tailored to each individual. They take the time to ensure you understand your treatment – and their focus regardless of the procedure you have will be to maintain a beautiful and natural look. And the best part is friends and family noticing and complimenting the new younger and refreshed you!
Type of Services:
Fat Cavitation
Fat Freezing (Cryolipolysis)
Non Surgical Thigh Reduction
Non Surgical Fat Reduction
Fat Reduction Arms
Biceps Fat Reductions
Location:
444 High St, Penrith, NSW 2750
Contact: +61 0430 197 136
Website: Website Link Here
---
#6 – Elite Body Contouring Rosebery
Introduction:
Welcome to the home of Sydney's Top Rated Body Contouring Specialists. The experts in Non-Invasive, Pain Free, Medical Grade Treatments, specialising in the treatment of both women and men. Their most popular treatment, CRYOLIPOLYSIS Fat Freezing offers a completely safe and permanent way to help you reduce stubborn areas that are often resistant to diet and exercise without the need for surgery. They use award winning technology that has been clinically proven.
At Elite Body Contouring they are serious about results and are the first and only clinic in Australia to offer complimentary in clinic Body Composition scans to our clients to accurately measure results as well as keep their clients on track. Their goal is to set the highest benchmarks for their industry.
Consultations are free of charge and we have a fully qualified and experienced set of team members. For bookings or to ask a question simply contact your nearest clinic directly and their friendly expert team will be more than happy to help.
Type of Services:
Fat Reductions Treatments
Skin Tightening Treatments
Celullite Reduction Treatments
Facial Rejuvenation Treatments
Muscle tone and shaping treatments
Location:
Shop 251 / 741-747 Botany Rd, Rosebery NSW 2018
Contact: +61 1300 10 10 55
Website: Website Link Here
---
_

Read Also:

Top 10 Slimming Salons in North Singapore

_
---
#7 – Interval Weight Loss
Introduction:
Interval Weight Loss is Australia's only scientifically developed weight-loss and wellbeing program, that's proven to deliver lasting results.
Developed and tested by Dr Nick Fuller (image attached) from the University of Sydney, IWL takes a stepped approach to weight-loss, that's sustainable, resets your metabolism, and allows your body to return to a healthy weight without going into starvation mode.
Unlike other programs, they're not sexy, but they are proven—and they're easy for everyone to follow.
Type of Services:
Location:
Wentworth Building G01, University of Sydney, Sydney, Australia
Contact: email [email protected]
Website: Website Link Here
Level 1, 65 Walker Street, North Sydney, NSW 2060, Australia
---
#8 – CSIRO Total Wellbeing Diet
Introduction:
Created by Australia's national science agency, the CSIRO Total Wellbeing Diet will help you lose weight and feel great in just 12 weeks. Their higher protein, low GI eating plan helps you drop the kilos by reducing cravings and keeping you feeling fuller for longer. Learn how you can reach your weight loss goals with our 12 Week Program.
All their meal plans have been created to provide you with the nutrition you need to feel energised and satisfied every day. And the simple recipes can be easily adapted for the whole family to enjoy. Choose the level of support you want on your weight loss journey with their different programs. They include the core 12 Week Program, Fast Start, Premium and programs for health conditions.
Their suite of innovative digital tools will keep you motivated and on track during your weight loss journey. You can access them through the CSIRO Total Wellbeing Diet app or the desktop website. Their program is based on research by CSIRO, and continues to evolve in line with the latest science. Easy exercise plans you can do practically anywhere with no gear: at the gym, in the park, or at home. Find a balance between physical and psychological wellbeing with their positive psychology tools.
Type of Services:
The core 12 Week Program
Fast Start Program
Premium Program
Health Condition Programs
Location:
Level 1, 65 Walker Street, North Sydney, NSW 2060, Australia
Contact: +61 02 8294 8260
Website: Website Link Here
---
#9 – Tim Thornton Hypnotherapy
Introduction:
His name is Tim Thornton, and he work as a Master clinical hypnotherapist and NLP practitioner. He use psychotherapy techniques and strategies. He also trained in the following complementary systems, Family Constellations, Emotional Mind Hentegration and Rapid Core Healing. Family Constellations is a systemic psychotherapy that is experiential and profound. Bert Hellinger is the founder of Family Constellations. The Constellations process is a powerful way to tap into what holds people back from reaching their potential in relationships, success and wellness. Rapid Core Healing facilitator, RCH weaves threads from past and present-day therapies, neuroscience and epigenetics to form a dual, adaptable modality.
Emotional Mind Hentegration facilitator, EMI is a complete Neurotherapy with its unique philosophy, theory, process and techniques. EMI locates and resolves the roots of human emotional disturbances and mind-sets to leave you free to fulfil your potential. He also utilise these skills and more to provide a dynamic Success coaching service. He've been providing services in Sydney since 2006.
He's committed to providing the very best service, support and help to all of my clients. Helping them overcome their obstacles, achieve their goals and rediscover their talents and full potential. So they can live their lives as they choose and they deserve.
In addition to extensive therapy time in the clinic with thousands of clients over the years, He's been fortunate enough to have trained with some of the world's leading trainers and facilitators.
This combination of training and experience has given me the foundation, resources and expertise he need to help my clients achieve their goals, change their lives in the most positive way possible, with whatever modality suits their needs best.
Type of Services:
Quit Smoking
Weight Loss
Stress and anxiety
Phobias
Addictions
Hypnosis for sleep
Location:
Suite 33, Level 6, Hengrove Hall, 193 Macquarie St, Sydney NSW 2000
Contact: +61 0424 079 690
Website: Website Link Here
---
#10 – Crunch Fitness
Introduction:
They have a No Judgments philosophy here. It's their Monday-thru-every-day mantra. A simple philosophy that drives them to create a community and a gym for all. No judgments means room for everyone, regardless of shape, size, age, race, gender or fitness level. No matter your workout of choice, they want you to feel good while reaching your goals.
Their gyms have an easy vibe to them, they're massive, designed to offer you more variety and space to keep you motivated. They set low membership prices with no lock-in contracts to suit all budgets so there's no barriers to making fitness a lifestyle.
Their teams are prep'd to cheer you on and help inspire you every day – it's up to you how to 'perspire' for your goals; but you'll always be praised for every step you make!
Type of Services:
Build Muscle
Fat Loss
Fitness & Wellbeing
General Fitness
Location:
85 – 93 O'Riordan St, Alexandria NSW 2015
Contact: +61 2 8088 8801
Website: Website Link Here
---
Have a Place to Recommend?
Your contribution is valuable to us! Are there any outstanding businesses that you believe should be added to our list? If so, please send your recommendations to us at [email protected]. Tropika Club will review your suggestions and update the list accordingly. Thank you for your help in making our list of businesses as comprehensive and accurate as possible.
---
Meanwhile, Check Out Tropika Club's Ecosystem of Websites

Tropika Club Magazine – Tropika Club Magazine is a Singapore-based publication that features articles on a wide range of topics with a focus on local businesses and content for the region. The magazine emphasizes supporting local businesses through its #SupportLocal initiative, which includes coverage of everything from neighborhood hawker stalls to aesthetic clinics in town. In addition to highlighting local businesses, Tropika Club Magazine also covers a variety of local content, including beauty, lifestyle, places, eats, and what's on in Singapore and the Asia Pacific region.
Tropika Club Deals – Tropika Club Deals is a leading online deals and voucher shopping site in Singapore, offering amazing discounts on beauty, wellness, and fitness products and services. It's the perfect platform for customers who want to discover the best deals without having to commit to a specific appointment date and time. These deals are available at major beauty stores, facial salons, hair salons, and other brands in Singapore, with no minimum spend required. Choose from guaranteed discounted deals in the categories of hairstyling, hair removal, facial & aesthetics, body slimming, brows & lashes, nails & makeup, massage & spa or fitness & wellness. Tropika Club Deals is also ideal for customers who want to buy vouchers as gifts or to use for the future. So whether you're looking to save money on your next haircut or want to treat yourself to a relaxing massage, Tropika Club Deals has got you covered with the best voucher and coupon deals in Singapore!