Top 10 Best Tiler in Melbourne Australia
Melbourne, Australia is known for its beautiful architecture and tiling. Whether you want to tile a bathroom, kitchen, or outdoor area, it is important to find a tiler who can get the job done right. To help make this process easier, we have compiled a list of the Top 10 Best Tilers in Melbourne. We have considered their quality of work, affordability, customer service experience and more to ensure that you are getting the best possible outcome with your project.
---
#1 – Melbourne Tiling Vic
Introduction:
Melbourne Tiling VIC is a popular family-owned wall & floor tiling company business based in Cranbourne providing professional, specialized tiling services all over Melbourne and surrounding locations, including tile repair, floor/wall tiling, swimming pool tiling, waterproofing, etc. Tiling in Melbourne has been never beautiful before. They have a lot of expertise and experience in the tiling industry. They are very proud of their reputation for professional workmanship. They aspire for job satisfaction. Their corporation knows what it takes to please our customers. They listen to them set out their thoughts, and then their tilers go to work, putting those ideas into an effective tile or waterproofing solution that not only works well but looks as amazing as it works. They offer a wide variety of services, making them the only commercial service provider you need to satisfy all waterproofing, paving, and tiling needs.
Type of Services:
Domestic Tiling
Commercial Tiling
Tile Renovation / Repair
Floor / Wall Tiling
Swimming Pool Tiling
Waterproofing
Location:
Cranbourne VIC 3977, Australia
Contact: +61 438 646 905
Website: Website Link Here
---
#2 – National Tilers Melbourne
Introduction:
National Tilers Melbourne is an established tiling business since 2003, which caters mainly for domestic and small commercial clients. With huge expertise in the best designs and highest quality workmanship and product, their talent creates beautifully designed solutions in your home. In every style imaginable, their tile installation will complement your existing interior design, or add something special when you are renovating your kitchen, bathroom or open space. They install every tile in all range of sizes and dimensions for any space, so you'll always be at ease, knowing you'll be recieving the best job possible. They also offer bathroom renovations. Works they undertake… -Demolition, all rubbish and debris is removed from site. -Non painted Plastering using Blue board aqua check. -Waterproofing membrane applied(2-3 coats) in accordance with Australian standards. -Tiling, all aspects of tiling. They also repair leaking showers and balcony's caused by damaged membranes(please refer to 'leak repairs' and 'waterproofing' in the services section for more information) They also recommend a good licensed plumber that they work alongside and get along with well. They work well under pressure and always meet deadlines. As they understand that at times, their customer may only have 1 bathroom or are on a tight schedule to get the work done. They never disappoint and always push that extra effort to get things done on time.
Type of Services:
Leak Repairs
Tiling
Waterproofing
Location:
27 Hall Street, Coburg
Contact: +61 0431 443 417
Website: Website Link Here
---
---
#3 – Lexa Tiling
Introduction:
With over 20 years' experience Alexei is passionate about all forms of tiling.
Alexei has extensive tilling knowledge from basic renovations to new home constructions.
With Lexa Tiling it is essential that the job is done to the highest quality, not just about a beautiful finish and modern design but also with durability for the long term.
Type of Services:
Bathroom Tiling
Kitchen Tiling
Commercial Tiling
Bathroom Renovations
Leaking Shower Repairs
Leaking Balcony Repairs
Location:
848-854 Glen Huntly Rd, Melbourne, VIC, Australia, Victoria
Contact: +61 425 802 036
Website: Website Link Here
---
---
#4 – Victorian Mosaic Tiling
Introduction:
Victorian Mosaic Tiling has been set up with you, the Customer, in mind as their number one priority. Your experience with them will be easy and stress free from the first phone call to the completion of your personalised Tessellated Tiling project.
You can draw on their years of experience specialising in traditional Victorian and Edwardian style Tessellated Tiling to take your envisioned project from a great idea to a reality which will last for generations to come.
Doing work that they enjoy is one of the benefits of specialising in this niche area. Watching this beautiful work unfold and come together as they carefully plan, prepare and execute is a big reward in itself. They take immense pride in what they do because they know that this stunning finish will be around long after they are gone.
With two decades experience working in Australia, England, Holland and New Zealand, Victorian Mosaic Tiling's Managing Director Micah Corbett certainly has the tiling experience required by this demanding field. With a mixture of good taste, hard won experience and the pragmatic skills of a seasoned craftsman, Micah and his team take the complex problems presented in the old English Tessellated style and eat them for breakfast.
Type of Services:
Encaustic Tiles
Mosaic Tiles
Verandah Tiles
Tessellated Tiling
Old English Tiles
Heritage Tiles
Federation Tiling
Art Deco Tiling
Location:
Melbourne, South Melbourne, VIC, Australia, Victoria
Contact: +61 449 684 310
Website: Website Link Here
---
#5 – Mitcham Tile Centre
Introduction:
Mitcham Tile Centre is a family-run business that has been operating for over 30 years. Operating within the Melbourne area, they have been supplying and installing tiles to satisfied customers for all commercial and residential projects. When you think of tiles, Mitcham Tile Centre should be your one-stop-shop for all your tiling needs. Whether you want to buy tiles or just need them installed, Mitcham Tile Centre is here to help. They provide premium quality wall and floor tiles that fit in any household or office setting.
Type of Services:
Floor Tiles
Wall Tiles
Feature Tiles
Mosaic Tiles
Marble Mosaics
Ceramic Tiles
Porcelain Tiles
Indoor Tiles
Outdoor Tiles
Location:
154 – 156 Rooks Road, Nunawading, Melbourne, VIC, Australia, Victoria
Contact: +61 3 9874 7142
Website: Website Link Here
---
#6 – JM Tiling and Stone
Introduction:
JM Tiling & Stone has been dealing in the industry of tiling for several years and now they obtain the position of one of the most trusted professional tilers in Melbourne. This is their experience and skill that makes them confident about providing superior quality service every time their clients call them.
Being the top wall and floor tile contractor of the city, we install all kinds of tiles on floors and walls as per the budget and the requirements of the clients. It can be your bathroom or kitchen or any other area of your building where you wish to install the tiles – give them a call and they will be at your service within the shortest time possible.
Type of Services:
Commercial, Industrial, Domestic, Retail\

Wall And Floor Tiling
External Facade Cladding & Mechanical Fixing
Pedestal Tiling System
Self-Levelling Compound Application
Waterproofing
Location:
Melbourne, Australia
Contact: +61 0481 120 788
Website: Website Link Here
---
_

Read Also:

Top 10 Best Hair Removal Services in Central Singapore

_
---
#7 – Tiling near me
Introduction:
Tiling Near Me, provides professional commercial and residential tiling services. They are an Australian owned and operated business.
Their team of tiling specialists is highly trained in experienced in the tiling trade, having undertaken extensive luxury retail tiling projects to standard bathroom preparation, water proofing, tiling and screeds.
Their aim is to provide high quality outcomes that suit your specific requirements with an impeccable services at competitve prices.
Type of Services:
Bathrooms
Floor Tiling
Wall Tiling
Cement Bedding
Water Proofing
Epoxy Grout
Sealing
Shower Leaks
Location:
Melbourne, Victoria, Australia
Contact: +61 0406 882 535
Website: Website Link Here
---
#8 – A K Tiling & Bathroom Renovations Melbourne
Introduction:
AK Tiling Renovations Melbourne offer Bathroom Tiling Services in Melbourne. They have been in business for over 20 years and they love their job. Their Team is qualified and skilled in all bathroom and tiling services. Their company does both residential and commercial work.
Type of Services:
Bathroom renovations
Wall & Floor Tiling
Waterproofing
Location:
Melbourne, Australia
Contact: +61 404 631 684
Website: Website Link Here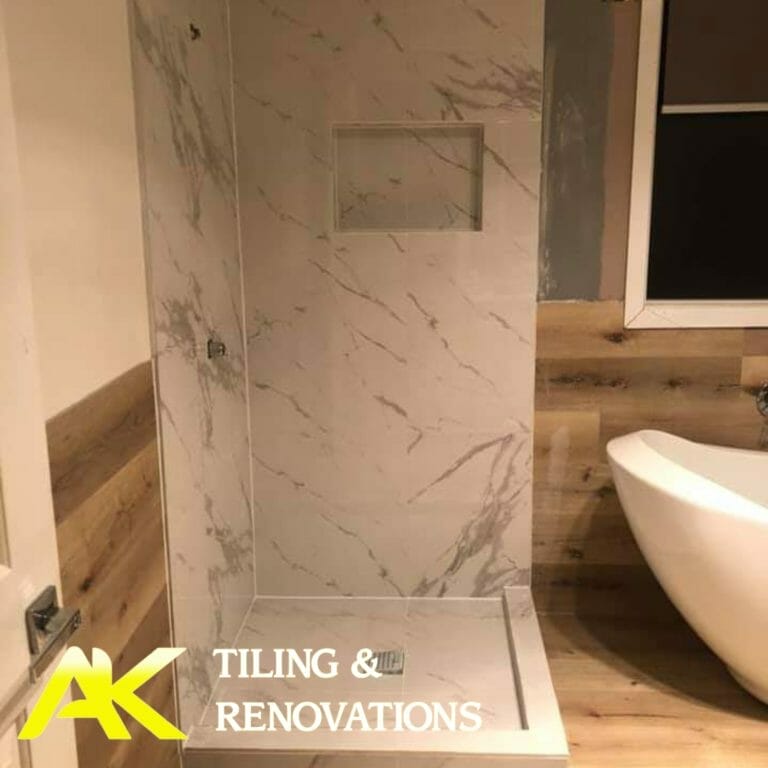 ---
#9 – North Suburban Tilers
Introduction:
Here at North Suburban Tilers, They pride themselves as Melbourne's leading wall & floor tiling, bathroom renovations, maintenance and floor screeding professionals that have operated in Victoria, Melbourne for over 20 years.
North Suburban Tilers was founded by George Irimia back in 1998 Melbourne, and since then has developed into one of Melbourne's leading movements in wall & floor tiling and renovations and all in between.
George and his team are the best when it comes to the latest innovations and stylish trends in the wall & floor tiling interior and exterior design region.
Living by his promise, committed to providing clients with professional and reliable advice in any field, George promises that all clients are satisfied to the fullest extent.
Type of Services:
Wall & Floor Tiling
Bathroom Renovations
Waterproofing
Location:
PO Box 1092, Epping, VIC, 3076
Contact: +61 03 8820 5300
Website: Website Link Here
---
#10 – Strategic Tiling
Introduction:
Working from the smallest tile repair to full bathroom re-modeling and renovations, the team at Strategic Tiling are skilled industry professionals. They cover all aspects of tiling in Melbourne and surrounding areas.
With over 20 years' experience in the industry, Strategic Tiling can attend to all waterproofing and tiling services within Melbourne. They provide a professional tiling service and specialise in all aspects of floor and wall tiling.
Type of Services:
Balcony Repairs
Shower Repairs
Bathroom Repairs
Shower Regrouting
Balcony Regrouting
Silicone Seals
Epoxy Grout
Polyurethane Seals
Tile Cleaning
Location:
66 St Vincent Place North, Albert Park,
Victoria – 3206
Contact: +61 0487 435 725
Website: Website Link Here
---
Have a Place to Recommend?
Your contribution is valuable to us! Are there any outstanding businesses that you believe should be added to our list? If so, please send your recommendations to us at [email protected]. Tropika Club will review your suggestions and update the list accordingly. Thank you for your help in making our list of businesses as comprehensive and accurate as possible.
---
Meanwhile, Check out Tropika Club's Ecosystem of Websites

Tropika Club Magazine – Tropika Club Magazine is a Singapore-based publication that features articles on a wide range of topics with a focus on local businesses and content for the region. The magazine emphasizes supporting local businesses through its #SupportLocal initiative, which includes coverage of everything from neighborhood hawker stalls to aesthetic clinics in town. In addition to highlighting local businesses, Tropika Club Magazine also covers a variety of local content, including beauty, lifestyle, places, eats, and what's on in Singapore and the Asia Pacific region.
Tropika Club Deals – Tropika Club Deals is a leading online deals and voucher shopping site in Singapore, offering amazing discounts on beauty, wellness, and fitness products and services. It's the perfect platform for customers who want to discover the best deals without having to commit to a specific appointment date and time. These deals are available at major beauty stores, facial salons, hair salons, and other brands in Singapore, with no minimum spend required. Choose from guaranteed discounted deals in the categories of hairstyling, hair removal, facial & aesthetics, body slimming, brows & lashes, nails & makeup, massage & spa or fitness & wellness. Tropika Club Deals is also ideal for customers who want to buy vouchers as gifts or to use for the future. So whether you're looking to save money on your next haircut or want to treat yourself to a relaxing massage, Tropika Club Deals has got you covered with the best voucher and coupon deals in Singapore!