Top Best Cafes in Singapore with Free WiFi Access
In a bustling city like Singapore, it can be difficult to find a place to sit down and get some work done. But with this list of the top best cafes in Singapore with free WiFi access, you'll be able to find the perfect spot to relax and get some work done. With plenty of great food and drink options, you're sure to find a cafe that suits your needs.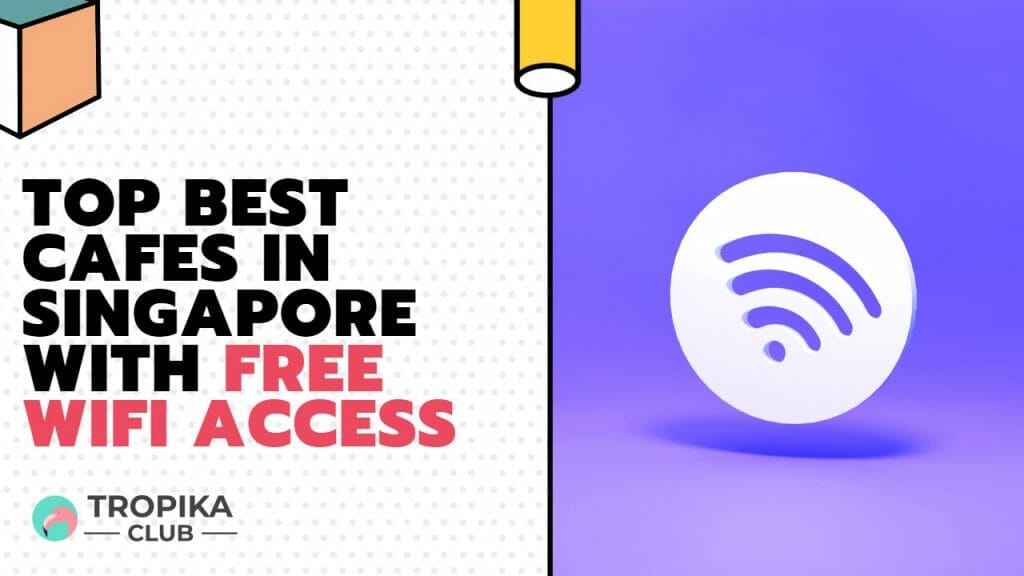 ---
#1 – Genius Central
Introduction:
Genius Central is more than a cafe. It is an experience where the best creative ideas can unfold naturally and turn into successful business ventures, collaborations or partnerships. Their hubs are only the beginning of what is growing into a world network of cultural hubs that provide mentoring, events, and a meeting place for entrepreneurs in some of the most breathtaking locations.
From exotic African safari to sandy Bali beaches and cosmopolitan Singapore, they are creating spaces that re-define the way they live and work, while also bringing positive change to their environment.
Genius Central Singapore is the flagship city campus for Entrepreneur Resorts & Genius Group. It is a modern dining concept with a menu specially designed and curated to nourish your body with their food. They believe with all the right and natural ingredients, each one of them can ignite their own genius.
Menu Items:
The Berry Genius $12 – Mixed berries + strawberries + cavendish banana + house-made chocolate granola, house-made coconut syrup + mint leaf
Organic Eggs, Greens & Pesto $18 – Sourdough bread + house-made pesto + scrambled organic eggs + sautéed baby spinach + sautéed portobello & button mushrooms + cherry tomato salsa + arugula + mixed herbs + dukkah + almonds + balsamic glaze + olive oil, make it gluten-free: gluten-free toast
Vegan Nachos $18 – Corn chips + house-made vegan cheese + cashew nuts + house-made sour cream + house-made chilli sauce + kidney beans + cherry tomato salsa + corn salsa + guacamole + jalapeno + coriander
Heavenly Tomato $12 – Beef tomatoes + celery + onion + garlic + carrot + basil, fried shallots + spring onions + olive oil + choice of house-made flatbread, sourdough or gluten-free toast, extra: flatbread $1.50 | gluten-free toast $3 | sourdough bread $3
Flavours of Asia Bowl $18 – Rice noodles + mixed mesclun + mixed cabbage + bean sprouts + cashew nuts + sunflower seeds + fried shallots, coriander + sesame oil + crispy rice paper + almond dressing\
Genius Sling $18/gls – Gin + dom benedictine + cherry liquer + orange liquer + lime juice + pineapple juice + house-made berry syrup
Brewerkz $65/twr– Draft 3 Litre Beer Tower
White Wine Ketu Bay 2021 $90/ btl – Sauvignon Blanc, Marlborough, New Zealand
Location: 01-01 7-13 Amoy Street Far east square, 049949
Contact: +65 8940 1200
Website: Website Link Here
---
#2 – Kith Café
Introduction:
Kith's iconic yellow and black logo boldly represents the forward motion that the company is striving towards. There are 18 black and 18 yellow spaces. '18' is a symbolic number in many, especially Chinese culture, meaning you will 'definitely prosper!' The octagonal shape inscribed in the logo represents balance in Fengshui. With 8 sides, each side represents a different aspect of Kith that we strive to be the best at, such as maintaining harmony between growing the business and staying true to our roots by serving our customers from the heart.
Menu Items:
Chicken nuggets & fries $14.95
Aglio olio + popcorn chicken $17.95
Salmon salad + tomato-cream pasta $17.95
Kith breakfast $24.95 – Choice of toast, choice of eggs, smoked bratwurst, crispy bacon, roasted tomatoes, garlic mushrooms, mixed greens.
Poached eggs & avocado $20.95 – Crushed avocado, roma tomatoes, kale walnut pesto, poached eggs, sourdough.
Kith club $21.95 – Cajun chicken, crispy bacon, tomato, eggs, cheddar, pesto, cucumber, lettuce, sweet chili, citrus mayo, nacho cheese sauce, wholemeal bread.
Chicken Parmigiana $26.95 – Breaded chicken breast with tomato, parmesan, kale walnut pesto, mozzarella, kale salad, crispy winders.
Truffle Mushroom $17.95 – Mixed mushrooms, truffle oil, mozzarella, mascarpone, baby spinach.
Location: 9 Raffles Blvd, #01-44/45, Singapore 039596
Contact: +65 6333 4438
Website: Website Link Here
---
---
#3 – Ziggy Zaggy
Introduction:
Ziggy Zaggy is the quintessential craft beer space borne from Ngak's love and passion of beers. The 18 taps of carefully curated craft beer is a labour of love of this musician turn craft beer connoisseur. With food, Ngak shares his sojourns that ignited his interest in these liquid gold.
Menu Items:
Ziggy Zaggy $20 – Pulled beef short ribs, poppy capers, cheese & tomato base.
Ziggy Bowl $20 – Chef's special -Micro cress, cherry tomatoes, mesclun greens, avocado & egg with house-made citrus dressing.
Tomato Soup & Grilled Cheese Sandwich $18 – The comforting match made in Heaven.
King Prawn Pasta $30 – Tagliatelle tossed in Aglio olio & wild jumbo prawns
Folsom Prison Blues Breakfast $21 – Crispy bacon, choice of sausage, scrambled eggs, hash brown, grilled tomato, baked beans & toast.
Bizkit and Gravy $16 – ZZ's Famous, Savoury pork sausage gravy & crumbly house-made biscuits. Add on a juicy fried chicken steak to complete the experience
Hacker Pschorr Hefeweisse (GER) $7, $10, $18
Red Wines Cronier Private Bin Cabernet Sauvignon 2016 $110
Location: 51 Kampong Bugis, #01-04, Singapore 338986
Contact: +65 8628 0775
Website: Website Link Here
---
_

Read Also:

Top 24 Great Digital Locks in Singapore

_
---
#4 – Soul Brew
Introduction:
Introducing Soul Brew, at their lobby lounge where you can work on a group discussion at the communal table, or park yourself at a cosy side alcove if you need more privacy. Soul Brew also offers a wide spread of healthy options from cold pressed juices with superfood ingredients to single bowl healthy bites.
Menu Items:
Falafel Pocket $20 – Deep-fried falafel served in a pita bread with fresh salad, onion, tahini and harissa sauce. Served with salad
Superfood Salad $16 – Mixed lettuce, kale, poached pear, grilled pumpkin, pumpkin seed, walnut and crumbed goat cheese. Served with yoghurt ranch dressing
Cream of Mushroom Soup $14 – Classic Wagyu Beef Burger $30 – 200g wagyu beef patty served on a toasted brioche bun paired with lettuce, tomato, onion, cheddar cheese and mustard sriracha aioli. Served with fries.
Truffle Fries with Parmesan $14
Crispy Lemongrass Fish Bites $28 – Deep-fried seabass with home-made chili jam sauce,
lemongrass, red shallot and lime.
Ice Cream $12 – Selection of two scoops: vanilla, chocolate, strawberry or coconut served on top of a vanilla crumble.
All Things Good $10 – 180ml cold-pressed juice with turmeric, ginger, pineapple and green apple,
Long Island Iced Tea Cocktail $15
Location: 10 Farrer Park Station Rd, Floor 1 Holiday Inn Singapore, Singapore 217564
Contact: +65 6824 8888
Website: Website Link Here
---
#5 – Guerilla Coffee
Introduction:
Guerilla Coffee is distinctly unconventional, taking its cue from its founders with deep roots in the coffee industry, cutting-edge advancements in coffee technology, a belief in sustainability and intuitive design that brings people together.
Menu Items:
Singapore Latte – R: Hot – $6.7 | Cold – $7.7
Chilli Mocha – R: Hot – $7.2
Guerilla Coffee No. 1 – Brazil & Ethiopia Natural, Colombia Washed, Heavy Body & Medium Acidity, Berries Sweet Finish
Single Origin – Ethiopia Worka Microlot – Natural Anaerobic Process, Rich Body & Sweet Acidity, Berries / Jackfruit
Espresso $4.0
Okumidori Matcha Latte – R: Hot -$ 7.5 | Cold – $8.5, L: Hot -$ 9.4 | Cold – $10.4
Lychee Oolong – Hot – $7.0 | Cold – $8.0
Chestnut Coffee Jelly $9.5
Location: 3 Temasek Boulevard 01-506/507 Suntec City – North Atrium, 038983
Contact: +65 6980 6345
Website: Website Link Here
---
---
#6 – City Sprouts
Introduction:
Founded in 2019, City Sprouts @ Henderson is their first redevelopment project that transformed part of the former Henderson Secondary School into an urban farming redevelopment. Allocated between a nursing home and childcare center, they are committed to help bridge multi-generational relationships.
Menu Items:
Our Food Cycle Regular $32.00
Sprout Circle – A 3 Day Holiday Camp $188.00
Bubz Bug Farm Tour $25.00
From Seed to Sprout – A 3 Day Holiday Camp $240.00
Alternative Farming – An aquaponics & hydroponics workshop $35.00
Home Composting for Beginners $25.00
Climate Fresk Workshop $30.00 $10.00
Little Farm Explorers $25.00 $21.00
Location: 102 Henderson Road Sprout Hub, 159562
Contact: +65 6468 6772
Website: Website Link Here
---
#7 – Dal.komm Coffee
Introduction:
Dal.komm Co., Ltd ushers in a whole new era for the coffee franchise industry, both in Korea and the world!
When dal.komm Co., Ltd launched dal.komm COFFEE, a new paradigm was created through this innovative coffee franchise brand that has access to both online and offline markets.
Through Danal Entertainment's investment in February of 2013, dal.komm Co., Ltd was established. And extensive contents and dynamic marketing as well as exceptional dedication in producing the best coffee and music, dal.komm COFFEE has become widely recognized as the coffee brand that provides a sense of closeness and special value to all its consumers.
Coffee, story, and music all combine through dal.komm coffee's Sound Blending concept where the world's first-rate coffee beans and barista expert create the perfect coffee. And for the first time in the industry, dal.komm's BOGO deal offers a unique coffee and music package that provides the higest customer satisfaction and meets all expectations for delightfully divine coffee and music.
Menu Items:
Honey Cube – This is dal.komm's unique honey beverage where the softness of crushed espresso cubes are blended to perfection with the sweetness of honey.
Hot Chocolate Cube – Hot chocolate beverage made of handmade chocolate cube that is consumed while it melts in warm milk.
Mango Cube – A smooth tasting mango latte that is a mixture of sliced mangoes, which are rich in Vitamin A, with honey and milk.
Espresso – Espresso with full body and tangy, fruity sweet notes.
Greek Yoghurt Mixtur – Milk and yogurt are blended together with ice to create a sublime yogurt smoothie drink.
Mango Bingsu
Welchester Ade Red – This tangy calamansi is abundant in vitamin C and comes in three different flavours (blue, red, green).
Tangerine Tea – Along with its exquisite bright red colour, tangerine ginger tea gives a deep flavour. With a distinctive and complex array of sweet, tart, spicy and fruit flavours from the blend of ginger and tangerine, it can be consumed as a cold beverage and relieves sore throats.
Location:
176 Orchard Road 01-01/02, #01-03/04, #01-05/06, #01-102/103, The Centrepoint, 238843
107 North Bridge Road, Mall, #03-17 Funan, 179105
6 Raffles Blvd, Marina Square, #02-272/273 & 278, 6 Raffles Blvd, #02-278, Singapore 039594
Contact: Orchard: +65 9008 4886
Website: Website Link Here
---
#8 – So France Duo Galleria
Introduction:
Whether it's their indoor dining room or alfresco terrasse, SO France @ Duo Galleria is a welcome respite.
Savour classic French bistro fare and sip from their extensive wine list featuring accessible glasses and bottles from beloved appellations including Bordeaux and Burgundy, as well as smaller producers in areas such as Côtes de Gascogne.
Relax on their alfresco terrasse with your favourite aperitif, paired with a selection of delectable bites.
Menu Items:
Omelettes Chorizo & Bell Pepper $16
Madame Croq' $24 – Their own version of the classic "Croque Monsieur" with an egg.
Croissant, Long Black $5,5 – Other Pastry or Coffee add $1
The French Way $10– Choice of Viennoiserie or 1/3 Baguee with Jam Fresh Orange juice, Long Black
French Organic Kombuchas $8 – Mint-Lime, Ginger-Yuzu, Blackcurrant-Elderflower, Cherry-Hibiscus
Hot Chocolate $7
Freshly Squeezed Orange juice $5
Meneau Organic Smoothies $7 – Mango-Passion Fruit, Banana-Raspberry-Pear, Banana-Acai-Blueberry, Banana-Strawberry, Banana-Apple-Blueberry
Location: 7 Fraser Street Duo Galleria #01-51/56 Bugis MRT, Singapore 189356
Contact: +65 6909 6449
Website: Website Link Here
---
#9 – Atlas Coffeehouse
Introduction:
Nestled in the heart of the Bukit Timah neighbourhood. Their home for the past 5 years. At Atlas, they emphasize heavily on three things: precision, seasonality and quality
They are big believers in taste. They constantly experiment with the classics while adding twist to them. Their coffees are specialty grade gathered from reputable farms around the world.They look for quality and executed with consistency & precision.
Menu Items:
Granola, Pears & Yoghurt $14.50 – House granola, tea poached pears, honey greek yoghurt
Buttermilk Waffles – Maple & Butter (Plain) $11.20, Salted Caramel + Vanilla Ice Cream $13.40, Candied Bacon + Vanilla Ice Cream $15.50
Aglio Olio (Pasta) $18.90 – Garlic, chilli, parmesan
SuperBowl $22.90 – Red quinoa & raisins, slow roast mushrooms, furikake cherry tomatoes, bonito crumbed tofu, kale chips, slow roasted chicken
Truffle Fries $13.40
Honeybutter Tater Tots $14.50
Long Macchiato $5.20
Cappuccino $5.60
Iced Toffeenut $8.00
No.1 Jun $9.50 – Ingredients: Filtered water, live kombucha cultures, wildflower honey, green and black tea, peach, apple, sultanas, rose, marigold, and strawberry leaves.
Location: 6 Duke's Rd, Singapore 268886
Contact: +65 6314 2674
Website: Website Link Here
---
#10 – Amber Ember
Introduction:
Amber Ember is a cafe situated between Serangoon & Hougang. A perfect brunch spot, known for their specialty coffee, jaffles and beautiful interiors.
Menu Items:
Cheesus Loves You $13.50 – Emmental, mozzarella, caramelised onions, blue cheese mayo, balsamic glaze.
Truffle Fun-Guy $14.50 – Soy-balsamic roasted mushrooms, truffle bechamel, mozzarella, dill yoghurt dressing.
Curried Mentaiko Egg Mayo $16.50 – Curried egg salad, mentaiko mayo, tonkatsu sauce, furikake, kizami nori, tempura crumbs.
Truffle Mushroom Sage $22.00 – Truffle cream sauce, truffle caviar, button & swiss brown mushrooms, sage, grana padano, rocket, fettuccine.
AFC $15.00 – 6pc tulip fried chicken, blue cheese mayo, sweet chilli glaze, chives.
Iced black $5.50
Mocha $6.50
Tea $5.00 – Jasmine white tea, honey-granate black tea, cherry blossom green tea, apple pie
Alcohol:
Behemoth Breakfast Juice $18.00 – style: fruited sour, abv: 4.5%
Garage Project Fux $18.00 – style: red ipa, abv: 6.8%
Location: 730 Upper Serangoon Rd, #01-01, Singapore 534613
Contact: +65 6926 3312
Website: Website Link Here
---
Have a Place to Recommend?
We need your help! Do you know any other noteworthy beauty clinics or salons that deserves to be added to this list? If so, do write to us via our email at [email protected]. Tropika Club will do a review of your recommendations and update the list accordingly.
---
Meanwhile, check out Tropika Club's Ecosystem of Websites
Tropika Club Magazine – Tropika Club Magazine crafts articles on all things Singapore, but with a greater emphasis on local businesses based on our #SupportLocalSG initiative. We check out and feature local businesses of all categories, ranging from your neighbourhood hawker stalls to the aesthetic clinics in town. We also cover local content ranging from beauty, lifestyle, places, eats and what's on in SIngapore. Our Top 10 rankings include local food and service establishments based in different regions in Singapore.
Tropika Club Deals – Search for the best voucher and coupon deals. Tropika Club Deals is ideal for customers who want to discover the best deals without having to commit to a specific appointment date and time. Choose from guaranteed discounted deals in the categories of hairstyling, hair removal, facial & aesthetics, body slimming, brows & lashes, nails & makeup, massage & spa or fitness & wellness. Customers can also buy vouchers as gifts or to use for the future.