Featured: Wellaholic, an Aesthetic Chain in Singapore with 8 Outlets
Wellaholic's vision is to help their customers look their best with the best rates in town. They are a team of professionals who are passionate about beauty and aesthetics. Wellaholic offers a range of aesthetic services, including technology facials, skin boosters, microneedling, permanent hair removal, fat freeze, RF body sculpting, hair regrowth and teeth whitening. Wellaholic provides excellent customer service and focus on creating a relaxed and comfortable environment for their customers. The staff at Wellaholic do not hard sell; instead, they instead let their services speak for themselves. Wellaholic has many outlets in Singapore, so you can always find a Wellaholic outlet near you.
---
---
Wellaholic's Brand Promise
At Wellaholic, their are constantly reviewing their Brand Promise, which is to:
1. Provide affordable treatments for their customers
2. Help customers see results with treatments that are backed by science and research
3. Ensure availability of capacity so that customers can make bookings easily online
4. Deliver exceptional customer service, and listen to their customers
Wellaholic's Awards
Wellaholic has won the following accolades for our exceptional treatments:
Awarded Certificate of Excellence 2019 by TripAdvisor for Lavender and Clarke Quay Outlets
Awarded "Best Hair Removal Services" for SHR by Beauty Insider Spa & Salon Awards 2019
Awarded "Best Rejuvenating Facial" for Elight by Beauty Insider Spa & Salon Awards 2018
Awarded "Best IPL/SHR Treatment" for SHR by Daily Vanity Spa & Hair Awards 2018
WellaFacial – Ultimate Technology Facial Regime
WellaFacial™ incorporates the best-of-breed technology facial treatments at an affordable monthly pricing. With weekly treatments of 6-step Elight Facial Collagen Boost, together with weekly-alternating Microneedling and Radio Frequency V-Lift treatments, you will see a drastic improvement in the reduction of wrinkles, fine lines and achieve a clearer complexion. Unlike typical facial treatments in Singapore which involves steaming the face, and manual extraction of blackheads, etc., Wellaholic advocates the use of technology and scientifically proven methods to help our customers in Singapore with their anti-ageing facial regime. The result – visible differences over the course of a three-to-six month period.
12 TREATMENT SESSIONS SPACED WITHIN A MONTH FOR THE BEST RESULTS
Ultimate Anti-Ageing Facial Treatment which includes the following treatments in a month:
8 x Elight Facial Collagen Boost
2 x Microneedling
2 x RF V-Lift
Benefits of WellaFacial
Clears pimples and acne
Removes fine lines and wrinkles
Reduce face acne scars and spots
Clarifies pigmentation and melasma
Minimises pores and clears blackheads and whiteheads
---
WellaSmooth – Ultimate Permanent Hair Removal Regime
WHAT IS WELLASMOOTH?
WellaSmooth™ is designed for an all-inclusive fuss-free full-body permanent hair removal experience, completed with all-that-you-require shaving service and the amazing Skin Whitening Treatment which helps with your skin whitening, hydrating and rejuvenating. Result? Smooth and glowing skin that will wow everyone. WellaSmooth is a laser hair removal for both men and women, by male and female therapists. WellaSmooth™ is your ultimate all-inclusive hair removal treatment in Singapore complete with shaving and post-treatment care.
​
WELLASMOOTH INCLUDES ALL THE KEY HAIR REMOVAL SERVICES:
SHR Permanent Hair Removal PRESTIGE Unlimited – Enjoy our bestseller SHR treatment for all body parts 
Unlimited Shaving Service – Enjoy unlimited shaving service on all body parts
PTT with AfterGlow – Enjoy post-treatment whitening or hydrating therapy followed by AfterGlow red-light treatment
---
WellaShape – Ultimate Body Slimming Treatment
WHAT IS WELLASHAPE?
WellaShape™ is designed to help you get into your desired shape through best-of-breed body contour technologies in Singapore. Wellaholic uses fat freezing via WellaFreeze to freeze your fats, and state-of-the-art Radio Frequency via WellaSculpt to heat your subdermal tissues to tighten them and keep them taut. Use science to get in shape immediately.
​
WellaShape = WellaFreeze + WellaSculpt combined
​
HOW IS WELLASHAPE TREATMENT CONDUCTED?
The body slimming procedure is comfortable and easy with no downtime.
Start off with WellaFreeze treatment which uses sub-zero temperatures to freeze the fat areas.
WellaFreeze fat freezing results in loose skin left from visible fat loss.
WellaSculpt will use RF energy to firm and tighten the loose skin and tone the body.
The consultant will use a RF probe and make gentle rolling motions around the treated area to heat the subdermal areas.
The RF energy will heat the tissue, which induces tissue remodeling and production of new collagen and elastin.
---
---
HairGrow – Ultimate Hair Regrowth Treatment
WHAT IS HAIRGROW?
HairGrow is a special Unlimited Hair Loss Treatment Package in Singapore that combines both the Microneedling for Scalp (with Minoxidil) and Low Level Laser Therapy into a monthly unlimited bundle which offers up to 4 weekly treatments a month at a heavily discounted pricing. WellaGrow is highly recommended by Wellaholic as this combined the various scientific treatments to treat your alopecia, thinning hair or receding hairline and accelerate your hair growth over a shorter period of time.
HairGrow = Microneedling for Scalp + LLLT combined
​
IS HAIRGROW BACKED BY SCIENCE?
HairGrow including both Microneedling for Scalp as well as Low Level Laser Therapy. Both treatments have numerous research reports and case studies backing them up.
Case Study 1 (2013) concluded that the group which combined Microneedling with Minoxidil application saw a significant hair growth as compared to the minoxidil-only group.
Case Study 2 (2014) concluded the boosting effect of microneedling with respect to new hair follicle stimulation in patients with androgenetic alopecia who were poor responders to conventional therapy.
Low Level Laser Therapy (LLLT)
Case Study 3 (2013) concluded that 47% of the patients' hair growth occurred in 7 weeks earlier for the group with LLLT treatment compared to the group without.
Case Study 4 (2013) concluded a 35% increase in hair growth for the males with the LLLT helmet.
---
TeethWhite – Smile Your Whitest Ever
WHAT IS TEETHWHITE?
Your teeth have pores just like your skin. The nicotine and tar, as well as stains from coffee and tea and other beverages, can easily stain your teeth over time. The primary ingredient in teeth whitening gel is generally Hydrogen peroxide or a close derivative called Carbamide peroxide. The molecules will become active when exposed to your teeth and with strong LED light, thereby helping to whiten your teeth thoroughly. You can see immediate whitening results right after the treatment. TeethWhite™ is a premium laser Teeth-Whitening treatment in Singapore. TeethWhite can whiten your teeth by up to 12 shades with immediate visible results.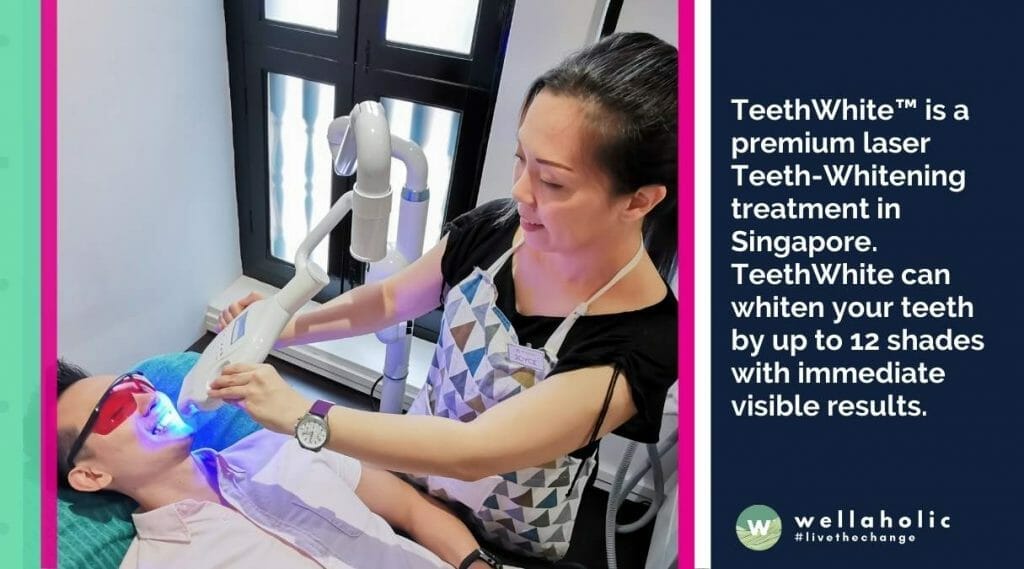 IS THERE ANY DISCOMFORT DURING THE TEETHWHITE TREATMENT?
There is absolutely no discomfort during the TeethWhite treatment. We have an improved teeth whitening process that eliminates the need to create a custom teeth mould. Instead, we use a proprietary process to ensure that the whitening agent binds to your teeth, to increase the rate of whitening to the teeth, while ensuring both safety and comfort.
---
Meanwhile, check out Tropika Club's Ecosystem of Websites

Tropika Club Magazine – Tropika Club Magazine crafts articles on all things Singapore, but with a greater emphasis on local businesses based on our #SupportLocalSG initiative. We check out and feature local businesses of all categories, ranging from your neighbourhood hawker stalls to the aesthetic clinics in town. We also cover local content ranging from beauty, lifestyle, places, eats and what's on in SIngapore. Our Top 10 rankings include local food and service establishments based in different regions in Singapore.
Tropika Club Deals – Search for the best voucher and coupon deals. Tropika Club Deals is ideal for customers who want to discover the best deals without having to commit to a specific appointment date and time. Choose from guaranteed discounted deals in the categories of hairstyling, hair removal, facial & aesthetics, body slimming, brows & lashes, nails & makeup, massage & spa or fitness & wellness. Customers can also buy vouchers as gifts or to use for the future.