The Best and Cheapest Hair Removal Salons in Singapore
There are a variety of methods to choose from when it comes to hair removal in Singapore. Some are more costly, some are more complicated, and some are more painful. But all in all, permanent hair removal has come to be the mainstream if you are looking to go smooth and have your hairs removed from any part of your body, from your underarms to a full Bikini or Brazilian hair removal. In this article, Tropika Club is going to check out the hair removal salons in Singapore to see which ones are the best for hair removal. We are also going to share which hair removal salons are the most affordable in terms of hair removal sessions and hair removal packages. Wanna find a cheap and good hair removal salon in Singapore for all your hair removal needs?? Read on to find out more.
What is Permanent Hair Removal?
This high-tech system of hair removal aims hair follicles with heat and warmth from the laser, damaging them to stop future hair growth. It is the most expensive hair removal option, but also the long-lasting. It's often billed as permanent, but there'll be some fine hair regrowth. But since it requires several treatments over the course of many months to observe a dramatic reduction in hair growth, laser is most appropriate for smaller areas, such as the bikini line and the facial skin.
Safety worries: Laser hair removal is safest when performed by a dermatologist who's not only been trained to utilise the equipment, but also has extensive knowledge about skin. Fortunately there are newer methods such as IPL (Intense Pulsed Light) or SHR (Super Hair Removal) which are also hair removal technologies which has gained both popularity and traction in our sunny island of Singapore. In inexperienced hands, lasers can easily cause skin damage ranging from burns to pigment changes. How effective is it? Within six months (performing monthly remedies ) most girls see about a 50 percent reduction in hair development. Periodic maintenance treatment every few months may be necessary to prevent regrowth.
---
---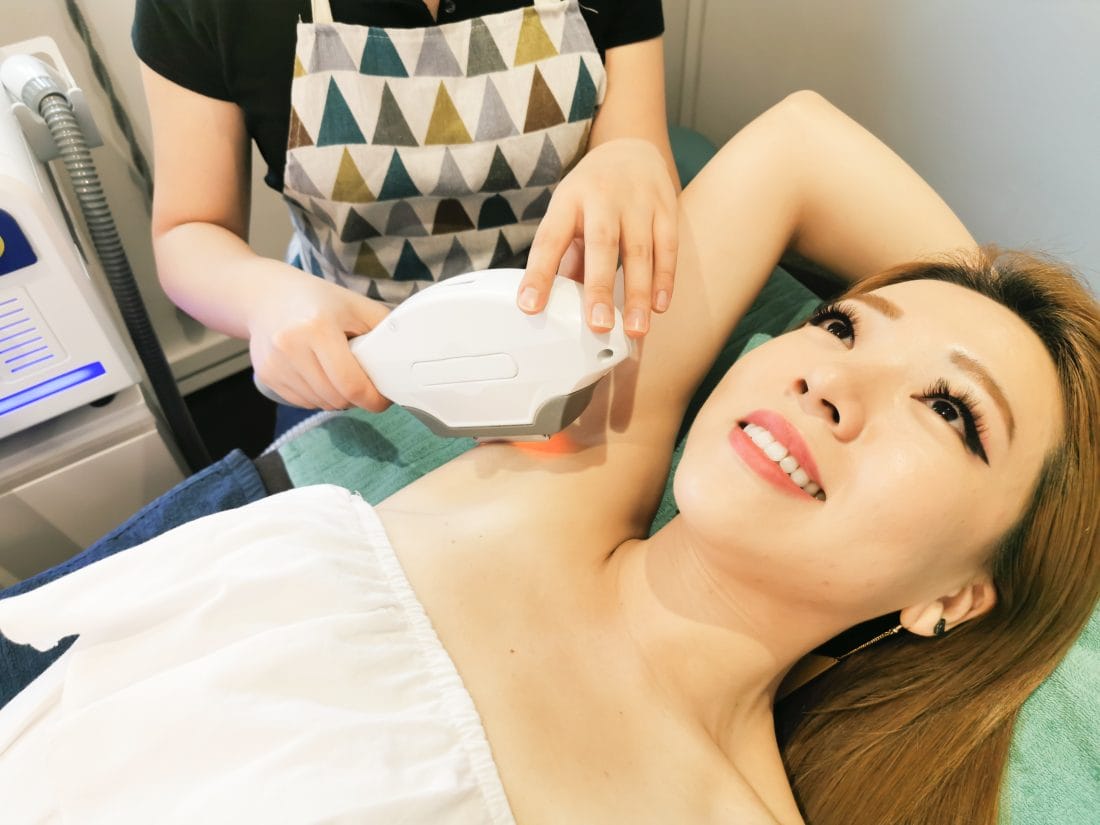 1. Wellaholic
Introduction: Wellaholic is an award-winning aesthetic chain in Singapore, with six to eight locations conveniently located close to major MRT stations. With its award-winning hair removal treatment, Wellaholic uses the patented Super Hair Removal (SHR) technology which permanently targets and destroys the hair follicles using low, intense energy pulses. They are famous for their Unlimited SHR plans, which allows the customers treatments on unlimited body parts at an affordable monthly pricing. For customers that require shaving and post-treatment whitening or hydration, Wellaholic also offers WellaSmooth, an all-inclusive hair removal regime that includes unlimited shaving, hair removal treatments and post-treatment therapy. Besides hair removal treatments, Wellaholic also offer technology facials, body slimming treatments such as WellaFreeze Fat Freeze, hair regrowth treatments and teeth whitening treatments.
Wellaholic is famous for their Unlimited SHR plans, which allows the customers treatments on unlimited body parts at an affordable monthly pricing.
Details: Wellaholic publishes their price list online, though you can conveniently book via Tropika Club and get your member reward points. After booking for a treatment, you will start off with a free consultation with the therapist where she will check with you on your hair removal objectives. The treatment itself will take between 15 minutes for Underarms hair removal to as long as 120 minutes for a full body hair removal including Brazilian. If you require more time, you can always book another treatment for another day without the need to pay anything additional. Wellaholic has both male and female therapists to serve both male and female customers for hair removal treatments. Check out their bestseller $149 SHR underarms hair removal plan.
Listed Prices (As Published):
WellaSmooth (Full Body SHR + Full Shaving + Skin Whitening) – From $399/month
SHR Unlimited Prestige (Full Body SHR incl. Brazilian) – From $259/month
SHR Unlimited Deluxe (Full Body SHR) – From $209/month
SHR Brazilian/Boyzilian – From $149/session
SHR Underarms Unlimited – From $169/Year
Check them out at:
Multiple outlets across Singapore. Details here.
Hotline: +65 81811814
Live Chat (24 hour customer chat line)
---
2. Qween
Introduction: In June 2017, Qween rolled out their royal carpet with the aim of creating an elite beauty grooming space in support of a vision of premium artisanship, quality, and reliability; a space that is fit to host the rising elite community of beauty queens who are increasingly discerning about eyelash extensions and eyebrow reconstruction. At Qween, they marry European science and Asian art, in a professional, intimate, and exclusive setting.
Regina's team of beauty consultant and therapist has extensive knowledge and experience in hair removal techniques.
Listed Prices (As Published):
Bikini Line IPL – $240 for 6 sessions
Brazilian IPL – $600 for 6 sessions
Full Brazilian IPL – $800 for 6 sessions
Underarms IPL – $240 for 6 sessions
Full arms IPL – $780 for 6 sessions
Chest IPL – $600 for 6 sessions
Full Legs IPL – $1320 for 6 sessions
Check them out at:
---
3. Musee Platinum Tokyo
Introduction: Musee Platinum Tokyo is a Japanese-branded hair removal salon with 195 outlets in Japan. Besides having 6 salons in Singapore, they also operate in Hong Kong, Malaysia, and Indonesia. They provide free consultation to new customers before treatment, and there is no solicitation or pushy sales staff as they only specialises in hair removal treatments. Musee Platinum Tokyo utilises the S.S.C Hair Removal, which stands for Smooth Skin Control Hair Removal, using beams of filtered light together with their specially formulated gel.
Musee Platinum has over 190 outlets in Japan
Check them out at:
Six outlets across Singapore. Details here.
Hotline: +65 6804 6500
---
Read this article on how to get rid of your body hair forever
---
4. Datsumo Labo
Introduction: Datsumo Labo is another Japanese-based hair removal salon chain with two outlets in Singapore. They are one of the cheap and good hair removal salons in Singapore being featured. They publish their prices openly on their website, and offer both ala-carte (Mini Areas $38 each, Classic Areas $68 each and Exclusive Areas $88 each) sessions as well as Monthly plans. For their monthly plans, you can opt for a Lite Monthly which is $99 per month and allows your treatments on any 3 areas from the Mini and Classic category. For the Standard Monthly package, you can have treatments on 8 areas from all categories. Please bear in mind that at Datsumo Labo, you will need to pay a fee of $5 if you request for specific therapists to attend to you. Also, your package is only tied to one outlet. If you wish to transfer branches, you will need to pay a transfer fee of $10 per transfer. Hence for Datsumo Labo, you need to watch out for these hidden costs as you will have to fork out more for additional convenience. Check out their Underarm
For the Standard Monthly package, you can have treatments on 8 areas from all categories
Listed Prices (As Published):
Mini Areas – $38 each
Classic Areas – $68 each
Exclusive Areas – $88 each
Check them out at:
---
5. Only Aesthetics
Introduction: Many salons and modern time clinics consider making money as the only thing important in business. Only Aesthetics, on the other hand, believe that giving their customers value for their money is more important. Helping them save more by giving them real albeit expensive FDA approved medical aesthetics treatments based on latest technologies at affordable prices that help patients save more in the long run. Only Aesthetics have both the IPL hair removal, with IPL for Underarms at $158 and IPL for Brazilian at $680. They also offer AureoLED Hair Removal treatments. Expect to pay $158 for their 1 year Underarms hair removal plan.
For the Standard Monthly package, you can have treatments on 8 areas from all categories
Listed Prices (As Published):
SHR underarms – $98
SHR Brazilian – $288
SHR Boyzilian – $288
(Please note that the prices stated on website are trial prices)
Check them out at:
---
Interested to be featured on this list?
If you are interested to be featured in Tropika Club's top picks, do write to us via our email. Tropika Club will do a comprehensive review of your treatments and customer journey as part of our verification and validation process.
---

Tropika Club Magazine – Tropika Club Magazine crafts articles on all things Singapore, but with a greater emphasis on local businesses based on our #SupportLocalSG initiative. We check out and feature local businesses of all categories, ranging from your neighbourhood hawker stalls to the aesthetic clinics in town. We also cover local content ranging from beauty, lifestyle, places, eats and what's on in SIngapore. Our Top 10 rankings include local food and service establishments based in different regions in Singapore.
Tropika Club Deals – Search for the best voucher and coupon deals. Tropika Club Deals is ideal for customers who want to discover the best deals without having to commit to a specific appointment date and time. Choose from guaranteed discounted deals in the categories of hairstyling, hair removal, facial & aesthetics, body slimming, brows & lashes, nails & makeup, massage & spa or fitness & wellness. Customers can also buy vouchers as gifts or to use for the future.