Top 10 Best Cheap Eats in Brisbane, Australia
Whether you're a student on a budget, a traveller looking to save some money, or just someone who loves good food without breaking the bank – this list is for you. Brisbane has an abundance of cheap eats that will satisfy your taste buds and your wallet. From dumplings to banh mi, here are the 10 best cheap eats in Brisbane.
---
#1 – Cafe O-Mai
Introduction:
O-Mai translates "dried apricot" or "teenager" in Vietnamese. Cafe O-mai (pronounced Cafe Oh my) is a little quirky and intimate Vietnamese
cafe situated in the suburb of Annerley. It's nestled away from the hustle and bustle of Ipswich Rd near Chardon's Corner.
Menu Items:
Breakfast Menu

BEEF PHỞ ( Price $16 | 20)
CHICKEN PHỞ (Price $18 | 22)
VIETNAMESE OMELETTE (Price $21)
PORK MEATBALLS ( Price $17.5)
Location:
15 Cracknell Road
Annerley QLD 4103
Contact: +61 ( 07) 3255 9778
Website: Website Link Here
---
#2 – Gnocchi Gnocchi Brothers
Introduction:
From a two-person market stall in Brisbane serving fresh hand-made gnocchi, to opening Australia's First 100% dedicated Italian Gnoccheria in Paddington, to establishing a chain of busy Gnoccherias, Gnocchi Gnocchi Brothers are absolutely dedicated in their pursuit of serving you seriously good gnocchi.
Co-Founders, Ben Cleary-Corradini and Theo Roduner share a true passion for authentic Italian cuisine and believe that everyone should be able to appreciate the satisfaction experienced when they enjoy a delicious dish of their home style gnocchi with family and friends.
Menu Items:
Traditional Beef Bolognese (Price $19.90)
Wild Mushroom And Truffle Sauce (Price $19.90)
Creamy Basil Pesto (Price $18)
Creamy Lobster and Barramundi (Price $19.90)
Location:
Contact: +61 (07) 3924 1251
Website: Website Link Here
---
---
#3 – Sushi Kotobuki
Introduction:
Sushi kotobuki started at East Brisbane as a small restaurant.
It has been their great pleasure to serve you since 2008 with the highest quality Japanese food and excellent service at the best prices.
On the frontier of Japanese fusion restaurants in Brisbane, they are proud of their contemporary and wonderful cuisine which is selected from the freshest ingredients.
Menu Items:
Teriyaki Chickendon (Price $11 – 13.50)
Teriyaki Tofu Don (Price $11-13.50)
Japanese Curry Chicken (Price $11 – 13.50)
Beef Yakiniku Don (Price $11 – 13.50)
Location:
Shop 3 / 53 Lytton Rd East Brisbane 4169
Contact: +61 (07) 3392 2301
Email: [email protected]
Website: Website Link Here
---
_

Read Also:

Top 10 Best Cheap Eats in Sydney, Australia

_
---
#4 – The Bagel Boys
Introduction:
For the last five years The Bagel Boys have been supplying Brisbane with the tastiest New York style bagels the city has ever seen. All their delicious bagels are mixed, rolled, boiled and baked in the traditional way fresh every day, and this means their customers only get the best.
They've been told (by New Yorkers) that their bagels are as good as home. If you want the perfect New York style bagel, give The Bagel Boys a try. They even have gluten free bagels available.
At The Bagel Boys they have a passion for creating great tasting healthy food, and that passion is what they were founded on. They always deliver quality to their customers, both wholesale and instore, and it's something they'll never compromise on.
Their traditional kettle boiled bagels are available for wholesale purchase, catering for events/meetings and from their four bagel bars. So if you need to supply your Brisbane café with fantastic bagels, or if your need a tasty breakfast on the go, there's no one better than The Bagel Boys.
Menu Items:
Breakfast Bagels (Price $9 – 10)

Bacon & Egg
Brekkie Galore
Halloumi and Bacon Stack

Filled Bagels (Price $10.50 – 11.50)

The Ploughmans
Salmon Lox
Chipotle Chicken
Location:
376 George St, Brisbane City QLD 4000, Australia
Contact: +61 (07) 3189 1428
Website: Website Link Here
---
#5 – Roti Place
Introduction:
Born in 2015, Roti Place proudly serves Brisbanities the highly sought after Malaysian street food, particularly roti canai and nasi lemak. Their selection also features an extensive list of other popular Malaysian food, such as Hainanese chicken rice and Bak Kut Teh (the Pork Tea).
Menu Items:
Roti Canai (Price $7)
Satay Chicken Skewer (3) ( Price $9.00)
Hainanese Chicken with Rice (Price $15.00)
Chilli Lime Chicken with Rice (Price $16.50)
Location:
42 Charlotte St, Brisbane City QLD 4000
Contact: +61 (07) 3211 5353
Website: Website Link Here
---
---
#6 – Sushi Edo newmarket
Introduction:
FRESH. CONSISTENT. EXCEPTIONAL.
You can relax at home and order favourite, freshly prepared meals from Sushi Edo
They consistently strive to improve their service quality in order to give their customers the very best experience.
FRESHNESS IS EVERYTHING!
RICE – They use a blend of the best varieties 'Nishiki' and 'Koshihikari' for each season.
VINEGAR – They serve and original special vinegar using top quality Mitsukan Japanese rice vinegar with kombu seaweed added to it.
KONBU – Konbu is an essential ingredient for traditional Japanese cuisine. We only use Japan's finest quality Konbu from Hokkaido.
SALMON – Their Atlantic Salmon is from Tasmania Wilderness world Heritage area, which is located in pristine marine environment.
TUNA – They mainly use Yellow Fin, Big Eye and Blue Fin Tuna, carefully hand-picked from specialist tuna suppliers.
LOCAL FISH – They select fresh local fish daily such as Kingfish, Bonito, Whiting, Mackerel, Sardine… etc
'EDO' is the most prosperous period of Japanese culture. Enjoy the best sushi in Sushi-Edo.
Menu Items:
Nigiri (Price NA)

Salmon
Salmon Toro
Hamachi

Aburi (Price NA)

Aburi Salmon
Aburi Wagyu
Aburi EBi Cheese

Hand Roll (Price NA)

Grilled Salmon Avocado
Tempura Prawn
King Crab Meat Cucumber
Location:
Shop 129 400 Newmarket Rd, Brisbane, Queensland 4051 Australia
Contact: +61 (07) 3856 5058
Website: Website Link Here
---
#7 – Sandgate Fishmonger
Introduction:
Flinders Parade is besieged by restaurants and cafes plating-up Fish & Chips and other deep-fried seafood sensations at Sandgate, one of Brisbane's most idyllic suburban waterfront locations. But there's only one that has seasoned restauranteur David Balish at the helm, steering his Sandgate Fishmonger flotilla of favourites to the foreshore of first choice. David has been dazzling as a chef for over 30 years and has owned three restaurants in this time; Harolds of Spring Hill, Sonomas of Wilston and Sonomas of Sandgate. When family became more important than long slogs in the kitchen, he shelved the latter and opened Sandgate Fishmonger on the former site of Sonomas. And he hasn't looked back since.
Menu Items:
Fish + Chips / Chips and Salad

Cod ( Price $12,15,20)
Barramundi (Price $15,18,23)
Snapper ( Price $15,18,23)

Chips & Things (Price $2 – 12)
Burgers + Chips

Hamburger (Price $16 – 19)
Fish Burger (Price $16 – 19)
Chicken Burger (Price $16 – 19)
Location:
94 Flinders Pde, Brisbane, Australia
32690416
Contact: +61 7 3269 0416
Website: Website Link Here
---
#8 – Vegeme
Introduction:
They cater vegetarian and/or vegan dishes in Brisbane. Come and Enjoy veggies like they do.
Menu Items:
Noodle Rolls (Price $5.90)
Sesame Noodle Soup (Price $11.60)
Grilled Fried Rice (Price $13.90)
Risotto with mushroom and Veggies (Price $14.10)
Location:
Shop 9, 220 Melbourne Street, South Brisbane, QLD, Australia, Queensland
Contact: +61 7 3846 2723
Website: Website Link Here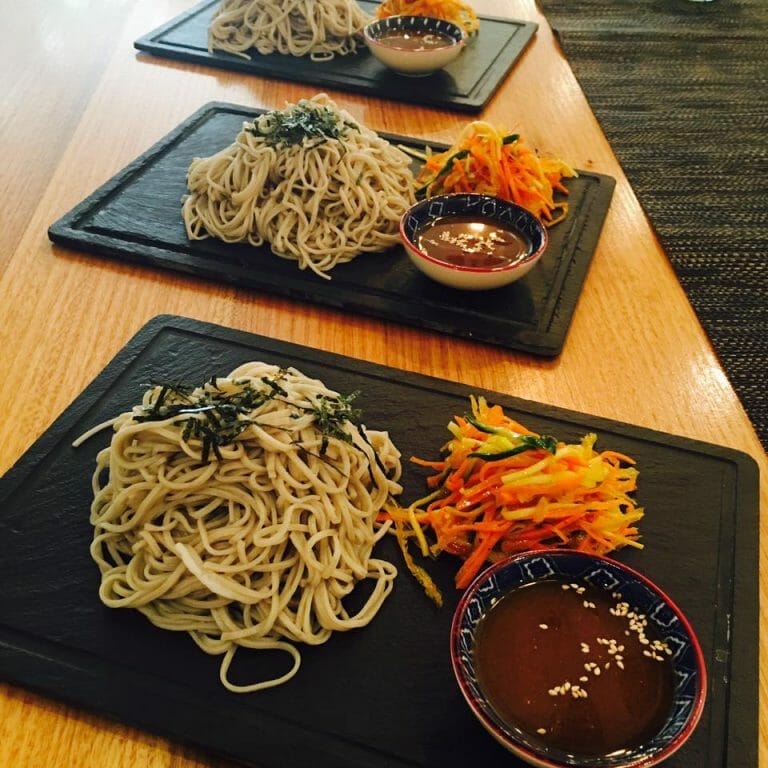 ---
#9 -The Vietnamese
Introduction:
With an extensive range of PHO, The Vietnamese is pulling out all stops to make sure you get all the choices of the delicious soup.If you've got a craving for beef, pork, chicken or even duck noodle soup, The Vietnamese will kit you out with their umami goods , with all the fresh sides.
Menu Items:
Vegetarian Menu (Price $8 – 14)

Beancurd , Salad with Rice Paper (Make your own)
Vegetarian Spicy Noodle Soup
Stir Fried Vegetarian Singapore Noodle

Rice (Price $6 – 15)

Combination Fried Rice
Rice with Crispy Chicken

Flat Rice Noodle (Price $6 -15)

Flat Rice Noodle with Prawns
Flat Rice Noodle Combination
Flat Rice noodle with BBQ Pork
Location:
194 Wickham Street, Fortitude Valley, QLD, Australia, Queensland
Contact: +61 7 3252 4112
Website: Website Link Here
---
#10 – WickED Corner Café
Introduction:
The Australian menu attracts people who are in search of a new experience. Most guests recommend trying perfectly cooked bacon, bacon and eggs and egg sandwiches. You will be served tasty French toasts and good pancakes. It's time to degustate delicious tea, latte or egg coffee.
Wicked Corner Cafe is good for guests who have a snack on the go because they can order food as a takeaway.
Menu Items:
Scrambled Eggs with Chorizo (Price $14.50)
Big Breakfast (Price $15.80)
Petite Breakfast (Price $12.50)
Smoked Salmon or Bacon Benedict (Price $15)
Location:
2/166 Wickham Terrace, Spring Hill QLD 4000, Australia
Contact: +65 (07) 3236 9922
Website: Website Link Here
---
Have a Place to Recommend?
We need your help! Do you know any other noteworthy beauty clinics or salons that deserves to be added to this list? If so, do write to us via our email at [email protected]. Tropika Club will do a review of your recommendations and update the list accordingly.
---
Meanwhile, check out Tropika Club's Ecosystem of Websites
Tropika Club Magazine – Tropika Club Magazine crafts articles on all things Singapore, but with a greater emphasis on local businesses based on our #SupportLocalSG initiative. We check out and feature local businesses of all categories, ranging from your neighbourhood hawker stalls to the aesthetic clinics in town. We also cover local content ranging from beauty, lifestyle, places, eats and what's on in SIngapore. Our Top 10 rankings include local food and service establishments based in different regions in Singapore.
Tropika Club Deals – Search for the best voucher and coupon deals. Tropika Club Deals is ideal for customers who want to discover the best deals without having to commit to a specific appointment date and time. Choose from guaranteed discounted deals in the categories of hairstyling, hair removal, facial & aesthetics, body slimming, brows & lashes, nails & makeup, massage & spa or fitness & wellness. Customers can also buy vouchers as gifts or to use for the future.