Top 10 Best Eye Masks in Singapore
The trend for under-eye has grown massively in recent years meaning are hundreds of products for you to choose from depending on your needs. Using an eye cream will do the job on a day-to-day basis but an eye mask will provide an instant boost of hydration, soothing ingredients and have a cooling and anti-inflammatory effect on the skin surrounding your peepers. The Tropika Club team has rounded up Top 10 Best Eye Masks in Singapore. Read on!
---
1. Estée Lauder Stress Relief Eye Mask
Description: A revitalising, 10-minute mask treatment for the tell-tale undereye area .The perfect treat after long days, long nights, in-flight or whenever you need to "de-stress." Pre-moistened pads hydrate and soothe skin with targeted anti-stress and anti-fatigue ingredients, including Aloe Vera and Cucumber. Pads are sealed 2 to a packette and are applied under each eye.
How to Use: Whenever your eye area needs a boost, remove the pre-soaked pads from their packette. Gently separate the two pads and apply lightly under eyes using fingertips. Relax for 10 minutes. Try playing soft music or reading a magazine. Then lift off pads and gently pat remaining serum into skin.
Pricing: $59.00 for 10 pairs
Where to Find: Tangs
---
2. Petitfee Gold & Snail Hydrogel Eye Patch
Description: Made with gold powder, this eye mask helps regeneration and purification of the skin, as well as to brighten the dark under eye area. Infused with snail extract, this product nourishes and intensely hydrates the delicate eye area to reduce puffiness.
How to Use: After cleansing and toning face, apply patches under eyes and allow to sit for 30 minutes before removing and patting remaining essence into the skin very gently.
Pricing: $16.50 for 60 Patches
Where to Find: Althea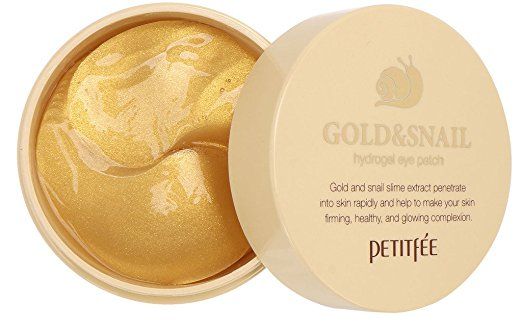 ---
---
3. Guerlain Super Aqua Eye Anti Puffiness Smoothing Eye Patch
Description: These powerful eye patches intensely moisturize and smooth the delicate under-eye area. Enriched with the desert rose flower complex and as many active ingredients as Super Aqua-Serum, this mask delivers all the effectiveness of an intense moisturizing anti-aging experience for the skin. In as little as 10 minutes, signs of tiredness and fine lines from dehydration fade away and eyes light up with youthfulness.
How to Use: Apply once or twice a week for 10 minutes. Use after cleansing.
Pricing: $250.88 for 6 sachets
Where to Find: Shopee
---
4. Laneige Intensive White Dew Eye Mask
Description: Laneige Intensive White Dew Eye Mask is effective to promote blood circulation to the blemish-prone area around the eye. Not only does it brighten dull areas, but it also hydrates the skin with its high water content, and plump up the under eye area. Keep your eyes looking healthy and bright all day long!
How to Use:
TIP) Use once or twice a week after applying toner.

Open the pouch and take out the mask.
Peel off the net film from the mask and closely attach the filmless side to skin around the eyes.
After 10-20 minutes, remove the mask and gently pat skin with the fingers as a finishing touch.
Pricing: $29.90 for 6 Pieces
Where to Find: Lazada
---
5. Shangpree Marine Energy Eye Mask
Description: Formulated with algae and spirulina, this mask acts as an anti-aging product to help your skin look more firm and supple. It also contains soothing botanical extracts to condition and restores your eyes to its beautiful, youthful state.
How to Use:
Cleanse and tone your skin.
Take out the mask with the enclosed spatula and place on the areas you desire.
Leave on for about 20 to 30 minutes.
Remove the masks. No need to rinse.
Pricing: $41.00 for 60 Pieces
Where to Find: Shopee
---
---
6. Etude Collagen Eye Patch
Description: This under-eye treatment mask patch with an intensive hydrating and firming effect instantly moisturizes the skin around the eyes enhancing the elasticity. The sheet, enriched in collagen and vitamins, is specially designed to tighten and rejuvenate the area around the eyes
How to Use:
After washing face, remove clear film from patches and apply on both eyes.
Remove patches after 15~20 minutes and tap on eyes to make skin absorb the remains
Pricing: $13.90 for 5 Pieces
Where to Find: Qoo10
---
---
7. Innisfree Anti-Aging Eye Mask
Description:
A total anti-aging mask that firms the skin with coenzyme Q10 and helps brighten it up with niacinamide and reduces the appearance of wrinkles around the eyes with the help of adenosine.
Provides moisture and nourishment to the skin around the eyes, combined with cream, hydro gel provides moisture and nourishment to keep the skin around the eyes moisturized.
How to Use:
Apply toner on your skin after cleansing.
Remove the film on both sides of the patch and press the surface where the thin film was removed onto your skin while adjusting it to the eye area.
Remove the patch after 30 minutes and pat gently to help your skin absorb the remaining essence.
Pricing: $6.47 for 1 Piece
Where to Find: Lazada
---
8. Estée Lauder Advanced Night Repair Concentrated Recovery Eye Mask
Description: This eye mask, infused with Advanced Night Repair technology, bursts onto skin with 20 times more of soothing and hydrating repair ingredients. It instantly refreshes and cools your eye area in just 10 minutes, leaving your eyes looking more rested and renewed as fine, dry lines are plumped as skin is drenched with hydration.
How to Use:
Apply on clean skin, once a week at night.
Press the liquid chamber to break its seal and release formula onto pads.
Massage gently to ensure pads are fully saturated.
Tear open packet and separate the pads (discarding the divider), then apply one under each eye.
Leave on for 10 minutes, remove pads and gently pat in any remaining serum.
If desired, follow with your favourite eye creme.
Pricing: $64.00 for 4 Pieces
Where to Find: Sephora
---
9. Verso Reviving Eye Mask with Retinol 8
Description: Verso Reviving Eye Mask is a moisturizing hydrogel mask with Retinol 8 that provides energy to the skin area around the eyes. The mask is hydrating and minimizes the signs of aging. Retinol 8 is a stabilized Vitamin A complex, eight times more effective than standard Retinol and half as irritative.
How to Use: Apply directly on cleansed skin. Open the package and remove the thin protective film. Apply the gel mask sheets evenly on the skin under the eyes. Peel off the thicker protective film and leave the mask on for approximately 20 minutes. Gently remove it from your skin when finished. Use your fingertips to massage any remaining moisture into your skin. The Verso Mask series is perfect to use once or twice a week.
Pricing: $83.00 for 4 Pieces
Where to Find: Lookfantastic
---
10. Leaders Insolution Hydrogel Eye Therapy Patch
Description: Packed with high-performance ingredients like adenosine, hydrolysed collagen, peptides and vitamin C, this multi-action eye mask hydrates, plumps, firms and brightens the eye contours instantly so you look like you had a full eight hours' sleep. A host of botanical extracts that are rich in antioxidants also help fend off free radical damage so your skin is more resilient against external sources of damage.
How to Use:
Clean and dry face, then refine with toner.
Remove transparent film and attach the eye patch on the under-eye area, then remove white film.
Leave for 20-40 minutes.
Remove patches and tap skin lightly until the remaining essence is absorbed.
Pricing: $17.00 for 5 pairs
Where to Find: Sephora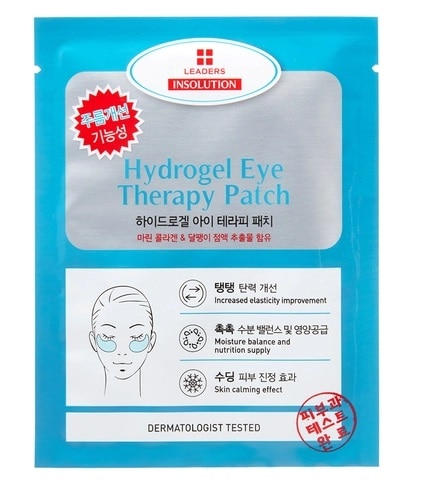 ---
Got a Product to Suggest?
We need your assistance! Do you have a great experience with any products that fall into this category and would like to recommend for them to be listed? If so, do write to us via our email. Tropika Club will do a review of your recommendations and update the list accordingly.
---
Meanwhile, check out Tropika Club's Ecosystem of Websites
Tropika Club Magazine – Tropika Club Magazine crafts articles on all things Singapore, but with a greater emphasis on local businesses based on our #SupportLocalSG initiative. We check out and feature local businesses of all categories, ranging from your neighbourhood hawker stalls to the aesthetic clinics in town. We also cover local content ranging from beauty, lifestyle, places, eats and what's on in SIngapore. Our Top 10 rankings include local food and service establishments based in different regions in Singapore.
Tropika Club Deals – Search for the best voucher and coupon deals. Tropika Club Deals is ideal for customers who want to discover the best deals without having to commit to a specific appointment date and time. Choose from guaranteed discounted deals in the categories of hairstyling, hair removal, facial & aesthetics, body slimming, brows & lashes, nails & makeup, massage & spa or fitness & wellness. Customers can also buy vouchers as gifts or to use for the future.