Top 10 Best Frizzy Hair Products in Singapore
When you live in a humid climate, South East Asia like Singapore, depending on your hair quality and hair type, you are bound to experience frizz in varying degrees. But this is not just the factor that makes your hair frizzy. Every single habit like head styling, hot shower, and even pollution can make your hairs frizzy and hard to style for looking good. The Tropika Club team has rounded up Top 10 Best Frizzy Hair Products in Singapore. Check them out!
No Time to Read? Here's a Snappy Summary of This Article
Tropika Club's Top 10 Best Frizzy Hair Products in Singapore provides a curated list of hair products specifically designed to combat frizz in Singapore.
The article highlights a variety of product options, including shampoos, conditioners, serums, and masks, catering to different hair types and preferences.
Each product is accompanied by a brief description, outlining its key features and benefits, such as anti-frizz properties, moisture retention, and smoothing effects.
The list includes popular brands and trusted products, ensuring a diverse range of options for individuals looking to manage frizzy hair effectively.
The article emphasizes the affordability and availability of the listed products, making it easier for readers in Singapore to find suitable solutions without breaking the bank.
By providing this comprehensive list, Tropika Club assists individuals in making informed choices to tackle frizzy hair and achieve smoother, more manageable locks in Singapore.
---
1. MOROCCANOIL Hair Treatment
Description: A versatile, argan oil-infused hair styler in a light formulation that can be used for conditioning, styling, and finishing.
Key Benefits:1)Detangles, speeds up blow-drying time, and boosts shine. 2)Improves manageability and controls frizz and flyaways. 3)Infused with antioxidant-rich argan oil and vitamin-rich linseed (flax) seed extract to help strengthen.

Moroccanoil® Treatment detangles, speeds up drying time, and boosts shine. Featuring the iconic Moroccanoil scent, this treatment is non-greasy and fast-absorbing, and it improves your hair's manageability and creates a softer texture.
What it is formulated WITHOUT: Parabens, Sulfates, and Phthalates.
What else you need to know: This product is free of mineral oil.
How to Use:
Wet hair:-Apply a small amount to damp hair from mid-length to ends as the foundation for all styling to prepare the hair for blow-drying. Blow-dry or style as usual.
Dry hair:-Apply a small amount from mid-length to ends, to help smooth and eliminate frizz and help protect against environmental factors, including the sun and wind.
Pricing: $39.00 for 50ml
---
2. OUIDAD Advanced Climate Control Heat and Humidity Gel
Description: Perfect your 'do and set it in place with the Ouidad Advanced Climate Control Heat and Humidity Gel; an award-winning, bestselling, styling gel for curls that defines them with flexible hold, locks out humidity, offers thermal protection and keeps unsightly frizz and flyaways in check.
Formulated with the haircare brand's high-performance Anti-Frizz Nano Technology with Silk-derived protein that seals the cuticle to keep essential moisture in and humidity out, the frizz-fighting gel also provides protection against the harmful effects of heat and UV rays. Wheat Protein and pliable styling polymers form a weightless flexible lattice that expands as heat or humidity rises to hold curl definition without frizz.
The result? Flexible hold that won't leave hair crunchy, sticky, or weighed down. Frizz-free, perfectly defined curls-in any climate.
How to Use: Apply using Ouidad's Rake & Shake technique. Divide damp hair into sections. Rake a nickel-size amount of gel through each section, using fingertips to seal and smooth the cuticle from roots to ends. When finished, hold the ends of hair in each section and shake to create curls. Let hair air-dry or blow-dry with a diffuser.
Pricing: $45.50 for 250ml
Where to Find: Lookfantastic
---
3. OUAI Hair Oil
Description: Treat your hair to the nourishing and protective properties of OUAI Hair Oil, a multi-tasking solution that works to smoothen frizz and seal split ends; developed by celebrity hair stylist, Jen Atkin.
Infused with a cocktail of African Galanga, Ama and Asian Borage oils, the formula softens and tames your hair, controlling frizz whilst imparting mirror-like shine. The hair oil's protective properties keep hair safe during heat styling and it expertly preserves colour vitality for long-lasting, salon-fresh locks.
Free from parabens and phthalates.
No animal testing.
How to Use: Work 1 – 3 drops through wet hair and air dry. Or, smooth through dry strands after a blowout to calm frizz.
Pricing: $42.00 for 45ml
Where to Find: Lookfantastic
---
4. BRIOGEO Curl Charisma™ Rice Amino + Avocado Leave-In Defining Crème
Description:
A curl-defining cream that provides definition and control, while maintaining movement and touchability for resilient, sleek and long-lasting curls.
What it does: This leave-in creme hydrates, defines and weather-proofs curls, while maintaining touchable movement and light, flexible hold. Mollis Leaf and Tomato fruit ferments, smoothens and seals the hair cuticle to lock out frizz-causing environmental moisture and promote consistent curl formation. Ultra-hydrating avocado oil helps hair retain moisture and increase elasticity to protect against damage.
What else you need to know:- Cruelty-free- Free from Gluten, Silicones, Sulfates, Parabens, Phthalates, DEA and Synthetic Dyes- Vegan- 98% naturally-derived.
How to Use:
After washing and conditioning, apply 1-2 quarter sized amounts to damp hair evenly from root to tip.
Do not rinse.
For added hold, cocktail with Curl Charisma™ Rice Amino + Quinoa Frizz Control Gel to create the perfect blend of hydration and hold custom-suited for your hair type.
After applying the crème, air or diffuse-dry your curls.
Pricing: $32.00 for 170ml
Where to Find: Sephora
---
5. JOHN FRIEDA Frizz Ease Extra Strength Six Effects + Serum
Description: Frizz-ease extra strength serum instantly and dramatically transforms coarse, wiry, unruly frizz for ultra-sleek, purely polished, super-shiny results. It protects and prolongs the life of color treated hair. It has a high-potency blend of silicones infused with aloe and vitamin E which leaves dry, defiant hair extremely supple, easy to manage and healthy-looking. It contains sunscreen and repels humidity to help prevent weather-related frizz and blocks frizz all day.
How to Use:
Apply to SOAKING WET HAIR.
Use sparingly, dispensing a dime-size amount of serum into palm.
Rub hands together and distribute evenly throughout hair.
AVOID applying directly to ROOTS.
Use more or less depending on hair length and thickness.Do not rinse out.
Style as desired, using any product from the FRIZZ EASE® styling line.
Pricing: $23.90 for 50ml
Where to Find: Lazada
---
---
6. KÉRASTASE – Discipline Fluidissime Complete Anti-Frizz Care
Description: A thermal anti-frizz protection hair spray.Developed with Morpho-Keratine technology that perfects hair movement, tames frizz & protects against humidity.Contains conditioning agents to reduce static & frizz.Adds shine to hair & offers heat styling protection.Leaves hair smooth, bouncy & manageable.
How to Use: Shake and apply to towel-dried hair strand by strand. Leave-in. Proceed to usual blow-dry.
Pricing: $55.00 for 150ml
Where to Find: Zalora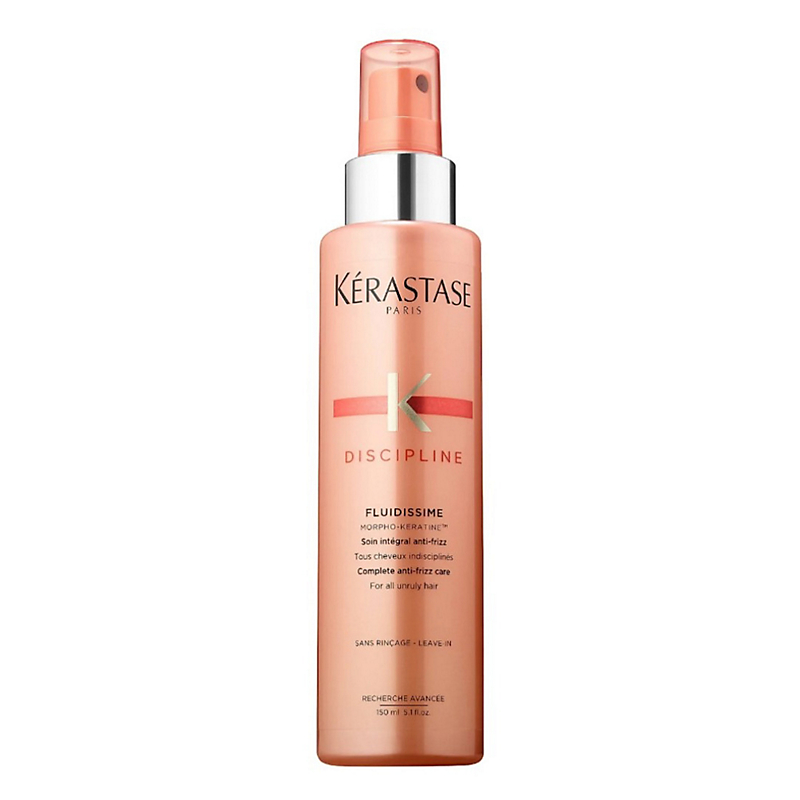 ---
7. LIVING PROOF No Frizz Weightless Spray
Description: A smoothing, styling spray that eliminates frizz by blocking humidity and smoothing each strand without weighing it down for frizz-free, smooth hair with natural body. Powered by their patented Healthy Hair Molecule (OFPMA).
What it does:Weightlessly blocks humidity; smoothes fine hair so strands are polished and frictionless; nourishes and conditions, leaving hair feeling moisturized.
How to Use: On clean, damp hair, apply LIVING PROOF No Frizz Weightless Spray generously to coat the hair from roots to ends. Comb through. For best results, style with heat.
Pricing: $54 for 200ml
Where to Find: Sephora
---
---
8. UMA OILS Intensely Nourishing Hair Oil
Description: A deeply restorative, yet lightweight hair-nourishing oil that delivers essential moisture deep into the hair follicle for a frizz-free, silky smooth mane that shines.
What it does: Clarifying extracts of grapefruit and lemon remove impurities and stimulate the hair for a truly healthy mane, enhancing elasticity and strengthening hair from root to end. Potent botanicals such as hibiscus and yerba de tago revive hair that has been stripped from over-processing and environmental pollutants, while Indian gooseberry and cypriol stimulate the roots and diminish premature greying. Grape seed oil regulates naturally occurring oils and ensures hair is healthier-looking and strong – never greasy. A healthy balance of jojoba and moringa add strength and deep nutrition for hair that shines! This rapidly absorbent oil leaves no unpleasant residue and is perfect for all hair types – even hair that has been colour-treated.
What else you need to know:- All natural- Vegan- Organic.
How to Use:
Take 2-3 drops of oil between your palms and rub into your hair, focusing on drier, processed or damaged ends. You may even want to section your hair in three parts and apply 1-2 drops to each part for even application.
To use as a treatment, take a quarter-full dropper of oil and apply 5-8 drops all over the scalp.
Using your fingers, gently massage your scalp for 2-3 minutes in circular motions.
Comb out to spread the oil along the hair shafts.
Leave on overnight and wash off in the morning. If that's not feasible, use it as described just prior to a shampoo for deeply nourished roots and strengthened hair.
Pricing: $100.00 for 30ml
---
9. IGK CRYBABY Anti-Frizz Smoothing Serum
Description: A lightweight serum-in-oil formula that eliminates frizz and adds shine without weighing hair down or feeling greasy.
What it does:Inspired by skincare technology, this serum-in-oil fomula absorbs into your hair instead of sitting on top of it for a weightless, non-greasy feel. The result is hair that is frizz-free, smooth, soft and beautifully shiny. Coconut oil nourishes while antioxidant-rich prickly pear cactus extract adds colour dimension and shine.
How to Use:
Apply to dry hair.
Warm the serum in your hands and finger comb through the mid-lengths and ends.
Apply to the hairline and part to reduce flyaways.
You can also apply it to damp hair before heat styling.
Pricing: $37.00 for 44ml
---
10. MISE-EN-SCÈNE Perfect Serum Coco Water
Description: The miraculous watery-type oil serum that improves 7 symptoms of damaged hair in just 3 days! Experience the 7X Perfect Oil™ intensive nourishment care with Perfect Serum Coco Water. Perfect for humid days!
How to Use: Apply serum about a coin-sized amount on towel-dried hair (avoid the scalp). On dry hair, apply on the tip of hair as a finishing touch.
Pricing: $15.90 for 70ml
Where to Find: Watson
Conclusion
First off, they cover a wide range of frizzy hair products. They've got everything from shampoos and conditioners to serums and masks. So, no matter your hair type or preference, they've got you covered.
Each product on the list comes with a brief description, so you can get an idea of what it does and how it can help with frizz. They mention things like anti-frizz properties, moisture retention, and smoothing effects. It's nice to know what you're getting before you make a purchase, right?
The list includes popular brands and trusted products, which is great because you want something reliable when it comes to your hair. Having a variety of options is also helpful because everyone's hair is different and what works for one person may not work for another.
One thing that stood out to me is that they made sure to mention the affordability and availability of these products. It's important to find something that suits your budget, and it's even better when you can easily find it in Singapore. No one wants to spend a fortune or go on a wild goose chase for a good hair product, right?
Overall, I think this article is really helpful for anyone struggling with frizzy hair in Singapore. It provides a comprehensive list of products, gives you an idea of what they do, and considers factors like affordability and availability. Tropika Club Magazine seems to have done a great job of putting together this resource for people looking to tame their frizzy hair.
In conclusion, Tropika Club Magazine's "Top 10 Best Frizzy Hair Products in Singapore" is a fantastic resource for those dealing with frizzy hair in the country. The article offers a well-curated list of products that cater to different hair types and preferences. By highlighting the key features, affordability, and availability of each product, Tropika Club Magazine ensures that readers can make informed decisions and find suitable solutions for their frizzy hair. With this comprehensive guide, individuals can confidently choose from trusted brands and products to achieve smoother, more manageable locks in Singapore's humid climate.
Frequently Asked Questions (FAQ)
Q: How can I choose the best frizzy hair product for my hair type in Singapore?
A: When selecting a frizzy hair product in Singapore, consider your hair type and specific concerns. Fine hair may benefit from lightweight serums, while thick or curly hair might require intensive masks for hydration. Read the product descriptions and choose one that suits your hair needs.
Q: Are these frizzy hair products suitable for colored or chemically treated hair?
A: Absolutely! Many of the featured products are formulated to be safe for colored or chemically treated hair. They contain nourishing ingredients that help maintain vibrant color and protect hair from further damage.
Q: Can these products be used in humid weather conditions like Singapore?
A: Yes, these products are specifically chosen to combat frizz in humid climates like Singapore. They often have anti-humidity properties and moisture-retaining ingredients to keep your hair looking smooth and frizz-free, even in the humidity.
Q: Are these frizzy hair products affordable in Singapore?
A: Yes, Tropika Club's list includes a range of products at different price points to suit various budgets. You can find affordable options that provide excellent results without breaking the bank.
Q: Where can I buy these frizzy hair products in Singapore?
A: You can purchase these frizzy hair products from various beauty retailers and online platforms in Singapore. The article provides links to each product, making it easy for you to explore and purchase them from trusted sources.
Q: How often should I use these frizzy hair products for best results?
A: The frequency of use depends on the specific product and your hair's needs. Most shampoos and conditioners can be used regularly, while masks and serums may be used once or twice a week for deep hydration and frizz control. Refer to the product instructions for the best usage recommendations.
---
Have a Product to Recommend?
Your contribution is valuable to us! Are there any outstanding brands that you believe should be added to our list? If so, please send your recommendations to us at [email protected]. Tropika Club will review your suggestions and update the list accordingly. Thank you for your help in making our list as comprehensive and accurate as possible.
---
Meanwhile, Check Out Tropika Club's Ecosystem of Websites

Tropika Club Magazine – Tropika Club Magazine is a Singapore-based publication that features articles on a wide range of topics with a focus on local businesses and content for the region. The magazine emphasizes supporting local businesses through its #SupportLocal initiative, which includes coverage of everything from neighborhood hawker stalls to aesthetic clinics in town. In addition to highlighting local businesses, Tropika Club Magazine also covers a variety of local content, including beauty, lifestyle, places, eats, and what's on in Singapore and the Asia Pacific region.
Tropika Club Deals – Tropika Club Deals is a leading online deals and voucher shopping site in Singapore, offering amazing discounts on beauty, wellness, and fitness products and services. It's the perfect platform for customers who want to discover the best deals without having to commit to a specific appointment date and time. These deals are available at major beauty stores, facial salons, hair salons, and other brands in Singapore, with no minimum spend required. Choose from guaranteed discounted deals in the categories of hairstyling, hair removal, facial & aesthetics, body slimming, brows & lashes, nails & makeup, massage & spa or fitness & wellness. Tropika Club Deals is also ideal for customers who want to buy vouchers as gifts or to use for the future. So whether you're looking to save money on your next haircut or want to treat yourself to a relaxing massage, Tropika Club Deals has got you covered with the best voucher and coupon deals in Singapore!