Top 10 Best Men's deodorants in Singapore
Deodorant has so many bodily uses because of its make up. Most include antiperspirant, aluminum compounds, Cyclomethicone and anti-bacterial ingredients. All of those make a substance that is thick enough to mask odors of smell, but not thick enough to actually stop your sweat. A deodorant is applied to the body to prevent body odor caused by the bacteria breakdown of perspiration in armpits, feet, and other areas of the body. Using antiperspirants helps reduce the sweating, sweat patches on clothes and the odor that comes with accumulated sweat after a period of time. The Tropika Club team has rounded up Top 10 Best Men's Deodorant in Singapore. Read on!
---
1. Sephora Collection Anti-Perspirant Roll-On Deodorant
Description: Feel fresh throughout the day with this anti-perspirant deodorant. It ensures a clean look, without leaving any white streaks on your skin. Easy to bring around wherever you go.
How to Use: Apply to the underarm in a gentle to and for motion.
Recap after use.
Pricing: $19 for 50ml
Where to Find: Sephora
---
2. NIVEA Deo (M) Stick Dry Impact
Description: With minerals offers the real confidence of effective 48 hour regulation of perspiration and guarantees a dry skin feeling. The optimal combination of reliable antiperspirant protection and NIVEA's mild care. Without alcohol, colourants or preservatives. 48h effective regulation of perspiration with a light masculine scent.
How to Use: For the stick, simply apply directly to skin.
Allow product to dry completely before getting dressed.
Pricing: $5.85 for 40ml
Where to Find: Watsons
---
---
3. Rexona Men Ice Cool Deodorant Spray
Description: A clean, airy fragrance and up to 48 hours of protection help keep you feel dry and fresh all day. Antiperspirant deodorant helps reduce 90% of odor-causing bacteria. MotionSenseTM technology helps keep you fresh as you move.
How to Use: Shake well before use.
Hold can 15cm from underarm and spray.
Do not apply to broken or sore skin. Stop use if irritation develops.
Do not spray near eyes or face.
Pricing: $8.65 for 150ml
Where to Find: Qoo10
---
4. Calvin Klein Eternity Deodorant Stick for Men
Description: Designed by Calvin Klein in 1996, CK Be is a refreshing, oriental, woody fragrance suitable for casual use. A quick drying long lasting deodorant. Effectively reduces underarm odor amp wetness Ensures a perfect protection all day long. Suitable for even the most delicate skin .
How to Use: Apply every morning before dressing for long lasting protection against odors.
Pricing: $30 for 75ml
Where to Find: Fragrance
---
5. Now Solutions Nature's Deodorant Stick
Description: Leaves a thin layer of odor-controlling mineral salts to offer long-lasting, natural protection. Natural deodorant crystals have been proven to be highly effective in protecting against body odors. It is free of harsh chemicals, oils, alcohol, preservatives and harmful forms of aluminium.
How to Use: Lightly wet deodorant crystal stick and apply generously to the underarms and/or feet.
For best results, use after bathing while skin is still moist.
Pricing: $12.90 for 99g
Where to Find: Lazada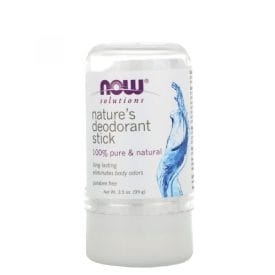 ---
---
6. Adidas Men Ice Dive Deodorant Body Spray
Description: Adidas Ice Dive Deodorant Spray is a unique combination of exhilarating and reviving fragrances that keep you fresh and cool for all through the day. With its active formula, it gives your total protection from perspiration and body odor transforming your day into a true moment of pleasure.
How to Use: Give it a good hard shake first to make sure all the ingredients are mixed together before you spray it.
Hold the can approximately 15cm from your body or clothes as you spray it.
Pricing: $7.10 for 150ml
Where to Find: Shopee
---
---
7. Old Spice Classic Stick Original Scent Deodorant
Description: Old Spice Classic Anti-Perspirant/Deodorant provides 24-hour odor and wetness protection. The invisible solid deodorant has the original and masculine Old Spice scent. Additionally, it an aluminium-free deodorant as well. Pump up the manly factor with the forever classic Old Spice.
How to Use: To use, turn the base to raise the anti-perspirant and wipe armpits for lasting sweat reduction.
Pricing: $13 for 63g
Where to Find: Lazada
---
8. LYNX Gold Temptation Deodorant Body Spray
Description: The opposed paths between freshness and sweetness in LYNX Gold Temptation Bodyspray create a unique and exciting contrast, including notes of green citrus, masculine amber and sugary molten chocolate. A single spritz to the pulse points on your wrists, forearms and neck is all you need.
How to Use: Hold can 15cm from the body and spray
Pricing: $5.95 for 155ml
Where to Find: Guardian
---
9. Schmidt's Bergamot + Lime Deodorant Stick
Description: Provides all-day odor protection and wetness relief. Fast-absorbing. Non-greasy, non-sticky feel. Free of aluminum, propylene glycol, parabens & phthalates.
How to Use: Hold product momentarily to skin to soften on contact with body heat.
Gently apply a thin even layer to underarms.
Pricing: $24 for 92g
Where to Find: Shopee
---
10. Nivea Men Deodorant Roll On – Stress Protect (Pack of 4)
Description: Provides extra protection in stressful situations with stress protect actives and Zinc complex. It provides 48h effective anti-perspirant protection and NIVEA care complex. Skin tolerance dermatologically approved. No alcohol.
How to Use: Roll on evenly.
Allow to dry before dressing.
Do not apply to broken or irritated skin.
Pricing: $19.90 for 50ml
Where to Find: Lazada
---

Got a Product to Suggest?
We need your assistance! Do you have a great experience with any products that fall into this category and would like to recommend for them to be listed? If so, do write to us via our email. Tropika Club will do a review of your recommendations and update the list accordingly.
---
Meanwhile, check out Tropika Club's Ecosystem of Websites

Tropika Club Magazine – Tropika Club Magazine crafts articles on all things Singapore, but with a greater emphasis on local businesses based on our #SupportLocalSG initiative. We check out and feature local businesses of all categories, ranging from your neighbourhood hawker stalls to the aesthetic clinics in town. We also cover local content ranging from beauty, lifestyle, places, eats and what's on in SIngapore. Our Top 10 rankings include local food and service establishments based in different regions in Singapore.
Tropika Club Deals – Search for the best voucher and coupon deals. Tropika Club Deals is ideal for customers who want to discover the best deals without having to commit to a specific appointment date and time. Choose from guaranteed discounted deals in the categories of hairstyling, hair removal, facial & aesthetics, body slimming, brows & lashes, nails & makeup, massage & spa or fitness & wellness. Customers can also buy vouchers as gifts or to use for the future.