Top 10 Best Riesling Wines for Under $50
The Best Riesling Wines for Under $50 are here to spice up your everyday drinking. Riesling wines are sweet wines that has won the hearts among the top connoisseurs across the world. Riesling white wines are sparkling wines, that tend to be sweeter. That helps to balance against it's high acidity. Tropical fruits usually colour the notes of Riesling wines, some of them even have citrus notes too. You can find Riesling white wines from Germany, Australia, and the United States, though you'd be surprised to find Riesling wines from New Zealand too.
---
1. Giesen Riesling 2020
Features:
This Riesling is a medium sweet style with striking notes of citrus blossom, lime and sweet mandarin. A succulent, juicy sweetness and a crisp clean finish.
Country: New Zealand
Pricing: S$ 35.90
Website: Vivino.com
---
2. St. Urbans-Hof Nik Weis Selection Urban Riesling 2020
Features:
Infinitely fruity, with a delicious combination of fine sweetness, brilliant acidity and the spiciness that typifies wines grown on the Mosel's steep slopes of blue slate, it's the perfect refreshment for drinking with or without food.
So balanced and easy to drink, it'll be gone before you know it – but at this price, that's not a problem!
This is Riesling at its very best – juicy, fresh, mineral and spicy!
It opens with a slightly smoky, floral-scented touch, which quickly turns into citrus, green apple and apricot with some air. On the palate, the wine flows beautifully – ripe, sweet, juicy fruit, brilliant acidity – all fit together in a wonderful balance that is rarely found at this price point. Charming and vibrant with a silky texture, it finishes with a delicious spiciness and minerality that's so typical of Mosel Riesling.
Country: Germany
Pricing: S$44.00 S$36.00
Website: Vivino.com
---
3. Ansgar Clüsserath Trittenheimer Apotheke Riesling Kabinett 2018
Features:
The 2018 Trittenheimer Apotheke Riesling Kabinett is very clear and precise on the fine, bright and slatey/floral nose, which is a perfect, fluent representative of the Jugendstil Mosel. Juicy, piquant and round on the palate, this is a tightly structured yet filigreed Kabinett with a salty, mouth-watering finish. A gorgeous Kabinett that embarrasses the new wave Kabinetts from Rheinhessen that are sold for a small fortune. 8% alcohol.
Country: Germany
Pricing: SGD 46.00
Website: Vivino.com
---
4. Hechtsheim Graf Johann IV Riesling Halbtrocken 2019
Features:
Winzerverein Hechtsheim Winery Association consists of 15 wineries. The history of the cooperative began in 1971, when seven wineries united to represent the wines of their region at major fairs and exhibitions in the country. In 1983, they were joined by another 8 wineries. In 1984, the first days of wine tasting were held, after which it became a tradition to hold such an event every spring; the entire range of Hechtsheim wineries was presented. And in 1986, the cooperative became an independent association, which made it possible to use new marketing tools.
Today, the cooperative is well known in the world, and production exceeds 60 million bottles a year. Winzerverein Hechtsheim wines are highly valued by consumers, which has been repeatedly confirmed by receiving high marks from world-renowned wine critics, including the excellent price-performance ratio.
Country: Germany
Pricing: SGD 42.00
Website: Vivino.com
---
---
5. Dr. Hermann Erdener Treppchen Riesling Kabinett 2018
Features:
The riesling-estate, Hermann, comprises of more than 6.5 hectares of vineyards is managed by Rudi Hermann and his son Christian. Winegrowing has a tradition in the Hermann family for several hundred years. The present estate was created in 1967 when the renowned estate Joh. Jos. Christoffel Erben, Germany was divided. In the following years, the vineyard was steadily extended and with the construction of a large modern cellar premises. Production was moved from ürzig to erden. The Hermanns concentrate on the production of Riesling wine on the steep rock slopes of the famous vineyards of the erdener prälat, erdener treppchen and the ürziger würzgarten. In all their vineyards, they grow exclusively ungrafted Riesling stock which deliver the finest Riesling wine.
Country: Germany
Pricing: SGD 43.00
Website: Vivino.com
---
6. Tussock Jumper Riesling 2020
Features:
Wineforces is a fairly young wine company that was founded in 2009 in France. Its goal is to create new international brands that best match consumer demand and respond instantly to current trends. Since 2009, the release of several lines, the most popular of which is "Tussock Jumper". The exclusivity of Wineforces is that all wines are made according to the traditions of each of the terroirs in which grapes are grown.
Over the past 5 years, Weinforses has diversified the range of products and boasts a truly excellent price-quality ratio. More: https://eng.winestyle.ru
Country: Germany
Pricing: SGD 26.00
Website: Vivino.com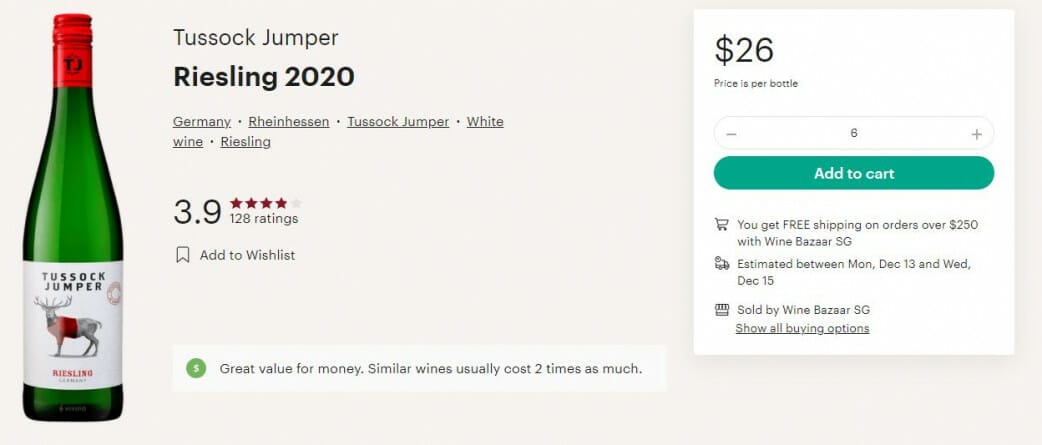 ---
Read Also:
---
7. Ansgar Clüsserath Trittenheimer Apotheke Riesling Kabinett 2015
Features:
Almost 100 percent Riesling is grown in the Ansgar Clüsserath winery. The high-quality, white grape variety is able in a special way to optimally reproduce the mineral characteristics of the slate soil typical of the Moselle. A fruity aroma in connection with clear acidity leaves scope for the reproduction of the individual structures of the soil, which, depending on the soil formation, give the wine depth and complexity in the form of salty nuances. The individual layers of the winery differ not only in their different orientation and the degree of steep slope; Added to this are the different types of soil, which give the wines from the various individual layers sometimes body, fullness and fruit, sometimes freshness, minerality and bite.
Country: Germany
Pricing: SGD 46.00
Website: Vivino.com
---
8. Rosewood Estates Estate Vineyards Riesling AF 2017
Features:
This bottle of Riesling right here will be your best bet. Hailing from Ontario Canada, this bottle of off-dry Riesling pairs with sweet & spicy food, curries and even hawker food.
Introducing the new "off-dry" riesling, a successor to the Süssreserve Riesling. Rosewood was caught red-handed stopping the fermentation (AF = arrested fermentation) on 60% of this Riesling to leave a small balance of residual sugar on the finished wine. 6.8g per liter to be exact, this Riesling is a clear and pure expression of their vineyards. 40% of the final blend was fermented completely dry.
Leading with strong aromas of granny smith apple, Meyer lemon zest, white flower. Followed by noticeable limestone, crushed river stone and flint. On the palate the flavours match, however its bright and racy acidity leads to a mouth filling and layered texture, before finishing clean and crisp. This is a crowd pleaser that is sure to stand out. Serve chilled. Will age gracefully in bottle over the next 7-10+ years.
Country: Canada
Pricing: SGD 48.00
Website: Vivino.com
9. Tim Adams Riesling 2021
Features:
Only the free run juice is used to make the Tim Adams 2021 Riesling, resulting in a delicate wine with intense flavours and aromas. The nose has lifted floral characters with citrus aromatics of grapefruit, lime and lemon. The palate is seamless with a richness of flavour built from dry ripening conditions.
Country: Australia
Pricing: SGD 32.00
Website: Vivino.com
---
10. Hugel Gentil 2018
Features:
A kaleidoscope of grapiness, produced exclusively from hand harvested grapes in predominantly clay and limestone vineyards, from a dozen of the most favored localities in and around Riquewihr. Gentil "Hugel" allies the suave, spicy flavor of Gewurztraminer, the body of Pinot Gris, the finesse of Riesling, the grapiness of Muscat and the refreshing character of both Pinot Blanc and Sylvaner.
Country: France
Pricing: SGD 48.95
Website: Vivino.com
---
Have a Product to Recommend?
Your contribution is valuable to us! Are there any outstanding brands that you believe should be added to our list? If so, please send your recommendations to us at [email protected]. Tropika Club will review your suggestions and update the list accordingly. Thank you for your help in making our list as comprehensive and accurate as possible.
---
Meanwhile, Check Out Tropika Club's Ecosystem of Websites

Tropika Club Magazine – Tropika Club Magazine is a Singapore-based publication that features articles on a wide range of topics with a focus on local businesses and content for the region. The magazine emphasizes supporting local businesses through its #SupportLocal initiative, which includes coverage of everything from neighborhood hawker stalls to aesthetic clinics in town. In addition to highlighting local businesses, Tropika Club Magazine also covers a variety of local content, including beauty, lifestyle, places, eats, and what's on in Singapore and the Asia Pacific region.
Tropika Club Deals – Tropika Club Deals is a leading online deals and voucher shopping site in Singapore, offering amazing discounts on beauty, wellness, and fitness products and services. It's the perfect platform for customers who want to discover the best deals without having to commit to a specific appointment date and time. These deals are available at major beauty stores, facial salons, hair salons, and other brands in Singapore, with no minimum spend required. Choose from guaranteed discounted deals in the categories of hairstyling, hair removal, facial & aesthetics, body slimming, brows & lashes, nails & makeup, massage & spa or fitness & wellness. Tropika Club Deals is also ideal for customers who want to buy vouchers as gifts or to use for the future. So whether you're looking to save money on your next haircut or want to treat yourself to a relaxing massage, Tropika Club Deals has got you covered with the best voucher and coupon deals in Singapore!