Top 10 Best Singing Schools in Wellington New Zealand
Wellington, New Zealand is home to some of the world's most renowned singing schools. Whether you are just starting out or already a seasoned vocalist, these top 10 best singing schools in Wellington have something for everyone. From leading teachers and modern facilities to intensive courses and an array of performance opportunities, each school offers a unique approach to vocal training. With so many great options available, aspiring singers have plenty of opportunity to embark on their musical journey and reach their goals.
---
#1 – The Rock Academy
Introduction:
The Rock Academy specializes in mobile music lessons, school holiday programmes and a band school. They are based in the Wellington region and cater for ages 5 up to adults.
They specialize in guitar, piano, ukulele, singing, and drum lessons. Their music teachers are young, dynamic, and passionate musicians.
If you are looking for a fun, holiday programme in the Wellington region then they could have what you are looking for! Great for building confidence in creative children.
Their band school is perfect for young music pupils from beginner through to advanced. Just like the movie 'School of Rock'.
About
Helping their young pupils develop their music is something they loved to be involved with. Recording is great fun and helping their pupils develop their originals songs is something they are very passionate about. Sharing their music on apps such as Sound Cloud, Spotify and YouTube is a great way to let friends and family hear what they have produced.
Every term they hold a performers concert for pupils who are interested in performing live. They can play solo, with a friend or with their tutor. Usually, the pupils who perform get a boost of confidence and the feedback from parents is amazing. Performing music live is known to help with social anxiety amongst other things, and they have seen the results themselves.
Location: Leftbank Cuba Street, Wellington
Contact: +64 021 565 750
Website: Website Link Here
---
#2 – Rata Studios
Introduction:
Rātā Studios offers specialised courses in focused areas of drama, music, visual art and creative technologies and seeks to discover and develop the creative potential in everyone.
Rātā has strong links with the creative industry and many of Wellington's most respected arts professionals share their knowledge and skills in our state of the art, world class facilities.
About
Established in January 2013, Rātā Studios is situated in the Creative and Performing Arts Centre at Scots College, Strathmore, Wellington. Rātā Studios is administrated by Scots College and shares the same core educational values of realising the potential of every student and fostering a life-long love of learning.
When the Creative & Performing Arts Centre (CPAC) was opened in 2012, the College realised that a world class facility such as CPAC needed to be shared beyond the school gates with the wider community, and with this, Scots launched Rātā offering creative courses to the wider public. In a short time the creative school has, much like Scots, become synonymous with quality and specialised teaching.
Location: 1 Monorgan Road, Strathmore, Wellington 6022
Contact: +64 4 380 0850
Website: Website Link Here
---
---
#3 – Encore School of Music
Introduction:
There are many fantastic musicians who are not fantastic teachers. Take it from them – they have interviewed many of them. Encore has a rigorous teacher selection process. This doesn't necessarily happen in other music centres but at Encore,they invest a lot of time into this. They don't just hire great musicians. They hire great musicians with great personalities and great communication & interpersonal skills. In other words, Encore hires great music teachers, because that's what their students deserve.
About
Encore has invested thousands of dollars into music resources for their students to ensure that you have the best in your music education. This is not something that many other music teachers or music centres can claim. Individual students can request specific pieces of music that they are interested in learning and they provide you with sheet music appropriate to your level or a backing track. From Bach & Beethoven to The Beatles, Taylor Swift and Metallica, they've got them all covered!
Encore regularly holds performing opportunities so that you can hone your performing skills as a musician. They hold regular musical events such as mini-concerts, the Musicathon (a musical fundraiser to do good through music) and the Performance Challenge. Their students also perform in community events and look forward to the annual Encore Christmas Concert.
Location: Wellington – Churton Park, Johnsonville, Mt Victoria.
Contact: +64 04 976 8742
Website: Website Link Here
---
---
#4 – Curious Keys School of Music
Introduction:
Here at Curious Keys School of Music we teach students from 7 years to adult, and from beginners to early advanced levels. Students are engaged in lessons, and take an active role in determining the course of their study. Together they create a supportive and encouraging environment, so that students gain the confidence and musical experience to independently explore and try out new things.
About
Lessons are run according to the student's needs on the day, and any long-term goals. Often they start with a warm up, and then move on to learning new pieces, or answering any questions or problems the student may have. They also try to allow time for listening activities, improvisation or composition, theory and reading music, as well as plenty of time for some musical games.
To begin with you will just need an instrument at home, and a quiet space to practice. If you need help finding an instrument they are happy to help, just let them know! All students receive a folder when they start lessons, where they write lesson notes and keep any other worksheets or sheet music.
Location: 17A Moxham Avenue, Hataitai, Wellington NZ
Contact: +64 027 527 7198
Website: Website Link Here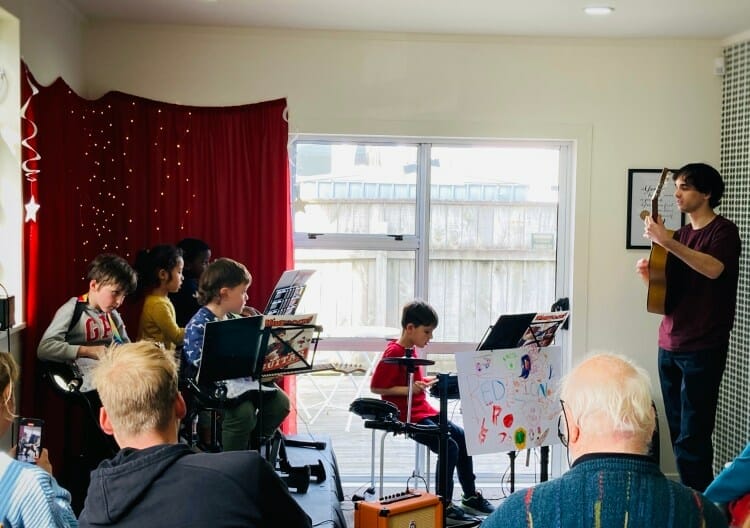 ---
#5 – Goodtime Music Academy
Introduction:
The Goodtime Music Academy curriculum has been developed by professional musicians and teachers, with a focus on inspiring kids to play, learn, perform and have fun.
Owned by former member of The Black Seeds, Andrew Christiansen, Goodtime Music Academy is the biggest music school in New Zealand, teaching Kiwi kids the drums, keyboard, ukulele, vocals, bass guitar and guitar.
Their tutors have worked with many touring NZ musicians. They're song-writers, performers and recording artists. Now, they're using their experience and love of music to transform the way they teach, to create an environment where children can grow, learn and most importantly, raise the roof.
About
Instruments are provided and students can learn drums, keyboard, ukulele or guitar or take a term of Introduction to Music to have a crack at them all.
Group and one-on-one lessons are available. They cater for all ages and teach drums, ukulele, guitar, keyboard, bass and vocals.
Location: 50 VICTORIA STREET, ALICETOWN, LOWER HUTT, WELLINGTON
Contact: +64 04 568 2237
Website: Website Link Here
---
#6 – Wellington Singing Lessons
Introduction:
With internationally recognised vocal coach, Vocology In Practice (VIP) Authorised Instructor, Speech Level Singing (SLS) Instructor and International Voice Teacher Of Mix (IVTOM) accredited teacher Stuart Clarke.
Stuart is New Zealand's only Vocology In Practise Authorised instructor, IVTOM (International Voice Teachers Of Mix) Accredited Teacher and Speech Level Singing instructor. He has over 25 years experience and is an internationally recognised vocal coach, with clients ranging from children, recording artists, record managers and some of New Zealand's top actors and musical theatre performers. Some of Stuart's students have gone on to open shows for artists such as Ed Sheeran and Mariah Carey, won NZ Music Awards, been finalists in shows such as NZ's Got Talent and worked with famous artists such as Babyface and Randy Jackson from American Idol. Due to high demand he currently travels to teach singing and run workshops in different cities through out New Zealand and overseas in Europe (Ireland). He offers a wide range of custom vocal programs for singers of all levels.
About
He is New Zealand's only teacher trained and certified to teach using the "Speech Level Singing" method (A method that has helped over 120 Grammy Winners) and was one of the highest certified teachers of the method in the southern hemisphere. In 2008 he furthered his studies by traveling to Hollywood to train alongside legendary vocal coach for the stars and creator of the "Speech Level Singing" method Seth Riggs. Seth Riggs is the singing teacher to legends and superstars like Michael Jackson, Barbra Streisand, Ray Charles, Josh Groban and Stevie Wonder.
Click here to see Stuart's certificate personally signed by Mastro Seth Riggs.
Stuart has conducted workshops for the NZ School Of Rock Rock Camp, Waikato Institute of Technology, MAINZ Contemporary Music School Of Auckland (Includes US Master Instructors), Next Offramp Auckland Choir, CPIT Christchurch Jazz School plus many church groups around NZ. He organised the 2012 NZ Singing Intensive with Daniel Beddingfield (NZ X-factor judge) and Dave Stroud (American Idol Vocal Coach) as well as eight US Master Instructor events in NZ from 2010 – 2015.
Location: 33 Kaikoura St, Maupuia, Wellington
Contact: +64 0211764073
Website: Website Link Here
---
Read Also:

Top 23 Best Singing Lesson Teachers and Schools in Singapore

_ 
---
#7 – Apollo Music
Introduction:
Apollo Music is a music school in Wellington, providing after school music lessons for kids and adults. Learn from our expert tutors with personalised lessons to suit your skill level.
Apollo Music delivers personalised music lessons for all ages. Proudly located in Wellington, taught by knowledgeable tutors that will help you take your skills to the next level. Become an expert in piano, guitar, drums or singing.
About
Whether it's strumming a few chords in your bedroom or playing ripper solos in front of thousands of people, playing an instrument is a huge amount of fun. It takes passion and practice, and they can help you get there.
They can take you from a beginner to an advanced musician, developing countless skills in various areas of your chosen instrument. They tailor our lessons to individuals, making sure that they best accommodate the passion and music tastes of their students.
Location: Onslow College, Burma Rd Johnsonville, Wellington 6035
Contact: +65 11111111
Website: Website Link Here
---
#8 – New Zealand School of Music
Introduction:
Join New Zealand's most renowned music school and benefit from their outstanding and comprehensive range of learning opportunities in music.
Study with professionally celebrated and internationally acclaimed staff in the beautiful capital city of Wellington, and take advantage of the many artistic and cultural opportunities on offer.
About
At the New Zealand School of Music—Te Kōkī (NZSM) you'll build on your knowledge of music, and you'll be challenged and inspired. Whether you want to perform, compose or produce, teach, become a music therapist or technologist, or get involved in music research, at the University your talent will be nurtured in a creative and collaborative environment.
You'll study with leading academics, composers, music technologists and performers who are professionally active in New Zealand and internationally. Take advantage of the experience and expertise of teachers drawn from the New Zealand Symphony Orchestra and from the country's pool of prominent composers and jazz performers. Be inspired by the University's ensembles-in-residence, including the Te Kōkī Trio and internationally celebrated New Zealand String Quartet.
Location: Wellington, New Zealand
Contact: +64 0800 04 04 04 / +64 800 842 867
Website: Website Link Here
---
#9 – Alexander Voice Works
Introduction:
Alexander is a certified and experienced teacher of the Alexander Technique, voice coach, and psychosynthesis counselor & psychotherapist.
He's based in Wellington, New Zealand, and offer individual lessons in the Alexander Technique for help with posture, breathing, easing back and neck pain, repetitive strain injury, stress reduction and mindfulness.
He give voice coaching sessions – for singing, speaking and presentation skills, and run an all-levels choir, Libero Singers, in central Wellington.
About
You are guided through a process of letting your body fully support your voice. Using the Alexander Technique the teacher helps you let go of tension and come back to a natural relationship with your body. As a result breathing improves and you find your own unique sound, coming from an authentic place. As you express yourself more freely you will feel more whole, confident and connected with yourself and the world around you.
In singing lessons you will learn to gain confidence with your singing voice, using similar breath and tone exercises as in voice work. If you are new to singing you will learn to pitch your voice accurately, harmonise and sing songs with freedom and confidence. If you are an experienced singer you can learn to enhance your sound and find your authentic voice.
Location: Trades Hall, 126 Vivian St, Wellington
Contact: +64 021 029 05056
Website: Website Link Here
---
#10 – Paloma Bruce Singing Studio
Introduction:
Paloma Bruce is a lyric coloratura soprano from Wellington, New Zealand. She is a passionate teacher of singing who has taught for almost two decades in New Zealand and the United Kingdom. Paloma has now returned to New Zealand and has recently opened a new studio in Pukerua Bay. Paloma is half of the new vocal duo 'Soprani' with singer Ruth Armishaw, who recently had their debut concert in Wellington to great acclaim. In 2016 Paloma was the adult voice tutor at the Rata Studios School of Music at the Scots College Creative & Performing Arts Centre.
About
Paloma has taught singing for over 15 years, initially in New Zealand and then in the Paloma Bruce Singing Studio in London and The Bristol Voice Studio in the UK. She has taught at secondary and primary schools in New Zealand and the UK, more recently Colston's School in Bristol. She has coached international recording artists and given advice to international artist management companies. Although trained as an opera singer, Paloma loves a wide variety of music and enjoys sharing that love of music with her pupils.
Paloma first started teaching privately in 2000 when a fellow student asked her for some singing lessons while studying at Victoria University in New Zealand. She had first been asked to help a young boy who couldn't sing in tune when she was fourteen years old and her passion for helping people to sing began. Paloma also became an unofficial assistant musical director of her high school's production of 'My Fair Lady' when she was 15 years old and ended up taking on the chorus and coaching the lead singers (of which all the male singers were drama students from Victoria University).
Location: 11 Kopiko Way, Brooklyn, Wellington 6021
Contact: +64 021 08788929
Website: Website Link Here
---
Have a Place to Recommend?
We need your help! Do you know any other noteworthy places that deserve to be added to this list? If so, do write to us via our email at [email protected]. Tropika Club will do a review of your recommendations and update the list accordingly.
---
Meanwhile, check out Tropika Club's Ecosystem of Websites
Tropika Club Magazine – Tropika Club Magazine crafts articles on all things Singapore, but with a greater emphasis on local businesses based on our #SupportLocalSG initiative. We check out and feature local businesses of all categories, ranging from your neighbourhood hawker stalls to the aesthetic clinics in town. We also cover local content ranging from beauty, lifestyle, places, eats and what's on in SIngapore. Our Top 10 rankings include local food and service establishments based in different regions in Singapore.
Tropika Club Deals – Search for the best voucher and coupon deals. Tropika Club Deals is ideal for customers who want to discover the best deals without having to commit to a specific appointment date and time. Choose from guaranteed discounted deals in the categories of hairstyling, hair removal, facial & aesthetics, body slimming, brows & lashes, nails & makeup, massage & spa or fitness & wellness. Customers can also buy vouchers as gifts or to use for the future.