Top 15 Best Painting Framers in Singapore
Let experienced framing specialists from the Best Painting Framers in Singapore help you in your art. Some of them may look like a traditional framing shop, but they have wide range of framing options to let your photograph or art stand out. With quality materials, quick turnaround times, and a wide selection, they'll surely have something for you, whether its your family portrait, or your own paintings.
Let experienced framing specialists from the Best Painting Framers in Singapore help you in your art. Some of them may look like a traditional framing shop, but they have wide range of framing options to let your photograph or art stand out. With quality materials, quick turnaround times, and a wide selection, they'll surely have something for you, whether its your family portrait, or your own paintings.
1. Talent Arts Frame Makers
Introduction:
Talent Arts Frame Makers is family owned and operated .
At Talent Arts, they are a team that pride themselves on being able to offer a complete service in-house where all their framing work is done in their workshop and assembled by them. This way, they can control the quality at every stage.
You can be fully assured that the framer you spoke to when you dropped off your artwork is part of the team who will be making your frame and understand every need and details you specify.
Services:
Custom Printing
Custom Painting
Painting Restoration
Location: 1 Tanjong Pagar Plaza #01-19,
Singapore 082001
Contact: Call or WhatsApp
+65 92381644 / +65 9067 5787 /+65 9848 9057
Website: https://www.talentarts.com.sg/
2. New Art Frame & Poster Centre
Introduction: Express Picture Frame Shop in Singapore by the shops proprietor Steve.
Services:
Location: 16 Foch Road Singapore 209259
Contact: +65 6334 2152
+65 9673 4038
3. Merlin Frame Maker
Introduction:
Established in 1942, Merlin Frame Maker is older than modern-day Singapore and has grown to become the largest chain of frame makers on our little red dot. Today, they have 3 conveniently located outlets at River Valley, Waterloo Centre, and Paragon staffed with experienced framing specialists.
Their state of the art 6,000 sqft framing workshop allows them to frame your works with maximum precision, ensuring a high quality finish every time. It is the combination of experience and technology that has enabled them to become a recognised specialist in their field representing many of Singapore's leading artists, collectors, galleries, and museums.
Services:
Custom Framing
Conservation Framing
Canvas Stretching
Fine Art Printing
Fabric and Jersey Framing
Certificate and Article Framing
Picture Hanging System
Custom Mirror Frames
Location:
PARAGON: 290 Orchard Road Paragon #05-30
Singapore 238859
RIVER VALLEY: 292 River Valley Road, #01-00,
Singapore, 238333
WATERLOO CENTER:261 Waterloo Street,
Waterloo Centre #01-10/11,
Singapore 180261
Contact: PARAGON: +65 6835 2988
RIVER VALLEY: +65 6735 1866
WATERLOO: +65 6837 2009
Website:https://merlin.com.sg/
4. Daniel's Frameshop
Introduction:
Serving the Singaporean community since 1984, Daniel credits the success of his business to his philosophy of trying his best to please his customers first time round.
To this end, all projects benefit from his input, while only he handles the very valuable items.
Services:
Framing
Shadow Boxes
Cabinets
Mounting
Stretching
Corporate
Documents
Location:157 Still Road, Singapore 423993
Contact:+65 6440 8687 / +65 9670 3695
Website:https://www.framemaker.com.sg/
5. Framelines Gallery
Introduction:
Established in the year 1999 along East Coast Road, we focus mainly on customisations of frameworks & Artworks, consultancy for decorating and vibrant up your precious art pieces.
Services:
Customized Framing

Interior Wall Decor
Conservation Framing
Precious Memorabilia conservation
Framing for Art Collectors
Box Art Framing for Jerseys etc.

Art Gallery
Home Decor
Interior Design Studio
Location:
364 Joo Chiat Rd, Singapore 427609
Contact: +65 62477667
Read Also:
6. SG Frames
Introduction:
SGFrames.com They are a Professional Frame Maker and Glass Merchant in the business for 15 years. They drive for customer satisfaction and are committed to delivering Unique Service as they are in the business for 15 Years.

They provide a range of services from Framing to Glassworks. Customized Framing with Personalised Service @ Customer Oriented Pricing. With a variety of offerings to choose from, surely you will be happy to avail of their services.
Services:
Custom Conservation Framing using Museum quality Archival materials and techniques
Shadowbox Framing
Brass and aluminum plaques to complement your picture or artwork
Framing of 3-dimensional art of almost any kind
Canvas stretcher bars
Professional mat cutting using CNC
Linen mats, any color, any fabric
Professional picture hanging – any size, any wall surface
Custom and ready-made mirrors
Polished tabletop glass
Acrylic cubes and sculpture bases
Local deliveries
House / Office calls by appointment
Location:
Block 1003,
Toa Payoh Industrial Park,
#01-1511,
​Singapore 319075
Contact: +65 9852 1449 / +65 9451 7174
Website:https://www.sgframes.com/
7. GS Art Framing Services
Introduction:
Since 1991 they have been dealing with framing services, cutting glass, selling some painting, etc.
Services:
Framing Services:
All kinds of pictures or photo frames with lamination, acrylic, clear or non-reflective glass.
Glass for tabletop, window case, etc.
Selling some local artist's oil painting.
Location:
Blk338 Ang Mo Kio Ave1 #01-1663
Singapore 560338
Contact: +65 6453 5328
Website:https://gsframe.webs.com/
8. Ansa Picture Framing & Art Gallery
Introduction:
Established in 1949, They are highly recommended by their patrons.
They provide their customers with the highest quality product at the very best price. With the help of modern machinery and the detailed workmanship of their framers, they instill creativity and quality into every work they take on.
Their professionalism exhibits excellence!
Services:
Photo Framing
Poster Framing
Oil Painting Stretching & Framing
Sports Jersey & T-Shirt Framing
Jigsaw Puzzle Framing | Certificate Framing
3-D Shadow Box framing
Tabletop Glass | Display Box Glass Casing | Cabinet Glass
Location:
29 Kerbau Road, Singapore 219164
Contact: +65 6295 5284 / +65 6295 6605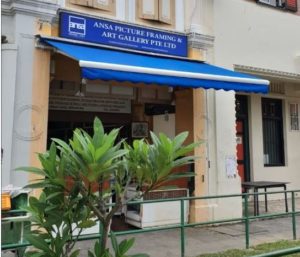 9. Framers Choice
Introduction:
Framer maker in the business for over 20 years, named Framers Choice now together with Siglap Corner. Featuring framing services, painting frame services, mirror framing, and glass tabletop. Conveniently located at Siglap Centre.
Services:
Picture framing
Painting framing
Mirror framing
Glass Tabletop
Location:
55 Siglap Road, Siglap
Singapore 455871
Contact: +65 6245 1462 / +65 9107 2713
Website:https://siglap-corner.business.site/?utm_source=gmb&utm_medium=referral
10. Impress Galleries Pte Ltd
Introduction:
Impress Galleries was started in 1986 by James and Jessica. As collectors themselves, they were already highly interested in the world of paintings. It is this passion that led to them sourcing globally for beautiful artworks and talented artists. Their collection subsequently grew and many people came to know of the range of artworks they carried.
Over time, they have expanded their services to include framing services for all kinds of items. With their acumen for selecting original and unique pieces of art, many corporations and institutions have engaged their services to source and purchase artworks for their premises. They have supplied artworks to offices and hospitals in Singapore while ensuring their customer's satisfaction.
Over time, many of their customers, who are art collectors and enthusiasts too, have become their friends. Furthermore, local artists have come to trust and recommend their expertise. They have never compromise on the quality of their services to all and that is their promise to you. It is with these traits that they look forward to your pleasant experience with them!
Services:
Location:
429 East Coast Road
Singapore 429016
Contact: +65 6348 9905 / +65 6440 4533
Website:http://impressgalleries.com/
11. E A Latib Frame Maker
Introduction:
With over 36 years of experience in the frame making, they customize workmanship for the domestic and commercial markets. They specialize in custom framing & any kind of glass work ( Table-top, Shelving, etc). In need of a new frame, border, painting or any other framing items? They also sell ready made frames & oil painting.
Services:
Customized Framing
Glass Work for Table Tops and Shelving
Ready made frames
Ready made Oil Paintings
Location:
520 East Coast Road#01-04 Ocean Park
Singapore 458965
Contact: +65 6443 2594
Website:https://ealatib.business.site/?utm_source=gmb&utm_medium=referral
12. Sin Yip Seng Glass & Frame Merchant
Introduction:
Established since 1976, Sin Yip Seng has expanded and hone their expertise in becoming framework specialist.
Services:
Framework Specialist:
Fengshui/Modern Art Paintings available for sales
Pictures/Photo Framing (Paper Tole/Cross-Stitch)
Picture/Photo on Canvas
Both sides acrylic framing
Chinese Silk mounting (for scrolls)
Mirrors and Glass supply
Multiple Colors Matt Board Choice
Lamination Services
PVC Banner Make
Location:
HQ:
Blk 94 Lor. 4 Toa Payoh, #01-14
310094 Singapore
Yishun Branch:
Blk 930 Yishun Central 1 #01-117
Singapore 760930
Contact: +65 6255 4054 / +65 6256 8670
13. Modern Art Gallery & Framers
Introduction:
For over 40 years, they have been serving Artists and Galleries in their framing needs. Their love for art push the boundaries to develop framing styles and solutions using state of the art materials and techniques that make your art shine. Their technical capabilities build up over the years enable them to take on challenges that not many can do.
And they are in constant collaborations with businesses in the design and visual productions industries and have been their trusted partners for clean design and cost effective framing solutions.
Many homeowners love to use their framing service to showcase their family photos, children's artwork or collection of art pieces / memories from their holidays.
At Modern Art Framers, they make your Art shine and keep your memories alive.
they provide innovative framing solutions for your needs.
Services:
Custom Framing

Oil/ Acrylic on Canvass
Chinese Painting / Calligraphy
Watercolour, Charcoal / Pen / Pencil, Mixed media.

Business

Frames for Certificates, Posters, Licenses, Advertisements
Additional Services

Collection, Delivery and Installation
Old photographs retouching
Location:
3015 Ubi Rd 1,
Singapore 408704
Contact:
Phone No: +65 9125 6347
Workshop No: +65 6748 7434
14. Carmelites Framing & Art Gallery
Introduction:
Founded in December 2003
They deliver quality framing works and value-added service to all customers in Singapore
Keen eye for detail a passion for color and design.
They enjoy the challenge of each framing project that they work on because they want you to be satisfied with their wide selection of frames.
Since the year 2006, Carmelites Framing and Art Gallery had ventured into the global art market and custom photo framing services. Similarly, they promote a wide range of artworks of various Artists from Myanmar, China artist paintings and Vietnam artworks. As a result, they have a great collection of paintings from these talented artists.
To date, Carmelites Framing and Art Gallery has a wide variety of artworks from many top Myanmar Artists. So come on down to visit them either for your photo framing works or viewing their art gallery because their art gallery admission is free. Most importantly, they have a beautiful art gallery for your viewing.
Services:
Acid-Free Framing
Chinese Painting Framing
Family Photos Framing
Oil Paintings Framing
Silk Framing
Stretching of Oil Paintings and Canvass
Location:
Bukit Timah Plaza #02-08
1 Jalan Anak Bukit, Singapore 588996
Contact: +65 6468 9343
Website:https://www.carmelites.com.sg/
15. Y Shahul Hameed Glass & Frame Makers
Introduction:
Y SHAHUL HAMEED GLASS & FRAME MAKERS is a well established picture frame makers with a tradition passed on for generation. 1950's the father Haji Y. ShahulHameed first started his shop along Serangoon Road until 1999. The current establishment at 57 Kerbau Road managed by Mr. Yoosuf is gaining more customers due to their skills in framing technique which is very special and equipped with modern, up-to-date machines for customized cutting and joining. Computerized matt cutter and of course very knowledgeable staff.
Services:
Customized Framing
Glass Works
Location:
57 Kerbau Rd. Singapore 219181
Contact: +65 6294 7687
Website:http://hameedglass.com.sg/
Have a Place to Recommend?
Your contribution is valuable to us! Are there any outstanding businesses that you believe should be added to our list? If so, please send your recommendations to us at [email protected]. Tropika Club will review your suggestions and update the list accordingly. Thank you for your help in making our list of businesses as comprehensive and accurate as possible.
---
Meanwhile, Check out Tropika Club's Ecosystem of Websites
Tropika Club Magazine – Tropika Club Magazine is a Singapore-based publication that features articles on a wide range of topics with a focus on local businesses and content for the region. The magazine emphasizes supporting local businesses through its #SupportLocal initiative, which includes coverage of everything from neighborhood hawker stalls to aesthetic clinics in town. In addition to highlighting local businesses, Tropika Club Magazine also covers a variety of local content, including beauty, lifestyle, places, eats, and what's on in Singapore and the Asia Pacific region.
Tropika Club Deals – Tropika Club Deals is a leading online deals and voucher shopping site in Singapore, offering amazing discounts on beauty, wellness, and fitness products and services. It's the perfect platform for customers who want to discover the best deals without having to commit to a specific appointment date and time. These deals are available at major beauty stores, facial salons, hair salons, and other brands in Singapore, with no minimum spend required. Choose from guaranteed discounted deals in the categories of hairstyling, hair removal, facial & aesthetics, body slimming, brows & lashes, nails & makeup, massage & spa or fitness & wellness. Tropika Club Deals is also ideal for customers who want to buy vouchers as gifts or to use for the future. So whether you're looking to save money on your next haircut or want to treat yourself to a relaxing massage, Tropika Club Deals has got you covered with the best voucher and coupon deals in Singapore!