Top 10 Best Noodle Bars in Perth Australia
Noodles are a popular delicacy around the world, and Perth Australia is no exception. Whether you're looking to experiment with a new cuisine or simply satisfy your craving for comfort food, the noodle bars of Perth offers something for everyone. In this article, we'll explore the top 10 best noodle bars in Perth, from old-school favourites to modern fusion eateries. With this comprehensive list, you'll be sure to find somewhere delicious to enjoy your next noodle dish.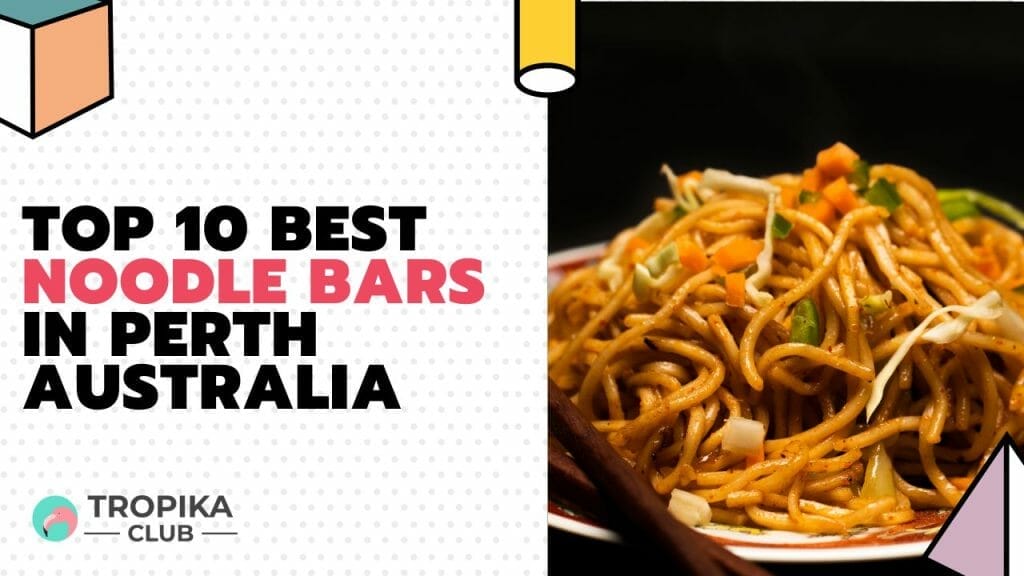 ---
#1 – NAO Japanese Ramen
Introduction:
Nao aims to be original based on authentic flavour. From the broth to the noodles, and even the chashu roast pork, it's all homemade at Nao bringing you real Japanese Ramen. Established in August 2003 on Murray Street in Perth City.
Menu Items:
Shoyu Ramen Noodle
Sauce Cutlet Don
Nao's Homemade Curry- Chicken Cutlet Curry
Side Menu- Homemade Gyoza, Homemade Chicken Karaage, Takoyaki, Okonomiyaki Stick
Location:
191/580 Hay St, Perth WA 6000, Australia
Contact:
+61 (08) 9325 2090
Website: Website Link Here
---
#2 – Hifumiya Udon Noodle House
Introduction:
Established in May 2018, Hifumiya is the first Udon noodle house to serve in Perth.
Menu Items:
Teriyaki Beef
Zara Udon
Spicy Miso Pork Warm
Curry Udon
Location:
Shop 2, Ground Floor, 100-104 Murray St, Perth, Perth, WA, Australia, Western Australia
Contact:
+61 8 9221 9462
Website: Website Link Here
---
---
#3 – Ippudo
Introduction:
Since its founding, IPPUDO has been focussing on creating a new ramen culture in Japan. Starting with ramen, IPPUDO plans to introduce Japan's beloved gastronomic culture to the world, so that people can enjoy, understand and appreciate Japanese food and culture. Continuing to thrill the world through Japanese cuisine, IPPUDO seeks to bring smiles for the generations to come.
1985, Established "HAKATA IPPUDO" in Daimyo, Chuo-ku, Fukuoka city. 1994, Opened its first Kanto-region IPPUDO ramen shop in the Shin-Yokohama Ramen Museum. 1995, Opened "IPPUDO Ebisu", its first Tokyo IPPUDO ramen shop
in Hiroo, Tokyo.
Menu Items:
Ramen- Shiromaru Motoaji
Ramen- Karaka-Men
Spicy Goma Q
Pulled Pork Bun
Location:
Shops 1.2 and 1.3, 556 Wellington Street KS1 Kings Square, Perth WA 6000
Contact:
+61 2 8078 7020
Website: Website Link Here
---
_

Read Also:

Top 10 Best Ramen Places in Perth, Australia

_ _ 
---
#4 – BamBamBoo
Introduction:
Restaurant specializing in scrumptious freshly prepared and cooked authentic Chinese food such as dim sum, dumplings, BBQ meat, noodles, and rice dishes.
BamBamBoo is a Chinese restaurant serving scrumptious freshly prepared and cooked authentic Chinese food such as dim sum, dumplings, and BBQ meat, noodles, and rice dishes in a smart casual contemporary setting at affordable prices.
Menu Items:
DimSum
Roast Duck Boneless
Jian Jiao Noodle
Shallot Noodle
Custard Bun
Soft Drinks
Location:
Shop25/140 William Street Perth 6000
Contact:
+61 434 717 625
Website: Website Link Here
---
#5 – Ramen Ichiraku
Introduction:
Their ramen bar specializes in tonkotsu and vegan ramen broths. The signature tonkotsu broth is made with a special mix of pork bones and vegetables. Cooking for over 12 hours it is rich in flavour and a must-try for ramen lovers.
Ramen Ichiraku believes everyone should enjoy ramen! Their ramen bar has a special vegan broth made from a special mix of mushrooms, vegetables, and kombu. Their vegan broth is equally rich in flavour so now vegans can get their ramen fix.
They provide a full standard and vegan menu and have done their very best to have a veganised version of the standard version menu items so no one gets left out. If ramen is not your thing check out our vegan and standard bento box range.
Menu Items:
Signature Hakata Tonkotsu Ramen
Truffle Tonkotsu
Bento Box
Mango Soda, Watermelon Soda
Vegan Shoyu Truffle, Vegan Red Dragon
Location:
43 Monger St, Perth WA 6000, Australia
Contact:
+61 450 872 128
Website: Website Link Here
---
---
#6 – Ramen Keisuke Tonkotsu King
Introduction:
Keisuke in Australia, renowned throughout Asia, The Melbourne Hotel is excited to bring Japanese born
Keisuke Takeda's famous ramen noodle bar on the shores of Perth, Western Australia. A great choice for the ramen connoisseur.
Menu Items:
Black Spicy Tonkotsu Ramen
Red Spicy Tonkotsu Ramen
Lightly Sparkling Water
Ice Green Tea Sugar-Free
Alcohol- Kirin Ichiban, Choya Sparkling Plum Wine
Location:
33 Milligan Street, Perth, WA, Australia, Western Australia
Contact:
+61 8 9320 3333
Website: Website Link Here
---
#7 – Jp's noodle bar
Introduction:
Jp's noodle bar is the Chinese food in Perth.
Menu Items:
Curry Laksa
Tom Yum Soup
Laksa Lemak
Honey Chicken
Location:
Unit 1, 2169 Albany Hwy, Gosnells WA 6110
Contact:
+61 9398 2288
Website: Website Link Here
---
#8 – Buda Buda Restaurant
Introduction:
Buda Buda is the love and union of traditional and modern Asian cookery. A place that brings people
Menu Items:
Wonton Soup, Clear Chicken Soup
Snow Crab in Rich Egg Yolk Sauce
Sweet and Sour Pork
Kailan with Oyster Sauce
ABC Fried Rice, Porridge
Fruit Platter
Location:
Northbridge, 65 Francis St, Perth WA 6003, Australia
Contact:
+61 8 9228 3166
Website: Website Link Here
---
#9 – Noodler's Bar Cockburn
Introduction:
Noodler's Bar Cockburn are committed to protecting the privacy of users of this website. They take the confidentiality of personal information very seriously. By browsing and using this website, you agree to the terms of this Privacy Policy and consent to the processing of your personal information in accordance with this Privacy Policy.
Menu Items:
Katsu Chicken Meal
Pad Thai
Udon Noodle Soup
Fresh Sushi
Location:
817 Beeliar Dr, Cockburn Central Wa 6164
Contact:
+61 8 9417 8898
Website: Website Link Here
---
#10 – 88 Noodle Bar
Introduction:
88 Noodle Bar is a modern casual dining Asian restaurant in Perth, serving traditional Chinese classics and novel Asian Fusion dishes. With an impressive selection of fresh and satisfying favourites to satisfy your everyday craving, you can now enjoy mouth-watering specialties against a vibrant mixture of bold and contemporary oriental-themed décor.
Menu Items:
Crumbed whiting with chili mayonnaise
Spiced orange chocolate tart
Wine- Wildflower Cuvée Brut, WA
Prawn wonton noodles with Mushroom
Location:
Crown Perth, Great Eastern Highway, Burswood, WA, 6100, Australia
Contact:
+61 1800 556 688
Website: Website Link Here
---
Have a Place to Recommend?
Your contribution is valuable to us! Are there any outstanding businesses that you believe should be added to our list? If so, please send your recommendations to us at [email protected]. Tropika Club will review your suggestions and update the list accordingly. Thank you for your help in making our list of businesses as comprehensive and accurate as possible.
---
Meanwhile, Check out Tropika Club's Ecosystem of Websites

Tropika Club Magazine – Tropika Club Magazine is a Singapore-based publication that features articles on a wide range of topics with a focus on local businesses and content for the region. The magazine emphasizes supporting local businesses through its #SupportLocal initiative, which includes coverage of everything from neighborhood hawker stalls to aesthetic clinics in town. In addition to highlighting local businesses, Tropika Club Magazine also covers a variety of local content, including beauty, lifestyle, places, eats, and what's on in Singapore and the Asia Pacific region.
Tropika Club Deals – Tropika Club Deals is a leading online deals and voucher shopping site in Singapore, offering amazing discounts on beauty, wellness, and fitness products and services. It's the perfect platform for customers who want to discover the best deals without having to commit to a specific appointment date and time. These deals are available at major beauty stores, facial salons, hair salons, and other brands in Singapore, with no minimum spend required. Choose from guaranteed discounted deals in the categories of hairstyling, hair removal, facial & aesthetics, body slimming, brows & lashes, nails & makeup, massage & spa or fitness & wellness. Tropika Club Deals is also ideal for customers who want to buy vouchers as gifts or to use for the future. So whether you're looking to save money on your next haircut or want to treat yourself to a relaxing massage, Tropika Club Deals has got you covered with the best voucher and coupon deals in Singapore!