Top 10 Best Noodle Bars in Brisbane Australia
If you're looking for a delicious noodle experience, Brisbane Australia has some of the best noodle bars in the world. From classic Chinese-style to Japanese ramen dishes, this list of top 10 best noodle bars in Brisbane will guide you to the most aromatic and flavourful places across the city. Whether you're after an exotic trip or just want a quick bite, these noodle bars guarantee an unforgettable dining experience.
---
#1 – Fat Noodle
Introduction:
Reinterpreting traditional family recipes through fresh Australian produce has been a winning recipe for Vietnamese celebrity chef Luke Nguyen, whose Asian-fusion dining hall Fat Noodle is one of Treasury Brisbane's crowning jewels.
Ideally positioned at the top of Queen Street Mall, Fat Noodle offers an exotic hideaway, serving up-market fresh dishes day and night including Luke's legendary 20-hour Fat Pho Noodles, a fiery laksa and Canh Chua Hai San (Seafood tamarind soup).
Famous for its fast and friendly service and stylish interior, Fat Noodle has become a firm favourite for a quick lunch catch-up or precursor to a night out on the town.
Menu Items:
Chargrilled Scallop with Spring Onion (Price $17)
Prawn and Pork Rice Paper Rolls (Price $15)
Pepper Beef (Price $27)
Seafood Stir-fry Udon (Price $29)
Location: Top of Queen St Mall Treasury Casino Building (Level 1, George St, Brisbane City QLD 4000, Australia
Contact: +61 7 3306 8502
Website: Website Link Here
---
#2 – Mecca Bah Brisbane
Introduction:
They are an icon of a sophisticated and chic interior, their venue has been built upon the greatest and most authentic expression of hospitality & food – boasting a rich selection of Middle Eastern and Mediterranean dishes, inspired and created by our devoted and proficient team.
Order a glass of wine with your meal from their thoughtfully selected wine list, or enjoy a cocktail handcrafted by their bartenders. They have a decadent array of cocktails to offer from classic cocktails to their magical and well balanced house cocktails dreamed up by our mixologists.
You are welcome join them on a culinary journey with your beloved friends and family – book a table, take part in one of their cooking classes or host an event.
Menu Items:
Mezze Plate (Price $31)
Mecca Bah Meatballs (Price $21)
Crispy Spiced Wings (Price $20)
Lamb Tagine (Price $39)
Location: Gasworks Plaza, Shop 5/70 Longland St, Newstead QLD 4006, Australia
Contact: +61 7 3252 5299
Website: Website Link Here
---
---
#3 – David's Noodle & Hotpot
Introduction:
Brisbane's best malatang & hotpot! Choose your own ingredients from their huge selection. Each bowl is made individually to order.
Located in Indooroopilly Shopping Centre, Sunnybank Plaza, Westfield Garden City, The Myer Centre Brisbane City."
Menu Items:
Signature Sliced Beef Noodles (Price $13.80)
Signature Sliced Beef Noodles with Pickles (Price $13.80)
Hot and Spicy Dry Noodles (Price $9.80)
Stir-Fried Noodles with Sliced Beef (Price $13)
Location: Level E/91 Queen St, Brisbane City QLD 4000, Australia
Contact: +61 413 184 097
Website: Website Link Here
---
_

Read Also:

Top 10 Best Ramen Places in Perth, Australia

_ _ 
---
#4 – Jackpot Dining
Introduction: A unique Chinese restaurant in Brisbane providing high quality gourmet Asian food at reasonable prices. Eat like you've hit the Jackpot.
Jackpot's first takeaway business concept, called Jackpot Noodles, opened its door on George Street, opposite to the Treasury Casino in 1999, hence the name 'Jackpot'. The original Jackpot Noodles could only seat 20 people and only had 6 items on the menu.
Its success proved the feasibility of the concept, the market craved for a quality Asian cuisine at an affordable price and exceptional speed. That inspired the launch of the first Jackpot Noodles Restaurant on Albert Street in Brisbane CBD.
We bade farewell to 'Jackpot Noodles' and said hello to 'Jackpot Dining' to better align with our quick service Chinese restaurant model. We also introduced the Jackpot Roasting station across our restaurant outlets. In line with our rebranding, Jackpot Dining Albert Street also moved to the store next door in 2010 with a matching interior design, followed by Jackpot Dining Toowong in 2011.
Menu Items:
Vegetarian Spring Rolls (Price $7.95)
Dumpling in Chili Dressing (Price $7.95)
Salt & Pepper Fried Chicken with Basil (Price $7.95)
Satay Chicken Skewers (Price $8.95)
Location: 55 Elizabeth St, Brisbane City QLD 4000, Australia
Contact: +61 7 3210 0308
Website: Website Link Here
---
#5 – Mr. Noodle
Introduction:
Mr. Noodle is one of the best Chinese Cuisine restaurant in South Brisbane, QLD which is well known for the specialized recipes such as Snack, Cold Dish, Signature Dish, Stir Fry, Rice, Dried Noodle with Sauce, Noodle Soup, Drinks and a lot more and even serve tasty meals with the great pleasure and made by pure ingredients that not only take care of your hygiene but also adds strength to you and your family.
Let's browse their menu and fulfill your cravings,
Menu Items:
Beef Noodle Soup
BBQ Pork Bun
Beef Fried Rice
Spicy Pork Wok Tossed Noodle
Location: 220 Melbourne St, South Brisbane QLD 4101, Australia
Contact: +61 7 3846 6558
Website: Website Link Here
---
---
#6 – P'Nut Street Noodles
Introduction:
Inspired by the legendary Thai street food stall owned and operated by their Head Chef's grandmother, their sauces and flavour bases are made by hand from market-fresh ingredients.
Their dishes are bursting with flavours that will blow your mind- just like if you were in a South-East Asian street market! P'Nut Street Noodles is conveniently located near public transport and parking options just around the corner from South Bank station.
Their restaurant serves Thai food to the local communities of West End, Milton & Woolloongabba. If you don't feel like dining in at their South Bank restaurant, you can still have the sauce of real Asian Street food through home delivery, takeaway, phone, and online ordering.
Menu Items:
Pad Thai
Penang Satay Noodles
Cashew Nut Noodles
Menu Item D (Price $15)
Location: 9CA/189 Grey St, South Brisbane QLD 4101, Australia
Contact: +61 7 3846 7066
Website: Website Link Here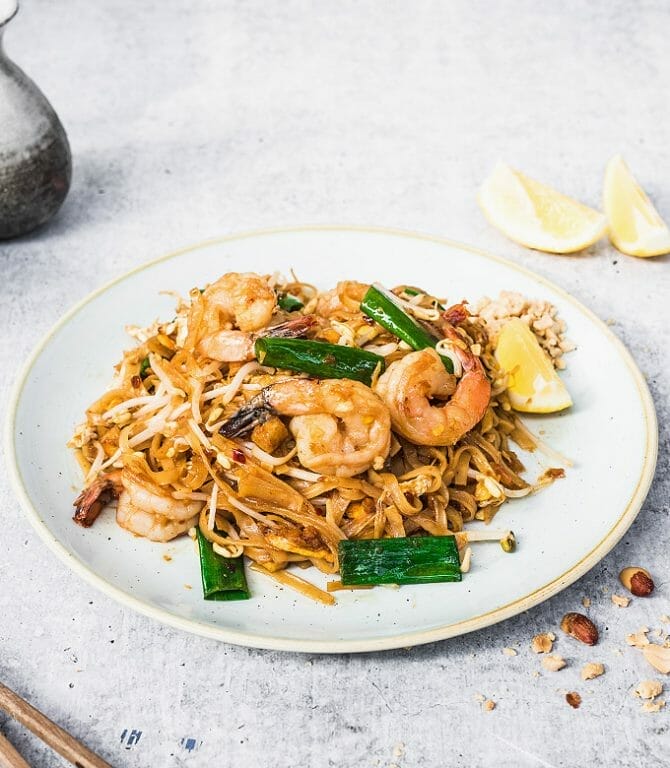 ---
#7 – Taro's Ramen
Introduction:
Australia's Best Ramen to Brisbane. That's their mission.
11 Years ago, they set on a mission to provide Australia's best ramen to Brisbane.
Taste wise, it's about sourcing the best produce and using the best technique. They craft every single component in their ramen from scratch. And the recipe is constantly evolving, it's a never ending pursuit. they seek out beautiful local produce where possible. Bangalow Sweetpork, organic free range eggs by Country Range farming, Australian durum wheat by family farmers.
Safety to them is about more than normal food hygiene and safety. It's about avoiding harmful chemicals, (no MSG, artificial preservatives or colouring), backing local ethical farming for a peace of mind.
During the 10 years, they have come to believe in a win for all philosophy. They like to call it their "4 Win Policy". By operatingt their business, they want to create a win for all stakeholders surrounding the business. Providing an authentic boutique ramen experience for Customers; Telling the story behind the produce they use and delivering the deserved respect to the Producers and Suppliers; Creating a safe, rewarding and satisfying workplace for Employees; and bringing challenge, growth and satisfaction for Management/Owner.
Menu Items:
Tonkotsu Ramen (Price $18.50)
Shio Ramen (Price $18.50)
Shoyu Ramen (Price $18.50)
Pork Kimchi Rice (Price $19.50)
Location: L2/480 Queen St, Brisbane City QLD 4000, Australia
Website: Website Link Here
---
#8 – Chop Chop Chang's
Introduction:
Set in the heart of vibrant West End, Chop Chop Chang's provides an authentic pan-Asian menu reminiscent of the honest 'street food' found in hawker's markets and temple stall throughout South East Asia.
Like good times, their food is best shared and with a family friendly environment and plenty of gluten free, dairy free and vegan options, Chop Chop Chang's has something for everyone.
Open for lunch and dinner 7 days a week, Chop Chop Chang's is great for a cold beer and a light snack or settle in for the complete dining experience.
Menu Items:
Drunken Noodles (Price $22)
Crispy Szechuan Eggplant (Price $26)
Roast Pork Belly (Price $8)
Fried Rice (Price $18)
Location: 185 Boundary St, West End QLD 4101, Australia
Contact: +61 7 3846 7746
Website: Website Link Here
---
#9 – Ramen Danbo South Brisbane
Introduction:
Ramen Danbo South Bank is the #1 Japanese restaurant specialising in ramen in Brisbane.
They are a proud chain of over 35 stores around the world, serving the best, most authentic Fukuoka-style tonkotsu ramen. Come sample their range of traditional tonkotsu ramen, vegan-friendly options and wide selection of imported Japanese beers!
The original Ramen Danbo opened its doors in the year 2000 in the town of Chikushino, located halfway between Hakata (Fukuoka) and Kurume, on the southern island of Kyushu. The mission was simple – to deliver a tonkotsu ramen with top quality and flavour, with strict consistency. After placing number one in a TV poll of the top ramen shops in Fukuoka, from its humble beginnings the brand expanded quickly throughout Kyushu, then all through Japan.
Menu Items:
Classic Ramen (Price $18)
Se-abura Ramen (Price $19)
Shoyu Ramen (Price $19)
Tantanmen (Price $20)
Location: 52 Merivale St, South Brisbane QLD 4101, Australia
Contact: +61 1300 032 626
Website: Website Link Here
---
#10 – Hakataya Ramen
Introduction:
They specialize in ramen with 'Tonkotsu soup', broth of pork bone. Ramen is one of the representative dishes in Japan following Tempura and Sushi.
Among the variety of flavours for soup, such as Shoyu (soy sauce), Shio (salt), Miso, Tonkotsu is the most popular. That is why Nagahama Ramen Hakataya draws a lot of people who are after authentic Tonkotsu ramen on the Queensland.
Using specially selected bones of Australian pork, they have their own secret recipe for the soup
Menu Items:
Nagahama Ramen (Price $14)
Charsiu Ramen (Price $15)
Karaka-Men (Price $15.50)
Miso Spicy-Men (Price $16)
Location: Tenancy B1/117 Queen St, Brisbane City QLD 4000, Australia
Contact: +61 7 3003 0600
Website: Website Link Here
---
Have a Place to Recommend?
Your contribution is valuable to us! Are there any outstanding businesses that you believe should be added to our list? If so, please send your recommendations to us at [email protected]. Tropika Club will review your suggestions and update the list accordingly. Thank you for your help in making our list of businesses as comprehensive and accurate as possible.
---
Meanwhile, Check out Tropika Club's Ecosystem of Websites

Tropika Club Magazine – Tropika Club Magazine is a Singapore-based publication that features articles on a wide range of topics with a focus on local businesses and content for the region. The magazine emphasizes supporting local businesses through its #SupportLocal initiative, which includes coverage of everything from neighborhood hawker stalls to aesthetic clinics in town. In addition to highlighting local businesses, Tropika Club Magazine also covers a variety of local content, including beauty, lifestyle, places, eats, and what's on in Singapore and the Asia Pacific region.
Tropika Club Deals – Tropika Club Deals is a leading online deals and voucher shopping site in Singapore, offering amazing discounts on beauty, wellness, and fitness products and services. It's the perfect platform for customers who want to discover the best deals without having to commit to a specific appointment date and time. These deals are available at major beauty stores, facial salons, hair salons, and other brands in Singapore, with no minimum spend required. Choose from guaranteed discounted deals in the categories of hairstyling, hair removal, facial & aesthetics, body slimming, brows & lashes, nails & makeup, massage & spa or fitness & wellness. Tropika Club Deals is also ideal for customers who want to buy vouchers as gifts or to use for the future. So whether you're looking to save money on your next haircut or want to treat yourself to a relaxing massage, Tropika Club Deals has got you covered with the best voucher and coupon deals in Singapore!