10 LED Facial Studios in Singapore for Clear, Radiant Skin
No Time to Read? Here's a Snappy Summary of This Article
Glowing Skin Hub: Discover top-notch LED facial studios in Singapore for a radiant complexion and a confidence boost.
Futuristic Skincare: Experience cutting-edge LED treatments that target acne, wrinkles, and pigmentation with science-backed precision.
Celeb-Approved: Learn where your favorite celebrities go to maintain their flawless skin and follow in their footsteps.
Customized Beauty: Find studios offering personalized LED therapies tailored to your unique skin concerns and goals.
Wellness Retreat: Unwind and rejuvenate in serene settings while receiving skin-transforming LED treatments.
Ultimate Self-Care: Explore Singapore's best LED facial studios to pamper yourself and unveil your inner glow.
Introduction
In the Lion City where cutting-edge skincare treatments are almost as abundant as hawker centers, finding the perfect LED facial studio can be a daunting task. That's why we've done the legwork for you. Welcome to your ultimate guide to the top 10 LED facial studios in Singapore that are sure to give you that ethereal glow you've been dreaming of. So, clear your calendar and make some "me time" as we navigate through the best spots that offer this high-tech pampering. Your skin will thank you, and honestly, so will your Instagram feed.
---
#1 – Wellaholic
Introduction:
Wellaholic's brand promise is to help its customers achieve their desired aesthetic goals while providing the best rates in Singapore. Their team of passionate professionals goes the extra mile to provide excellent customer service for thier customers. Their services include technology facials, skin boosters, microneedling, permanent hair removal, fat freeze, RF body sculpting, hair regrowth, and teeth whitening. They believe in letting their services speak for themselves, and they do not engage in hard-selling or pressure tactics. With multiple outlets located throughout Singapore, their clients can easily find a Wellaholic location near them.
Type of Services:
Hair removal
Body Shaping
Hair Regrown
Personal area
Teeth whitening
Location:
Wellaholic
8 locations
5 Koek Road, #03-21/22, Cuppage Plaza, Singapore (Orchard)
Contact: Hotline:81811814
Website: Website Link Here
---
#2 – Skin Fitness
Introduction:
At SkinFitness they are focused on providing highly effective treatments that deliver real results. They only work with products and services that have been crafted with the highest levels of integrity and care. As a dynamic and client-focused skin care concept, they challenge the ideals of a traditional aesthetic/beauty salon. They seek to exceed the demand for an educated approach to both your skin concerns and well-being. They believe everybody is beautiful however, sometimes it's nice to have a secret advantage. They put your experience at the heart of everything we do. They work with you, for you. No hard sell, no tricks, no gimmicks, just exceptional products and services that deliver visible results.
Type of Services:
Clinical Peels
IPL Hair Reduction
Facials
Location:
One Shenton Way, #01-03, Singapore, 068803 (MRT: Downtown DT17)
Contact: 88090848
Website: Website Link Here
---
---
#3 – Freia Aesthetics
Introduction:
Freia Aesthetics is renowned for adopting a highly personalized, integrative, and comprehensive approach to skincare and beauty. They strongly believe the best results are obtained by a synergistic blend of treatments and products; not one or the other. Clients experience this when visiting them at our physical stores or visiting their online store Fria247.sg , in the comfort of one's home or on the go. Leveraging the most advanced and cutting-edge medical knowledge, innovation, and technology, they balance this with an equal measure of personalized touch and warmth. Founded by ex-banker Ms Serene Seah-Ma, individuality and a true commitment to quality form the cornerstones of their brand. No cookie-cutter solutions or one-size-fits-all all mentality exists at their spa.
Type of Services:
Facials
Scalp Treatments
Jet Peel Scalp Treatment
HydraFacial Keravive
Body Treatments & Hair
Location:
435 Orchard Road
#19-03, Wisma Atria Office Tower
Singapore 238877
Contact: 67343219
Website: Website Link Here
---
---
#4 – La Vie Aesthetics
Introduction:
They believe that life is beautiful. Everyone deserves to look great and feel confident.
Whether you feel frustrated because of your skin problems or you want to turn the clock back to return your youthful skin.
They are the experts who have all the solutions for your beauty-related problems! They use the latest advanced technology to ensure that their treatments are highly effective while still safe and non-invasive.
Type of Services:
Skin Care
Dr Nano Treatment (Hydration/ Anti-Aging) – Face Treatment
Skin Rejuvenation Treatment
Body Treatments
EM Slim+ (Muscle Building / Fat Elimination)
Location:
277 Orchard Road, #04-08 Orchard Gateway, Singapore, Singapore
Contact: +65 6581 4417
Website: Website Link Here
---
#5 – Indulgence Beauty MD Dermatics Centre
Introduction:
Their personalized facial treatments and other services are meant to be enjoyable and relaxing. As they wish to ensure that all their customers feel entirely at ease, they are focused on providing a high level of premier service that everyone can enjoy. The friendly and professional team at Indulgence Beauty will always try their best to answer any enquiries you might have before your facial treatment, to guarantee your comfort
Type of Services:
ACNE TREATMENT
SKIN ADVISOR
Oxy Liqui Facial Treatment
MD Dermatics RevitaPeel
Location:
10 Anson Road International Plaza #02-58 Singapore 082001
Contact: 6225 8980
Website: Website Link Here
---
#6 – Kew Organics Facial Bar
Introduction:
As Singapore's leading organic facial bar, they are dedicated to transforming skin through a marriage of nature and medi-aesthetics technology. they use only fresh, water-based, vegan, non-GMO, certified organic, and natural ingredients to deliver clear, healthy, and makeup-free skin that lasts.
Type of Services:
SUGAR K ORGANIC PEEL BAR
Sugar K Microdermabrasion
DPL Hair Removal
MD Organic Eye Treatment
Location:
6A Eu Tong Sen Street #03-83
Singapore 059817
Contact: 8809 0065
Website: Website Link Here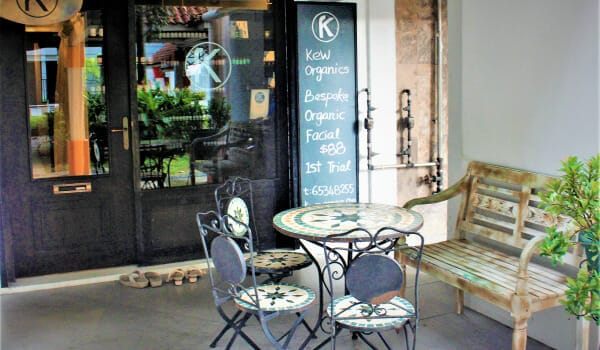 ---
_

Read Also:

LED Facials: The Latest Beauty Trend that Shows Results

_
---
#7 – Love Skin SG
Introduction:
LOVE SKIN is the FIRST and ONLY Aesthetics Centre in Singapore with a unique aesthetics experience.
Why are they ABNORMAL?
Affordable aesthetic treatments
NO PACKAGES
No Hard-selling
. NO hidden costs
. Transparent & NET prices
. NO top-up required (What is top-up???)
Hi-Tech Equipment used
Type of Services:
IPL Hair Removal Treatment
Facial Treatment
Medi-Lase
Eye & Neck Treatments
Location:
Midpoint Orchard
220 Orchard Road
#02-09
Singapore 238852
Contact: 8318 1528
Website: Website Link Here
---
#8 – skin pple
Introduction:
skin pple is a movement to bring beauty and wellness to people of all walks of life.
They want to inspire humanity to bring their best selves forward. They can't change situations, people, or places but they can be the change that we want to see in others.
Not only do they want you to feel amazing in your skin, they want you to radiate wellness and bliss from within. They recognize that inner well-being is closely interconnected to external facade. Beauty to them is more than just skin deep, and they are here to prove it
Type of Services:
FACIAL TREATMENTS
BARBIE FACIALS
LASH & BROW
Sparkle Cheeks Facial
Location:
391 Orchard Road #03-08C Takashimaya S.C.
Ngee Ann City, Singapore 238872
Contact: +65 6011 0011
Website: Website Link Here
---
#9 -Mirage Aesthetic Raffles City
Introduction:
Consisting of the Mirage range of companies, Mirage Group's seeks to strive to deliver only the best spa services and products to their customers.
conceptualized by industry players with more than 10 years in the industry, Mirage Aesthetic is the first botanically-inspired aesthetic center where quality and customer-orientated service come first. Mirage Aesthetic aims to be the best spa in Singapore and has built a reputation of excellence, winning multiple awards in recognition for the service and treatment provided.
At Mirage Aesthetic, get to learn more about why it is important to take care of your skin. With the help of their quality customer service, learn more about your skin type and how to treat it.
With a vision to be the best spa in Singapore, Mirage Aesthetic offers high-quality facial treatments that can help various skin types. Customize your very own treatment and get a perfect solution to help rejuvenate your skin and reduce any issues.
Type of Services:

Firming and Lifting
Location:
252 North Bridge Road, Raffles City Shopping Centre, #B2-22/23, Singapore 179103
Contact:
Website: Website Link Here
---
#10 – AsterSpring
Introduction:
AsterSpring is a leading chain of professional skincare salons and kiosks in ASEAN and Hong Kong, treating more than 10 million faces since 1984. With more than 34 years of experience, AsterSpring remains committed to achieving their customers' best skin health with them: highly trained professionally certified skincare therapists, world-leading skincare and wellness products incorporating cutting-edge technology, and strategic locations with over 74 outlets regionally. AsterSpring is wholly owned and managed by EIG Berhad, a publicly listed company on the Main Market of Bursa Malaysia since 2004.
Type of Services:
Anti-aging
Brightening
Hydrating
LPG Endermolift
Location:
68 Orchard Rd #03-10
Singapore 238839
Contact: : 6339 0855
Website: Website Link Here
Conclusion
In conclusion, LED facial studios in Singapore are the real deal when it comes to achieving clear, radiant skin. They offer a wide range of treatments, boast skilled professionals, and stay ahead of the skincare game with cutting-edge technology. So, if you're looking for that glow-up, these studios should be on your radar. Your skin deserves some TLC, and these places are where the magic happens. Get ready to shine bright like a diamond!
Frequently Asked Questions (FAQ)
Q: Are LED facial treatments suitable for all skin types?
A: LED facial treatments are generally safe for all skin types, but it's best to consult with a skincare professional to determine the most suitable treatment for your specific skin needs.
Q: How many sessions do I need to see noticeable results?
A:The number of sessions required varies depending on your skin concerns. Typically, you may need anywhere from 4 to 12 sessions for optimal results. Consult your chosen studio for a personalized plan.
Q: Is LED facial treatment painful?
A:LED facial treatments are non-invasive and generally painless. You may feel a mild warming sensation, but it's a comfortable experience with no downtime.
Q: Can LED treatments replace other skincare routines?
A:LED treatments can complement your skincare routine but are not a substitute. Continue your regular skincare regimen for the best long-term results.
Q: Are there any side effects or risks associated with LED facials?
A: LED facials are safe, but some people may experience temporary redness or mild sensitivity. These side effects usually subside within a few hours.
Q: What's the average cost of LED facial sessions in Singapore?
A: The cost varies depending on the studio and the specific treatment. On average, expect to pay anywhere from SGD 80 to SGD 300 per session. Be sure to inquire about package deals and promotions for potential savings.
---
Have a Place to Recommend?
Your contribution is valuable to us! Are there any outstanding businesses that you believe should be added to our list? If so, please send your recommendations to us at [email protected]. Tropika Club will review your suggestions and update the list accordingly. Thank you for your help in making our list of businesses as comprehensive and accurate as possible.
---
Meanwhile, Check Out Tropika Club's Ecosystem of Websites
Tropika Club Magazine – Tropika Club Magazine is a Singapore-based publication that features articles on a wide range of topics with a focus on local businesses and content for the region. The magazine emphasizes supporting local businesses through its #SupportLocal initiative, which includes coverage of everything from neighborhood hawker stalls to aesthetic clinics in town. In addition to highlighting local businesses, Tropika Club Magazine also covers a variety of local content, including beauty, lifestyle, places, eats, and what's on in Singapore and the Asia Pacific region.
Tropika Club Deals – Tropika Club Deals is a leading online deals and voucher shopping site in Singapore, offering amazing discounts on beauty, wellness, and fitness products and services. It's the perfect platform for customers who want to discover the best deals without having to commit to a specific appointment date and time. These deals are available at major beauty stores, facial salons, hair salons, and other brands in Singapore, with no minimum spend required. Choose from guaranteed discounted deals in the categories of hairstyling, hair removal, facial & aesthetics, body slimming, brows & lashes, nails & makeup, massage & spa or fitness & wellness. Tropika Club Deals is also ideal for customers who want to buy vouchers as gifts or to use for the future. So whether you're looking to save money on your next haircut or want to treat yourself to a relaxing massage, Tropika Club Deals has got you covered with the best voucher and coupon deals in Singapore!