The Best Places to Get Diamond Peel Microdermabrasion in Singapore
No Time to Read? Here's a Snappy Summary of This Article
Unveil Your Radiant Glow: Discover top-notch clinics for Diamond Peel Microdermabrasion and rejuvenate your skin's natural radiance.
Expert Skincare Oasis: Visit renowned beauty hubs and spas in Singapore, trusted by dermatologists for their skincare expertise.
Luxurious Facial Retreats: Pamper yourself with luxurious facials that utilize advanced diamond microdermabrasion techniques.
Skin Transformation: Explore how these treatments can resurface your skin, leaving you with a refreshed, flawless complexion.
Youthful Revival: Experience the wonders of skin exfoliation and renewal, unlocking a more youthful and vibrant appearance.
Beauty and Confidence: Discover the best destinations in Singapore to enhance your beauty and boost your confidence through skincare excellence.
Introduction
So, where do you go for a top-notch Diamond Peel Microdermabrasion experience in Singapore, you ask? Worry not, beauty aficionados, we've got you covered. From cozy boutique spas to state-of-the-art skincare centers, our handpicked list of the best places to get Diamond Peel Microdermabrasion in Singapore is your ultimate guide to turning back the clock on your skin. Ready to take the plunge into a world of beauty luxury and transform that tired complexion? Let's dive in!
---
#1 – Wellaholic
Introduction:
Wellaholic's Diamond Peel Microdermabrasion Facial is a cutting-edge skincare treatment designed to rejuvenate your skin and promote a radiant, youthful complexion. Utilizing diamond-tipped wands, this non-invasive procedure gently exfoliates the outermost layer of dead skin cells, revealing a brighter, smoother skin surface beneath. The treatment is performed by Wellaholic's team of highly trained and experienced specialists, ensuring a safe and effective experience tailored to individual skin needs. Ideal for addressing issues such as fine lines, acne scars, and uneven skin tone, the Diamond Peel Microdermabrasion Facial is backed by evidence-based techniques and incorporates the latest technology for optimal results. Clients leave the session with revitalized skin, feeling empowered and confident in their journey towards achieving their personal best in beauty and overall well-being.
Prices start from must $49 for a 12-session plan. Or pay $59 for a single session of Diamond Peel facial.
Type of Services:
Hair Removal
Body Slimming
Technology Facials
Hair Regrowth
Location:
16M Penhas Rd, level 2, Singapore 208180
Contact: 6816 8038
Hotline: 8181 1814
Website: Website Link Here
---
#2 – My Cozy Room
Introduction:
My Cozy Room is home to Singapore's Best Facial Treatment. Experience soothing yet effective facial treatments, customised just for you. Known for detailed and thorough extractions, My Cozy Room will give you radiant skin and cleaner pores. As the Official Beauty Spa for Miss Earth Pageant 2018, My Cozy Room is truly a spa fit for Beauty Queens. Get rid of clogged and congested pores and get cleaner, smoother skin with our customised facial treatments. Our treatments help to strengthen the skin and its defences. The concentrated power of vitamins also stimulates the skin, firms the connective tissues and gives you glowy smooth skin.
Type of Services:
Diamond Peel Facial (120min)
Body Treatments
Bridal Treatments
To view the prices click here
Location:
56 Cairnhill Rd, Singapore 229667
Contact: 8666 0030
Website: Website Link Here
---
---
#3 – cAL
Introduction:
At CAL, they believe in the importance of self-care. Their goal is to provide their customers with a space for modern self-care. CAL is the best of both worlds – a medical grade beauty space that bridges the gap between medical and beauty treatments, making them more accessible and affordable. They also bring in the latest beauty and lifestyle trends, making your experience truly unique and still providing an exceptional level of service.
Type of Services:
Skin Management Program
Teeth Whitening
Body Management Program
Hair Removal
Hair Loss Solution
For more info click here
Location:
45 Tras St, Singapore 078984
Contact: 8721 0028
Website: Website Link Here
---
---
#4 – Shiro Aesthetic Clinic
Introduction:
Helmed by Dr Zhang Yijun, Shiro Aesthetic Clinic is set in the elegant ambience of Mandarin Gallery Orchard, poised as an all-encompassing aesthetic haven for Singapore's go-getter millennials.
At Shiro, they live and breathe skin vitality. From revitalising head-to-toe aesthetic treatments such as HIFU Toning and Thermage FLX to advanced skin enhancement services like AirJet, HydroPeel and more. We seek to understand our client's needs and provide radiant results that will empower clients with renewed confidence in their own natural beauty.
Start your journey to healthy and happy skin – browse our centre's website or contact Shiro Aesthetic Clinic to schedule a personal consultation with Dr Zhang in Singapore today.
Type of Services:
Hydropeel works in and not on the skin with deep cleansing, exfoliation, extraction and anti-oxidant infusion in one treatment.
Deep exfoliation with hydro dermabrasion complete with infusion of nourishing vitamin C serums deep into the skin layer can quickly revive the skin feeling rejuvenated, silky smooth, radiant and ultra clean. Furthermore, Hydropeel promotes collagen growth for a sustained residual effect.
For more info click here
Location:
Mandarin Gallery, #03-35, 333A Orchard Road, Singapore 238897
Contact: 6235 5655
Website: Website Link Here
---
#5 – Singapore Aesthetic Centre
Introduction:
Singapore Aesthetic Centre brings radiance to the community, revitalising skin and contouring appearances for renewed confidence. Established since 2008 Singapore Aesthetic Centre (SAC), is a one-stop medical practice that offers a winning combination of physician expertise and evidence-based aesthetic procedures to address all your beauty needs comfortably and safely with minimal downtime.
Type of Services:
Microdermabrasion (Price starts from $83 per session)
Wrinkle Treatment (Price starts from $190 per area)
Laser Sooth Eye (Price starts from $324 per session)
To see more services click here
Location:
10 Sinaran Dr, #10-13 Novena Medical Center, Singapore 307506
Contact: 6837 1000
Website: Website Link Here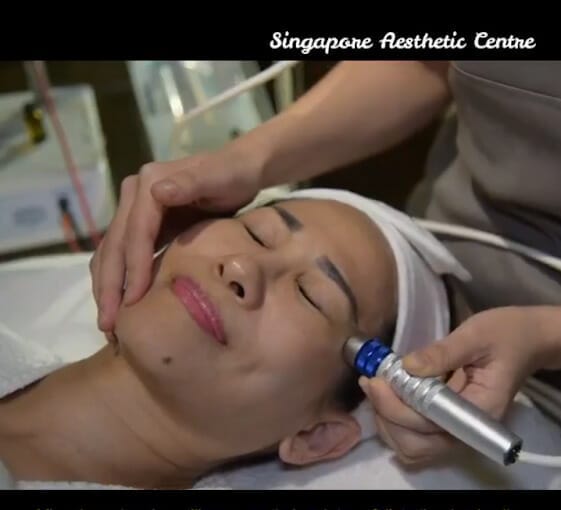 ---
#6 – Edwin Lim Medical Aesthetic
Introduction:
Their clinic provides a comprehensive range of Medical Aesthetic Services and is equipped with advanced technology to help you look your best with minimal discomfort and downtime.
At Changi City Point, there is ample parking and shopping within the mall with a direct underground link to the Expo MRT,

Their clinic at Lucky Plaza is located at the prestigious Orchard Medical Specialists Centre, offering you privacy and exclusivity. Parking is available within the building with direct lift access to the medical floor. They are connected to Orchard MRT via a sheltered underground linkway that brings you past Ngee Ann City and Wisma Atria.
Type of Services:
Aquapure Medi-Facial (Microdermabrasion)
The Aquapure Medi-Facial is an advanced form of microdermabrasion facial using medical-grade serums and technology to promote younger, hydrated and healthy-looking skin.For Microdermabrasion in Singapore, Dr Edwin's Signature Medi-Facial combines four effective treatments into one comprehensive facial system composed of 7 steps to provide optimal skin rejuvenation.
Location:
#02-12/13, Changi City Point, 5 Changi Business Park Central 1, Singapore 486038
Contact: 69042218
Website: Website Link Here
---
_

Read Also:

All about Diamond Peel Microdermabrasion

_
---
#7 – Skin Fitness
Introduction:
At SkinFitness they are focused on providing highly effective treatments that deliver real results. They only work with products and services that have been crafted with the highest levels of integrity and care. As a dynamic and client-focused skin care concept, they challenge the ideals of a traditional aesthetic/beauty salon. They seek to exceed the demand for an educated approach to both your skin concerns and well-being. They believe everybody is beautiful however, sometimes it's nice to have a secret advantage. They put your experience at the heart of everything they do. They work with you, for you. No hard sell, no tricks, no gimmicks, just exceptional products and services that deliver visible results.
Type of Services:
Shine Like a Diamond – 50 min (Price $159)
This treatment combines diamond microdermabrasion, a light peel and a premium marine minerals mask to brighten your skin appearance, improve tone, texture and reveal softer skin in less than an hour.
Location: 1 Shenton Wy, #01-03, Singapore 068803
Contact: 8809 0848
Website: Website Link Here
---
#8 – The Clifford Clinic
Introduction:
With more than 40 years of experience in Dermatology, Aesthetics and Plastic and Reconstructive Surgery, their doctors at The Clifford Clinic understand your concerns when it comes to aesthetic services. At Clifford, they aim to deliver natural looking results with low down time in the hands of safe and experienced doctors. They understand the needs of their patients and strive to meet these expectations.
The Clifford Clinic was born to fulfil the needs and expectations of their patients. Both their doctors have been trained locally and abroad in Aesthetic Medicine. The clinic uses only the latest state-of-the-art equipment together with the best quality skincare products. They do not compromise on quality, yet they maintain very competitive prices. Conveniently located in The Clifford Center, which is less than a minute from Raffles Place MRT station, The Clifford Clinic is a professional aesthetic clinic that specialises in natural looking results with minimal down time.
Type of Services:
Dermaplaning is a simple and safe skincare treatment which removes dead skin cells and vellus hair, also known as peach fuzz, from your face. Our qualified therapists expertly use a sharp blade to gently scrape off the top layer of dead skill cells resulting in a smoother and brighter complexion. Think of it like a scrub for your facial skin!
To know more click here
Location:
The Clifford Clinic 50, Raffles Place #01-01 Singapore Land Tower, Singapore 048623
Contact: 6532 2400
Website: Website Link Here
---
#9 – Bossi Face
Introduction:
Bossi Face is a beauty salon in Singapore that offers facial treatments using gua sha and oxygen hydro peel techniques. Gua sha is a traditional Chinese medicine practice that involves scraping the skin with a smooth-edged tool to improve blood circulation and reduce inflammation. Oxygen hydro peel is a modern method that uses pressurized water and oxygen to exfoliate and hydrate the skin. Bossi Face claims that these treatments can help reduce the tension and puffiness in the face, as well as improve the skin's texture and radiance.
Type of Services:
Oxygen Hydro Peel 75mins
Guasha 60 mins
To see more services click here
Location:
70 Shenton Way, #01-17/18, Singapore 079118
Contact: 8248 2205
Website: Website Link Here
---
#10 – Maskabeauty
Introduction:
Maskabeauty is a facial salon in Singapore that has been providing facial treatments for over 24 years. They offer a variety of services to suit different skin types and conditions, such as clogged pores, acne, dry skin, sensitive skin, anti-aging, and eye care. They use organic and natural products to nourish and rejuvenate the skin, as well as advanced technologies such as CPL light treatment to enhance the results. Maskabeauty aims to help their customers achieve healthy and radiant skin, as well as a relaxing and comfortable experience.
Type of Services:
Microdermabrasion
Anti-Aging Facial Treatment
Aqua Facial
Meditrina Therapy
To know more click here
Location:
Ang Mo Kio Ave 10, #01-1793 Block 452, Singapore 560452
Contact: 6453 1076
Website: Website Link Here
Conclusion
In conclusion, when it comes to Diamond Peel Microdermabrasion, Singapore has a lot to offer. The city is a hub for beauty and skincare, and you'll find a variety of top-notch clinics and spas ready to cater to your skincare needs. These treatments are not just about looking good; they're about feeling confident and rejuvenated.
In the world of skincare, Diamond Peel Microdermabrasion is a game-changer, and Singapore is at the forefront of this beauty trend. Don't miss out on the opportunity to experience the magic for yourself. Book an appointment at one of these top places and get ready to shine brighter than ever before. Your skin will thank you!
Frequently Asked Questions (FAQ)
Q: What is Diamond Peel Microdermabrasion?
A; Diamond Peel Microdermabrasion is a non-invasive skincare treatment that exfoliates and rejuvenates the skin using diamond-tipped wands, revealing smoother and healthier-looking skin.
Q: Is Diamond Peel Microdermabrasion suitable for all skin types?
A:Yes, Diamond Peel Microdermabrasion is generally safe for all skin types, but it's essential to consult with a skincare professional for personalized recommendations.
Q: How long does a Diamond Peel Microdermabrasion session take?
A: A typical session lasts around 30 minutes to an hour, making it a quick and convenient option for those with busy schedules.
Q: Are there any side effects or downtime associated with this treatment?
A:Side effects are minimal, with possible mild redness or sensitivity. There's usually no downtime, and you can resume your regular activities immediately.
Q: How often should I get Diamond Peel Microdermabrasion done?
A: For optimal results, a series of sessions is recommended, usually spaced 2-4 weeks apart. After that, maintenance sessions can be scheduled every 1-2 months.
Q: Can Diamond Peel Microdermabrasion address specific skin concerns like acne scars or fine lines?
A: Yes, Diamond Peel Microdermabrasion can help reduce the appearance of acne scars and fine lines over time, but multiple sessions may be needed for noticeable improvements.
---
Have a Place to Recommend?
Your contribution is valuable to us! Are there any outstanding businesses that you believe should be added to our list? If so, please send your recommendations to us at [email protected]. Tropika Club will review your suggestions and update the list accordingly. Thank you for your help in making our list of businesses as comprehensive and accurate as possible.
---
Meanwhile, Check Out Tropika Club's Ecosystem of Websites
Tropika Club Magazine – Tropika Club Magazine is a Singapore-based publication that features articles on a wide range of topics with a focus on local businesses and content for the region. The magazine emphasizes supporting local businesses through its #SupportLocal initiative, which includes coverage of everything from neighborhood hawker stalls to aesthetic clinics in town. In addition to highlighting local businesses, Tropika Club Magazine also covers a variety of local content, including beauty, lifestyle, places, eats, and what's on in Singapore and the Asia Pacific region.
Tropika Club Deals – Tropika Club Deals is a leading online deals and voucher shopping site in Singapore, offering amazing discounts on beauty, wellness, and fitness products and services. It's the perfect platform for customers who want to discover the best deals without having to commit to a specific appointment date and time. These deals are available at major beauty stores, facial salons, hair salons, and other brands in Singapore, with no minimum spend required. Choose from guaranteed discounted deals in the categories of hairstyling, hair removal, facial & aesthetics, body slimming, brows & lashes, nails & makeup, massage & spa or fitness & wellness. Tropika Club Deals is also ideal for customers who want to buy vouchers as gifts or to use for the future. So whether you're looking to save money on your next haircut or want to treat yourself to a relaxing massage, Tropika Club Deals has got you covered with the best voucher and coupon deals in Singapore!