Singapore Top 10 Boutique Hotels for a Stylish Stay
If you're planning a trip to Singapore and looking for a stylish and unique accommodation option, a boutique hotel may be just what you need. Singapore is home to a variety of boutique hotels that offer personalized service, attention to detail, and a one-of-a-kind experience. From heritage shophouses to sleek and modern designs, there's no shortage of options for a memorable stay. To help you choose the perfect boutique hotel for your next trip, we've put together a list of the top 10 boutique hotels in Singapore. So, whether you're a first-time visitor or a seasoned traveler, get ready to immerse yourself in the charm and character of these top-rated boutique hotels.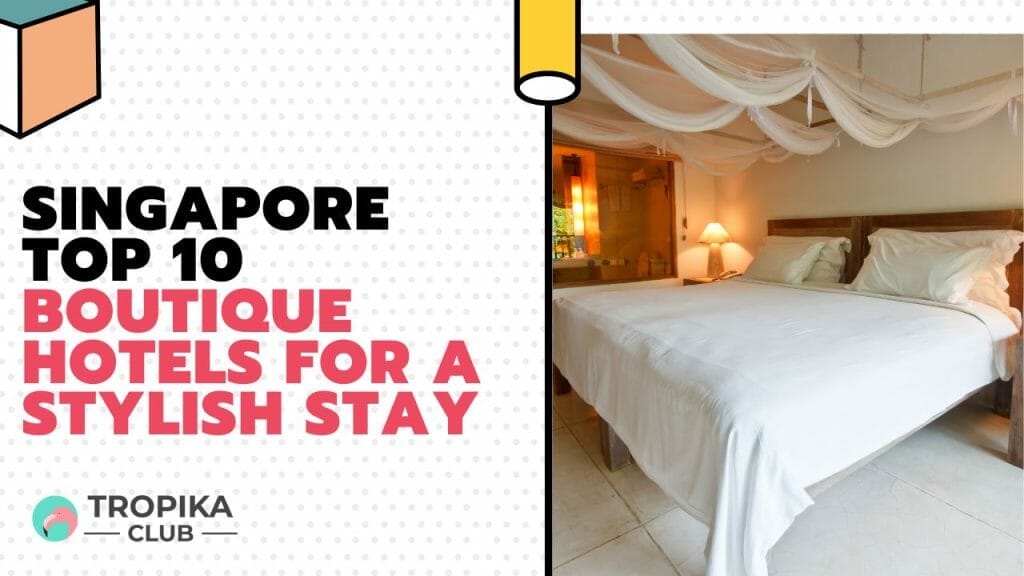 ---
#1 – The Vagabond Club
Introduction:
Housed in a 1950s heritage Art Deco building, The Vagabond Club is Singapore's leading luxury boutique hotel. Designed by the world-renowned French designer Jacques Garcia, it offers a unique art-inspired experience and genuine old world hospitality. Located near the heritage zones of Kampong Glam and Little India, The Vagabond Club is mere minutes from the Central Business District and key attractions like Marina Bay and the Singapore River.
Type of Rooms:
Courtyard Executive Club Room
Deluxe Executive Club Room
Art Executive Club Suite
Vagabond Executive Club Suite
Location:
39 Syed Alwi Road, Singapore, 207630
Contact:
+65 6291 6677
---
#2 – The Scarlet Singapore
Introduction:
The Scarlet Singapore made its debut in 2004 – famed for being the first luxury boutique hotel and one of the oldest conservation building in Singapore. The boutique hotel is a juxtaposition of Singapore's old and new, with its well preserved pre-World War Two architecture, integrated to reflect 21st-century modern day comforts. Be inspired by the historical past of the hotel, housed in a row of 13 1868 shophouses and vintage 1924 Art Deco building.
Welcome to a world of design and colour as you step through the doors of the hotel; stylish, luxurious, dramatic and theatrical. Designed thoughtfully with no expense spared, to tease and seduce the senses. An encounter with The Scarlet Singapore is like meeting a vivacious, uninhibited woman that you will want to meet time and time again.
The Scarlet Singapore is the proud recipient of the Singapore Architectural Heritage Award 2005 and was awarded 'Leading Boutique Hotel' by World Travel Awards 2018 and 2019, among numerous other accolades.
Type of Rooms:
Executive with Balcony Room
Premium Room
Splendour Suite
Passion with Outdoor Jacuzzi Suite
Location:
33 Erskine Road, Singapore 069333
Contact:
+65 6511 3333
Website: https://thescarletsingapore.com/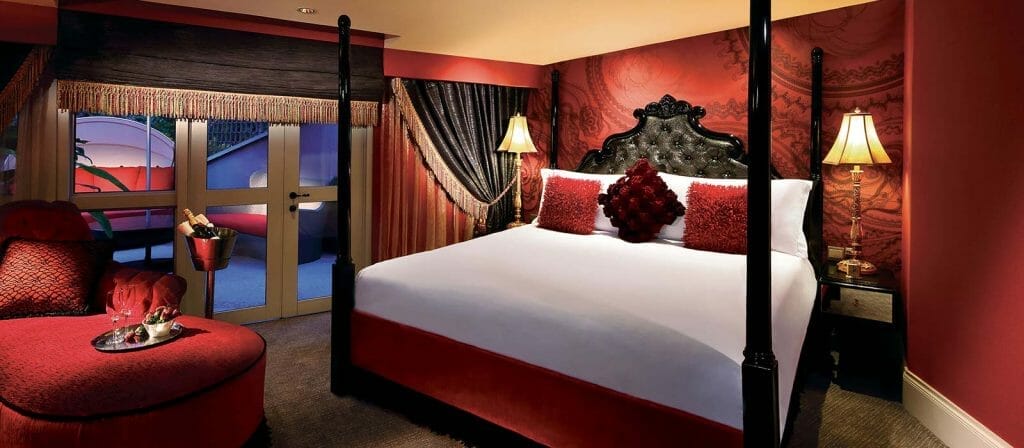 ---
---
#3 – Ann Siang House
Introduction:
Nestled on the outskirts of the historic Telok Ayer sub-district of Chinatown and within minutes of the central business district, Ann Siang House is a restored heritage building fusing local history with modern design.
Each of the property's 20 well-appointed rooms is fully furnished with the comforts of home and designed with smart features that enable an all-inclusive lifestyle concept combining work and play. Bask in the bustle of the city, stroll along the old streets in the culturally rich precinct or discover world-class bars and a multitude of trendy eateries all at your doorstep.
Type of Rooms:
Deluxe Room
Deluxe Corner Room
Studio Executive
Studio Premier
Location:
28 Ann Siang Road, Singapore 069708
Contact:
+65 8608 8190
Website: https://www.annsianghouse.com/
---
---
#4 – The Warehouse Hotel
Introduction:
The Warehouse Hotel was built in 1895 along the Singapore River as part of the Straits of Malacca trade route. At that time, the area was a hotbed of secret societies, underground activity, and liquor distilleries. Today, while much of that history has disappeared, The Warehouse Hotel has been meticulously restored as a modern 37-room boutique hotel, focusing on heritage and local culture.
Open as of January 2017, it delivers thoughtful hospitality with historically-detailed rooms, classic local dishes and craft cocktails and curated partnerships in the vibrant neighborhood of Robertson Quay. The Warehouse Hotel is the inaugural hotel of renowned Singaporean hospitality firm The Lo & Behold Group and is part of the prestigious Design Hotels™ portfolio.
Type of Rooms:
River View Mezzanine
River View Loft
Warehouse Loft
Warehouse Sanctuary
Location:
320 Havelock Road, Robertson Quay, Singapore 169628
Contact:
+65 6828 0000
Website: https://www.thewarehousehotel.com/
---
#5 – Hotel Mono
Introduction:
Hotel Mono is a chic hideaway set in six historical shop houses of modern design. The beautifully rejuvenated buildings retain original charm with characteristic airwells and Rococo-era windows; slipping into traditional Singapore and interweaving with the city's urban bustle.
Designed for the discerning traveller, each of our forty-six rooms offers stylish comfort and rest from the city's buzz. Lighting bars frame the walls to brighten each room. Clean lines and neutral colours carefully enhance the minimalist beauty of each space.
Navigate the lively neighbourhood and beyond. Retreat to your tranquil space. Refresh yourself with our rain showers. Relax in our plush beds for a wonderful night's rest.
Type of Rooms:
Deluxe Double
Studio Room
Family Room
Loft Room
Location:
18 Mosque St, Singapore 059498
Contact:
+65 6326 0430
Website: https://www.hotelmono.com/
---
#6 – M Social Singapore
Introduction:
M Social Singapore, (SG Clean certified hotel), has always maintained high levels of cleanliness and hygiene.
As a lifestyle boutique hotel in Robertson Quay, M Social Singapore captures the spirit of adventure behind every stay. Akin to a theatrical experience, M Social Singapore is a stage where we tell a unique story with a well-designed setting and ambiance. The chic loft and alcove interiors designed by famous French visionary Philippe Starck add to the theatricality and sense of intrigue to our hotel. Whether you're exploring the open communal spaces such as the hotel's pool or greeting our robot AURA, or thanking AUSCA our robot breakfast chef, M Social Singapore is the ideal hotel for staycations and business trips.
Type of Rooms:
Alcove Terrace Room
Loft Gallery Room
Loft Premier Room
Loft Terrace Room
Location:
90 Robertson Quay, Singapore 238259
Contact:
+65 6206 1888
Website: https://www.millenniumhotels.com/en/singapore/m-social-singapore/
---
_

Read Also:

7 Good Reasons Why You Should Travel Alone this Year

_
---
#7 – Naumi Hotel
Introduction:
Amid the bright lights and must-see sights of the city is Naumi Hotel Singapore, a contemporary retreat oozing cosmopolitan style. Think designer décor, panoramic vistas and exclusive features – from an all-female floor to in-room technology. With skyscraper views from the infinity pool, three gyms and superb business facilities, it's ideal for work, rest and play.
Each room celebrates modern living – with a luxury twist. Expect coffee machines, seven-layer Egyptian cotton bedding and SOAK bathroom products. AirPlay Mirroring linked to Apple TV lets you stay connected. Take things up a notch on the 10th floor, where The Rooftop at Florian serves up Italian dishes with an infinity poolside setting and skyline views.
Surrounded by sightseeing hotspots, Naumi Hotel Singapore is ideal for a city break. Wander through Chinatown Heritage Centre to see a replica of 19th century Chinatown. Encounter the Peranakan communities and their fascinating culture on a visit to Peranakan Museum. Then take a trip to Raffles City shopping centre to get a glimpse of the chic style that Singapore has to offer. For a bird's eye view of the city, take a turn on the Singapore Flyer observation wheel.
Type of Rooms:
Patio
Oasis
Eden & Nirwana
Suvarna Suite
Location:
41 Seah St, Singapore 188396
Contact:
+65 6403 6000
Website: https://naumihotels.com/singapore/
---
#8 – The Great Madras
Introduction:
On the little red dot, in little india, sits a little great hotel. Of little objects that speak of time and place. The great madras is small in size, just 34 rooms, but it is great on attitude, personality, and service. Most of all, it has a great heart. The great heart is made up of little things. Signs of little great moments, little great adventures, little great stories.
You see now, little doesn't have to be little. Little by little, greatness grows. The Great Madras is ready for a little more greatness. Stay at The Great Madras. Live a little great.
Type of Rooms:
The Deluxe Room
The Balcony Room
The Courtyard Room
The Great Suite
Location:
28 Madras Street, Singapore 208422.
Contact:
+65 6914 1515
Website: https://www.thegreatmadras.com/
---
#9 – The Sultan
Introduction:
With just 60 unique rooms crafted from our collection of iconic early-1900s shophouses such as the old Al-Ahmadiah Press Building, step back in time with The Sultan, to experience the rich soul of Kampong Glam.
Wander through our historic neighbourhood with calls-to-prayer from the iconic Sultan Mosque as your background soundtrack. Go on a culinary adventure with recommendations from our concierge. Retreat to our restful sanctuary for the perfect end to the perfect day.
Whether you're looking for a getaway from the daily grind or a fresh perspective on an old neighbourhood, immerse yourself in authentic heritage architecture and thoughtfully personal service for a new experience of the familiar.
Type of Rooms:
The Sultan Room
The Skylight Room
The Puteri Room
The Sultan Loft
Location:
101 Jln Sultan, #01-01, Singapore 199002
Contact:
+65 6723 7101
Website: https://www.thesultan.com.sg/
---
#10 – Wanderlust
Introduction:
Housed in a heritage 1920s Art Deco style building, Wanderlust merges old world charm with modern day comforts.
Located on the fringe of Singapore's main commercial and business districts, guests are close to everything while remaining delightfully off the beaten track, right by the hipster enclave of Jalan Besar.
Conscientiously designed for the modern traveller, the property's curated spaces and flexible concept cater to every jaunt and journey. Along with convenient access to Changi Airport, the central business district as well as a multitude of local attractions, the Wanderlust's 29 rooms offer travellers on oasis of calm to return to after their adventures around the city.
Type of Rooms:
Studio Deluxe
Studio Premier
Junior Studio Loft
Studio Loft
Location:
2 Dickson Road, Singapore 209494
Contact:
+65 6396 3322
Website: https://www.discoverasr.com/en/the-unlimited-collection/singapore/wanderlust-the-unlimited-collection-by-oakwood
---
Have a Place to Recommend?
Your contribution is valuable to us! Are there any outstanding businesses that you believe should be added to our list? If so, please send your recommendations to us at [email protected]. Tropika Club will review your suggestions and update the list accordingly. Thank you for your help in making our list of businesses as comprehensive and accurate as possible.
---
Meanwhile, Check Out Tropika Club's Ecosystem of Websites

Tropika Club Magazine – Tropika Club Magazine is a Singapore-based publication that features articles on a wide range of topics with a focus on local businesses and content for the region. The magazine emphasizes supporting local businesses through its #SupportLocal initiative, which includes coverage of everything from neighborhood hawker stalls to aesthetic clinics in town. In addition to highlighting local businesses, Tropika Club Magazine also covers a variety of local content, including beauty, lifestyle, places, eats, and what's on in Singapore and the Asia Pacific region.
Tropika Club Deals – Tropika Club Deals is a leading online deals and voucher shopping site in Singapore, offering amazing discounts on beauty, wellness, and fitness products and services. It's the perfect platform for customers who want to discover the best deals without having to commit to a specific appointment date and time. These deals are available at major beauty stores, facial salons, hair salons, and other brands in Singapore, with no minimum spend required. Choose from guaranteed discounted deals in the categories of hairstyling, hair removal, facial & aesthetics, body slimming, brows & lashes, nails & makeup, massage & spa or fitness & wellness. Tropika Club Deals is also ideal for customers who want to buy vouchers as gifts or to use for the future. So whether you're looking to save money on your next haircut or want to treat yourself to a relaxing massage, Tropika Club Deals has got you covered with the best voucher and coupon deals in Singapore!