Top 10 Best Apartments in Carlton Melbourne
Carlton Melbourne is an inner-city suburb located in the heart of Melbourne, Australia. It's a desirable place to live for young professionals and families alike, who are drawn to its vibrant atmosphere and many amenities. Apartment living has become increasingly popular among people looking for an easy way to live in this sought-after area, as it offers convenience and affordability.
---
#1 – Melbourne Carlton Central Apartment Hotel
Introduction:
Stay in Melbourne Carlton Central Apartment Hotel and relax in comfort and luxury. Whether your stay is for business or leisure – They aim to provide quality accommodation and superior service at affordable prices. Choose from either their studio, one or two bedroom apartment suites. Our cosy, private and spacious apartments come with fully-equipped kitchens (studio rooms have compact kitchenettes) and laundries, all with air-conditioning and free Wi-Fi.
This conveniently located hotel is amid the infamous Italian dining district, perfect for dinner or breakfast cravings. Grab a cocktail or head out for gelato at any of Lygon street best, with classic Italian, Greek, Middle Eastern, Japanese and modern Australian cuisine all at your doorstep.
Choose them when you want more than a hotel, and you'll settle into a home away from home experience.
Type of Services:
STUDIO
ONE BEDROOM APARTMENT
TWO BEDROOM APARTMENT
Location:
2-9 Finlay Place, Carlton Vic
Contact: (03) 8341 4777
Website: Website Link Here
---
#2 – Avani Melbourne Central Residences
Introduction:
In cutting-edge cities, Avani brings you cutting-edge designs. Our hotel is housed in a spectacular 55-storey tower with a colorful weave-effect façade and a modern, well-appointed suite that will make you feel right at home.
Avani Melbourne Central is just minutes away from Bourke Street Mall and Queen Victoria Market, centrally located between RMIT University and Melbourne University, it is an ideal base for traveling in Melbourne, allowing you to enjoy this city to the fullest All that is good in the city, enjoy the extraordinary experience brought by coffee, fashion and food and fashion!
Type of Services:
One-Bedroom Suite
One-Bedroom Superior Suite
Two-Bedroom Suite
Two-Bedroom Superior Suite
Location:
60 A'Beckett St, Melbourne VIC 3000 VIC 3000
Contact: +61 3 8803 3670
Website: Website Link Here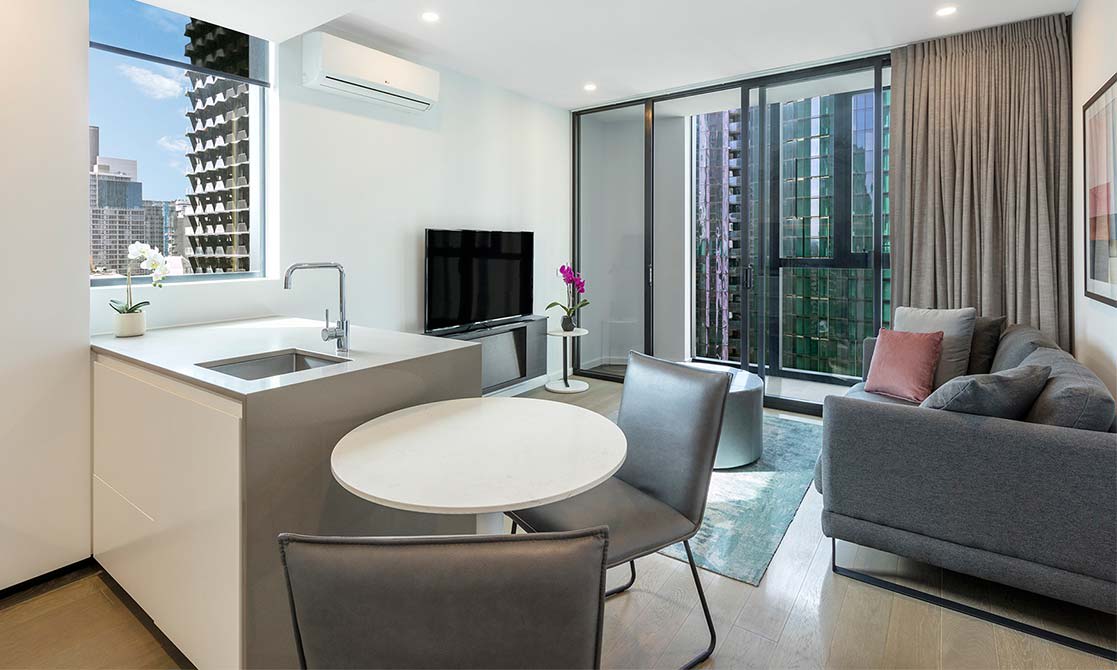 ---
---
#3 – Park Hyatt Melbourne
Introduction:
Overlooking St. Patrick's Cathedral, Fitzroy Gardens, and the cosmopolitan mix of Victorian and modern architecture, Park Hyatt Melbourne offers exclusive, luxury accommodation in the heart of the city. Our beautifully appointed 5 star hotel is centrally located in Melbourne's CBD, offering the city's largest 245 guestrooms and suites. A warm ambience, exceptional levels of personalised service and luxurious amenities with exquisite surrounds – provides guests a private haven in the heart of the city.
Type of Services:
Park Suite King
Terrace Suite
Diplomat Suite
Ambassador Suite
Presidential Suite
Location:
1 Parliament Square, off Parliament Place, Melbourne, Victoria, Australia, 3002
Contact:
+61 3 9224 1234
Website: Website Link Here
---
---
#4 – Caroline Serviced Apartments Richmond
Introduction:
Located on Richmond's Swan Street and just moments from Melbourne's major sporting and events precinct, Caroline Serviced Apartments offers a modern mix of style, comfort, and function. Our fully furnished Serviced Apartments are the ideal accommodation choice for relocating families, the corporate traveler, or a romantic weekend away.
The Yarra River Trail and Royal Botanic Gardens, along with the best of Melbourne's café culture is at their doorstep.
Specialising in business and pleasure, you will experience a professional, boutique service when you stay at Caroline Serviced Apartments, Richmond. Available for short and long term stays.
Type of Services:
Studio Apartment
Studio Winter Garden
One Bedroom Winter Garden
One Bedroom Balcony
Two Bedroom Balcony
Location:
251 Swan Street Richmond
Contact: +61 3 7064 4900
Website: Website Link Here
---
#5 – The Eminence Apartments by CLLIX
Introduction:
Ideally placed for both business and leisure travellers, The Eminence is surrounded by many of Melbourne's best restaurants, bakehouses, and ultra-hip delicatessens and cafés. These luxury apartments in Carlton, Melbourne is perfectly positioned within walking distance of city's CBD.
Type of Services:
1 Bedroom Apartment
2 Bedroom 1 Bathroom Apartment
2 Bedroom 2 Bathroom Apartment
Location:
145 Queensberry Street, Carlton VIC 3053
Contact: +613 9347 7788
Website: Website Link Here
---
#6 – La Storia
Introduction:
A limited series of only 20 residences, La Storia, is a thoughtful, considered residential building designed to pay homage to both Carlton and Italy. A commitment to the idea that the future is nothing without the past, that one's history is a story to be told, to be embraced and shared, connecting us to the future so the next generation can write and tell their own story.
Located at the corner of Cardigan and Pelham Street, La Storia finds its home on the park lined streets of Carlton. Inspired by the rich history of its surroundings and it's famous immigrant culture, La Storia has been designed to age gracefully and to leave its mark on an area that has provided so much to the culture of Melbourne.
Find out more about these unique three-bedroom homes, where each has prioritised natural light and airflow. Maximum functionality and movement is at the heart of each floor plan.
Type of Services:
Residenza Lusso
Residenza Centro
Residenza Giardini
Residenza Allegria
Location:
195 Cardigan Street, Carlton 3053
Contact: 0411 889 972
Website: Website Link Here
---
_

Read Also:

Top 10 Best Serviced Apartments in Melbourne Australia

_
---
#7 – Clocktower Apartment Hotel
Introduction:
Clocktower Apartment Hotel is situated in Australia's restaurant capital in the heart of Carlton's famous Lygon Street precinct, where cosmopolitan charm and lifestyle is evidenced by a mind blowing choice of over 300 shops, cafes and restaurants, all of which will astound and tempt all of your senses and leave long lasting impressions, which you will want to return to again and again.
Type of Services :
Budget One-Bedroom Apartment
Budget Two-Bedroom Apartment Q&Db
Executive One-Bedroom Apartment
Executive Two Bedroom Apartment K&2S
Location:
Shop 27, 255 Drummond St
Carlton VIC 3053 Australia
Contact: +613 9349 9700
Website: Website Link Here
---
#8 – Plum Serviced Apartments.
Introduction:
Plum Carlton offers fully furnished studio, one bedroom apartments and hotel style suites, in an ideal location situated on Swanston Street only a few minutes from some of Melbourne's best attractions, including the well-known restaurant capital, Lygon Street, The Queen Victoria Markets, The Royal Exhibition Buildings, The Melbourne Museum and many more. We are also conveniently located not far from the Free Tram Zone, RMIT and University of Melbourne precinct.
All Apartments include separate bathrooms, TV/DVD player, Free high speed Wi-Fi internet connection, reverse cycle air conditioners, full kitchen facilities (in apartments only), hair dryer and ironing facilities.
Type of Services:
DELUXE HOTEL SUITE
DELUXE STUDIO APARTMENT
EXECUTIVE APARTMENT
SUPERIOR APARTMENT
Location:
528 Swanston Street, Carlton, VIC, 3051, Australia
Contact: +61 3 8352 9500
Website: Website Link Here
---
#9 – Swanston Central
Introduction:
Swanston Central is located in one of the most desirable precincts for a residential development with access to all that Melbourne has to offer. Nestled within one of Melbourne's most diverse and vibrant precincts, Swanston Central will provide its residents with spectacular views to all points of the compass. On completion, Swanston Central will provide superb access to Melbourne's public transport network, CBD and Carlton restaurants, cafés, education, medical, commercial and retail precincts. The approved development scheme allows for approximately 1,039 apartments including a mix of one, two and three bedrooms over the towers 72 levels featuring stunning views to all points of the compass and in excess of 2,000 sqm. of integrated retail space located at ground level. The lower levels of the proposed development will provide on-site secure car parking for residents and retail tenants. swanstoncentral.com.au
Type of Services:
Apartment with 2 bathrooms
Apartment with 3 bathrooms
Location:
Level 1, 400 Collins Street, Melbourne, VIC 3000
Contact: +61 3 9600 2677
Website: Website Link Here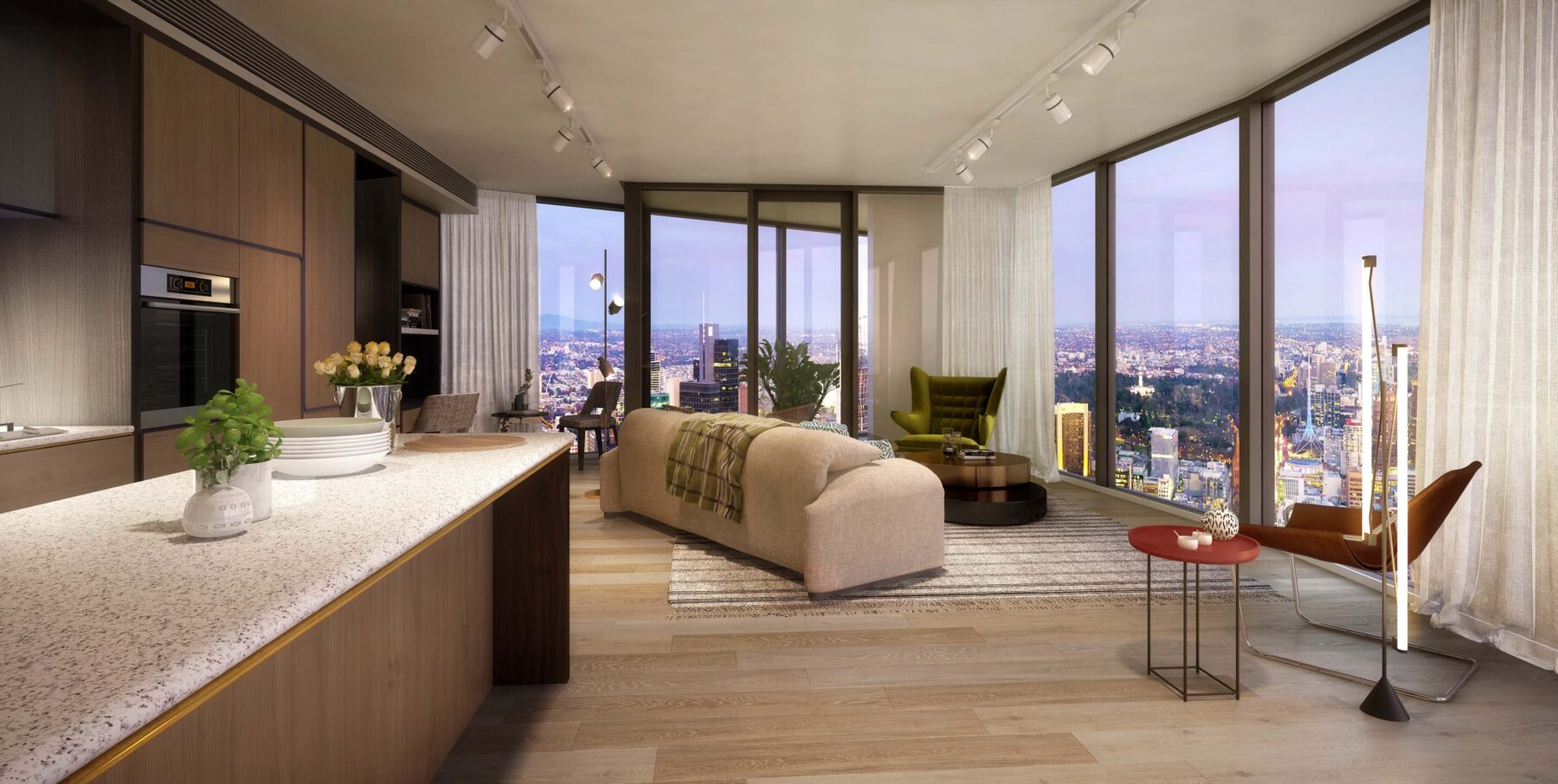 ---
#10 – Arrow On Swanston
Introduction:
Finding the perfect home away from home is key to a relaxing and productive travel experience, whether you're in Melbourne for a night, a week or longer. Located on Swanston Street in Melbourne City, the serviced apartments are surrounded by the City's top venues for live music, theatre and sporting events, as well as must-see tourist attractions. The apartment building is also within the City's university and hospital precincts. The Queensberry tram stop is just outside. It is a 'Super Stop' with raised platform for wheelchair access and a tram every 1-2 minutes. The busy Central Station is just a 10-min walk away and the new State Library Station (a Metro Tunnel underground station) will be even closer (available from 2025).
Type of Services:
STUDIO APARTMENT
TWO-BEDROOM APARTMENT (EACH WITH SINGLE BED)
ONE-BEDROOM APARTMENT
TWO-BEDROOM APARTMENT
FOUR-BEDROOM PENTHOUSE APARTMENT
Location:
488 Swanston Street,
Contact: +61 3 9225 9000
Website: Website Link Here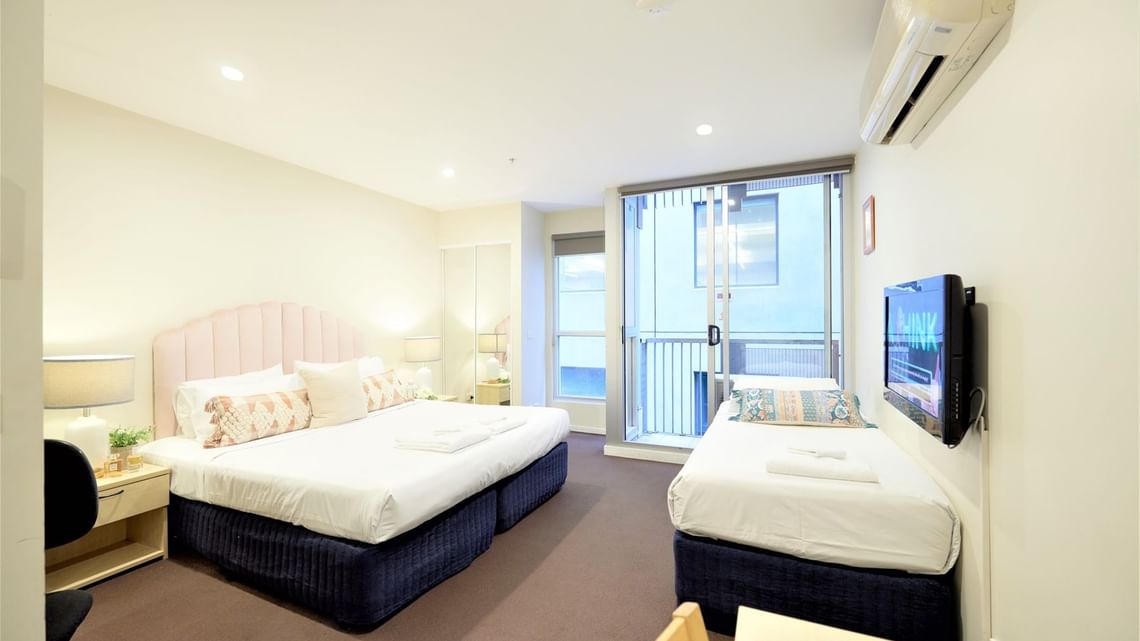 ---
Have a Place to Recommend?
Your contribution is valuable to us! Are there any outstanding businesses that you believe should be added to our list? If so, please send your recommendations to us at [email protected]. Tropika Club will review your suggestions and update the list accordingly. Thank you for your help in making our list of businesses as comprehensive and accurate as possible.
---
Meanwhile, Check out Tropika Club's Ecosystem of Websites

Tropika Club Magazine – Tropika Club Magazine is a Singapore-based publication that features articles on a wide range of topics with a focus on local businesses and content for the region. The magazine emphasizes supporting local businesses through its #SupportLocal initiative, which includes coverage of everything from neighborhood hawker stalls to aesthetic clinics in town. In addition to highlighting local businesses, Tropika Club Magazine also covers a variety of local content, including beauty, lifestyle, places, eats, and what's on in Singapore and the Asia Pacific region.
Tropika Club Deals – Tropika Club Deals is a leading online deals and voucher shopping site in Singapore, offering amazing discounts on beauty, wellness, and fitness products and services. It's the perfect platform for customers who want to discover the best deals without having to commit to a specific appointment date and time. These deals are available at major beauty stores, facial salons, hair salons, and other brands in Singapore, with no minimum spend required. Choose from guaranteed discounted deals in the categories of hairstyling, hair removal, facial & aesthetics, body slimming, brows & lashes, nails & makeup, massage & spa or fitness & wellness. Tropika Club Deals is also ideal for customers who want to buy vouchers as gifts or to use for the future. So whether you're looking to save money on your next haircut or want to treat yourself to a relaxing massage, Tropika Club Deals has got you covered with the best voucher and coupon deals in Singapore!