Top 10 Best Bedding Sets for a Good Night's Rest
The best bedding sets below are sure to give you a great night's sleep. Whether you're looking for Egyptian cotton or something with a high thread count, we've got you covered with the range of bedding collections below. They're excellent at temperature regulation, so you're bound to get proper sleep. The mattress toppers and duvet covers below come in a wide range of prices and colours. There are even hypoallergenic sheets too! So take a look below at the best bedding sets to buy.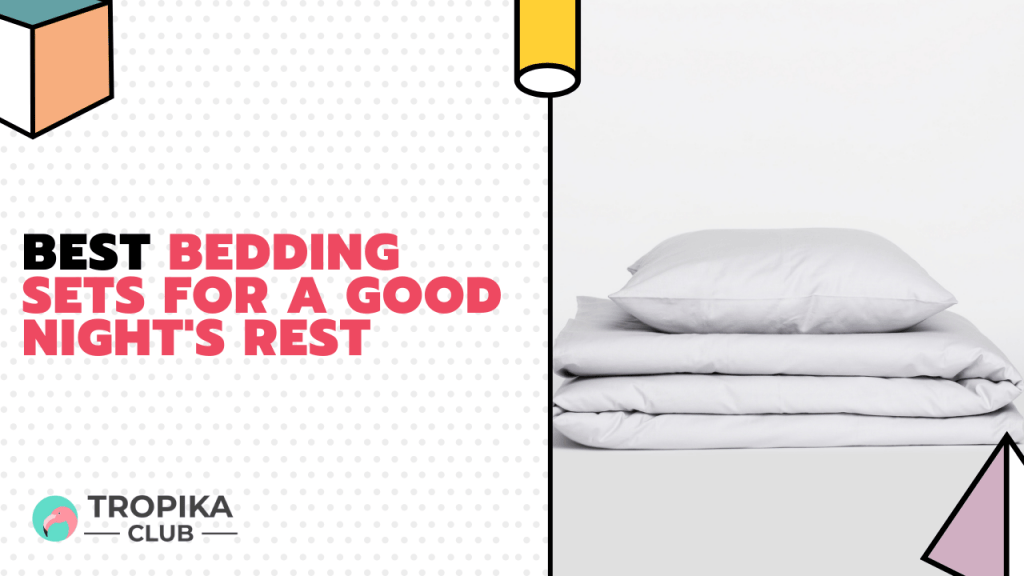 ---
1. Epitex Homme Solid 1600TC Tencel Collection
Features:
Luxuriously soft and smooth to touch
Impressive color brilliance and colorfastness lasting wash after wash.
Gentle on your skin ensuring comfort for sensitive skin.
Natural breathability.
Temperature regulating and moisture-wicking properties ensure a good night's sleep.
Less favorable environment for the growth of bacteria and allergens.
Minimal static charge gives you comfort and safety and peace of mind.
About Company: TENCEL solid color collection is made from fiber extracted from the Eucalyptus tree, which is spun into yarns and then woven into textiles that are soft, absorbent, very strong when wet or dry, and resistant to wrinkles, and drape well.
Using certified TENCEL™ fibers, their range of products boasts all the benefits of this superior fabrication. Aside from its beauty in drape and shine, its soft and smooth hand-feel also sets it apart from other fibers.
Brand: Epitex
Pricing: $109.50 – $329.50
Where to Find: Buy at Shopee
---
2. Novelle 950 TC Silky Tex Embossed Satin Bedsheet Set
Features: To achieve a sheen on the bedlinen, micro satin fabric is often the choice to create the plush look. The fabric has a smooth and silky feel to the skin. They are more breathable and more comfortable to lay on.
Quick dry
Non-Iron Fabric
Durable and diversified design
Anti-Dust Mite and prevent skin sensitivity
950 Thread Count
About Company: After a hard day's work, everyone aspires to get a sound sleep so that stress can be relieved satisfactorily and Novelle bedding can be the best for the purpose. The manufacturer of this product has been in the bedding and linen business for more than five decades and Novelle is a reputed manufacturer and distributor of some of the best items in this segment. People can get a large variety with sufficient choices from this company. There is a large demand for these products and its superior range can be available in more than 17 countries worldwide.
Brand: Jean Perry
Pricing: $22.90 – $27.90
Where to Find: Buy at Shopee
---
3. 980TC Horgen Luxe Collection Barrett Hotel Series (Fitted Sheet Set)
Features:
Egyptian Cotton Long Staple Yarn
Elegant Double Line Embroidery
Long-lasting Reactive Dye
Thread Count: 980
About Company: First founded as a trading company in 1979, they acted as exclusive distributors for American bed linen brands in Singapore. Since then, their company has grown from strength to strength and they are now a regional home lifestyle group specializing in bed and bath products and premium upholstered home furnishings.
Brand: Horgen
Pricing: $38.25 – $67.15
Where to Find: Buy at Shopee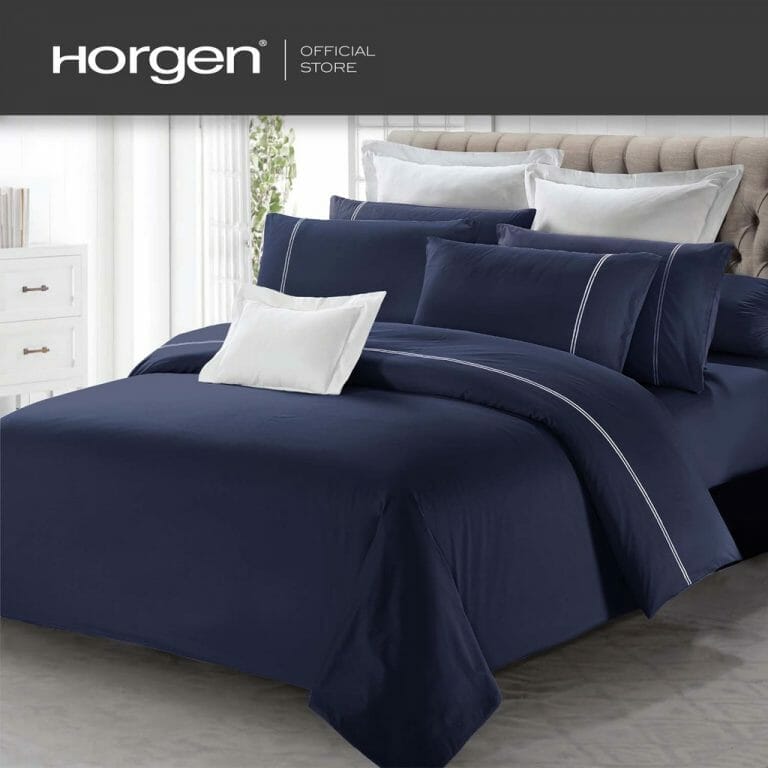 ---
---
4. MAKKO Fitted Bedsheet Set
Features:
Tightly woven fabric with stain-repellent qualities. If a sheet is stained, it can pretty much be wiped off straight away without leaving any traces.
Easy to wash and dry very quickly
Iron-free as it is highly wrinkle-resistant
Exceptionally strong and durable
Soft and extremely comfortable to the touch
Repel any dust or airborne allergens
About Company: 100% Polyester Microfiber Fabric is durable, highly wrinkle-resistant, and able to retain its color and shape even after many uses and washes. Fabric is also treated with Aloe Vera to make it soothing and comfortable effect on human skin. They also stay soft and dry at night for comfortable rest. Bedsheet color is based on the upper side color of the quilt cover picture image and its fitted sheet type with elastic all around.
Brand: Makko
Pricing: $12.90 – $15.90
Where to Find: Buy at Shopee
---
5. RTR Living – Fitted Bedsheet Set with Pillow and Bolster Case
Features:
100% high-quality
Polyester Microfiber
Fabric
Ultra-soft
Breathable material
About Company: RTR Living's premium fitted bedsheet is a range that is made from 100% high-quality Polyester Microfiber Fabric. This fabric is known for its cooling properties, which make them perfect for the perpetually hot summer nights that we experience here in Singapore. In addition, the bedsheets are extremely soft, making it irresistible to lie in them for just a little while longer!
Brand: RTR Living
Pricing: $10.90 – $15.90
Where to Find: Buy at Shopee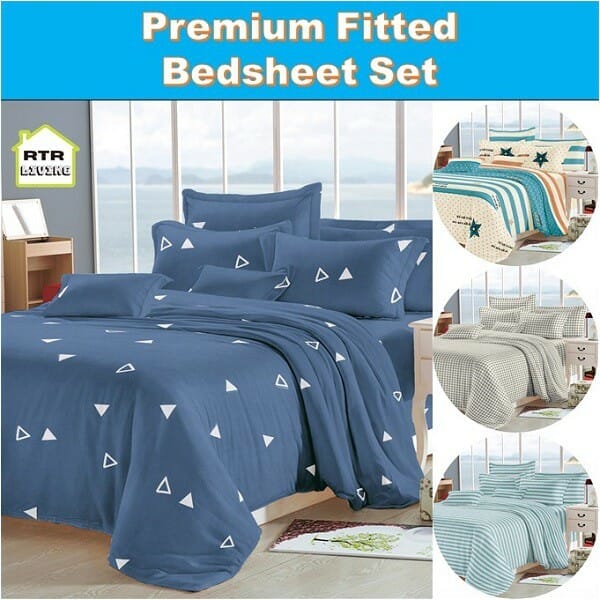 ---
---
6. Epitex Silkysoft 900TC SS8052 Fitted Sheet Set
Features:
Blended Cotton
900 thread count
Soft and extremely comfortable to touch.
Sheets are very tightly woven, to create a strong and durable surface.
Easy Care – Quick dry, lightweight, and stain-resistant.
A great option for people with allergies as it repels dust or airborne allergens.
About Company: The silky soft fabric is a tightly woven fabric made of blended cotton, giving an ultimate soft touch. Easy to care for, durable and wrinkle-resistant properties. Silky soft sheets are softer and more durable than Egyptian cotton and organic cotton sheets. Lightweight, breathable, and cool to the touch, our dreamy, soft bedding will create an unforgettable sleeping experience!
Brand: Epitex
Pricing: $24.95 – $59.90
Where to Find: Buy at Shopee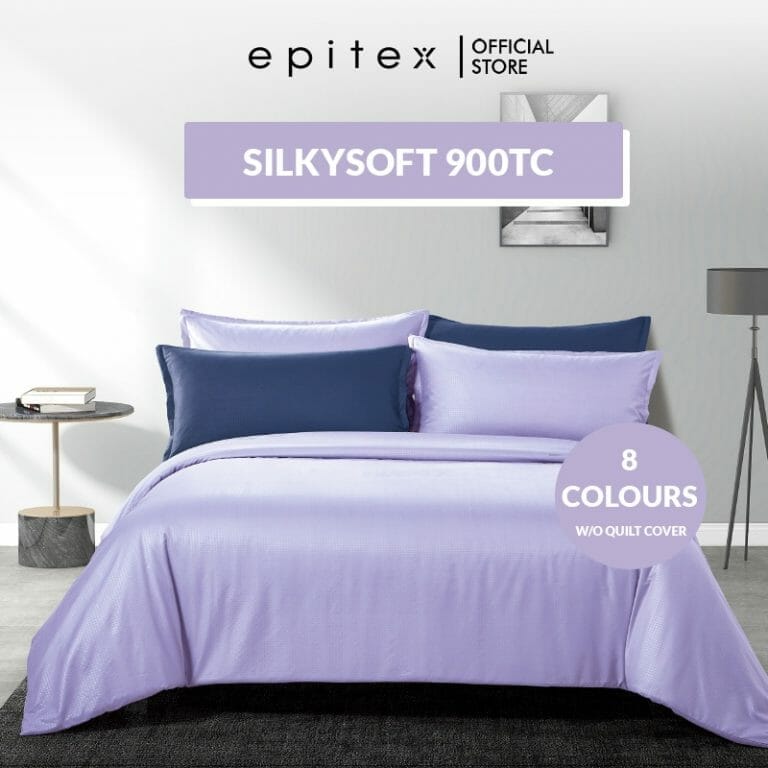 ---
7. Saturn 100% Cotton Fitted Bedsheet with Rubber Bolster Case Bolster Cover
Features:
12 design choices
Skin-friendly cotton
About Company: The Saturn Home Fitted Bedsheet is the most affordable bedsheet in Singapore with over 1,200 units sold on Shopee. It is a great choice if you are looking for something fun for your bed, with 12 design choices to pick from. However, do note that it does not include any pillowcase and you would need to purchase them separately. The bedsheets in Singapore are made from premium cotton that is gentle on the skin.
Brand: Saturn
Pricing: $4.59 – $17.59
Where to Find: Buy at Shopee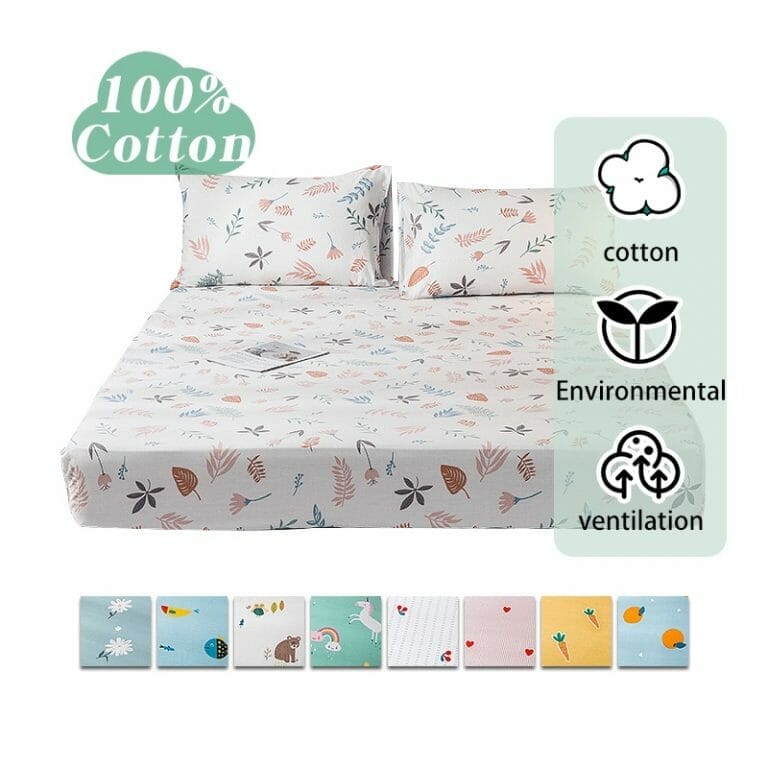 8. Cotton Feel Bedsheet Set 600TC/ Fitted Bedsheet Set
Features:
600TC Cotton Feel
4 corner cover Bed
Rewashable and Colorfast
Smooth and Breathable
About Company: This Cotton Bedsheet Set 600TC has 4 sizes single, Super Single, Queen, and King Size.
Pricing: $11.90 – $13.90
Where to Find: Buy at Shopee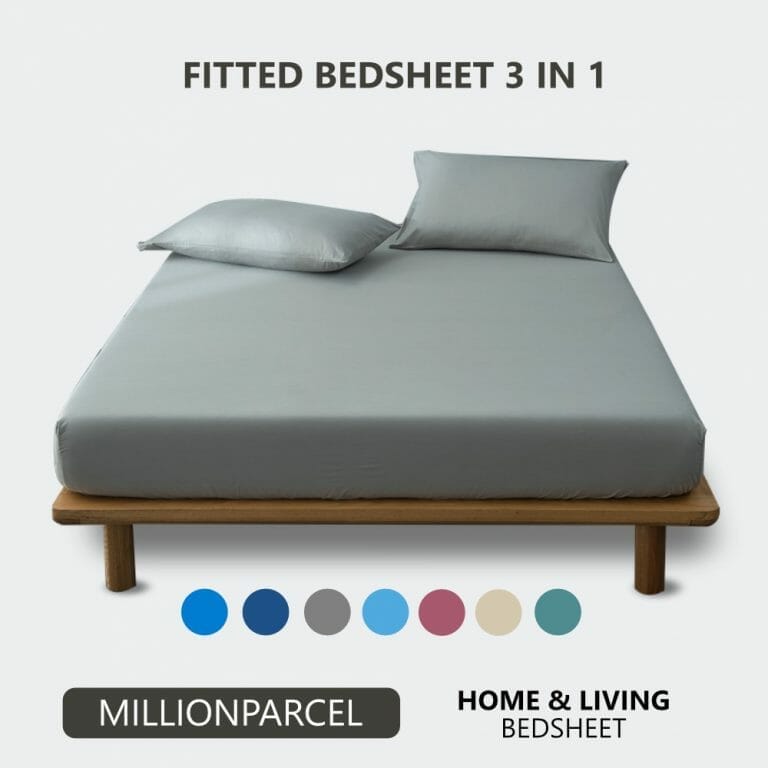 ---
9. AKEMI Tencel Modal Sanctuary – Carlos
Features:
880 Thread count
100% Tencel Modal
Maximum Mattress Height = 43cm.
This listing comes in 6 colors. Each product comes in 1 color per set.
About Company: Tencel™ Modal cellulosic fibers are derived from Beechwood trees through eco-responsible manufacturing processes. It builds on high tenacity especially in its softness and color retention so that you may enjoy long-lasting comfort and style. Expect long-lasting softness, great color retention, enhanced breathability, and minimal static charge.
Brand: AKEMI
Pricing: $59.00 – $79.00
Where to Find: Buy at Shopee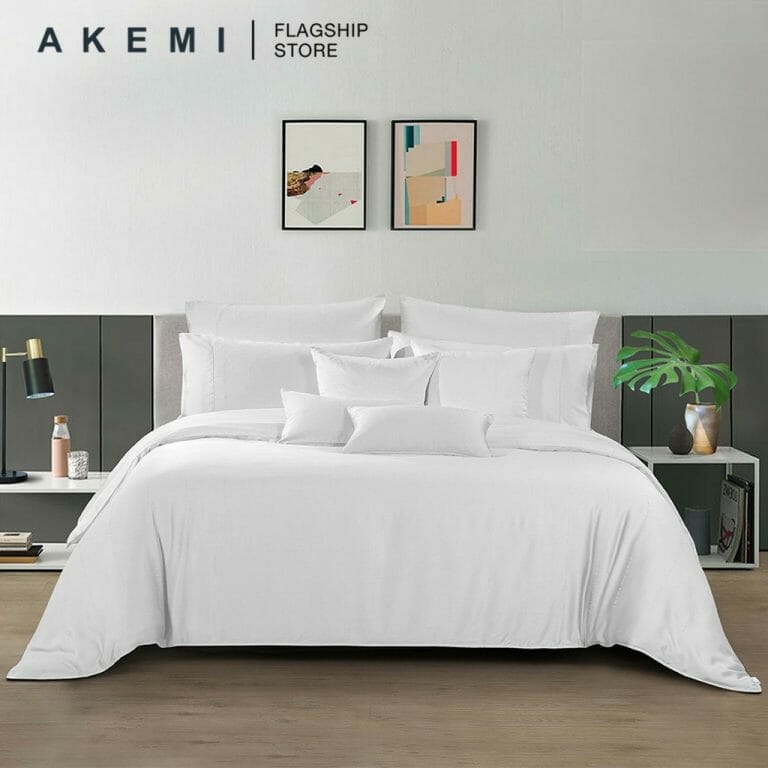 ---
10. Horgen Luxe Collection Barrett Hotel Series (Quilt Cover Set)
Features:
Egyptian Cotton Long Staple Yarn
Elegant Double Line Embroidery
Long-lasting Reactive Dye
Thread Count: 980
About Company: HORGEN Luxe Collection Barrett Hotel Series brings you quality, silky sheets for a contemporary and minimalistic hotel look at home. Made with extra-fine 100% Egyptian Cotton Long Staple yarns, these sheets are silky smooth and soft to the touch. Finished with elegant equal-weighted double line embroidery for the hotel look, this range of sheets comes in various contemporary hues that have been dyed using the reactive dye process, resulting in steadfast and long-lasting colors.
Brand: Horgen
Pricing: $80.75 – $118.15
Where to Find: Buy at Shopee
---

Have a product to Recommend?
We need your help! Do you know any other noteworthy products that deserve to be added to this list? If so, do write to us via our email at [email protected]. Tropika Club will do a review of your recommendations and update the list accordingly.
---
Meanwhile, check out Tropika Club's Ecosystem of Websites
Tropika Club Magazine – Tropika Club Magazine crafts articles on all things Singapore, but with a greater emphasis on local businesses based on our #SupportLocalSG initiative. We check out and feature local businesses of all categories, ranging from your neighbourhood hawker stalls to the aesthetic clinics in town. We also cover local content ranging from beauty, lifestyle, places, eats and what's on in SIngapore. Our Top 10 rankings include local food and service establishments based in different regions in Singapore.
Tropika Club Deals – Search for the best voucher and coupon deals. Tropika Club Deals is ideal for customers who want to discover the best deals without having to commit to a specific appointment date and time. Choose from guaranteed discounted deals in the categories of hairstyling, hair removal, facial & aesthetics, body slimming, brows & lashes, nails & makeup, massage & spa or fitness & wellness. Customers can also buy vouchers as gifts or to use for the future.