Top 10 Best Facial Salon and Spa in Johor Malaysia
If you are in Johor and in need of a facial, this article will tell you the top 10 best places to go. A good facial can make you feel relaxed and refreshed, and it is a great way to take care of your skin. Whether you are looking for a luxurious experience or a simple one, there is a salon or spa on this list for you.
---
#1 – Laserlipolisis & Mediceuticel Clinic
Introduction:Laserlipolisis & Mediceuticel Clinic (Laserlipolisis) began operation in 2003, located at a strategic location in the heart of Johor Bahru City Center and less than 10 km away to Singapore.
The clinic is fully equipped with the latest sophisticated medical aesthetic machines covering virtually all types of aesthetic treatments. Their clinic is capable of performing more than 40 types of aesthetic procedures with the utilization of their aesthetic machines plus the skills and expertise of their panel of medical aesthetic doctors.
The usage of latest, globally-used medical aesthetic machine is to ensure that the treatments done are highly precise, more effective while conforming to the strictest safety standards.
Type of Services:
HIFU FACELIFT
DERMAL FILLERS
BODY SOLUTION
HAIR SOLUTION
Location: Suite 23A-03, City Square Office Tower, Jalan Wong Ah Fook, 80000 Johor Bahru, Johor, Malaysia
Contact: +60 10-221 2670
Website: Website Link Here
---
#2 -Derma Medispa
Introduction: Launched in November 2012, DERMACARE™ MEDISPA is the newest arm of the DERMACARE™ Group, offering an extensive selection of exquisite spas, and face and body treatments for a relaxing and rejuvenating experience like no other. Striving to meet the needs and desires of each and every client, DERMACARE™ MEDISPA is committed to offering a diverse, effective range of treatments to aid clients in invigorating the skin, improving quality of sleep and slimming, among other needs. Featuring products from the Aromatherapy Associates and Epicuren® lines, clients are assured of the highest quality of products, experienced and professional personnel offering exceptional service and a luxurious, pampering experience that is unparalleled.
Type of Services:
Laser Hair Removal
Wrinkle Treatment
Scar Treatment
Microdermabrasion
Location: G-04, Jalan Kolam Air 2, 80100 Johor Bahru, Johor, Malaysia
Contact: +60 12-427 9842
Website: Website Link Here
---
---
#3 – Sothys Eco Botanic
Introduction: Think skin care, think Sothys! Sothys provides you with a comfortable and elegant environment, professional service and quality skincare products from head to toe. Besides, Sothys also provide ovary care therapy which is a specialized massage technique, Oxyfuse Oxygen treatment which uses the powers of oxygen to hydrate, calm and clean problematic skin, and Cryolipolysis Slimming Treatment which uses combination of our signature sliming massage techniques.
Type of Services:
PERFECT SHAPE V-LINE TREATMENT from $140 – $240
FIRMING TREATMENT$290
ENERGY GLOW TREATMENT $350
Fat Freeze Cryolysis$880
Location:
80A, Jalan Eko Botani 3/2, Taman Eko Botani, 79100 Nusajaya, Johor,Malaysia
Contact: +6075103713
Website: Website Link Here
---
---
#4 – Maibeaute Wellness Spa
Introduction: MaiBeaute began on 1997 by the founder Mai Amin, inspired by the traditional Bali Indonesia spa concept with its Asian therapies and focusing on physical harmony. As one of the pioneer oriental beauty spa and massage in Malaysia, it delivers an exotic twist of ancient health and beauty practices which have been passed down from generation to generation.
To achieve this, the spa focuses on a non-clinical and holistic approach based on traditional Asian healing therapies. It emphasizes a 'high-touch, low-tech' approach that celebrates the human touch and the use of natural herbs and spices.Today it is highly regarded for an impressive selection of beauty rituals that emphasize Thai's rich aromatherapy and massage traditions.
Type of Services:
REFRESHING FACIAL SPA
SINUS NORMAL FACIAL SPA
SINUS TREATMENT FACIAL SPA
PEELING TREATMENT FACIAL SPA
PIGMENTATION TREATMENT
Location: 6 & 6-01, Jalan Impian 1, Taman Impian Skudai, 81300 Johor
Contact: +607 – 554 7696 / +6019-756 7696
Website: Website Link Here
---
#5 – Lacalo Facial Beauty Centre
Introduction: Lacalo Facial Beauty Centre Your One-Stop Beauty Salon, that specializes in customized facial, shoulder & neck pain remedy, waxing, IPL, Body Spa(Female only) & Slimming & Etc. They use several well-known products in the market such GIA/ Well Mark. All of our beauty therapists have more than 20 years of experience in this industry. Lacalo Facial Beauty Centre
Type of Services:
Laser hair removal
Dermatologist
Body Spa
Slimming
Location: NO 36, Jalan Impian Emas 7 Taman Impian Emas Skudai, 81300 Johor Bahru, Johor, Malaysia
Contact: +60 19-799 9733
Website: Website Link Here
---
#6 -Vivienne Beauty Therapy
Introduction: Vivienne's Beauty Salon offers a wide range of treatments and services including Guinot's non surgical Lifting Treatments, slimming treatments, holistic therapy treatments, electrolysis and waxing. In addition, Vivienne's Beauty salon bolsters a number of different types of facials like Mary Cohr Aromatic facials and Dermalogica's customised facials. Besides beauty therapy services, Vivienne's also offers Make up application and personal makeup lessons, nail extension services, body massages and Thalion Thalasso Therapy massages. Thanks to the proficient, hi-tech brands the salon holds and the expertise of the certified therapists, Vivienne's beauty Salon ensures and guarantees its customers a 5-star service.
Type of Services:
FACIAL THERAPIES
BODY THERAPIES
Brow Tint
Lash Tint
Location: Location Here
Contact: Tel: 0422 502 073
Website: Website Link Here
---
_

Read Also:

Top 10 Best Aesthetic Clinics in Johor, Malaysia

 _
---
#7 – Rossie Beauty Therapy
Introduction: 1st in JB. Facial with Advanced Korean Technology. Get 50% discount for first trial treatment. 1st in JB. Facial with Advanced Technology Korea.
Type of Services:
Baby skin bootser
Soft laser
Microneedling
24K Gold facial
Location: 112-01, Jalan Adda 7, Taman Adda, 81100 Johor Bahru, Johor, Malaysia
Contact: +60 13-720 2077
Website: Website Link Here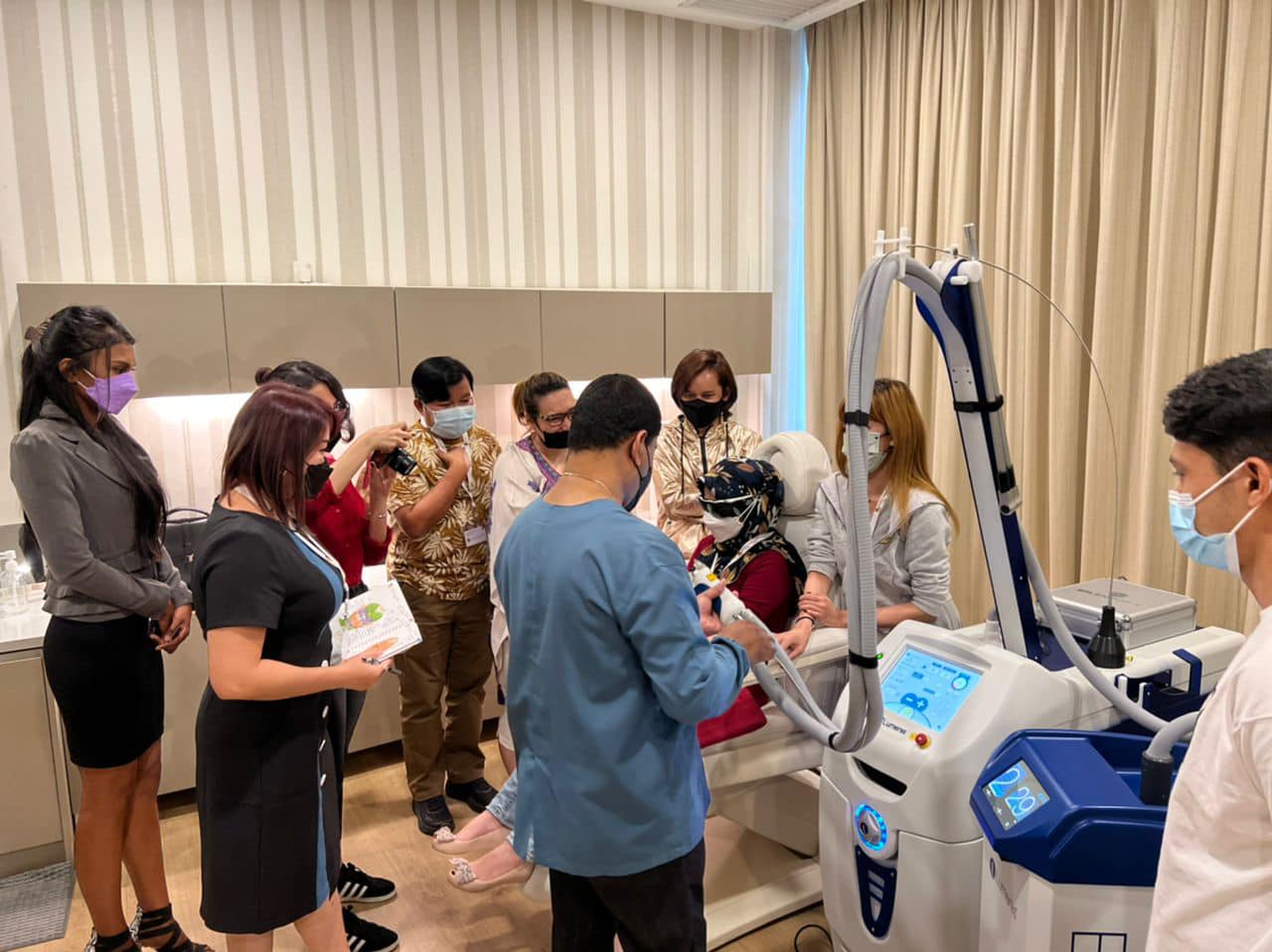 ---
#8 – Skin Master Johor Bahru
Introduction:
SKIN MASTER MEDI-SPA focuses on bringing the best in skin treatment to you. Co-founded by Dr. Wishnu and Dr. Ravinpreet in 2017, our mission is to bring cutting-edge laser and aesthetic services to you and to specialize in the treatments of Asian skin.
Type of Services:
Carbon Peel Laser
Oxygen Infusion
Red Carpet Facial
Hair Growth Programme at Skin Master
Vaginal Rejuvenation
LocationBlock H-02-12, komersil southkey, Persiaran Southkey 1, Kota Southkey, 80150 Johor Bahru
Contact: +60177176806
Website: Website Link Here
---
#9 – Dermal Line Face Body Wellness
Introduction:
Dermal Line Established Since Year 1995. Combines advanced techniques, expert advice and the Dermalo
Type of Services:
Dermal Line Face Body Wellness
Hydra Beauty Treatment
eyebrow embroidery
Location: 17, Jalan Kuning 2,Taman Pelangi, Johor Bahru, Malaysia
Contact: 019 774 7333
Website: Website Link Here
---
#10 – Yees Facial & Treatment Centre
Introduction: They provide professional facial treatments (such as anti-aging treatment, acne treatment, etc.). Yees Facial & Treatment Centre has been founded up to 20 years. They are trusted by their customers and our prices are reasonable.
Type of Services:
Oxygen Treatment
Yees facial
Body massage
Pigmentation/Moles/Warts Removal
Location:
25, Jalan Dedap 19, Taman Johor Jaya 81100 Johor Bahru, Johor, Malaysia
Contact: +60 7-355 1166
Website: Website Link Here
---
Have a Place to Recommend?
We need your help! Do you know any other noteworthy beauty clinics or salons that deserves to be added to this list? If so, do write to us via our email at [email protected]. Tropika Club will do a review of your recommendations and update the list accordingly.
---
Meanwhile, check out Tropika Club's Ecosystem of Websites
Tropika Club Magazine – Tropika Club Magazine crafts articles on all things Singapore, but with a greater emphasis on local businesses based on our #SupportLocalSG initiative. We check out and feature local businesses of all categories, ranging from your neighbourhood hawker stalls to the aesthetic clinics in town. We also cover local content ranging from beauty, lifestyle, places, eats and what's on in SIngapore. Our Top 10 rankings include local food and service establishments based in different regions in Singapore.
Tropika Club Deals – Search for the best voucher and coupon deals. Tropika Club Deals is ideal for customers who want to discover the best deals without having to commit to a specific appointment date and time. Choose from guaranteed discounted deals in the categories of hairstyling, hair removal, facial & aesthetics, body slimming, brows & lashes, nails & makeup, massage & spa or fitness & wellness. Customers can also buy vouchers as gifts or to use for the future.