Top 10 Best Hippiest Bars in Singapore
What could be more refreshing than a cold drink on a hot day? What about sipping on one while surrounded by lively music and friendly people? If you're looking for the perfect place to unwind, head to one of Singapore's hippest bars! From underground hangouts to chic cocktail lounges, these spots will have you feeling at ease in no time. So where are Singapore's coolest bars? Read on to find out!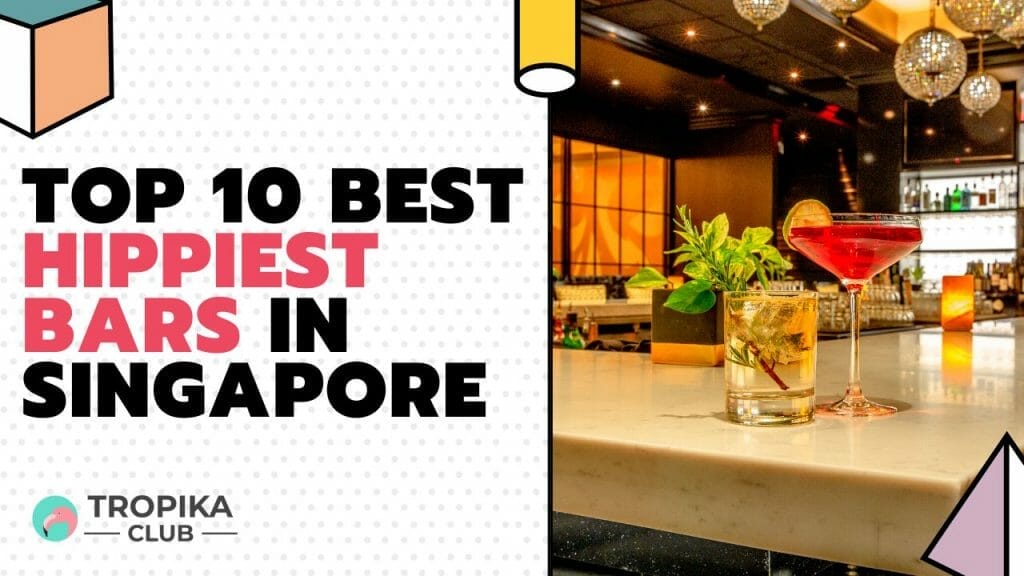 ---
#1 – ATLAS Bar
Introduction:
Discerning guests at ATLAS can enjoy its dining and drinking throughout the day and deep into the night in a truly memorable setting. Beverage highlights include elegant European cocktails and one of Asia's finest collections of gin, spirits and champagnes sourced from around the world.
ATLAS was created by Parkview Square's developers, the Hwang family, who set out to build a warm, welcoming destination with a real sense of occasion, delivering elegance and excellence without pretence.
Menu Items:
GIN & TONIC (Price range $19-$28)
ATLAS CLASSICS (Price range $24-$28)
STILL WINES (Price $16-$22)
FINE CHAMPAGNE (Price $22-$29)
Location: Parkview Square 600 North Bridge Road
Singapore, 188778
Contact: +65 6396 4466
Website: Website Link Here
---
#2 – Smoke & Mirrors
Introduction:
erched on the rooftop of the National Gallery Singapore, Smoke & Mirrors is known for its spectacular panoramic views of Singapore's skyline and creative cocktails.
The destination rooftop bar elevates the cocktail experience by exploring classic drinks with experimental new twists. Expect innovative menu concepts driven by modern techniques and unique flavour combinations to artfully challenge perceptions.
Menu Items:
TOMMY'S MARGARITA (Price $25)
BESSERAT DE BELLEFON BLEU BRUT 38 CHAMPAGNE NV (Price $38/ by the glass)
VINCENT'S MUSE (Price $14)
HANKY PANKY (Price $25)
Location: 06-01 National Gallery Singapore ,1 St. Andrew's Road Singapore 178957
Contact: +65 9380 6313
Website: Website Link Here
---
---
#3 – 28 HongKong Street
Introduction: Hidden behind an unassuming 1960's shophouse façade, 28HKS is a word-of-mouth venue for people who might appreciate the kind of venue that we enjoy ourselves: relaxing at the beginning, growing a tad louder as the night goes on. The drinks focus' is on artisanal spirits and American-style craft cocktails. The food is gussied up American comfort food made from scratch for sharing.
Menu Items:
Double Barreled Martinez (Price $25)
The Ferrymen (Price $25)
Golden Fizz (Price $21)
Canadian Breakfast Punch (Price $200)
Location: 28 Hongkong St, Singapore 059667
Contact: +65 83180328
Website: Website Link Here
---
---
#4 – Bar Stories
Introduction:
In 2009, A Thousand Tales, a cafe cum furniture store opened along a quiet, narrow street in the heart of town, along Haji Lane. The following year, they opened Bar Stories, borrowing the concept of customization and attention to the customer's experience, and applied it to the craft of cocktail making.
In the ten years that Bar Stories has been in business, they have been admired and followed by many in the industry, and perhaps unknowingly, pioneered the craft cocktail scene in Singapore. Many of Bar Stories alumni have gone on to helm many other cocktail bars throughout the country, and some have even gone on to win accolades in the F&B industry.
Till today, Bar Stories continues to operate as a hole-in-the-wall, nestled in a vibrant and heritage-rich enclave, surrounded by modern skyscrapers and old-world charm of carpet sellers, quaint cafes, mosques, and other quirky shops.
Bar Stories has never, and perhaps will never, have a formal cocktail menu. Those familiar with them will always be charmed by our friendly, yet knowledgeable staff who will customize your drink order around your mood, taste, and palette.
Come on down and try the Bar Stories experience for yourself. They are looking forward to serving you soon.
Menu Items:
Bar stories concoct the cocktail to your preference, get your bespoke cocktails to pair with the delicious food here.
Location: 55-57A Haji Ln, Singapore 189248
Contact: +65 6298 0838
Website: Website Link Here
---
#5 – The Elephant Room
Introduction:
At The Elephant Room, they celebrate culture and further it through our cocktails and food. They are inspired by the culture, trade, people and history of Singapore's Little India. And they bring these stories to your palate in the most surprising ways possible.
For starters, all their ingredients are freshly sourced from Tekka Market and its surroundings. And when you step into othe bar, you'll notice little details, like our welcoming aprons, sewn with leftover saree cloths from Little India. ​Or the rows of infusions and fermentations on our shelves, each with its own tale to tell. And the uncommon spirits they acquire only from India. ​
One drink and plate at a time, their ambition is sincere and simple: To take an often under-documented culture and spread it to the world in all of its richness, colour and delight. Along that journey, they look to the humble yet majestic elephant to inspire us. It's a symbol of loyalty, companionship and unity. And so they'll always stay true to their identity and work tirelessly to bring one and all to the table — for a vibrant exchange of views, warm kinship or just the simple joys of a good drink, savoured together.
​Welcome to The Elephant Room, friends.
Menu Items:
Race Course Plantation (Price $24)
The Mango (Price $24)
The Kheer (Price $24)
Amrut Two Indies Rum (Price $21)
Location: 20A Teck Lim Road Singapore 088391
Contact: +65 9111 5131
Website: Website Link Here
---
---
#6 – Manhattan
Introduction: Inspired by the Golden Age of cocktails and fine drinking, Manhattan is reminiscent of a grand hotel bar, modern yet with a touch of old New York glamour and sophistication. Choose your tipple from artisanal spirits, and classic and forgotten cocktails, meticulously crafted from the world's first in-hotel rickhouse and a remarkable collection of house-made ingredients, accompanied by gourmet bar bites. Manhattan was recently placed 15th in World's 50 Best Bars and 6th in Asia's 50 Best Bars.
Menu Items:
New York Personified (Price range $24- $32)
California Sunday Cocktail Brunch ($188++ per person with free flow cocktails or $228++ with free flow Champagne)
Location: 1 Cuscaden Road, Singapore 249715
Contact: +65 6733 8888
Website: Website Link Here
---
#7 – Nutmeg & Clove
Introduction:
Founded by industry veteran Colin Chia, Nutmeg & Clove is a restaurant & cocktail bar that pays homage to Singapore's rich history with their Modern Singapore Cuisine and progressive cocktail program.
Taking great pride in Singapore's history and progression from colonial outpost to modern metropolis, Nutmeg & Clove reinterprets classic dishes and cocktails with a Singaporean inflection. With every taste, visitors will learn or re-visit different elements of Singapore.
Menu Items:
Classic Martini
Nutmeg & Clove
K-TEA-V
Garden City
Location: 8 Purvis Street Singapore 188587
Contact: +65 9167 2966
Website: Website Link Here
---
#8 – Skinny's Lounge
Introduction: American neighborhood bar meets KTV, right on the river front in Boat Quay. Serving great simple drinks paired with a kick-ass playlist
Menu Items:
Army & Navy (Price $22)
Boat Quay Zombie (Price $25)
New York Sour (Price $22)
Cheap Ass American Beer (Price $10/$40)
Location: 82 BOAT QUAY SINGAPORE 049870
Contact: +65 96538886
Website: Website Link Here
---
#9 – Druggists
Introduction: Druggists has been second home to many since 2015. Come to them for the wildest range of craft beers, Asian spirits & meads, natural wines, cocktails and for sure, good food. They're super casual so no worries about turning up in board shorts and sandals (business suits welcome too!) Indoor, alfresco and lounge seatings available. Open daily so swing by!
Menu Items:
Nanyang Bird (Price $21)
Bananarama (Price $21)
Mangolomaniac (Price $21)
Old Fashioned (Price $20)
Location: 119 Tyrwhitt Road Singapore 207547
Contact: +65 6802 0228
Website: Website Link Here
---
#10 – Jigger & Pony
Introduction: Named after the double-coned measuring device used by bartenders to accurately pour out spirits, Jigger & Pony embraces the classics, the recipes for which used to be listed in "jiggers" and "ponies". With a brand new menu featuring 24 cocktails, Jigger & Pony presents fresh interpretations of classic cocktails, with its signature warm, convivial hospitality many have come to enjoy over the years.
Menu Items:
Ruby Spritz (Price $25)
Yuzu Whiskey Sour (Price $25)
Madame President (Price $25)
Make it Rice (Price $25)
Location: 165 Tg Pagar Rd, Amara Hotel, Singapore 088539
Contact: +65 9621 1074
Website: Website Link Here
---
Have a Place to Recommend?
Your contribution is valuable to us! Are there any outstanding businesses that you believe should be added to our list? If so, please send your recommendations to us at [email protected]. Tropika Club will review your suggestions and update the list accordingly. Thank you for your help in making our list of businesses as comprehensive and accurate as possible.
---
Meanwhile, Check out Tropika Club's Ecosystem of Websites

Tropika Club Magazine – Tropika Club Magazine is a Singapore-based publication that features articles on a wide range of topics with a focus on local businesses and content for the region. The magazine emphasizes supporting local businesses through its #SupportLocal initiative, which includes coverage of everything from neighborhood hawker stalls to aesthetic clinics in town. In addition to highlighting local businesses, Tropika Club Magazine also covers a variety of local content, including beauty, lifestyle, places, eats, and what's on in Singapore and the Asia Pacific region.
Tropika Club Deals – Tropika Club Deals is a leading online deals and voucher shopping site in Singapore, offering amazing discounts on beauty, wellness, and fitness products and services. It's the perfect platform for customers who want to discover the best deals without having to commit to a specific appointment date and time. These deals are available at major beauty stores, facial salons, hair salons, and other brands in Singapore, with no minimum spend required. Choose from guaranteed discounted deals in the categories of hairstyling, hair removal, facial & aesthetics, body slimming, brows & lashes, nails & makeup, massage & spa or fitness & wellness. Tropika Club Deals is also ideal for customers who want to buy vouchers as gifts or to use for the future. So whether you're looking to save money on your next haircut or want to treat yourself to a relaxing massage, Tropika Club Deals has got you covered with the best voucher and coupon deals in Singapore!