Top 10 Best Men's Basketball Shoes by NIKE [2022 Edition]
Move like the best basketball players of the NBA. The Best Men's Basketball Shoes by NIKE can suit any type of player, and respond to your unique playing style. There are wide varieties available, from your classic Air Jordans, to the out-of-this-world design of the Nike Cosmic Unity. Enjoy responsive cushioning of the signature basketball shoe by NIKE with best Nike basketball shoes ranked,
---
1. Nike Air Zoom G.T.Run
About:
Feel fresh. Hustle hard. The Nike Air Zoom G.T.Run is designed for players who can do it all on the court and need their shoes to keep up. Its cushioning system is stacked with 2 Zoom Air units plus 2 layers of Nike React foam. Ultralight and extra support in key areas, provide a snug, consistent fit, and a responsive feel to help you get the most out of your energy and outlast the competition.
Multi-layered Cushioning to Move with Momentum
Right under your foot is a React foam sock liner, and below that is a Zoom Air unit that covers most of the forefoot. Both are stacked over a full-length React foam footbed and another forefoot Zoom Air unit. Altogether, they deliver incredible energy returns to help you go all game long.
Containment Through Comfort
The 2-layer upper is made from lightweight material that's got haptic print details for durability. It's breathable with a broken-in feel.
Multi-directional Micro-Grip
The thin rubber outsole has curvy ridges that bend and flex to provide traction in multiple directions. The rubber is cut away under the arch and perforated to help reduce weight.
Product Features:
Heel pull tab
TPU midsole insert
Colour Shown: Black/Hyper Crimson/Vapour Green/Ghost
Style: CZ0202-001
Country/Region of Origin: China
Pricing: S$259.00
Where to Find: Nike
---
2. Nike PG 5 EP
About:
Paul George has an effortlessly smooth, reliably steady game. He takes his time, but he's always well-positioned to make the extra pass, cut through the lane or nail a pull-up jumper. The PG 5 EP combines the agile low-top profile Paul likes with flexible Nike Air Dot Weld Strobel cushioning. The full-length Air unit is stitched directly to the upper, bringing the plush, bouncy cushioning right up under the foot—perfect for keeping PG feeling like he's moving on clouds. This EP version uses an extra-durable outsole that's ideal for outdoor courts.
Close-Up, Flexible Cushioning
Lightweight, full-length Nike Air Dot Weld Strobel gives PG the cushioning and comfort he needs to thrive during a long season. All-over flexibility helps him transition smoothly between both ends of the court.
Snug Comfort
The laces feed through bands along the side of the foot. Pulling the laces tight pulls the bands inwards so they wrap over the foot to help keep it locked in and stable over the footbed.
Stop-and-Go Control
The outsole has a multi-directional tread pattern to provide stop-and-go traction and control on the court.
Product Features:
Colour Shown: Metallic Silver/Hyper Royal/Laser Crimson
Style: CW3146-005
Pricing: S$179.00
Where to Find: Nike
---
3. Nike Air Max Impact 3
About:
Influence the game at both ends of the court in the Nike Air Max Impact 3. Ideal for players who create separation with their vertical, it features pressure-tested Max Air cushioning to help absorb impact. Plus, rubber wraps up the sides for added durability and stability.
Cushioned Comfort
Visible Max Air cushioning under the heel helps dissipate the force from impact to soften landings.
Durable Traction
Aggressive herringbone traction helps control your movement and hold your ground. Diamond-shaped cut-outs expose the foam and help reduce weight.
Full-Foot Containment
The sculpted foam midsole swoops up on either side of your heel to help keep it stable.Moulded rubber wings do the same in the forefoot.
Product Features:
No-sew overlays
Rubber outsole
Colour Shown: White/Black
Style: DC3725-100
Country/Region of Origin: India
Pricing: S$139.00
Where to Find: Nike
---
---
4. Nike KD14 EP
About:
FEEL FRESH, PLAY LONG.
Kevin Durant lurks on the wing, waiting for the right time to strike before slicing his way through defenses. The KD14 EP is designed to help versatile, relentless players like KD feel fresh all game long. Multi-layer mesh and a midfoot strap help reduce the foot's movements inside the shoe. Full-length Zoom Air cushioning plus Cushlon foam gives back energy for lasting performance. This EP version uses an extra-durable sole that's ideal for outdoor courts.
Zero-Distraction Fit, Broken-In Feel
Multi-layer mesh in the upper is lightweight and dimensional with a broken-in feel. Added thickness in strategic areas helps to keep your foot in place by reducing small movements.
Strap In
A hook-and-loop strap wraps over the top of the laces for support and a secure fit. It's a subtle nod to the strap of the KD4 and takes inspiration from the shape of the grim reaper's scythe.
Ultimate Responsive Sensation
The full-length Air Zoom Strobel unit is stitched directly to the upper. It helps cut unnecessary weight and provides full-foot responsiveness. Cushlon foam adds a soft, comfortable sensation.
Tuned Traction
Grooves and ridges in the sole help provide multi-directional traction and court feel. A stiff piece under the arch helps keep the shoe stable. Both shoes together reveal the face of a skull.
Product Features:
Stiff piece on the outer edge provides midfoot stability.
The extra-durable sole is designed to play on outdoor courts.
Colour Shown: Lime Ice/Pearl White/Light Mulberry
Style: CZ0170-300
Country/Region of Origin: Vietnam
Pricing: $229.00
Where to Find: Nike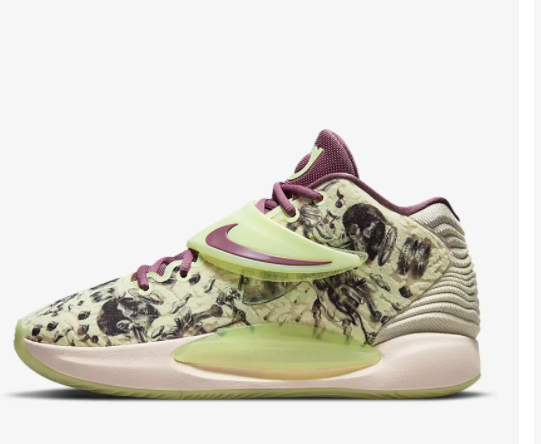 ---
5. Nike Zoom Freak 3
About:
THE THIRD.
Giannis is an athlete of freakish power and incredible range. His ability to play any position makes him difficult to guard and nearly impossible to stop. The Zoom Freak 3 helps Giannis create space with his massive strides and misdirecting Euro-step. The moulded midfoot strap and external overlay provide side-to-side stability when he's powering to the rim, while the multi-directional traction helps him stay in control.
Driving Force
The lightweight moulded midsole is hollowed out under the forefoot, where 2 Zoom Air units are positioned. This allows the Zoom units to compress under the weight then expand and help return energy.
Top-Down Control
A moulded hook-and-loop strap is made from flexible, durable TPU. It wraps over the lower laces to help reduce internal foot movement by harnessing you over the cushioning.
Euro-Step Stability
An external piece of lightweight, durable TPU is built into the outer-side midsole. It helps keep your foot stable over the footbed when making quick side-to-side directional changes.
Traction to Run
The computer-generated outsole has a pattern like a topographical map. It helps optimise ground contact for traction in multiple directions.
Product Features:
Tongue pull tab
Reverse Swoosh design
Reinforced toe
Standard lacing
Colour Shown: Crimson Bliss
Style: DA0694-600
Country/Region of Origin: Vietnam
Pricing: $199.00
Where to Find: Nike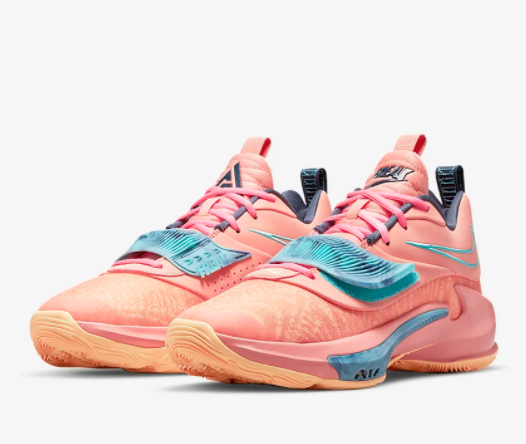 ---
---
6. LeBron 18 Low 'Sylvester vs Tweety'
About:
LIGHTWEIGHT SPEED FOR THE JAM.
Sufferin' succotash! It's Tunes vs Goons in the long-awaited basketball blockbuster, Space Jam: A New Legacy. Nike Basketball celebrates the showdown with a fun take on the LeBron 18 Low. The shoe is light yet strong, with responsive cushioning tuned for LeBron's fast, powerful game—and perfect for taking on a squad of Goons in space.'Sylvester vs Tweety plays on the predatory puddy cat's non-stop attempts to snack on the sweet, little canary, who always has the moves to frustrate the feline, whether in the birdcage or on the basketball court.
Impact Cushioning and Responsiveness
A-Max Air unit under the heel provides impact cushioning for big, strong players like LeBron.It's paired with full-length Nike React technology for smooth transitions and responsiveness.
Lightweight, Durable Materials
The woven material in the upper is lightweight and durable. Overlays provide structure and support.
Heel Lock-In
The external moulded heel clip provides lightweight support to help lock in the back of your foot.
Product Features:
Light, padded tongue
No-sew overlays
Padded collar
Rubber outsole with diamond cut-outs
Colour Shown: White/Black/Yellow Strike/Bright Crimson
Style: CV7562-103
Country/Region of Origin: Vietnam
Pricing: $239.00
Where to Find: Nike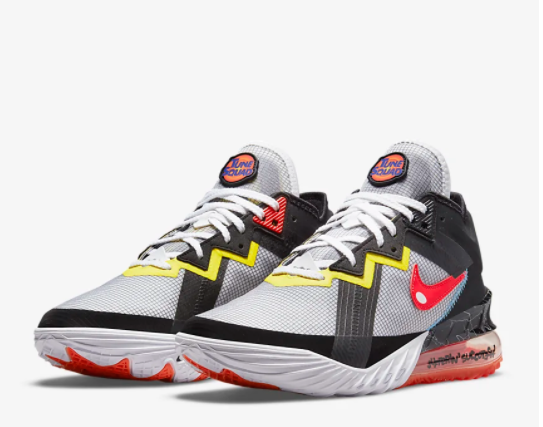 ---
7. Nike Cosmic Unity
About:
The Nike Cosmic Unity is trash that helps keep you fresh, giving you back the energy you need to let your game do the talking when it counts. We built a sleek and comfortable silhouette with sustainability in mind. It's made from at least 25% recycled material by weight and comes equipped with a partially recycled Air Zoom Strobel designed to help you be efficient off the dribble or effective on defence. This is trash, transformed into a tool for basketball players to get a little more out of their game while taking a little less from the planet.
More Trash. Fresh Game.
A sleek design, made from at least 25% recycled material by weight, features a full-length Air Zoom Strobel unit, which provides the energy return to help you feel fresh all game long.
Built for Efficiency
This shoe is light, durable, and made from partially recycled materials in the upper, midsole, lace system, and outsole. It's built to contain your every move, from smooth turnaround jumpers to slick lay-ups off the glass.
From the Floor to the Finish
A thin, durable outsole, which uses rubber partially made from recycled materials, provides the on-court traction you need to take defenders off the dribble and change direction at will.
Product Features:
Colour Shown: Black/Citron Pulse/Ghost/White
Style: DA6725-003
Pricing: $229..00
Where to Find: Nike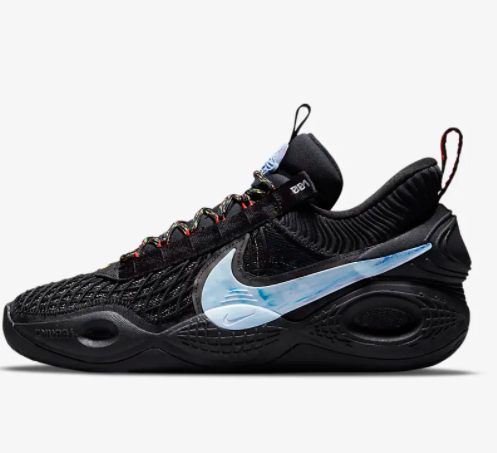 8. Nike Air Max Impact 2
About:
A BOARD-CRASHING, POST-UP PLAYMAKER.
Play with fearlessness in the Nike Air Max Impact 2. Built for powerful players who like a lot of cushioning, it features a large Air-Sole unit that's placed beneath a moulded heel piece. Wide straps extend from the heel to keep your foot anchored to the footbed and you focused on your game.
Game-Tested Cushioning
Exposed Max Air cushioning under the heel helps provide responsiveness on the court.
Moulded Support
The moulded heel clip is inspired by the Air Max 270. Updated from last year's model, it feels light and helps keep your foot locked in and stable.
Anchored Heel
Wide straps run from under the heel piece on both sides to anchor you down when you lace up.
Product Features:
Lightweight mesh material in the upper with reinforced toe
Rubber outsole with herringbone traction
Rubber wraps up forefoot for durability
Foam midsole
Colour Shown: Anthracite/Metallic Dark Grey/Gym Red/Black
Style: CQ9382-004
Country/Region of Origin: India
Pricing: $139.00
Where to Find: Nike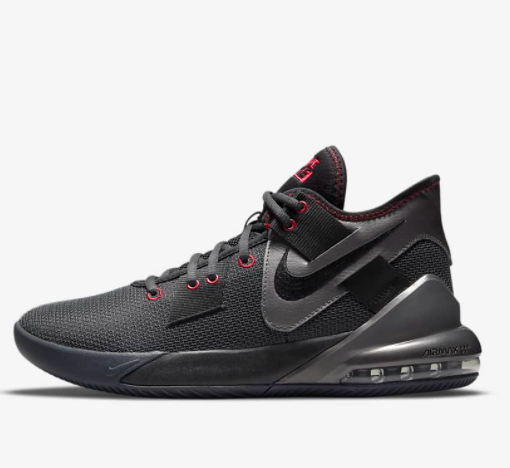 ---
9. LeBron Witness 5 EP
About:
MASTER YOUR MOMENTUM.
Level up your game in the LeBron Witness 5, a strong, lightweight shoe that's sculpted to look fast. Its rigid heel piece and forefoot lockdown system provide support. Cushioning and multi-directional traction works together to help you grip the court as you drive towards the basket. This EP version has an extra-durable outsole that's ideal for outdoor courts.
Build Momentum
2 Zoom Air units under the ball of your foot respond to your force for court-ready cushioning.
Strength and Stability
A rigid heel counter with moulded lion graphic helps support the back of your foot and keeps you stable.
Stay In Control
An extra-durable rubber outsole with multi-directional traction helps you stay in control.
Product Features:
Lightweight, breathable mesh
Resilient foam midsole
Colour Shown: Black/Fierce Purple/Metallic Gold
Style: CQ9381-001
Country/Region of Origin: Vietnam
Pricing: $159.00
Where to Find: Nike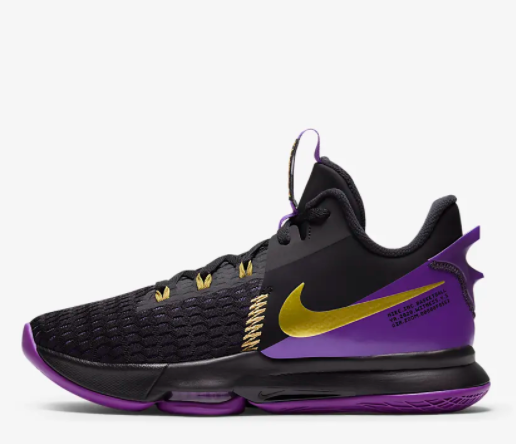 ---
10. Air Jordan XXXVI SE Luka 'Global Game'
About:
IT'S LIGHT WORK.
Quickly ascending to the top of the league, all eyes are on Luka as his MVP-calibre game will be on display with his home country for the first time since 2017. With years of international acclaim and success that he's bound to defy once again, Luka knows he's here for a reason. Inspired by all of the places Luka can take basketball, the Air Jordan XXXVI 'Global Game' celebrates the purpose and pride that comes with repping your country's colours.
Light Feel, Big Energy
A full-length Zoom Air Strobel unit is stitched directly to the upper, sitting right under your foot to minimise weight. An energy-returning Zoom Air unit is stacked underneath the forefoot to add an extra burst of responsiveness off the dribble.
Secure for Take-off
A 2-loop band system paired with high sidewalls provides side-to-side stability, whether you're cutting off the ball on defence or taking off to finish on offence.
Lightning Quick
A multi-directional outsole pattern provides stop-and-go traction for players who stay on their toes and use quickness to get to their spots.
Light Flex
A dynamic, flexible tongue includes targeted padding over the top to ease lace pressure and to provide plush comfort without added weight.
Product Features:
A hollowed-out section between the outsole and midsole helps reduce weight and exposes the shoe's stabilising shank (a piece of durable plastic that helps keep the shoe from twisting).
Padded tongue feels soft and flexible over the top of your foot.
Colour Shown: Blue Jay/Mardi Gras/White
Style: DJ4483-400
Country/Region of Origin: Vietnam
Pricing: $259.00
Where to Find: Nike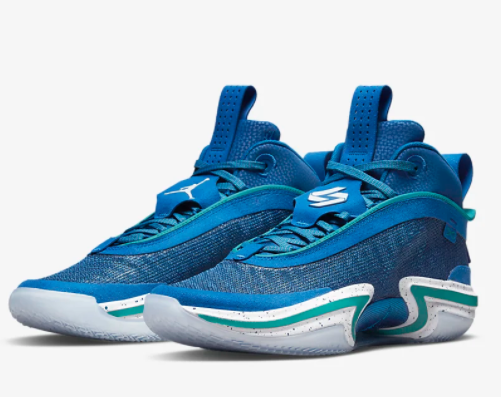 We need your help! Do you know any other noteworthy products that deserve to be added to this list? If so, do write to us via our email at [email protected]. Tropika Club will do a review of your recommendations and update the list accordingly.
Have a product to Recommend?
---
Meanwhile, check out Tropika Club's Ecosystem of Websites
Tropika Club Magazine – Tropika Club Magazine crafts articles on all things Singapore, but with a greater emphasis on local businesses based on our #SupportLocalSG initiative. We check out and feature local businesses of all categories, ranging from your neighbourhood hawker stalls to the aesthetic clinics in town. We also cover local content ranging from beauty, lifestyle, places, eats and what's on in SIngapore. Our Top 10 rankings include local food and service establishments based in different regions in Singapore.
Tropika Club Deals – Search for the best voucher and coupon deals. Tropika Club Deals is ideal for customers who want to discover the best deals without having to commit to a specific appointment date and time. Choose from guaranteed discounted deals in the categories of hairstyling, hair removal, facial & aesthetics, body slimming, brows & lashes, nails & makeup, massage & spa or fitness & wellness. Customers can also buy vouchers as gifts or to use for the future.