Top 10 Best Restaurants in Tampines Mall
Tampines Mall is located amidst the cluster of shopping malls at Tampines Central 5, next to Century Square and Tampines 1. Opened in 1995, the mall was developed by DBS Land (the predecessor of Capitaland) and NTUC Fairprice Co-Operative. Today, it offers an exciting mix of shopping, dining and entertainment options. For food, you can find crowd favourites like Genki Sushi and Miam Miam. So if your looking for Tampines Mall food recommendation, check out the Top 10 Best Restaurants in Tampines Mall.
---
1. GENKI SUSHI
About: Genki Sushi is the sushi restaurant in Singapore that's known for making dining fun with its conveyor belt sushi experience! Using highly sophisticated serving innovation, Genki Sushi serves your order right up to your table in just two minutes via mini bullet train carriers. Enjoy their equally creative food interpretations like the Egg Pollock Roe Sushi and Cream Cheese Premium Shrimp Sushi that will keep you wanting more.
Menu: Click for the Menu
Japanese Cuisine
Sushi
Sashimi
Address:
4 Tampines Central 5,03-26/27
Singapore 529510
Website:https://www.genkisushi.com.sg/
---
2. Crystal Jade Kitchen
About: Nourish your soul with the heart-warming flavours of Crystal Jade Kitchen restaurant. All your Cantonese favourites are lovingly prepared by their stellar team of chefs. Chinese cuisine such as Signature Dim Sum, Classic Congee, Roasted Delicacies and Sizzling Wok Specialties will transport you to the flavours of home.
Menu: Click for the Menu
Dim Sum
Cantonese Specialties
Hong Kong Specialties
Chinese Cuisine
Roasted Specialties
Address: 4 Tampines Central 5 B1, #11 Tampines Mall, 529510
Website: https://www.crystaljade.com/index/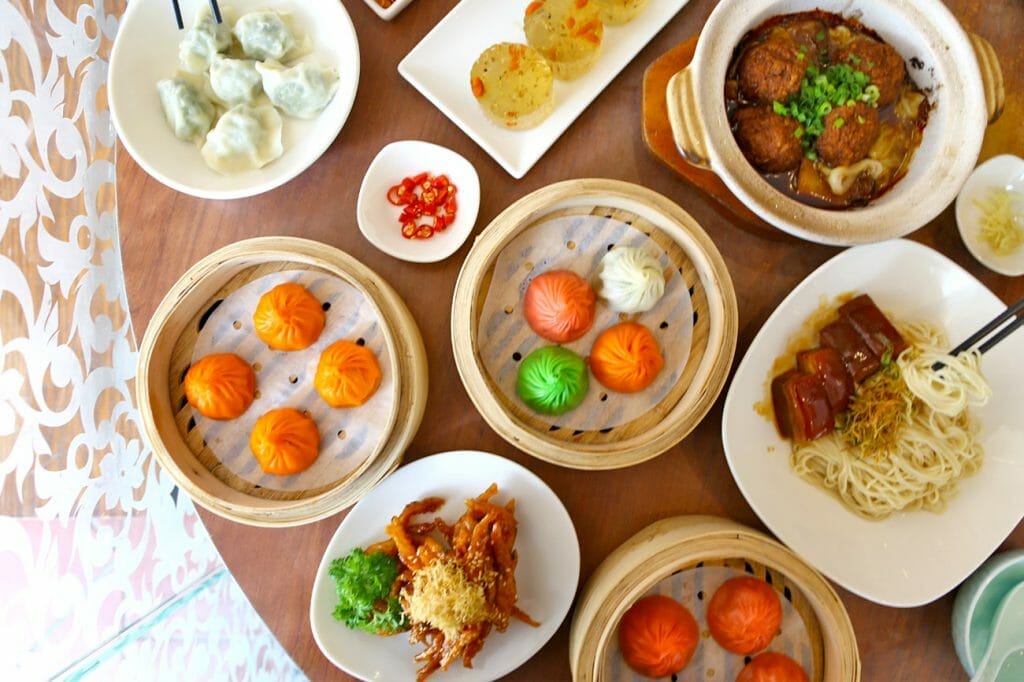 ---
---
3. Alley Wei
About: Alley Wei is a place where customers can find traditional, freshly made Taiwanese/ Chinese street food favourites. Taiwanese soya milk, Bean curd, youtiao and many more with a perfect blend of traditional contemporary taste
Address: B1-K21 Tampines Mall, 4 Tampines Central 5, Singapore 529510
Website: https://www.facebook.com/alleyweisg/
---
---
4. Itacho Sushi
About: Itacho Sushi restaurant serves an array of authentic Japanese sushi that showcases the freshness and natural sweetness of their premium sashimi. Minimal seasoning is used in the preparation of their sushi so you can taste every note of natural umami.
Menu: Click for the Menu
Ricebowls
Japanese Cuisine
Sushi
Ramen
Sashimi
Address: 04-32 TAMPINES MALL
Website: https://www.itachosushi.com.sg/
---
5. Express Teppan-Yaki
About: At Teppan-Yaki, there are more than 10 variations of teppan-yaki ingredients that diners can enjoy, each providing a different flavour and experience to your meal. There are sets and ala carte options to the dishes, which come with vegetables that are cooked in a spicy and tasty black pepper sauce that enhances the main ingredients. Give their Teppan-Yaki Chicken Drumstick, Tenderloin Steak or Seafood Varieties a try, it is sure to tantalise your taste buds. There are also other seafood options like Squid with Garlic, Oyster Sautéed with Garlic and Fish Fillet. Express Teppan-Yaki also offers a Mushroom set for preferences other than meats and seafoods.
Visit a Express Teppan-Yaki outlet in Tampines Mall for a mouth-watering taste of Teppanyaki goodness!
Menu: Click for the Menu
Address:
4 Tampines Central 5, B1-K22
Singapore 529510
---
---
6. BUTTER STUDIO
About: Deeply inspired by the time-tested recipes passed down through the generations from their grandmothers, Butter Studio was created to honor the spirit of artisan handmade goodness while infusing a uniquely local and playful spin on familiar home-style bakes.
Menu: Click for the Menu
Cake
Pastries
Cupcakes
Dessert Table
Address: 4 Tampines Central 5, Tampines Mall, #B1-K8, S529510
Website: https://thebutterstudio.com/
---
7. Nando's
About:
Fire up your taste buds with some PERi delicious goodness! Hailing from South Africa, Nando's is an award-winning chain blazing across the world with its Afro-Portuguese flame-grilled PERi-PERi Chicken. In 2010, Nando's came to Singapore and now has 6 restaurants islandwide!
Few who have tried Nando's PERi-PERi Chicken can deny the allure of its freshly grilled-to-order chicken, cooked to juicy perfection and enlivened with the fiery heat of the Nando's PERi-PERi – the African Bird's Eye Chili that makes the Nando's signature sauce.
Nando's chickens are fresh (never frozen) and proudly prepared in Singapore. They meet such a strict set of standards you could take them home to meet your mother. The chickens are marinated for at least 24 hours in a special PERi-PERi marinade, so the flavour goes right to the bone!
Ready to eat? Whether you're feeling mild or wild, there's a spice with your name on it – choose your PERi-PERi spice levels from 5 unique flavours: Plain…ish, Lemon & Herb, Mild, Hot and for the very brave – Extra Hot!
Menu: Click for the Menu
BBQ & Grill
Burger And Fries
Fusion Cuisine
Snacks & Finger Food
Chicken
Address: 01-46 Tampines Mall 4 Tampines Central 5 Singapore 529510
Website: https://www.nandos.com.sg/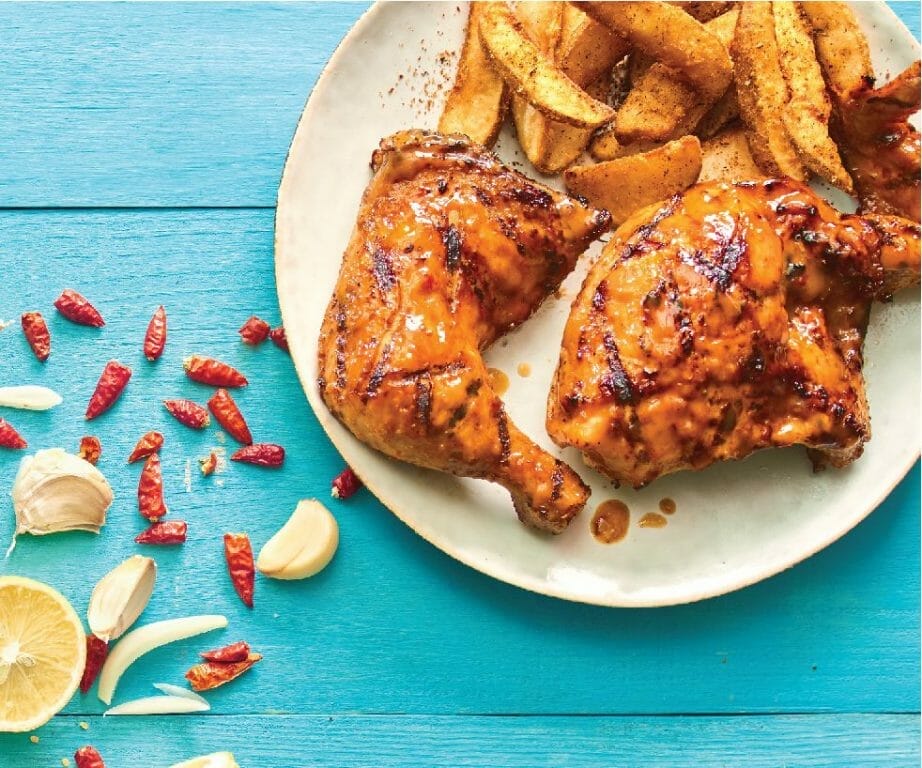 8. SEORAE
About: Galmaegisal is found between the ribs and the belly of the pig and is a priced cut that weighs only 250 grams of every full-grown pig. Seorae is one of the few restaurants that serve this skirt meat marinated in spicy and tangy Korean flavors to elevate the texture and taste. Seorae takes KBBQ to another level.
Menu: Click for the Menu
Korean Cuisine
BBQ & Grill
Korean Stews
Bingsoo
Address: B1-02, 4 Tampines Central 5
Website: https://www.seorae.com.sg/
---
9. Dough Culture
About: Dough culture specializes in dough snacks and delicacies that are deep fried to be crispy on the outside, soft and fluffy on the inside. Think You Tiao, Butterfly Bun, Banana Fritters dipped into a gooey bowl of sweet nutty Tau Suan.
Menu: Click for the Menu
Asian Cuisine
Local Delights
Address: 4 Tampines Central 5 #B1-K16 Tampines Mall Singapore 529510
Website: https://www.doughculture.com/
---
10. DEN and Osaka Ohsho
About: Starting out from their speciality Gyozas, Osaka Osho is a restaurant that captured the taste buds of its customers with its ever growing menu featuring the best of Japanese and Chinese favorites. Have the best of both worlds by indulging in their Osaka Ohsho Fried Rice Set served with their signature Gyoza.
Menu: Click for the Menu
Gyoza
Japanese Cuisine
Ramen
Rice Set
Address: 4-19/20, Singapore 529510
Website: https://osakaohsho.com.sg/
---
Have a Place to Recommend?
We need your help! Do you know any other noteworthy places that deserves to be added to this list? If so, do write to us via our email. Tropika Club will do a review of your recommendations and update the list accordingly.
---
Meanwhile, check out Tropika Club's Ecosystem of Websites

Tropika Club Magazine – Tropika Club Magazine crafts articles on all things Singapore, but with a greater emphasis on local businesses based on our #SupportLocalSG initiative. We check out and feature local businesses of all categories, ranging from your neighbourhood hawker stalls to the aesthetic clinics in town. We also cover local content ranging from beauty, lifestyle, places, eats and what's on in SIngapore. Our Top 10 rankings include local food and service establishments based in different regions in Singapore.
Tropika Club Deals – Search for the best voucher and coupon deals. Tropika Club Deals is ideal for customers who want to discover the best deals without having to commit to a specific appointment date and time. Choose from guaranteed discounted deals in the categories of hairstyling, hair removal, facial & aesthetics, body slimming, brows & lashes, nails & makeup, massage & spa or fitness & wellness. Customers can also buy vouchers as gifts or to use for the future.