Top 10 Best Restaurants in Vivocity
Designed by the Japanese architect Toyo Ito, the mall is named after vivacity: the state of being lively and spirited. Vivocity is certainly teeming with shops as the largest shopping mall in Singapore. There's a plethora of Chinese Restaurants, Japanese restaurants, vegetarian restaurants, and even a tapas club. Whether you're looking to fuel up for your adventures at Sentosa, or before you shop till you a drop, here are the Top 10 Best Restaurants in Vivocity.
---
1. HANS IM GLÜCK
Introduction:
At HANS IM GLÜCK, lucky burger gourmets get a taste of happiness. Enjoy the bliss of tucking into a burger made from a variety of fresh ingredients of excellent quality, just the way you like it. Take your pick from tender chicken breast or juicy beef, vegetarian or vegan, with avocado, feta cheese & fig jam, grilled vegetables, rocket leaves and aged (not processed) Cheddar cheese from the milk of pasture-grazing cows or sharp Italian Parmesan cheese – your options are virtually unlimited.
HANS IM GLÜCK elevates the humble burger into a never-boring, healthy, nutritious, and delicious meal – with something special for everyone.
Menu: Click link for MENU
Special Recommended:
BURGER

JUICY BEEFY BURGERS
VEGAN BURGERS

SALADS

FRESH SALAD
SNACKS AND DIPS

DRINKS

COCKTAILS
THIRST QUENCHERS
Address: Vivo City #01-57, Harbourfront Walk, Singapore 098585
---
2. Barossa Bar & Grill
Introduction:
An Australian-inspired restaurant and bar where 'outback meets chic'. Its unpretentious, laid-back, and rustic ambience makes it the perfect place to chill out after a hard day's work and tuck in hearty Australian fare created only with the freshest ingredients and premium grades of Australian beef.
Barossa Steak & Grill VivoCity boasts a wide selection of charcoal-grilled meat with deep smokiness. Serving only the highest quality and carefully sourced meats from Australian Farms, with an emphasis on dry-aged Australian beef and other Josper grilled dishes.
Menu: Click link for MENU
Special Recommended:
SMALL PLATES

Tasmanian Salmon Brandade Toast (3 pcs)
Wagyu Beef Tartare (4 pcs)

APPETIZERS

Signature Crispy Calamari
Fremantle Octopus Confit

SALADS

Grilled Pumpkin Salad (V)
Grilled Caribbean ChickenCaesar Salad

SOUPS

Classic Lobster Bisque
Porcini Mushroom Soup (V)
CHEESE & CHARCUTERIE

Barossa Charcuterie Platter
Cold Cuts Platter
Address: 1 Harbourfront Walk, #01-161/162, VivoCity, Singapore 098585
Contact: +65 6255 1855
Website: https://www.barossa.com.sg/
---
---
3. Black Society
Introduction:
Our "Black Society" restaurant, which began operations in 2006 has offered a wide range of innovative and contemporary Chinese cuisines set in a stylish and black-colored theme interior design. In addition to popular Cantonese dim sum and traditional Chinese banquet dishes, our menu continues to evolve as we incorporate other regional flavors and trendy elements into traditional Chinese cuisine.
The Lobster Bisque, complete with the unusual addition of juicy Shanghai steamed dumplings, is a definite must-try.
For the main course, go for the crispy aromatic duck that is roasted to a flavourful crunch. Refresh the palate with a kailan vegetable dish that is lightly blanched and served in a unique mold of shaved ice with wasabi and soy sauce.
More conventional dishes such as the honey grilled spared ribs and fried udon in soya vinegar sauce are well-executed.
For the sweet ending, do not miss out on the signature Custard Balls, which ooze out salted egg yolk custard, and the Durian Soufflé Balls which will please any durian lover with its creamy rich D24 filling.
Menu: Click link for MENU
Special Recommended:
Aromatic Crispy Duck
Superior Sharkfin
Xiao Long Bao
Lobster Bisque Xiao Long Bao
Frozen Kailan
Address: 1 HarbourFront Walk #02-156/157 Vivo City Singapore 098585
Contact: +65 6376 9740
Website: http://blacksociety.com.sg/
---
---
4. Da Paolo Gastronomia
Introduction:
Paolo and Judie Scarpa first opened Da Paolo in 1989; a modest trattoria serving authentic Italian fare.Following the success of this humble eatery, Da Paolo expandedinto Da Paolo Group, comprising two restaurants, seven Gastronomiaoutlets, a catering arm and a professional services arm. To this day, Da Paolo Group remainsa family-run business committed to offering honest Italian food.With over 30 years of experience, Da Paolo Group provides diverse professionalsolutions from reliable contract manufacturing to customised consultationfor the food & beverage industry.
Menu: Click link for MENU
Special Recommended:
Egg Breakfast
Pizza Slice
Grilled Panidi
Pasta
Lasagna & Baked Meal
Soup
Salad
Snack
Wine, Beer, Cocktails
Address: 21 Cuscaden Road #02-12Singapore 249720
Contact: +65 6479 6522
Website: https://www.dapaolo.com.sg/home
---
5. Hong Kong Egglet
Introduction:
Hong Kong Egglet is a chain of food establishments selling egglet ("gai daan zai"), one of the most popular street snacks in Hongkong.
The egglet literally means mini chicken eggs, as what the appearance suggests. It is made from a batter comprising mainly egg, sugar, flour, and evaporated milk. Hong Kong Egglet uses a traditional secret recipe that it obtained from a well-established egglet vendor in Hongkong.
In addition to the traditional egglet brimming with nostalgic flavor and taste, Hong Kong Egglet has taken a creative and innovative approach to the preparation of the humble egglet. They use fresh and healthier ingredients to prepare interesting variations of the traditional egglet which are more delicious and healthier options and more appealing to the local consumers.
Menu: Click link for MENU
Special Recommended:
Address: VivoCity, 1 Harbourfront Ave, #B2-K17, 098585
Contact: +65 6370 1155
Website: https://www.vivocity.com.sg/stores/hong-kong-egglet-3/
---
---
6. Le Shrimp Ramen
Introduction:
Inspired by the flavors of Japanese ramen broth and silky threads of Chinese la mian, Le Shrimp Ramen is a perfect marriage of Chinese and Japanese culture, offering a simple menu of elaborate flavours.
Featuring two specialty broths – shrimp broth and tonkotsu broth, each has its own dedicated followers. The tonkotsu broth achieves a rich and creamy texture after long hours of simmering with pork bones, resulting in a collagen-rich and palatable soup. Prawn aficionados cannot resist our shrimp broth, featuring the flawless union of fresh sea prawns, pork bones, and Chinese spices, giving the broth a delightful tangerine-orange hue.
Menu: Click link for MENU
Special Recommended:
Le Signature Trio Shrimp Ramen
Red Garoupa with Pickled Vegetable Tonkotsu Ramen
Ebiko Prawn Paste with Chilli Vinaigrette Ramen
Address: 1 Harbourfront Walk, VivoCity #B2-25 Singapore 098585
Website: https://www.vivocity.com.sg/stores/le-shrimp-ramen/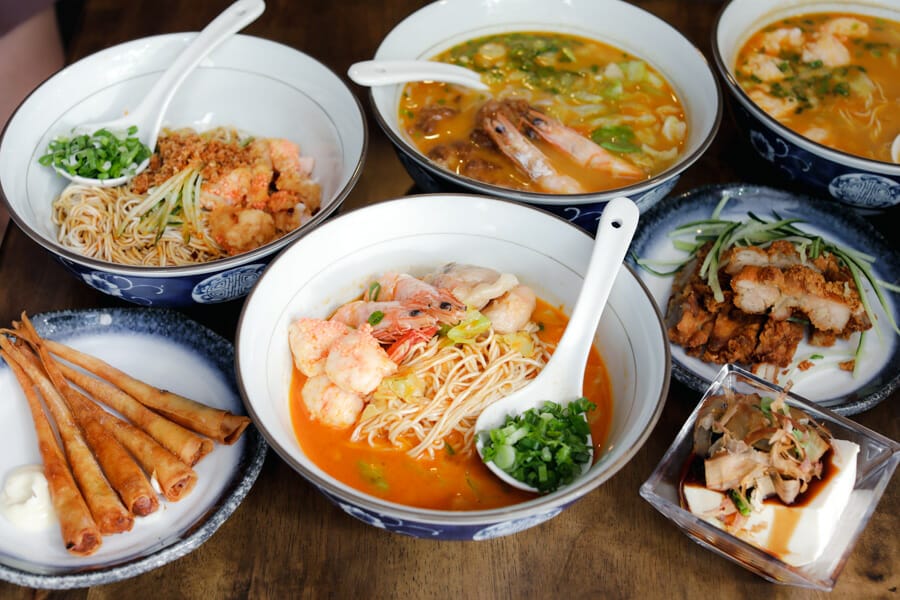 ---
7. Crystal Jade Dining IN
Introduction:
Marvel in the stunning waterfront view of Sentosa at Crystal Jade Dining IN as you take pleasure in the contemporary Cantonese delicacies. With a seating capacity of 150 and 4 VIP rooms, the restaurant is ideal for both corporate lunches and intimate family gatherings.
Menu: Click link for MENU
Special Recommended:
Steamed Siew Mai with Crab Roe
Steamed Prawn Dumpling 'Ha Kau'
Deep-fried Mushrooms and Corn with Salted Egg Yolk
Roasted Pork Belly
Double-boiled Spare Ribs with Carrot and Sweet Corn
Sautéed Egg White with Conpoy & Fish Meat
Deep-fried Crispy Roasted Chicken
Sautéed French Bean with Minced Meat
Address: 11 HarbourFront Walk, #01-112 VivoCity, Singapore 098585
Contact: +65 6278 5626
Website: https://www.vivocity.com.sg/stores/crystal-jade-dining-in-2/
8. Hokkaido-Ya
Introduction:
Hokkaido-Ya is a new fast-casual eatery serving Hokkaido-inspired dishes and Japanese favorites using premium ingredients. Opened in June 2018 by the team behind established Sushi Tei Pte Ltd, Hokkaido-Ya hopes to cater to wider audiences with their brand of Japanese hospitality, advanced ordering technology, and good quality meals at wallet-friendly prices.
Menu: Click link for MENU
Special Recommended:
Bara Chirashi Don
Hokkaido Butter Corn Chasyu Ramen
Bara Chirashi Salad
Address: VivoCity, 1 HarbourFront Walk, #02 – 153, Singapore 098585
Contact: +65 6376 8387
---
9. Dancing Crab
Introduction:
A dining experience unlike any other: fresh seafood, live music, a cocktail and whiskey bar, and much more! Backed by one of Singapore's oldest seafood restaurant leaders, TungLok Group, Dancing Crab sources their shellfish from the same vendors used at the group's best seafood restaurants, offering a range from Boston lobster to Dungeness crab.
Menu: Click link for MENU
Special Recommended:
Live Dungeness Crab Combo with Beurre Blanc Sauce
Chilli Crab Bread Bowl
Moonshine Vodka Live Prawn
Live Crab Combo
Live Australian Lobster Combo
Address: #03-10 VivoCity1 Harbourfront WalkSingapore 098585
Contact: +65 6222 7377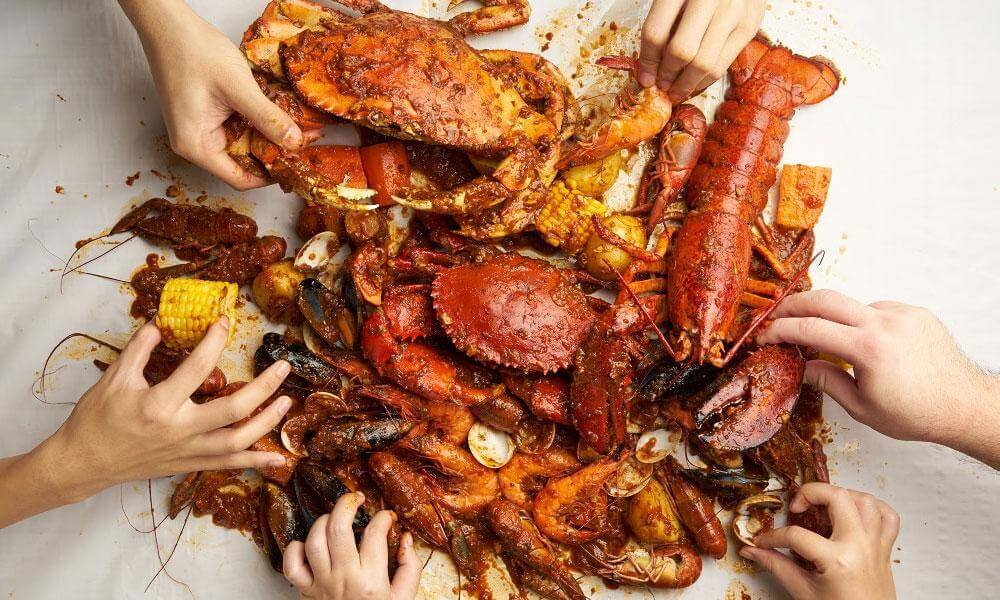 ---
10. Penang Culture
Introduction:
A big part of the attraction in Penang lies in the street food. From Penang Fried Koay Teow, Rojak, and Assam Laksa to BBQ Seafood, Penang offers a staggering variety of hawker food. Whilst the traditional favorites remain popular, the street food scene is also constantly evolving and innovating. Interesting new dishes and new takes on old dishes continue to keep customers intrigued and in love with Penang food. Penang Culture embodies this dual spirit of innovation and tradition in our food. With kitchens helmed by Penangite Head Chef Wong Thin Lipp, who started his culinary career in the streets of Penang, we serve authentic Penang street food that brings comfort to the soul, and fresh perspectives to old favorites which will keep you coming back for more. Penang Culture is the first Penang-themed Halal Restaurant in Singapore. Committed to bringing you tasty, value-for-money Penang dishes in a comfortable environment, we are your Penang 'Street Food Paradise".
Menu: Click link for MENU
Special Recommended:
Penang Side Dish Platter
Claypot Assam Curry Fish Head
Sambal Kang Kong
Salted Egg Mantis Prawns
Penang Fried Kway Teow
Fried Hokkien Mee
Address: Vivocity #B2-23E 1 HarbourFront Walk Singapore 098585
Contact: +65 6962 7172
---
Have a Place to Recommend?
Your contribution is valuable to us! Are there any outstanding businesses that you believe should be added to our list? If so, please send your recommendations to us at [email protected]. Tropika Club will review your suggestions and update the list accordingly. Thank you for your help in making our list of businesses as comprehensive and accurate as possible.
---
Meanwhile, Check out Tropika Club's Ecosystem of Websites
Tropika Club Magazine – Tropika Club Magazine is a Singapore-based publication that features articles on a wide range of topics with a focus on local businesses and content for the region. The magazine emphasizes supporting local businesses through its #SupportLocal initiative, which includes coverage of everything from neighborhood hawker stalls to aesthetic clinics in town. In addition to highlighting local businesses, Tropika Club Magazine also covers a variety of local content, including beauty, lifestyle, places, eats, and what's on in Singapore and the Asia Pacific region.
Tropika Club Deals – Tropika Club Deals is a leading online deals and voucher shopping site in Singapore, offering amazing discounts on beauty, wellness, and fitness products and services. It's the perfect platform for customers who want to discover the best deals without having to commit to a specific appointment date and time. These deals are available at major beauty stores, facial salons, hair salons, and other brands in Singapore, with no minimum spend required. Choose from guaranteed discounted deals in the categories of hairstyling, hair removal, facial & aesthetics, body slimming, brows & lashes, nails & makeup, massage & spa or fitness & wellness. Tropika Club Deals is also ideal for customers who want to buy vouchers as gifts or to use for the future. So whether you're looking to save money on your next haircut or want to treat yourself to a relaxing massage, Tropika Club Deals has got you covered with the best voucher and coupon deals in Singapore!