Top 10 Best Hair Clay and Wax in Singapore
To start a good hair day, you will need to use the right hair clay, wax or pomade. Firstly, hair clay products generally have a medium hold and a matte finish. They are perfect for a men's loose, relaxed and re-workable hairstyle. While hair wax products is a hair-styling products that contain wax which used to assist with holding men's hair. They are enables to restyle men's hair without reapplying product or washing. Gentlemen, come read on this article to choose your new hair clay or wax to charm your day. The Tropika Club team has rounded up Top 10 Best Hair Clay and Wax in Singapore. Check them out!
---
1. Ubersuave Texturing Matte Wax
Description: A high performing hair wax with a perfect matte finish and extreme hold to enable professional styling that lasts all day. It works perfectly for short, textured styles to longer length contemporary quiff hairstyles. Made from a blend of high quality hydrogenated beeswax and fragrances, the versatile hair wax can be easily applied and worked with to create spectacular hairstyles every day. This hair wax is complemented with the soothing Lilac floral scent which would calm your nerves and prep you for the day ahead.
How to Use: Rub small amount of this dope product onto palms and coat them with a thin layer. Apply to hair and style as desired. Applying the wax to dry hair creates a stronger hold. To restyle hair later in the day, just apply more wax to hair and style with passion. Washes off completely with just water.
Pricing: $20.00 for 100ml
Where to Find: Lazada
---
2. Suavecito Firm Hold Strong Hold Pomade
Description: Taking Suavecito's Original Hold pomade formula and kicking it up a notch, Suavecito's Firme Hold Pomade is an extra strength hair styling pomade. For those days your hair needs a little extra 'help', this water soluble pomade will tame anything you throw at it. This formula works great for curly, thick or stubborn hair. Pompadours, slick backs and side parts can be styled with ease. Strong and tough but still combs in with ease. With the same awesome base ingredients and scent as our original, this pomade washes out easily and doesn't flake. No need for any special soaps or shampoos. It dries with a high firmness and medium shine.
How to Use:
Apply to DRY hair for less shine and a stronger hold.
Apply to DAMP hair for more shine and a slightly less stronger hold
Start with a quarter sized amount in your palm. Rub product into hands and fingers. Work into hair with fingertips from the roots up. Ensure even distribution of product. Comb to desired style. To remove, simply wash out with water.
Pricing: $26.00 for 4oz
Where to Find: Lazada
---
3. Uppercut Deluxe – Deluxe Pomade
Description: Deluxe Pomade has been designed for the discerning guy who has a particular style in mind. Perfect for timeless, classic looks – such as high pompadours, side parts and slick backs. The first hair pomade product in the Uppercut Deluxe range, Deluxe Pomade set the bar for quality and has earnt itself a cult following over the years. Deluxe Pomade works exceptionally well in a variety of hair lengths and types. The pomade works well in thin, thick curly or straight hair types. It's perfect for controlling unruly or stubborn hair. Deluxe Pomade is water soluble, so it can be washed out with ease.
How to Use:
Apply a small amount to the fringe area using fingertips then work from the back of your head forwards making sure to spread product evenly throughout your hair.
Using an Uppercut Deluxe Comb, shape and define your style from root to tip, front to back. For extra hold or shine, build up layers of Deluxe Pomade as you go, before setting your style tight.
Pricing: $29.00 for 100g
Where to Find: Lazada
---
---
4. Quincy Pomade Original by Defy Empire
Description: A water soluble pomade with fresh cologne scent. Styles pompadours, slickbacks, and even mohawks with ease.
How to Use: Use generous amount of product on palm and rub evenly before applying to damp hair to create the classic pomp.
Pricing: $28.00 for 100ml
Where to Find: Lazada
---
5. Imperial Barber Classic Pomade
Description: GEL POMADE is especially good for finer hair as it will thicken and enhance volume and will also enhance curls if crunched into hair. It is water-reactivatable and conveniently rinses out.
How to Use: Apply a small amount to the dry hair to have a strong holding power and apply to a damp hair to have a lighter hold result.
Pricing: $35.00 for 177g
Where to Find: Lazada
---
---
6. Refined Superior Matte Clay
Description: Refined Superior Matte Clay is every gentlemen essential towards a more natural appearance. Water soluble styling clay, which provides a strong hold and matte low shine finish. It works perfectly for short, textured styles and longer, fuller looks. Smooth application and washes off easily without any hassle.
How to Use: Apply to dry hair. Twist in, blow dry or comb through to achieve desired style.
Pricing: $24.00 for 4oz
Where to Find: Lazada
---
7. American Crew Pomade
Description: A moisture-rich cream pomade that provides a natural look while taming hair leaving a low shine finish. For light/medium hold with low shine.
How to Use: Use when textured definition, frizz-free hair and a natural look is desired. Work a small amount evenly through dry or towel dried hair and style as desired.
Pricing: $36.00 for 85g
Where to Find: Lazada
---
---
8. Baxter Of California Clay Pomade
Description: A styling clay for men's hair Helps separate, define and sculpt hair With a texturing formula that enables you to manipulate hair and enhances styling versatility. Contains natural ingredients including clay and beeswax. Gives a strong, pliable hold and a matte finish.
How to Use: Rub a small amount in palms, apply on damp or dry hair. Use more for enhanced hold and style.
Pricing: $41.70 for 60ml
Where to Find: Lazada
---
9. Undisputed Pomade V2 Strong Hold Slim Design Water Soluble
Description: Most affordable yet quality water-based pomade. Do not melt under heat. Easy to rinse off clean. Suitable for all hair types. Great with pompadours and slickbacks.
How to Use: Use generous amount of product on palm and rub evenly before applying to damp hair to create the classic pomp.
Pricing: $14.90 for 100ml
Where to Find: Lazada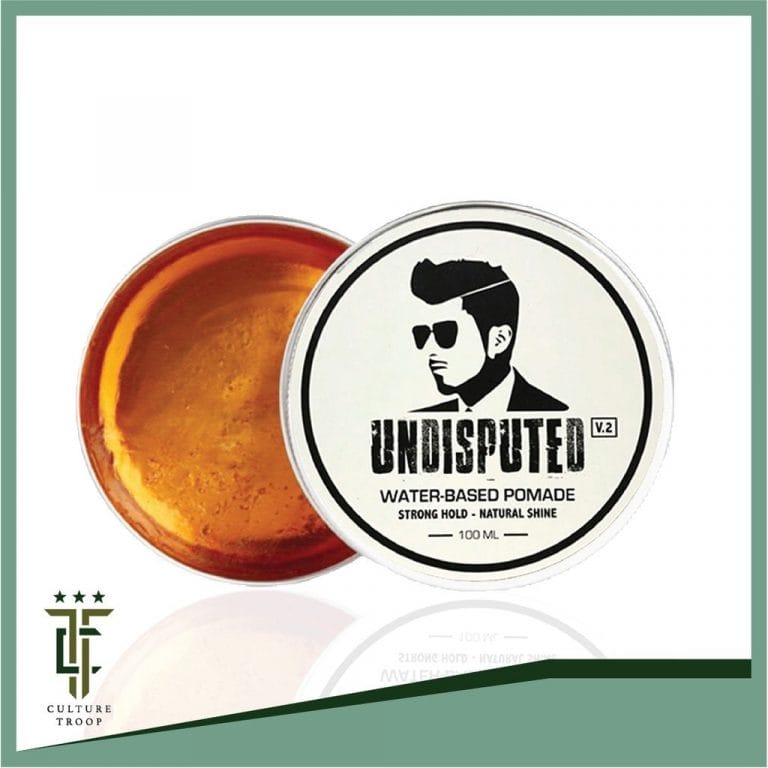 ---
10. Blumaan Cavalier Heavy Clay
Description: BluMaan's Cavalier Clay works with your hair to create extreme texture and all-day hold. From the classic to the creative, you can count on the Cavalier's heavy hold to make your hairstyle last all day (or two!) without a need to reapply. Its denser consistency allows it to control coarse, wavy and thick hair. It also nourishes and strengthens your hair with organic oils, natural proteins and amino acids.
How to Use: Take a small amount and spread it evenly across both palms. Rub your hands together to warm it up. Once the clay is smooth, push your hands through your hair until you get the loose, messy and relaxed hairstyle you desire. Or grab your comb for a cleaner look.
Pricing: $35.00 for 2.5oz
Where to Find: Lazada
Have a Product to Recommend?
Your contribution is valuable to us! Are there any outstanding brands that you believe should be added to our list? If so, please send your recommendations to us at [email protected]. Tropika Club will review your suggestions and update the list accordingly. Thank you for your help in making our list as comprehensive and accurate as possible.
---
Meanwhile, Check Out Tropika Club's Ecosystem of Websites

Tropika Club Magazine – Tropika Club Magazine is a Singapore-based publication that features articles on a wide range of topics with a focus on local businesses and content for the region. The magazine emphasizes supporting local businesses through its #SupportLocal initiative, which includes coverage of everything from neighborhood hawker stalls to aesthetic clinics in town. In addition to highlighting local businesses, Tropika Club Magazine also covers a variety of local content, including beauty, lifestyle, places, eats, and what's on in Singapore and the Asia Pacific region.
Tropika Club Deals – Tropika Club Deals is a leading online deals and voucher shopping site in Singapore, offering amazing discounts on beauty, wellness, and fitness products and services. It's the perfect platform for customers who want to discover the best deals without having to commit to a specific appointment date and time. These deals are available at major beauty stores, facial salons, hair salons, and other brands in Singapore, with no minimum spend required. Choose from guaranteed discounted deals in the categories of hairstyling, hair removal, facial & aesthetics, body slimming, brows & lashes, nails & makeup, massage & spa or fitness & wellness. Tropika Club Deals is also ideal for customers who want to buy vouchers as gifts or to use for the future. So whether you're looking to save money on your next haircut or want to treat yourself to a relaxing massage, Tropika Club Deals has got you covered with the best voucher and coupon deals in Singapore!