Top 10 Best Restaurants in Junction 8
This popular heartland mall is located right on top of the Bishan MRT Interchange, and it has the Bishan Bus Interchange right next door of it. Did you know? The number '8' in its name came from the old station numbering of the North South Line sector of the Bishan district. The Junction 8 shopping centre also housed the first outlet of the Food Junction food courts. Now, they have quite a few popular restaurants too, such as the Watami Japanese Casual Restaurant and Canton Paradise. So take a look at the Top 10 Restaurants in Junction 8.
---
1. Joy Luck Teahouse
Introduction:
JOY LUCK TEAHOUSE (JLT) is a mini Hong Kong-style Cafe (Cha Chaan Teng), known for eclectic and affordable snacks for people from all walks of life, bringing you the best iconic brands from Hong Kong's food culture, revolving around Hong Kong Milk Tea, Egg Tarts and Pineapple Bun, the 3 Treasures registered by Hong Kong Government with UNESCO as Intangible Cultural Heritage of Hong Kong.
JLT serves solely traditional and authentic Hong Kong snacks of the finest quality from renowned Hong Kong brands, Hoover Bakery, Kam Kee cafe, Tak Hing Fishballs and more.
Offerings:
Location:
9 Bishan Place B1-03/03A
Singapore 579837
Contact: [email protected]
Website: https://joyluckteahouse.com/
---
2. Joe & Dough
Introduction:
Founded in 2009, Joe & Dough is a homegrown brand with a simple dream to make good specialty coffee and handcrafted bakes accessible to everyone. From sourcing the best Arabica beans to insisting on baking their own breads and cakes, Joe & Dough prides themselves on serving only what they are genuinely proud of.
Offerings:
Location:
9 Bishan Place #02-52
Singapore 579837
Contact: 6904 8119
Website: https://www.joeanddough.com/
---
---
3. Ambush
Introduction:
Ambush was founded by Stanley Ng, who was first introduced to authentic European food in Luzerne, Switzerland. The wonderful experience gained from eating in restaurants and cafes was the beginning of his vision to introduce a new venture of European cuisine to Singapore. What started as a interim food kiosk in 2002 became 3 kiosk in 2003, which eventually gave rise to a union of the stores across Singapore in 2005 creating a small yet superbly formed eatery, Ambush. The path to creating a Singapore-wide chain of affordable, high quality and informal European restaurants was paved.
Offerings:
Oktoberfest Platter
Spanish Mussels/Clams,
Vin Blanc, Bacon
Oxtail Bourguignonne
Location:
9 Bishan Place, #02-19/20/27
Singapore 579837
Contact: 6353 3960
Website: https://www.ambush.com.sg/
---
---
4. 4 Fingers Crispy Chicken
Introduction:
Korean Cuisine , Korean Fried Chicken , Burger And Fries , Rice Box. Crispy double fried chicken slathered in piquant garlic soy sauce, golden Kimchi Fries, refreshing Honey Yuzu drink and four fingers – all you need to a smashing meal.
Offerings:
Location:
9 Bishan Place #01-32
Singapore 579837
3.3 km
Contact: 6339 1327
Website: https://www.4fingers.com.sg/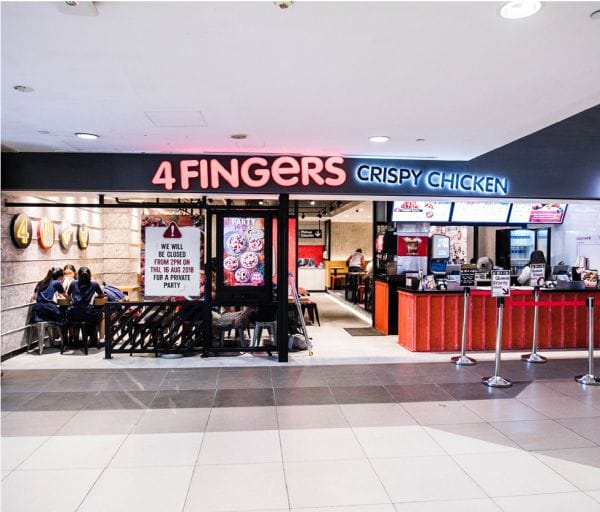 pt>
---
5. Dian Xiao Er
Introduction:
Dian Xiao Er was conceptualised based on the idea to provide a rest stop for guests to seek shelter and refreshment, and its name comes from the tradition of calling waiters "Xiao Er" in a teahouse.
Dian Xiao Er's specialty boasts their combination of the best quality of Cherry Valley ducks and a variety of herbs that is carefully marinated and roasted to the perfect juiciness. Dian Xiao Er's Herbal Roasted Duck are immersed in a nourishing blend of spices and herbs, roasted slowly over charcoal fire to retain all its wonderful tastes. Their ducks feature crispy golden skin on the outside while the inner meat remains tender and full of herbal flavour. Their Signature Roast Duck dishes include Duck Roasted with Angelica Herb and Duck Roasted with Ten Wonder Herbs, which features herbs like Condonopsis Root, Foxglove Root and Licorice Root. Other signature dishes like Seafood Combo with Assorted Vegetables, Mongolian Spare Ribs and Silver Cod Fish in Superior Soy Sauce are available as well.
Visit Dian Xiao Er at Junction 8 for a lovely and ravishing meal with family and friends today!
Offerings:
Click link for menu

Duck Roasted with Angelica Herb
Ginseng Kampong Chicken
Sliced Garoupa in Assam Style
Location:
9 Bishan Place, B1-07, Junction 8
Singapore 579837
Contact: 6684 0877
Website: https://www.dianxiaoer.com.sg/
---
---
6. Cat & the Fiddle
Introduction:
Cat & the Fiddle is the home to Singapore's first and foremost Halal-certified premium cheesecake, where you can find a diverse selection of 20 varieties of gourmet cheesecakes.
Offerings:
Location:
9 BISHAN PL, #02-32A
SINGAPORE 579837
Contact: 6287 0077
Website: https://www.catandthefiddle.com/
---
7. Canton Paradise
Introduction:
Canton Paradise Restaurant sets out to capture the essence of Hong Kong with its offering of nostalgic Cantonese favourites and dim sum as well as an array of roast specialities. The extensive all-day menu offers an affordable selection of Hong Kong classics. Enjoy a taste of authenticity at this Chinese restaurant with an all-day menu of delectable dim sum.
Offerings:
Location: 9 Bishan Place
Junction 8 #01-51
Singapore 579837
Contact: 6805 8934
8. Greendot
Introduction:
Founded in 2011, Greendot is Singapore's largest chain purveying fusion-style, plant-based mainstays. It was incepted with the aim of making greener, healthier meat-free meals more accessible and convenient to everyone. Greendot believes that everyone can make a difference to the world by being conscious in choosing what they eat. By going meat-free once a week, everyone can take a step towards creating a positive impact on their health, the community and the environment. At Greendot, green starts with fresh and quality ingredients.
Offerings:
Location: 9 Bishan Pl
Junction 8 #B1-24/24A, S 579837

Contact: +65 6904 6562
Website: https://www.greendot.sg/
---
9. Nam Kee Pau
Introduction:
At Nam Kee Pau, all our pau items are handmade in house. Sink your teeth into soft steamy buns bursting with sweet velvety lotus paste and other delicious fillings. If you are craving for something heavier, then indulge in a hearty serving of Mee Hoon Kuay or Ke Kou Mian that will warm your tummy up!
Offerings:
Location:
9 Bishan Place B1-K4, S579837
Contact: 6370 1155
Website: https://www.namkeepau.com.sg/
---
10. Osaka Ohsho
Introduction:
Starting out from their speciality Gyozas, Osaka Osho is a restaurant that captured the taste buds of its customers with its ever growing menu featuring the best of Japanese and Chinese favorites. Have the best of both worlds by indulging in their Osaka Ohsho Fried Rice Set served with their signature Gyoza.
Offerings:
Location:
Junction 8 9 Bishan Place #02-34/35/35A
62596698
Contact: 6259 6698
Website: https://osakaohsho.com.sg/
---
Have a Place to Recommend?
We need your help! Do you know any other noteworthy places that deserves to be added to this list? If so, do write to us via our email. Tropika Club will do a review of your recommendations and update the list accordingly.
---
Meanwhile, check out Tropika Club's Ecosystem of Websites

Tropika Club Magazine – Tropika Club Magazine crafts articles on all things Singapore, but with a greater emphasis on local businesses based on our #SupportLocalSG initiative. We check out and feature local businesses of all categories, ranging from your neighbourhood hawker stalls to the aesthetic clinics in town. We also cover local content ranging from beauty, lifestyle, places, eats and what's on in SIngapore. Our Top 10 rankings include local food and service establishments based in different regions in Singapore.
Tropika Club Deals – Search for the best voucher and coupon deals. Tropika Club Deals is ideal for customers who want to discover the best deals without having to commit to a specific appointment date and time. Choose from guaranteed discounted deals in the categories of hairstyling, hair removal, facial & aesthetics, body slimming, brows & lashes, nails & makeup, massage & spa or fitness & wellness. Customers can also buy vouchers as gifts or to use for the future.