Top 10 Best Limousine Pick Up Services in Singapore
Cruise around in style with the Best Limousine Pick Up Services in Singapore. These professional chauffeurs can drive for a wide range of special events, be it if its ferrying a VIP to and from a corporate event, or for smooth airport transfers, or to drop the bride and groom off on their wedding. These quality limousine transportation services comes with a wide selection of luxury limousines, all at a competitive price.
---
1. Maxicab & Limousine Singapore
Introduction:
Maxicab & Limousine Booking is a common sight in Singapore catering to a small/medium group of passengers who are looking to travel to and from one point to another as a group and most essentially in a spacious and comfortable setting.
Sure they might be pricier than your average taxi or Uber but they provide a wide range of services catering to almost any events, special occasions or needs.
Services and Price Range:
Corporate Transportation
Airport Transportation
Event & Meeting Transportation
at the price range of $35 – $65
Contact: +65 6689 2222
Website: https://maxicab.sg/
---
2. Prime Aces Limousine
Introduction:
Prime Aces Limousine is a Executive car service. They provide professional limousine service in Singapore and worldwide.
At Prime Corporate Travel, they believe trust is a privilege that has to be earned beyond the first impression.
To upkeep the trust with their clients, all their products and services go through a prudent screening to ensure every of your journey with them is as good as the first.
No matter for corporate clients or independent travelers, they take pride in making your travel experience a remarkable and memorable one.
Services:
Corporate ground transportation
Executive transportation

roadshows
limousines
Chauffeur Driven
Airports Transfer
Chartering
Location: 65 Chulia Street, OCBC Centre, Singapore 049513
Contact: +65 6100 5959
Website: https://www.primeaceslimousine.sg/
---
3. Singapore Limousine
Introduction:
Singapore Limousine was established in 1937 and they are the oldest limousine company in Singapore. They were initially approached by the British Royal Air Force where they were stationed in RAF Changi providing their limousine services to the RAF personnel and their families.
In later years they also provide their services to the Royal Australian Air Force and the Royal New Zealand Air Force.
Services and Price Range:
Contact: +65 9028 1304
Website: http://www.singaporelimousine.com/
---
---
4. Romaeus Limousine
Introduction:
They started limousine business since 2014 and established this company since 2018. Years elapsed and their business improved to serve more bigger companies and they hit over 2000 airport transportation per year. They worked hard to understand the needs of their clients. Slowly as years pass by, they dress formal, include tie with their attire, they train, study, implement, get client's feedbacks, provide more amenities and improve everyday. It is their company's target that good firm communication will bring them together.
Services and Price Range:
Contact: +65 8812 0015
Website: https://www.romaeus-limousine.sg/
---
5. Knight Limousine
Introduction:
Knight Limousine was established in 2018. They provide executive and luxurious limo services for their clients for any occasion.
Servcies:
Airport Transfer
Corporate Events
Special Events
Contact: +65 9366 0336
Website: https://www.knightlimousine.sg/
---
---
6. Prestige Limo
Introduction:
Prestige Limousine services in Singapore are amalgamated with timeless and trusted professional services to outreach the upper echelons of luxury.
Prestige Limo Singapore provides you with their courteous, experienced and clean record of drivers, exclusively to meet their selection criteria that centers on privacy, safety and to ensure a happy ride for their clients. Private cars in Singapore with professional chauffeurs will never disappoint you and make your trip to Singapore smooth and splendid. The Best limousine service in Singapore.
Services and Price Range:
Location: 10 ANSON RD, #10-11 INTERNATIONAL PLAZA, SINGAPORE,079903
Contact: +65 9655 0807
Website: https://prestigelimo.sg/
---
7. EHB Limousine
Introduction:
EHB Limousine is a reliable and professional company that offers quality limousine service in Singapore. They have provided unparalleled elegance and premier comfort to some of Singapore's most prominent corporations. With their highest calibre of vehicles, exemplary service and professional chauffeurs, they ensure that you arrive in style anywhere in Singapore.
Services:
Location: EHB Limousine Pte Ltd, 70 Ubi Crescent #01-12, Ubi TechPark, Singapore 408570
Contact: +65 6292 7575
Website: https://ehblimousine.com.sg/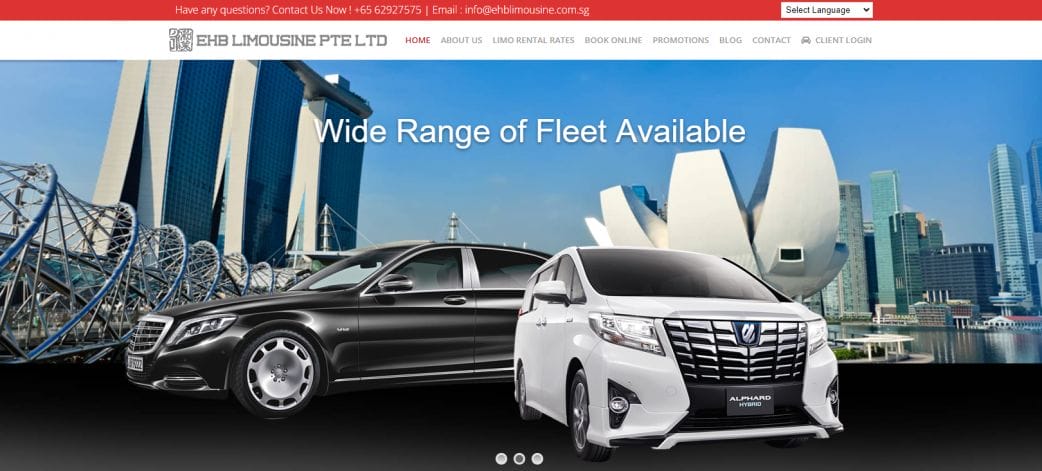 8. Sunlimos Services
Introduction:
Sunlimos Services offer travellers an array of choices for a charter tour in Singapore. Such as arrival and departure of airport transfers, corporate meetings, events, medical chaperon and many other types of transport services.
All vehicles are driven by reliable, courteous and highly experienced chauffeurs who have very good knowledge of the Singapore route system.
Services:
Airport Transfer Services
Corporate Services
Tourists Services
Wheelchair Service
Specialized Services
Contact: +65 8332 2353
Website: http://www.sunlimos.com/
---
9. Limo Z
Introduction:
LIMO Z connects passengers to their vast network of licensed drivers and insured vehicles. They are dedicated to helping customers plan their transportation arrangements with the best possible service including Bus Booking Service, Corporate Limo Service, Limo Airport Transfer, City Tours at the most competitive price. Their fleet of newer model luxury vehicles are meticulously maintained and operated by courteous and professional drivers.
Services:
Location: 1 North Bridge Road, #01-02, High Street Centre, Singapore 179094
Contact: +65 9386 9485
Website: https://limo-z.sg/
---
10. Limo6 Limousine Service Singapore
Introduction:
Limo6 Limousine Service Singapore is one of the pioneer transportation services in Singapore which is in high regard due to its quality service and professionalism. The round the clock 24/7 limousine service is charged on an hourly basis with the trained chauffeur. The limousine service could be availed for city tour, parties, hotels or even for the wedding functions in Singapore.
Services and Price Range:
Location: 8 Selegie Rd, #04-12, Singapore 180008
Contact: +65 8755 3633
---
Have a Place to Recommend?
Your contribution is valuable to us! Are there any outstanding businesses that you believe should be added to our list? If so, please send your recommendations to us at [email protected]. Tropika Club will review your suggestions and update the list accordingly. Thank you for your help in making our list of businesses as comprehensive and accurate as possible.
---
Meanwhile, Check out Tropika Club's Ecosystem of Websites
Tropika Club Magazine – Tropika Club Magazine is a Singapore-based publication that features articles on a wide range of topics with a focus on local businesses and content for the region. The magazine emphasizes supporting local businesses through its #SupportLocal initiative, which includes coverage of everything from neighborhood hawker stalls to aesthetic clinics in town. In addition to highlighting local businesses, Tropika Club Magazine also covers a variety of local content, including beauty, lifestyle, places, eats, and what's on in Singapore and the Asia Pacific region.
Tropika Club Deals – Tropika Club Deals is a leading online deals and voucher shopping site in Singapore, offering amazing discounts on beauty, wellness, and fitness products and services. It's the perfect platform for customers who want to discover the best deals without having to commit to a specific appointment date and time. These deals are available at major beauty stores, facial salons, hair salons, and other brands in Singapore, with no minimum spend required. Choose from guaranteed discounted deals in the categories of hairstyling, hair removal, facial & aesthetics, body slimming, brows & lashes, nails & makeup, massage & spa or fitness & wellness. Tropika Club Deals is also ideal for customers who want to buy vouchers as gifts or to use for the future. So whether you're looking to save money on your next haircut or want to treat yourself to a relaxing massage, Tropika Club Deals has got you covered with the best voucher and coupon deals in Singapore!