Top 14 Best Beauty Salons and Spas in Tai Seng, Paya Lebar and MacPherson Singapore
Looking for the best beauty salons in Singapore, especially in the Paya Lebar, Tai Seng and MacPherson areas? Look no further! We've got you covered with our list of top beauty salons in Singapore. From facials, manicures to spa treatments, these beauty and spa salons provide quality treatments without breaking the bank, and you can be rest assured of their commitment to service standards and exemplary customer service.
No Time to Read? Here's a Snappy Summary of This Article
Varied Selection: Discover a range of top-notch beauty salons and spas offering diverse services in the Tai Seng, Paya Lebar, and MacPherson areas of Singapore.
Premium Treatments: Experience luxurious beauty treatments, including facials, massages, hair styling, and nail care, provided by skilled professionals in well-appointed environments.
Trusted Brands: Choose from a selection of renowned beauty brands, ensuring high-quality products and expert care for all your skincare and wellness needs.
Modern Facilities: Enjoy state-of-the-art facilities equipped with advanced technologies, providing a comfortable and rejuvenating experience during your beauty sessions.
Customer Reviews: Benefit from positive customer feedback, attesting to the excellent services, friendly staff, and satisfying results offered by these featured beauty salons and spas.
Convenient Locations: Easily accessible in the Tai Seng, Paya Lebar, and MacPherson areas, these beauty establishments provide convenient options for locals and visitors seeking exceptional beauty and relaxation services.
---
1. Wellaholic
Introduction:
Wellaholic is an award-winning aesthetic chain in Singapore with multiple outlets island-wide around Singapore. They are the experts in hair removal, body slimming, technology facials, hair regrowth and teeth whitening. Each of their staff has clocked over thousands of treatment hours as they conduct monthly trainings to ensure a high level of consistency and quality of treatments across Wellaholic outlets.
Wellaholic is also well-known for their transparent pricing and no hard-selling. They encourage their customers to book first, and pay only after the free consultation during the first appointment. They maintain an occupancy of 30-40% to ensure easy available of slots for booking.
Treatments:
WellaFacial™ is Wellaholic's signature facial regime, designed for customers who want an extensive all-inclusive facial regime which includes the latest technologies to promote cellular renewal and anti-ageing. WellaFacial™ provides additional free treatments to help the customer look their best at an affordable per-session pricing.
Unlike typical facials which involves steaming the face, and manual extraction of blackheads, etc., Wellaholic advocates the use of technology and scientifically proven methods to help the customers with their anti-ageing regime. The result– visible differences over the course of a three-to-six month period.
Location: Multiple Locations
Contact: Multiple Contacts
Website: wellaholic.com/wellafacial
---
2. Bon Aesthetics (Paya Lebar)
Introduction:
Bon Aesthetics was founded on the premise that beauty is an attitude, much like the attitude in life. They believe in having a positive and self-assured approach to beauty, preferring holistic treatments and ingredients that improve the health and well-being. At Bon Aesthetics, they focus on enhancing their customers' beauty and well-being through specially developed holistic and nature-inspired treatments. They are committed to creating a relaxing and enjoyable experience for their customers at their beauty salons.
Their logo identity aptly portrays Bon Aesthetics' warm personality and culture. The fusion of the letter "b" and "a" represents togetherness and oneness, portraying their warm relationship with their valued customers. The organic style of the logo connotes warmth and friendliness, depicting their personality; whereas the violet-red and green hue colour palette further conveys style and a carefree spirit.
Treatments:
Aqua Oxy Facial delivers oxygen to skin's deeper layers at high velocity of 200m/s. The surge of oxygen to the skin helps skin to better absorb nutrients and stimulate production of collagen, effectively plumping skin.
The skin-rejuvenating treatment brings the glow back to the skin using accessories such as oxygen spray, bio face lifting, oxygen injector, detox vacuum pen, oxy face mask to oxy jet peel.
Features & Benefits:
High-pressure separation system produces 98% pure oxygen
High velocity at the speed of 200m/s to peel the superficial layers of the skin
Lymphatic drainage vacuum pen
Reviving oxygen inhalation
Bio-current face lifting
Location: 8 Eunos Rd 2, #02-120, Singapore 408600
Contact: +65 8780 4677
Website: bon-aesthetics.sg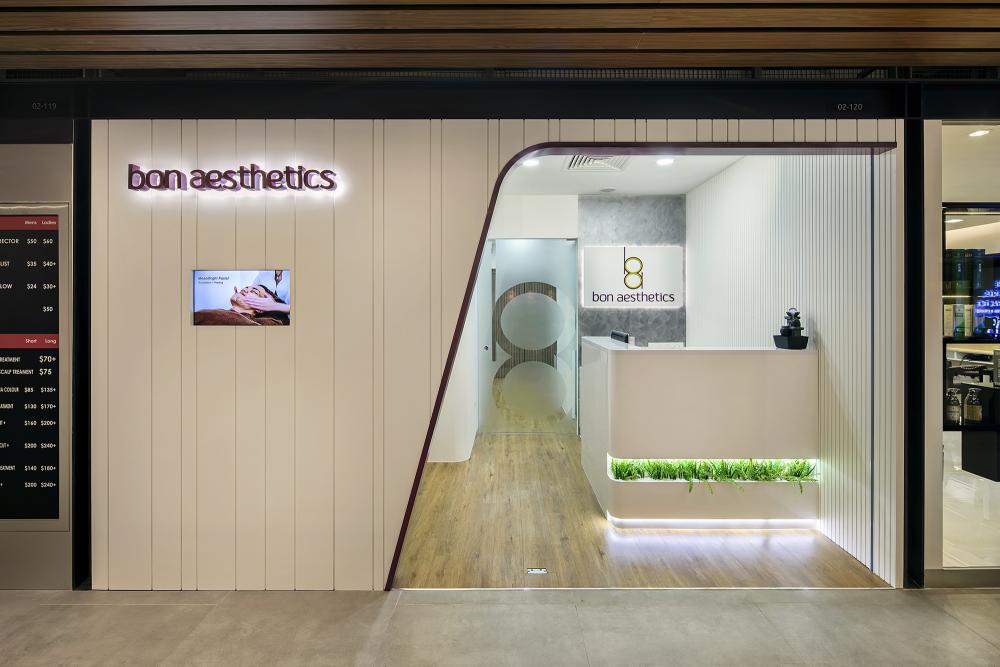 ---
3. Asian Skin Solution (Paya Lebar Square)
Introduction:
Having successfully served over 10,000 customers in Singapore, Asian Skin Solutions takes pride in being the go-to solution for Asian skin problems. They are committed to help you eliminate your skin concerns in the most relaxing environment, with the most professional, highly-trained therapists. They strive for you to walk out satisfied, pampered, and more confident than before. They engage in up-to-date research and new-age skincare technology to customise their solutions to your needs. With their specialised treatments, such as their signature Stemcell Renewal Facial, they work not only on your surface concerns but also on any underlying issues to ensure visible, long-lasting results.
Treatments:
Their expert therapists will take a closer and deeper look at your skin using their exclusive scanning system to assess and measure the current health of your skin. During this personal consultation, they will also find out more about your current skincare regime and lifestyle habits to make a more comprehensive assessment for a more effective solution plan.
This next step consist of a treatment that penetrates high concentrations of a customised product into the deeper layers of your skin to stimulate cell rejuvenation and repair to strengthen the foundation of your skin and gradually restore its health.
After fixing your skin from within, they finish off by addressing the more visible surface concerns. Depending on the problems they have identified, they will select a treatment to ensure you achieve a visible improvement of your skin concerns, be it relaxed lines and wrinkles, more radiant and luminous complexion, or reduced appearance of blemishes.
Location: 60 Paya Lebar Rd, #B1-37/40/41, Singapore 409051
Contact: +65 6243 6180
Website: asianskinsolution.com
---
---
4. LiquidSKIN
Introduction:
The mission is to provide today's women with best skin and hair removal options at the most affordable prices. LiquidSkin established since Year 2000, strives to provide its customers with latest development in the field of skin care and hair treatment. Be it delivery method, technology or products whilst maintaining harmony with environment using natural and organic products manufactured in Europe and Singapore under strict quality control and ISO 9001 environment.
LiquidSkin believes in sustainable development of the planet and where possible they try to use products and practices that are more environmentally friendly and reduce wastage. LiquidSkin products are tested before introducing these to their clientele thereby ensuring optimal results for their deserving clients. Extra care is taken to ensure that LiquidSkin products are gentle and suitable for sensitive skin and delivered in the most professional way by qualified and experienced therapists.
Treatments:
Facial is an important beauty procedure specially in today's environment where pollution and stress is common and makes the skin look dull and loose it's elasticity. Facials are here to bring back the lost glow. They have a number of facial options for different needs of their customers. Here are various facials offered at LiquidSkin salon: Facial treatment for Acne
Skin pigment treatment for uneven skin tone
Renewal facial treatment: A modern science treatment to stimulate the production of collagen and to boost the elasticity of your face. It also reduce dullness and improves natural skin glow.
Stem cell treatment: Stem cell treatment to improve hydrating of skin and improving the collagen production.
Stem cell eyes treatment: Stem cell eyes treatment to remove baggy eye issues and reduce the problems of dark circles naturally.
Whitening facial treatment
Ear candling: Ear candling service to remove dust and ear wax from your ears to make them clean.
Neck lifting treatment: Neck lifting treatment to reduce ageing signs such as wrinkles and to make your neck smooth and sleek.
Bust firming treatment: They offer special services to make your bust perky and firm without any workout or exercise.
Bust lymphatic massage for facial muscles: Special massage services to improve the circulation of lymph fluids on your breasts to remove toxins from breast tissues.
Location: 5 Stadium Walk, Singapore 397693
Contact: +65 6805 8194
Website: liquidskin.com.sg
---
5. CHEONGDAM Korean Skin
Introduction:
A unique treatment concept from Seoul where you can customise the different components of a face treatment for the best results. Find out how Korean beauties achieve flawless and smooth skin.CHEONGDAM Korean Skin Management, a skin centre offering fuss-free and personalised treatments which you can customise on your own at affordable prices.
Treatments:
CHEONGDAM Korean Skin's medical active oxygen program, adopted from Korean skin centres, is a non-invasive, natural and safe treatment that provides many benefits to the skin and body. This effective and popular treatment is a star program among many celebrities. This step includes scaling and infusion using pure medical oxygen activating solution for gentle exfoliating and pore cleansing. The solution is also beneficial in calming and soothing the skin.
Cheongdam's oxygen mist spray provides the skin with a refreshing and gentle blast of oxygen and deep sea minerals that both nourishes the skin and delivers a serum or ampoule solution deep into the skin in the form of a very fine mist. Oxygen Spray not only helps the skin absorb the liquid solution, but cleans the skin by providing essential minerals and reinforcing skin immunity, fighting bacteria and provides a cooling and calming effect for the epidermis.
Location: 10 Anson Road 02-35/36 S079903, 079903
Contact: +65 6222 3686
Website: cheongdamskin.com
---
---
6. Bliss Love Inc. Spa
Introduction:
At BlissLoveInc, they have great massage therapists waiting to help you relax. Their mission is to help you heal. They want you to leave your session feeling better, but their priority is your overall health.
Treatments:
Body massage is effective in reducing cellulite, improving blood circulation and increasing energy flow. Furthermore, Javanese massage aims to help with a wide range of ailments, including migraine, muscle and joint pain, sleep disorder, anxiety or depression.
Location: 55 Changi Rd, #01-25 Millage, Singapore 419718
Contact: +65 8526 3370
Website: https://blisslovespa.com/
---
7. DR. LASH
Introduction:
With 3 outlets island wide, they strongly believe in the highest standards of service, quality and skills of their therapists, the standard you would expect when you enter a clinic. When you enter DR. LASH, they expect your first impression of their staff to be well-groomed, tidy, and polite, and their décor to be contemporary, inviting, and comfortable.
Treatments:
It's interesting to think that the tiny hairs that happen to grow out of your eyelids make such a difference in your appearance, confidence, and subsequently, the daily life. They love the idea of flirtatiously batting an eyelash. They relish the thought of the term 'I Woke Up Like This'. This combination of ideas drove them to create DR. LASH, a salon focused on services such as eyelash extensions, eyebrow embroidery and facials. They believe that lashes can bring life, brows can frame a face and great skin can make you glow.
Location: Multiple Locations
Contact: Multiple Contacts
Website: drlash.com.sg
8. Jannah Hair & Beauty Salon
Introduction:
The owner / stylist of the salon has over 30 years of experience in the line of Hairstyling. Due to the limited Muslimah salons in Singapore, Jannah Hair & Beauty Salon was open, which provides head to toe services under one roof. The salon offers various services such as haircut, hairstyling, facial, body massage and hydrotherapy spa. Jannah Hair & Beauty Salon has a clean, spacious and private environment. Hair and beauty products from Wardah Cosmetics are sold at the salon, to cater to individual needs.
Treatments:
Jannah Hair & Beauty Salon, trusted brand for the past 15 years. Strictly for ladies. They provide head to toe service under one roof.
Professional haircut
Henna
Coloring
Highlighting
Perming
Hair and Scalp treatments
Facial treatments
Ear candling
Location: 970 Geylang Rd, #01-05 Tristar Complex, Singapore 423492
Contact: +65 6440 7574
Website: beautynailhairsalons.com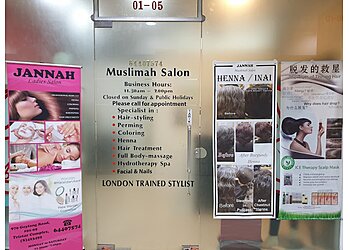 ---
9. Puris Wellness Facial Center
Introduction:
Beauty Salons and spas (including slimming, skin care and hair care centre)
Treatments:
Moisturizing and Rejuvenating Facial Treatment that solved: Dry skin and increased wrinkles around the eyes. Sagging face
Greasy face. Is there always been choosing a lot of skin-tightening skin care products without good results? Girls who love beauty do not have to worry about these problems Let my professional beautician help you solve these problems so that you can restore a bright, smooth and supple face. Reduction of fine lines around the eyes.
Location: 511 Guillemard Rd, Singapore 399849
Contact: +65 9344 1491
Website: facebook.com/Puriswellness
---
10. Cenosis Singapore
Introduction:
Founded in 1999, Cenosis is now recognized as a leading international slimming chain in Singapore , Malaysia and China. Armed with latest CE slimming technology including the required N2 license for their medical slimming technology and a team of dedicated and qualified specialists; Nutritionists ( degree and dip in food and science ), Physiotherapists ( degree in physiotherapist ) and therapist with diploma in CITBAC from UK , together with their IM medical clinic .They are dedicated and committed to deliver quality slimming result to you .
Treatments:
Faradic Current is a fabulous results oriented aesthetic slimming technology with the combination of low frequency of 47Hz-63Hz and music therapy. It burns 600 to 2400 calories in a 30 minutes session, stimulates the consumption of energy equal to a 6 to 9 mile run during a single session
It works on the principle of micro electrical and magnetic field and bio technology waves. Bio-technological waves increase metabolism by producing muscle movement. And the increase in metabolic rate causes weight loss and aid in more effective product penetration.
An electrical and magnetic wave produces immediate anti-aging and slimming effect. Only certified professional aesthetics slimming team from Cenosis are selected to perform these treatments using faradic current on their customers.
Location: 277 Orchard Road B2-36 Orchard Gateway Singapore, Singapore 238858
Contact: +65 6565 6626
Website: cenosis.biz
---
11. Perfect Beauty Brow House
Introduction:
Perfect Brow House is Best Professional Eyebrow Embroidery Salons in Singapore and Course Specialists in 3D and 6D Eyebrow Embroidery service, Korean, Misty Eyebrow Embroidery, Lip and Eyeliner Embroidery and also in Eyebrow Embroidery Removal.
Treatments:
Everyone into their eyebrow embroidery now. Eyebrow embroidery works are updated monthly to assure clients confidence. They offer ITEC Certification eyebrow embroidery course to everyone interested in the eyebrow industry in Singapore or Overseas. They specialized in semi-permanent makeup skills and techniques.
Location: 810 Geylang Road, City Plaza Shopping Centre #02-57/87 Singapore 409286
Contact: +65 6352 7012
Website: sgeyebrowdesigns
---
12. House Of Traditional Javanese Massage
Introduction:
The biggest renowned family Javanese Wellness Chain established in Singapore since 1999, The House Of Traditional Javanese Massage is currently operating 10 branches in Singapore with their Signature Branch located at the Harbourfront Center. With a vision to Deliver Health Through Compassionate Hands", they are dedicated to provide authentic a1-natural Javanese Care for the body and Mind.
Treatments:
Their Traditional Javanese body massage aids in relieving pain and aches. It improves blood circulation and increase energy flow. Patients with chronic headaches, fibromyalgia, lower back and neck pain, hypertension, depression and anxiety very often find relief through the benefits of massage therapy.
The Benefits of Indonesian Javanese Massage
The blood circulation gets improved and assistance is given to the lymphatic system by helping to eliminate the waste produced by the body.
It helps easing of tension, stiffness and pain, makes breathing better and helps to circulate the blood better.
This massage can stimulate and calm the nervous system, reducing fatigue and the leaves the receiver feeling more rejuvenated.
Relief from headaches, stiff neck, backaches, sore feet and fatigue
Boost energy to the body
Speedier recovery after birth
It can help tone the abdominal skin and to warm and soothe the internal organs and muscle
Help support the lower back and flatten the tummy
To get rid of wind in the body
Location: Multiple Locations
Contact: Multiple Contacts
Website: javanesemassage.com
---
13. Angel Xin Beauty
Introduction:
Angel Xin Beauty is a beauty company that specializes in hair care and grooming in Singapore.
Treatments:
Hair Extensions

Angel Xin Beauty's hair extensions will provide you with longer, thicker hair in just one to two hours. Beautiful hair you can wash and style as your own. Hair extensions are great for giving you instant length and volume to your natural hair. Hair extensions are methods of lengthening one's hair by incorporating 100% real human hair. These hair techniques are advanced and are used to change the hair drastically without looking unrealistic.
Eyelash Extensions

Your eyes are windows to your soul. Angel Xin offers 2 different kinds of eyelashes to your needs! Customize them accordingly today!

Cluster Lashes – Dramatic Lashes
Single Lashes – Natural Lashes, Fur Mink Lashes, Fairy Lashes, Lower Lashes and etc
Location: Multiple Locations
Contact: Multiple Contacts
Website: angelxin.com.sg
---
14. Pink Parlour
Introduction:
Pink Parlour is a pioneer hair removal salon since 2005 & Asia's largest spray tan chain. Their commitment to high treatment standards and service levels has won them much recognition and distinction within the industry and media.
Treatments:
Pink Parlour keeps it promise and does not disappoint. Their Services include:
Hair removal services
Nails services
IPL SHR hair-removal services
Spray tan services
Facials
Location: 6A Shenton Way, #03-17, OUE Downtown Gallery, Singapore 068815
Contact: +65 6100 8266
Website: pinkparlour.asia
Conclusion
When it comes to treating yourself to some much-needed pampering, the Tai Seng, Paya Lebar, and MacPherson neighborhoods in Singapore have got you covered. We've scoured these vibrant areas to bring you a carefully curated list of the finest beauty salons and spas that are sure to elevate your self-care game.
At Tropika Club Magazine, we understand the importance of looking and feeling your best. That's why we've taken the time to handpick these exceptional establishments that offer a wide range of beauty services. Whether you're in the mood for a relaxing massage to melt away stress, a rejuvenating facial to give your skin that radiant glow, or a stylish haircut and nail makeover, you can trust that these top-notch beauty spots have the expertise and skills to make it happen.
What sets these beauty salons and spas apart is their commitment to excellence. With trusted brands and experienced professionals at the helm, you can indulge in your chosen treatments with confidence, knowing that you're in capable hands. The modern facilities provide not only a sense of luxury but also a space where innovation meets relaxation, thanks to the incorporation of cutting-edge technologies.
But don't just take our word for it – the rave reviews from satisfied customers speak volumes. From the warm and welcoming atmosphere to the impressive results, these establishments have earned their spots on our list through their dedication to customer satisfaction.
Convenience is key, and that's why we've highlighted the accessible locations of these beauty havens. Whether you're a local resident or a visitor exploring the vibrant streets of Tai Seng, Paya Lebar, and MacPherson, you'll find it effortless to treat yourself to a well-deserved beauty escape.
So, why wait? Embark on a journey of self-care and indulgence by discovering the Top 14 Best Beauty Salons and Spas in Tai Seng, Paya Lebar, and MacPherson Singapore. Your path to ultimate relaxation and beauty begins here.
Frequently Asked Questions (FAQ)
Q: Are these beauty salons and spas suitable for men as well?
A: Absolutely! Many of the featured beauty salons and spas cater to both men and women, offering a range of services tailored to different preferences and needs. From rejuvenating facials to relaxing massages, there's something for everyone.
Q: How can I make a reservation at one of these establishments?
A: Making a reservation is easy. Simply visit the respective salon or spa's website, where you'll often find a dedicated booking section. Alternatively, you can call their contact number to speak with a friendly staff member who can assist you in scheduling your appointment.
Q: What type of skincare products are used during treatments?
A: The beauty salons and spas featured in the list use a variety of high-quality skincare products from trusted brands. You can expect to be treated with premium products that are specifically chosen to enhance your skincare routine and provide optimal results.
Q: Are walk-ins accepted, or do I need to book in advance?
A: While some places might accommodate walk-in customers, it's recommended to make a reservation in advance. This ensures that you secure your preferred time slot and guarantees that you won't miss out on the exceptional services offered.
Q: Do these beauty salons and spas offer package deals?
A: Yes, many of them offer enticing package deals that bundle together multiple services for a discounted price. These packages are a great way to experience a variety of treatments and make the most out of your visit.
Q: Are the staff members trained and certified?
A: Absolutely. The staff members at these beauty salons and spas are highly trained and often possess certifications in their respective fields. You can trust that you'll be in the hands of skilled professionals who are dedicated to providing top-notch services.
---
Have a Place to Recommend?
Your contribution is valuable to us! Are there any outstanding businesses that you believe should be added to our list? If so, please send your recommendations to us at [email protected]. Tropika Club will review your suggestions and update the list accordingly. Thank you for your help in making our list of businesses as comprehensive and accurate as possible.
---
Meanwhile, Check out Tropika Club's Ecosystem of Websites
Tropika Club Magazine – Tropika Club Magazine is a Singapore-based publication that features articles on a wide range of topics with a focus on local businesses and content for the region. The magazine emphasizes supporting local businesses through its #SupportLocal initiative, which includes coverage of everything from neighborhood hawker stalls to aesthetic clinics in town. In addition to highlighting local businesses, Tropika Club Magazine also covers a variety of local content, including beauty, lifestyle, places, eats, and what's on in Singapore and the Asia Pacific region.
Tropika Club Deals – Tropika Club Deals is a leading online deals and voucher shopping site in Singapore, offering amazing discounts on beauty, wellness, and fitness products and services. It's the perfect platform for customers who want to discover the best deals without having to commit to a specific appointment date and time. These deals are available at major beauty stores, facial salons, hair salons, and other brands in Singapore, with no minimum spend required. Choose from guaranteed discounted deals in the categories of hairstyling, hair removal, facial & aesthetics, body slimming, brows & lashes, nails & makeup, massage & spa or fitness & wellness. Tropika Club Deals is also ideal for customers who want to buy vouchers as gifts or to use for the future. So whether you're looking to save money on your next haircut or want to treat yourself to a relaxing massage, Tropika Club Deals has got you covered with the best voucher and coupon deals in Singapore!