Where to Find the Best Emsculpt Services on Orchard Road?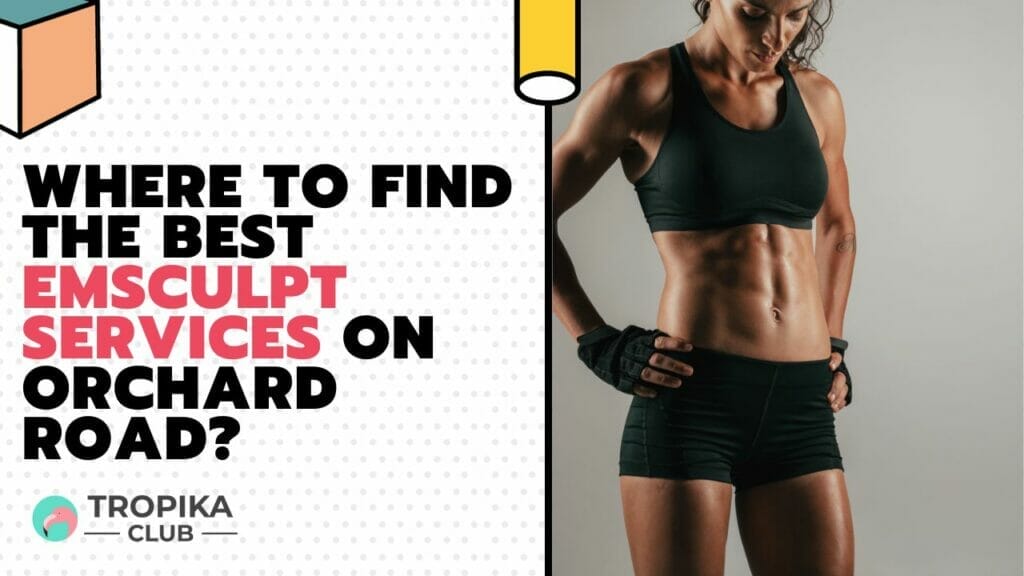 No Time to Read? Here's a Snappy Summary of This Article
Sculpt Your Dream Body: Discover Orchard Road's top Emsculpt providers for a revolutionary way to tone muscles and shed fat.
Redefine Fitness Effortlessly: Experience a non-invasive fitness journey that delivers results with minimal time and effort.
Orchard Road's Wellness Oasis: Explore the heart of Singapore's shopping district for cutting-edge Emsculpt treatments.
Celebrity-Approved Fitness Secret: Learn how Emsculpt has become the go-to choice for A-listers worldwide.
No Sweat, All Gain: Uncover how Emsculpt's electromagnetic technology can replace countless hours at the gym.
Orchard Road's Beauty Hub: Dive into Orchard Road's beauty and wellness scene for the latest in body sculpting trends.
Introduction
Looking to tighten your abs, perk up your booty, or just get those muscles in tip-top shape without breaking a sweat? If you're nodding your head, then you've probably heard of Emsculpt—everyone's go-to non-invasive body sculpting treatment these days. It's that magical procedure that builds muscle and burns fat with no surgery or downtime. Sounds like a dream, right? Well, if you're in Singapore and craving that Emsculpt magic, Orchard Road is the ultimate destination. It's not just a shopper's paradise; it's also a hotspot for cutting-edge beauty and wellness services. But with so many options, how do you know which place offers the best Emsculpt experience?
Don't stress, we've got your back! We've scoured the area, tried and tested various spots, and narrowed down the options for you. Keep reading to discover the best place to get Emsculpt treatments on Orchard Road.
---
#1 – Wellaholic (WellaMuscle)
Introduction:
WellaMuscle™ Muscle and Sculpt treatment is a non-surgical body contouring treatment that uses high-intensity focused electromagnetic energy (HIFEM) to induce supramaximal muscle contractions, which in turn leads to muscle strengthening and fat reduction. This treatment is also known as EMSculpt, EMShape, and EMSlim, which help improve the shape of the body by reducing fat and strengthening muscles.
WellaMuscle™ is typically done in a series of 30-minute sessions and can target five body parts as approved by FDA: Abdomen, Arms, Thighs, Buttocks, and Calves. The HIFEM energy is delivered through a pair of pads that are placed on the body. The pads are connected to a machine that generates the HIFEM energy to trigger muscle contraction for muscle-building and toning.
Prices start from $199 per session (for a 12-session plan) to $249 per session, which includes 2 applicators or probes that you can use to target anywhere.
Type of Services:
Hair Removal
Body Shaping
Hair Regrowth
Tech Facials
Teeth Whitening
Location:
Far East Shopping Centre #04-11C, 545 Orchard Rd, 238882
Contact: 8869 5640
Website: Website Link Here
---
#2 – MODE Aesthetics
Introduction:
MODE Aesthetics delivers award-winning results with innovative treatments ensuring 100% customer satisfaction with quality assurance. They believe that customer satisfaction is key to success. Only high-quality aesthetic equipment and products are used to ensure that customers receive the best treatments possible. All equipments are FDA-approved & CE Certified to ensure proven results without compromising on safety.
The MODE Aesthetics outlets are also strategically selected for convenience, just a stone's throw away from MRT stations, without compromising on privacy. The transitional designs of the outlets give customers the ultimate pampering experience to relax, refresh, and recharge during treatments.
Everyone is made differently and that's why at MODE Aesthetics, all the treatments are meticulously customized and crafted for each individual by using the latest equipment & technologies.
Type of Services:
Slimming
Hair Removal
Teeth White
Laser Facial
Location:
176 Orchard Rd, #03-33 The Centrepoint, Singapore 238843
Contact:  6737 4964
Website: Website Link Here
---
---
#3 – Prive Clinic
Introduction:
Laser Clinics offers medical-grade, industry-leading technology and the experience they need to get the results for their clients. At Laser Clinics, they understand that beauty isn't one size fits all, that's why they are committed to offering tailored beauty treatments for your individual needs and desired results.
With over 180 clinics globally, they are the largest cosmetic clinic in the world, and with a global team of over 1600 trained staff performing over 2.5 million treatments a year, they treat more men and women around the world than any other to get each client their best result.
Type of Services:
Laser Hair Removal
Cosmetic Injectables
Facial Contouring / Facelift
Anti-ageing & Skin Tightening
Bodyworks
Location:
390 Orchard Rd, #03 – 03, Singapore 238871
Contact: 9656 5380
Website: Website Link Here
---
---
#4 – U Aesthetics Medispa
Introduction:
U Aesthetic was founded by a group of experts with over 15 years of experience in the aesthetics industry. Their mission is to help you discover your aesthetic beauty by combining the latest technology with the perfect skillset. They offer customized treatments for all individuals, and their team of experienced aestheticians is equipped with the latest technology to ensure that you receive the best possible care.
Type of Services:
Body Treatment

Cyro 360 Fat Freeze
EM Shape Body Sculpture
Indiba Bio
SHR Hair Removal

Face Treatment

V Line Indiba Signature Facial
Waterdrop Shine, Cell Active Booster Facial
U Skin Booster
AC Acne, Hydro and CO2 Facial
Location:
360 Orchard Rd, #07-10 International Building, Singapore 238869
Contact: 8341 2728
Website: Website Link Here
---
#5 – Orchard Clinic
Introduction:
At Orchard Clinic, they pride themselves on their treatment success and adhere to strict treatment guidelines to ensure optimal results.
Orchard Clinic is a new treatment concept offering a unique method that provides high-quality conservative solutions for women's bodies from pre & post-pregnancy to pre & post-menopause.
As a specialized treatment center for women, they assess, prevent, and treat common conditions such as incontinence, pelvic floor issues, abdominal separation (diastasis recti), and vaginal laxity.
Type of Services:
Women's Health
Diastasis Recti
Incontinence
Pelvic Organ Prolapse
Skin & Tissues
Skin Laxity
Vulva & Vaginal Laxity
Body & Muscles
Fat & Cellulite
Stretch Marks
Location:
302 Orchard Road Tong Building 06-03 Singapore 238862
Contact: +65 6235 4560
Website: Website Link Here
---
#6 – Mendis Aesthetics Clinic
Introduction:
Dr. Rohan Mendis is the founder of Mendis Aesthetics and has over 20 years of experience in the field of advanced medical aesthetics and is highly respected in his chosen profession.
Type of Services:
Laser Skin Treatment
Skin Growth Removal
Male Aesthetic Treatments
Fractional Laser Hair Growth
HA Hydrating Facial and more
Location:
333A, #04-17 Orchard Rd, Singapore 238897
Contact: 6235 1728
Website: Website Link Here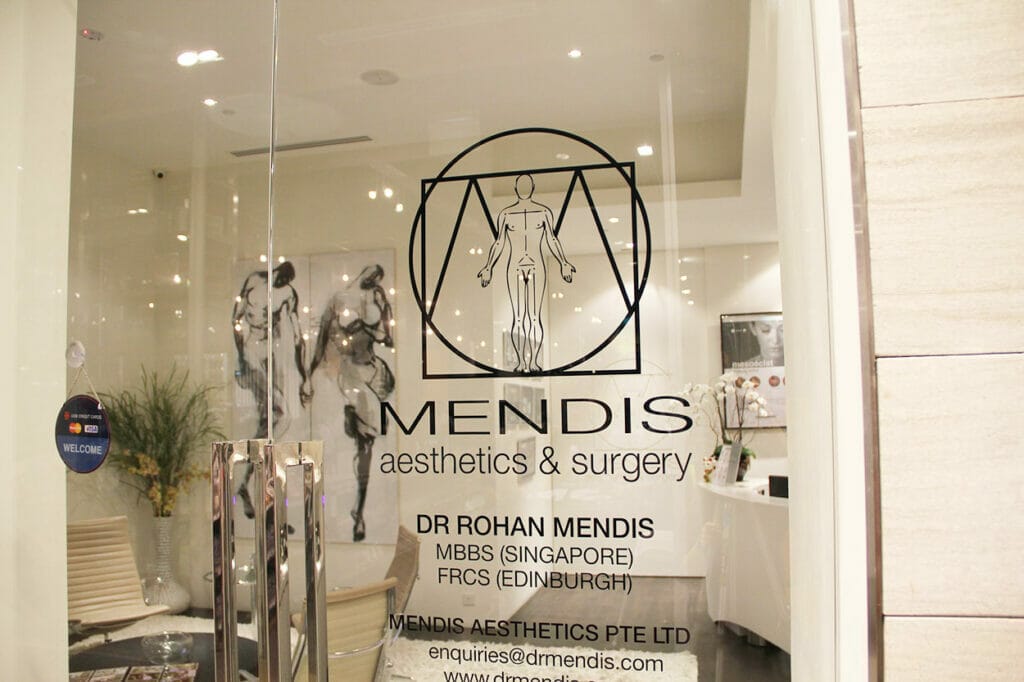 ---
_

Read Also:

Top 5 Best EmSculpt Services in Singapore for a Chiseled Body

_
---
#7 – Health Springs
Introduction:
They are a medical-aesthetics spa that offers a wide range of beauty treatments for the skin, face, and body. They use only medical-grade and clinically proven machines because safety and results are the two things they care about.
All treatments are formulated by doctors at Healthsprings and the procedures are performed by their experienced aestheticians. Their tranquil environment and soothing music allow you to wind down and relax.
They provide professional advice based on the individual's condition. Their dedicated team of aestheticians and staff are committed to giving their customers the best care and attention.
Type of Services:
Face and Skin Care
Dermalux Flex-LED Therapy
Eye Care
Body Contouring
Hair Aesthetic and more
Location:
541 Orchard Rd, #11-01 / 04 Liat Towers, Singapore 238881
Contact: 6836 8386
Website: Website Link Here
---
#8 – MH Plastic Surgery
Introduction:
They provide modern, sophisticated, refined, effective, and high-quality plastic surgery services and non-invasive procedures that enhance and rejuvenate the face, breasts, and body. They are discreetly located on the penthouse floor of Paragon Medical Tower in Singapore's Orchard Road shopping district, opposite Mount Elizabeth Orchard Hospital.
They welcome you to their new office which has been designed in a tasteful, sleek, and modern style with an emphasis on privacy, discretion, and clinical efficiency.
Dr Huang is ably supported by a team of friendly, skilled, and experienced nurses and allied healthcare personnel to ensure that you are well taken care of during your visit with them.
Most of their surgical procedures are performed as day surgery procedures at L20 Day Surgery Centre which is conveniently located across the corridor on the same floor as their clinic.
Type of Services:
Facial Plastic Surgery
Breast Surgery
Body Contouring Surgery
Non Surgical
Location:
290 Orchard Rd, #20-01 Paragon, Singapore 238859
Contact: 6733 3372
Website: Website Link Here
---
#9 – Bellezza Aesthetics
Introduction:
As a well-established aesthetics and beauty brand name, Bellezza Aesthetics has earned a strong reputation for its professional and dedicated service in bringing out the true beauty of every customer. Bellezza's treatments are transformational and have proven effective in providing the desired results for customers. Every Bellezza therapist undergoes strict professional training to ensure the highest quality and safety standards for customers' well-being. Bellezza takes pride in ensuring the highest quality and professionalism of service for every customer, which has garnered the brand many satisfied customers and raving reviews!
Type of Services:
Facial Treatments
Body Contouring
Hair Removal
Skin Rejuvenation
Medical Aesthetics
Wellness and Spa Services and more
Location:
501 Orchard Rd, Singapore 238880
Contact: 6223 2533
Website: Website Link Here
---
#10 – Dr. Cindy's Medical Aesthetics
Introduction:
They dedicate full attention to their patient's concerns, providing honest opinions on treatments needed. Whether you are looking for skin solutions, advice on beauty matters or simply looking to pamper yourself, you can be sure that you are in for a rejuvenating and revitalizing experience with their personalized and evidence-based medical aesthetics treatments.
Type of Services:
Acne and Scar Treatments
Non-Surgical Facelifts
Skin boosters
Filler Injections
Body Contouring
Laser hair removal
Customized Medical Facial treatments and more
Location:
360 Orchard Rd, #05-06 International Building, Singapore 238869
Contact: 6733 4433
Website: Website Link Here
Conclusion
When it comes to enhancing your physique and achieving those body goals, Emsculpt is undoubtedly a game-changer. And if you're on Orchard Road in Singapore, you're in luck, as this vibrant shopping district is also home to some of the best Emsculpt services in the city.
Tropika Club Magazine, your go-to source for all things wellness and beauty, has scoured the Orchard Road area to bring you the top recommendations for Emsculpt services. We understand the importance of choosing the right clinic or wellness center to ensure you get the best results while enjoying a comfortable experience.
Frequently Asked Questions (FAQ)
Q: What is Emsculpt?
A: Emsculpt is a non-invasive body contouring treatment that uses high-intensity electromagnetic technology to build muscle and burn fat simultaneously. It's perfect for those looking to enhance their physique without surgery.
Q: Where can I find Emsculpt services in Orchard Road, Singapore?
A: You can find Emsculpt services at reputable aesthetic clinics and medical spas along Orchard Road, including Wellaholic, Prive Clinic, and Orchard Clinic. These establishments offer professional Emsculpt treatments to help you achieve your desired body goals.
Q: How does Emsculpt work?
A: Emsculpt technology induces supramaximal muscle contractions, which cannot be achieved through regular exercise. These contractions lead to muscle growth and fat reduction, resulting in a more toned and sculpted appearance.
Q: Is Emsculpt safe and FDA-approved?
A: Yes, Emsculpt is FDA-cleared for its safety and effectiveness. However, it's crucial to consult with a qualified medical professional before undergoing the treatment to ensure it's suitable for your individual needs.
Q: How many Emsculpt sessions do I need for noticeable results?
A: While results may vary, many individuals notice improvements after just a few sessions. However, a full treatment plan typically consists of four to six sessions scheduled a few days apart for optimal results.
Q: What areas of the body can Emsculpt target?
A: Emsculpt is primarily used to target the abdomen and buttocks, helping to tone and strengthen these areas. Some clinics may also offer Emsculpt for the arms and thighs, depending on their equipment and expertise.
---
Have a Place to Recommend?
Your contribution is valuable to us! Are there any outstanding businesses that you believe should be added to our list? If so, please send your recommendations to us at [email protected]. Tropika Club will review your suggestions and update the list accordingly. Thank you for your help in making our list of businesses as comprehensive and accurate as possible.
---
Meanwhile, Check Out Tropika Club's Ecosystem of Websites
Tropika Club Magazine – Tropika Club Magazine is a Singapore-based publication that features articles on a wide range of topics with a focus on local businesses and content for the region. The magazine emphasizes supporting local businesses through its #SupportLocal initiative, which includes coverage of everything from neighborhood hawker stalls to aesthetic clinics in town. In addition to highlighting local businesses, Tropika Club Magazine also covers a variety of local content, including beauty, lifestyle, places, eats, and what's on in Singapore and the Asia Pacific region.
Tropika Club Deals – Tropika Club Deals is a leading online deals and voucher shopping site in Singapore, offering amazing discounts on beauty, wellness, and fitness products and services. It's the perfect platform for customers who want to discover the best deals without having to commit to a specific appointment date and time. These deals are available at major beauty stores, facial salons, hair salons, and other brands in Singapore, with no minimum spend required. Choose from guaranteed discounted deals in the categories of hairstyling, hair removal, facial & aesthetics, body slimming, brows & lashes, nails & makeup, massage & spa or fitness & wellness. Tropika Club Deals is also ideal for customers who want to buy vouchers as gifts or to use for the future. So whether you're looking to save money on your next haircut or want to treat yourself to a relaxing massage, Tropika Club Deals has got you covered with the best voucher and coupon deals in Singapore!