The Ultimate Guide to Sports Bars in Singapore
No Time to Read? Here's a Snappy Summary of This Article
Uncover Hidden Gems: Discover secret sports bars off the beaten path for an unforgettable game-day experience.
Foodie Heaven: Indulge in gourmet pub grub, from mouthwatering burgers to tantalizing international cuisine.
Themed Spectacles: Immerse yourself in sports-themed decor, from vintage memorabilia to cutting-edge technology.
Unique Brews: Sip on craft beers, signature cocktails, and exclusive brews while cheering on your favorite team.
Fan-Friendly Atmosphere: Join passionate fans, engage in lively banter, and soak up the electric game-day vibes.
Late-Night Thrills: Enjoy games late into the night with extended hours and post-match celebrations at select spots.
Introduction
When it comes to catching the big game, nothing beats the camaraderie and excitement of watching it live with fellow fans. But let's face it, not everyone has the luxury of jet-setting across the globe to be in the stands. That's where the charm of sports bars comes in! Singapore, the Lion City, offers a plethora of sports bars that redefine your game-day experience. Whether it's football, rugby, or F1 you're into, you'll find a corner where the big screen, cold beer, and electrifying atmosphere come together to make you feel like you're in the heart of the action.
In a city that never sleeps, having a go-to place to kick back and cheer for your favorite teams is practically a must-have. From laid-back local joints to upscale sports lounges, Singapore's got you covered. Our ultimate guide to sports bars in Singapore is the cheat sheet you never knew you needed. So, prep your jerseys and warm up your vocal cords as we take you on a grand tour of where to catch live sports in style in Singapore. Trust us; this is one list you'll want to bookmark for every game season.
---
#1 – The Penny Black
Introduction: The Penny Black Bar, often referred to simply as "Penny Black," is a charming and iconic establishment located in 26-27 Boat Quay, Singapore 049817, known for its unique and inviting atmosphere. Named after the world's first adhesive postage stamp, the Penny Black Bar combines elements of history and nostalgia with modern-day hospitality to create a one-of-a-kind experience for its patrons.
Menu Items:
Bacon Faggots (Price $22.47)
1950's Classic Burger (Price $25.68)
Magners Original Cider (Price $18.73)
Falling Apple Cider (Price $17.12)
Location: 26-27 Boat Quay, Singapore 049817
Contact: 6538 2300
Website: Website Link Here
---
#2 – Boomarang
Introduction: Boomarang is a café, bar & bistro which proudly serves fresh, authentic Australian cuisine while celebrating her charming culture.
Menu Items:
Olive Plate (Price $10)
Seafood Basket (Price $60)
Tuna Tataki (Price $27)
Wagyu Beef (Price $29)
Location: 60 Robertson Quay, #01-15 The Quayside, Singapore 238252
Contact: 6738 1077
Website: Website Link Here
---
---
#3 – Muddy Murphy's
Introduction:
Muddy Murphy's was designed and built to scale in Dublin, Ireland in 1996. It was then dismantled and shipped to Singapore in six 40-foot containers and assembled at its first location at the basement of Orchard Hotel Shopping Arcade by specialist Irish Pub fitters. In November 2013, the pub was relocated, along with many elements of the original décor, into the heart of Orchard Road at TripleOne Somerset. In August 2016, the pub moved back to its old location but it's now known as Claymore Connect.
Since then, Muddy Murphy's has become a solid institution as one of Singapore's pub industry icons.
Menu Items:
Nouveau Caesar Salad(Price $19)
Rack of Lamb (Price $35)
Bacon Wrapped Sausages (Price $13)
Spicy Chicken Drumlets (Price $15)
Location: 442 Orchard Road #01-02 to 05 Claymore Connect, 238879
Contact: 9396 6134
Website: Website Link Here
---
_

Read Also:

Top 10 Best Hair Removal Services in Central Singapore

_
---
#4 – Hero's
Introduction: HERO'S IS THE LATEST IN A LONG LINE OF ONE-OF-A-KIND CONCEPTS ESTABLISHED BY THE MOGAMBO ASIA GROUP. The sprawling 2,500sq ft. venue, located in a prime spot on Circular Road, is decorated in a contemporary yet timeless Old West Saloon style. Great news for beer aficionados: One of Hero's unique features is its one-of-a-kind VIP area, where patrons can pour their own ice-cold draft beer right at their tables. Each of the three booths within the VIP area is equipped with two draft-beer taps. The volume of beer consumed – either Asahi or Kronenbourg 1664 – is tracked electronically and displayed in real-time on a table-top tablet display. Simply let your server know how much you'd like to drink, or spend, and start pulling pints!
Menu Items:
Asahi Dry (Price $17/19)
Kris Pinot Noir (Price $110)
Bourgogne Chardonnay (Price $150)
Brooklyn Lager (Price $20/22)
Location: 69 Circular Road, #01-01, 049423
Contact: 6438 6058
Website: Website Link Here
---
#5 – The Public House
Introduction: The Public House, commonly referred to as "The Pub," is a classic and beloved establishment found in many communities around the world. It serves as a hub for social gatherings, relaxation, and the enjoyment of alcoholic beverages and food.
Menu Items:
Bacon Cheese Fries (Price $12)
Spaghetti Seafood Marinara (Price $15)
Deluxe Burger (Price $20)
Buffalo Wings (Price $18)
Location: 42 Circular Rd, Singapore 049398
Contact: 6533 3545
Website: Website Link Here
---
---
#6 – Al Capone's Sports Bar + Dining
Introduction: Al Capone's Sports Bar + Dining is a unique and exciting establishment that combines the charm of a classic sports bar with the timeless allure of the Prohibition-era gangster culture. Their venue offers a one-of-a-kind experience that transports guests back to the Roaring Twenties, a period marked by speakeasies, jazz music, and the notorious figure of Al Capone himself.
Menu Items:
Mafia Wings (Price $10.90)
Bangers & Chips (Price $15.90)
Salmon Steak (Price $22.90)
Al Capone's (Price $19.90)
Location: Kallang Wave Mall, 1 Stadium Pl, #01-15, 397628
Contact: 6282 5926
Website: Website Link Here
---
#7 – Mischief
Introduction: A beacon of nightlife in Esplanade, Mischief treads a fine line of fusion between honest American and South-East Asian Street Cuisine. Featuring age-old techniques, coupled with new and cutting-edge ingredient combinations, the dynamic team headed by Chef Mark Tang, continues to push boundaries of culture and credence.
Mischief is all about celebrating the communal nature of food, and the desire to be surprised and entertained. Whether you are planning a quiet dinner, or are in absolute need for an all out party night, this spot has you covered. Join the show, and expect to be charmed.
Menu Items:
Moby (Price $25)
Lovebird (Price $23)
The Classic (Price $23)
BBQ Baby Back Ribs (Price $45)
Location: 8 Raffles Ave., #01-10/12 Esplanade Mall, Singapore 039802
Contact: 6532 0480
Website: Website Link Here
---
#8 – Charlie's Restaurant & Bar
Introduction: During the day, sunlight bounces off the body of water as you enjoy the languid meanderings of passers-by. Because here at Charlie's, they welcome in the sunny island life with the cool of a margarita.
Their restaurant prides itself on variety. From their wide-ranging menu, they offer little bites of passion and foods of fancy. It's an indulgence of the being, a madness like no other.
In the evenings soak in the company with sangrias, tapas, and stone-grills. So Ladies and Gents, drop by Boat Quay and join in their evenings of cultivated food and drinks.
Menu Items:
Remy Pannier (Price $11/13/55)
Ata Rangi (Price $16/85)
Vionta (Price $15/75)
Siglo (Price $16/85)
Location: 32 Boat Quay, Singapore 049821
Contact: 6533 5880
Website: Website Link Here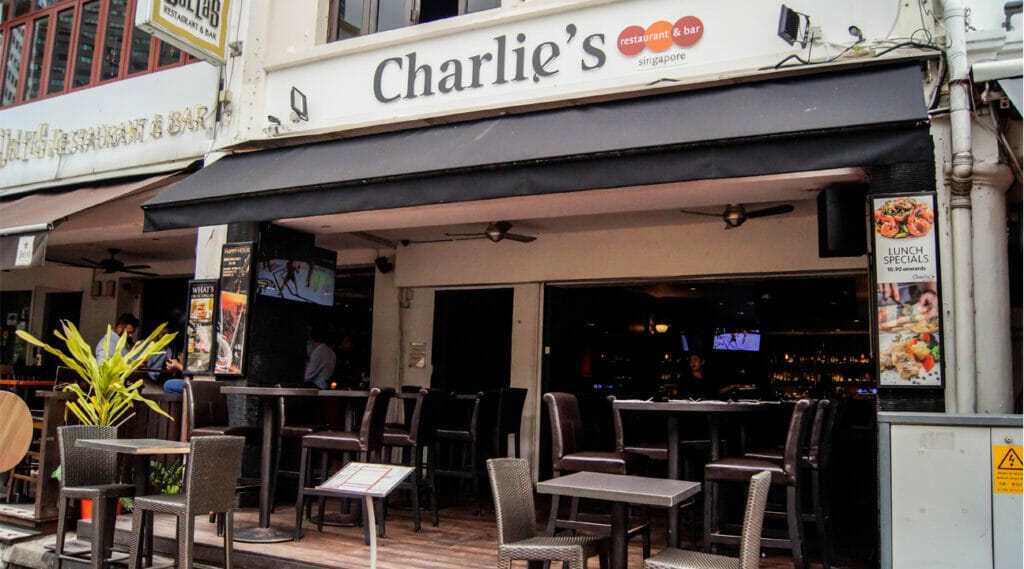 ---
#9 – Bar Soccer
Introduction: Looking for a unique place for your upcoming events? Check out this place!
Bar Soccer is a super kid-friendly sports bar featuring the Pool Ball game which is the highlight of the bar. Enjoy their in-house signature cocktails and bop to some great hits – soon there will be live music rocking Bar Soccer as well. For the kids and the non-alcoholic drinkers, there will be some in-house mocktails to quench your thirst as well.
Menu Items:
Chicken Chop (Price $16.9)
Pork Chop (Price $16.9)
Squid Ring (Price $15.9)
Nuts Platter (Price $15.9)
Location: Kallang Wave Mall, 01 Stadium Pl, 01-13, 397628 Floor 1 – Kallang Wave Mall, 397628
Contact: 9187 4096
Website: Website Link Here
---
#10 – The Lions Den
Introduction: The Lions Den is a sports bar located in the heart of Singapore's famous Club Street. They host four large screens showing a multitude of sports including Soccer, Rugby, American Football, Cricket & much more.
Menu Items:
Garden (Price $14)
Char Siu Noodle (Price $17.5)
Creole (Price $16)
Dirty Mouthful (Price $21.5)
Location: 60 Club St, Singapore 069435
Contact: 9726 3336
Website: Website Link Here
Conclusion
When it comes to sports bars in Singapore, Tropika Club Magazine is your trusted source for all things exciting and entertaining. Our team has scoured the Lion City to bring you the ultimate guide to these fantastic venues. We know that Singaporeans love sports, food, and a good time, and our guide combines all these elements seamlessly.
At Tropika Club Magazine, we believe in offering our readers valuable insights, and this guide is no exception. We've curated a list of sports bars that offer a diverse range of experiences. Whether you're a sports enthusiast, a food lover, or someone who enjoys the vibrant atmosphere of a bar, our guide has something for everyone.
We understand the importance of having a go-to spot to catch your favorite game while enjoying delicious food and drinks. That's why we've included details about the unique offerings of each sports bar. From their menu highlights to the ambiance, you'll find all the information you need to make an informed choice.
Our team has also paid attention to the finer details, like the themed decor and the variety of beverages available. We know that the right setting can elevate your sports-watching experience, and we've made sure to highlight bars that excel in this aspect.
But what truly sets Tropika Club Magazine's guide apart is our commitment to providing valuable and relevant content. We've included tips on the best times to visit these sports bars, ensuring that you have the most enjoyable experience possible. Plus, we've gone the extra mile by mentioning the late-night offerings, so you can keep the party going even after the game is over.
In a city as dynamic as Singapore, where the food and entertainment scene is ever-evolving, Tropika Club Magazine is your trusted companion. We're dedicated to keeping you in the loop and helping you discover new and exciting places to unwind and have a great time. So, dive into our ultimate guide to sports bars in Singapore, and get ready for an unforgettable sports-watching adventure that combines the thrill of the game with the joy of good food and company. Cheers to a fantastic time ahead!
Frequently Asked Questions (FAQ)
Q: Are these sports bars family-friendly?
A: Some sports bars in Singapore are family-friendly, offering a casual dining experience suitable for all ages. Check our guide for family-friendly options.
Q: Can I make reservations at these sports bars?
A: Reservations policies vary among sports bars. It's advisable to contact the specific venue for reservation details.
Q: Do these sports bars show international sports events?
A: Yes, many sports bars in Singapore broadcast a wide range of international sports events, from football to rugby. Check our guide for recommendations on where to catch your favorite games.
Q: Are there vegetarian or vegan options at these sports bars?
A: Most sports bars offer vegetarian and vegan options on their menus. Look for our recommendations for bars with diverse culinary offerings.
Q: Do these sports bars have happy hour promotions?
A: Yes, many sports bars offer happy hour promotions on drinks and food. Explore our guide for information on happy hour timings and deals.
---
Have a Place to Recommend?
Your contribution is valuable to us! Are there any outstanding businesses that you believe should be added to our list? If so, please send your recommendations to us at [email protected]. Tropika Club will review your suggestions and update the list accordingly. Thank you for your help in making our list of businesses as comprehensive and accurate as possible.
---
Meanwhile, Check out Tropika Club's Ecosystem of Websites
Tropika Club Magazine – Tropika Club Magazine is a Singapore-based publication that features articles on a wide range of topics with a focus on local businesses and content for the region. The magazine emphasizes supporting local businesses through its #SupportLocal initiative, which includes coverage of everything from neighborhood hawker stalls to aesthetic clinics in town. In addition to highlighting local businesses, Tropika Club Magazine also covers a variety of local content, including beauty, lifestyle, places, eats, and what's on in Singapore and the Asia Pacific region.
Tropika Club Deals – Tropika Club Deals is a leading online deals and voucher shopping site in Singapore, offering amazing discounts on beauty, wellness, and fitness products and services. It's the perfect platform for customers who want to discover the best deals without having to commit to a specific appointment date and time. These deals are available at major beauty stores, facial salons, hair salons, and other brands in Singapore, with no minimum spend required. Choose from guaranteed discounted deals in the categories of hairstyling, hair removal, facial & aesthetics, body slimming, brows & lashes, nails & makeup, massage & spa or fitness & wellness. Tropika Club Deals is also ideal for customers who want to buy vouchers as gifts or to use for the future. So whether you're looking to save money on your next haircut or want to treat yourself to a relaxing massage, Tropika Club Deals has got you covered with the best voucher and coupon deals in Singapore!