Your Go-To List for the Best Acne Scar Removal Treatments in Singapore
We all want a clean slate for the new year. The Best Acne Scar Removal Facials below will not only rejuvenate your complexion but maybe even your outlook for the year ahead. That said, there is no wunderkind ingredient or miracle technology that will zap away your acne scars. But fear not, the best acne scar treatments can actually significantly minimise blemish, discolouration, and uneven skin texture.
---
---
What Are Acne Scars?
Before we take a look at the salons, let's look at the basics of acne scars. What we think of as acne scarring is actually post-inflammatory hyperpigmentation or erythema, the brown or red spots on our skin. It's not actually a permanent change in the texture of the skin.
The discolouration that we see is because of an injury to the skin. The types of injuries can be due to inflammation, bacteria, and excess oil production. When the skin is trying to repair itself after an acne breakout, it could leave a mark behind. The mark's colour could be red, pink, brown, or tan, depending on the type of blemish and your skin tone.
There are a variety of acne scars. But usually, pimples that leave a scar have oil, bacteria, fluid, dead skin cells, and white blood cells. They stretch the skin as they take up space, causing inflammation that can break down the pore containing it, as well as the surrounding skin.
---
Read Also:
---
Is it possible to permanently remove acne scars?
It depends on the type of scar, and the extent of it. The lighter discolouration could fade with a bit of time, or topical treatments like serums and creams can help too. However, the deeper 'ice pick' kinds of scarring will take more than that.
Different acne scars require different types of treatment. But it's best to avoid trying too many treatments at any one time, and over-exfoliating might actually worsen your acne scars. So it's best to visit a dermatologist, no matter what type of scars you have. Plus, most of us actually have multiple types of scarring. That's why the professionals are moreable to find the suitable treatment for you.
---
---
The Best Acne Scar Removal Treatments in Singapore
The acne scar removal treatments in Singapore below are from a few of the best aesthetic salons in Singapore. Check them out!
1. Wellaholic
Wellaholic
Introduction: Wellaholic's vision is to help customers look their best with the best rates in Singapore. They offer a range of aesthetic services, including technology facials, microneedling, permanent hair removal, hair regrowth, fat freeze, RF body sculpting and teeth whitening. ​Wellaholic has seven outlets; at their Tai Seng HQ, as well as at Jurong East, Orchard, Clarke Quay, Tg Pagar and Lavender, with the latest outlet located at Bright Hill. Wellaholic believes in offering quality services to their customers, with excellent customer service and definitely no hard-selling.
The Treatment: Microneedling for Face is a collagen-stimulating treatment great for general skin rejuvenation. It treats textural issues dealing with pores, acne scars, wrinkles and pigmentation and has seen extensive positive clinical results, making this treatment a great alternative to laser skin resurfacing.
Microneedling can be done at a fraction of the cost when compared to surgical treatments. Microneedling creates micro injuries which stimulate the body's natural wound healing processes, resulting in cell turnover and increased collagen and elastin production, therefore reversing as well as preventing signs of ageing.
In Wellaholic, Microneedling is extremely effective for Acne Scars. A 2017 study of microneedling's effect on atrophic acne scars revealed that patients experienced noticeable clinical improvement in the look of their post-acne scarring after three months of microneedling treatments. (Source3). Gliding tiny micro needles over the skin breaks down collagen bundles in the top layer of the dermis, which are responsible for those uneven scars. A retinol-based serum in this instance would provide additional exfoliating power to smoothen the acne scars. About 4 to 6 sessions with a gap of 2 to 4 weeks per session are required for the most effective acne scar removal.
Check them out at:
---
EstheClinic Singapore (East Coast)
Introduction: EstheClinic is a new generation of beauty clinics in Singapore, combining medical expertise, ground-breaking technologies and cosmeceuticals for pain-free, non-invasive, extremely effective aesthetic treatments. With three locations already opened on the island and thousands of satisfied EstheClinic customers, their decision has proven well-founded. All EstheClinic treatments, from permanent hair removal to anti-ageing, skin rejuvenation to cellulite removal, are safe and designed to deliver instantly visible and long-lasting results.
The Treatment: EstheClinic treatments are exclusive, incorporating the most advanced medical and aesthetic equipment, the treatments are developed and validated by medical doctors.
AquaPure is one of our newest aesthetic skin care treatments that combines the benefits of next-level hydradermabrasion, a chemical peel, automated painless extractions and special infusion of antioxidants and hyaluronic acid. The skin is hydrated, pores are deep cleaned to perfection and your skin will get a whole new world of glow,a lasting and immediate change to the skin.
Soothe & Becalm LED photomodulation treatment will get rid of acne and acne scars thus achieving smooth, flawless skin. The painless treatment uses intense, but non-thermal, blue and red light technology that quickly and easily kills the bacteria that causes acne, without harming the surrounding tissue.
Check them out at:
---
---
Lush Aesthetics (Harbourfront Centre)
Introduction: LUSH Aesthetics is established in year 2011- It is where Beauty meets Science. They work closely with aesthetic manufacturers and suppliers from around the world to bring customers the latest technology in the aesthetic industry. LUSH Aesthetics delivers award-winning results with innovative treatments ensuring 100% customer satisfaction with quality assurance. They believe that customer satisfaction is key for success. Only high quality aesthetic equipment and products are used to ensure that customers receive the best treatments possible. All equipment are FDA-approved & CE Certified to ensure proven results without compromising on safety.

LUSH Aesthetics outlets are also strategically selected for convenience, just a stone throw away from MRT stations, without compromising on privacy. The transitional designs of the outlets give customers the ultimate pampering experience to relax, refresh and recharge during treatments. Everyone is made differently and that's why at LUSH Aesthetics, all treatments are meticulously customized and crafted to each individual by using the latest equipment & technologies.
The Treatment:
Acne Scar treatment includes:
Fractional RF
Fractional Microneedle RF Laser Technology
Uneven skin tone treatment includes:
BB White + Foundation
Vitamin C Skin Booster
Neoglow 3-IN-1 Super Facial
Neogen Nitro Plasma
Check them out at:
Location: 1 Maritime Square, #02-65, Harbourfront Centre, Singapore 099253
Hotline: +65 6256 4698 / +65 9018 8424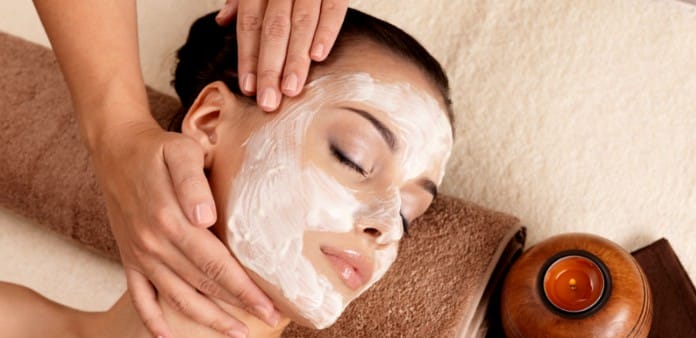 Maska Beauty
Introduction: Started with a history of 20 years from November 1997. Maska Beauty exists to enhance their customers' beauty, focusing on providing sincere services for the sole purpose that their customers would shine with glowing and healthy complexion after a visit with them. They are always looking forward to providing more than their customers' requested needs on every visit. Most of their regulars recommended their friends to join and by word of mouth, a pool of regular customers never leave,
Coupled with the latest technology and well-trained beauticians, Maska Beauty offer services at affordable prices, and they ensure that you will be satisfied with their friendly services and leave their salon with new-found confidence and radiance!
The Treatment: Diamond Peel: This method of facial exfoliates your skin by using multi-degree diamond tipped wand through continuous scrubbing and "vacuum" the top-most layer of the skin. It helps to improve uneven skin coloring and aging spots, superficial acne scars, sun-damaged skin and aging fine lines, dry rough skin and large pores
Check them out at:
---
We need your help! Do you know any other noteworthy content or articles to be added to our magazine? If so, do write to us via our email at [email protected]. Tropika Club will do a review of your recommendations and update the list accordingly.
---
Meanwhile, check out Tropika Club's Ecosystem of Websites

Tropika Club Magazine – Tropika Club Magazine crafts articles on all things Singapore, but with a greater emphasis on local businesses based on our #SupportLocalSG initiative. We check out and feature local businesses of all categories, ranging from your neighbourhood hawker stalls to the aesthetic clinics in town. We also cover local content ranging from beauty, lifestyle, places, eats and what's on in SIngapore. Our Top 10 rankings include local food and service establishments based in different regions in Singapore.
Tropika Club Deals – Search for the best voucher and coupon deals. Tropika Club Deals is ideal for customers who want to discover the best deals without having to commit to a specific appointment date and time. Choose from guaranteed discounted deals in the categories of hairstyling, hair removal, facial & aesthetics, body slimming, brows & lashes, nails & makeup, massage & spa or fitness & wellness. Customers can also buy vouchers as gifts or to use for the future.