10 Facts About Singapore Cuisine That Will Shock You
No Time to Read? Here's a Snappy Summary of This Article
Diverse Fusion: Singaporean cuisine blends Chinese, Malay, Indian, and more, creating a tantalizing mix of flavors.
Hawker Centers: Vibrant street food culture thrives in hawker centers, offering affordable and delicious dishes.
Chili Crab Sensation: Chili crab, a national favorite, is a messy, spicy, and utterly addictive dish.
Durian Controversy: The pungent durian fruit is either adored or loathed, dividing locals and tourists alike.
World's Cheapest Michelin-Star: Liao Fan Hong Kong Soya Sauce Chicken Rice & Noodle is the world's cheapest Michelin-starred restaurant.
Noodles Galore: From laksa to Hokkien mee, Singapore boasts an array of noodle dishes that will leave you craving more.
Introduction
Singapore, a global hub of culinary diversity, offers an intricate mosaic of flavors that represents its multicultural community. While you might be familiar with iconic dishes like Hainanese Chicken Rice or Chilli Crab, Tropika Club Magazine delves deeper to reveal 10 shocking facts about Singapore Cuisine that will surprise even the most seasoned foodies.
---
1. Early Beginnings
You might be surprised to know that some iconic Singaporean dishes have roots dating back centuries. For instance, Satay, a popular skewered meat dish, was introduced by the Arab traders in the 19th century. Similarly, Hokkien Mee has a rich history connecting it to Chinese immigrants who came to Singapore for better opportunities. These dishes are not just tasty; they're historic!
2. Cross-Border Influence
Despite its small geographical size, Singapore's cuisine is a melting pot of influences from various countries. Be it Indian, Malay, Chinese, or Western, the influence is clearly discernible. For example, Roti Prata, a versatile dish in Singapore, has its roots in the Indian subcontinent, while Laksa is a marriage of Chinese and Malay culinary techniques.
---
---
3. Michelin Stars and Hawker Stalls
One of the most mind-boggling facts about Singapore's food scene is the presence of Michelin-starred hawker stalls. Yes, you read it right. Stalls like Hill Street Tai Hwa Pork Noodle and Liao Fan Hong Kong Soya Sauce Chicken Rice & Noodle have achieved this prestigious honor. A testament to the quality and ingenuity of Singapore's local cuisine.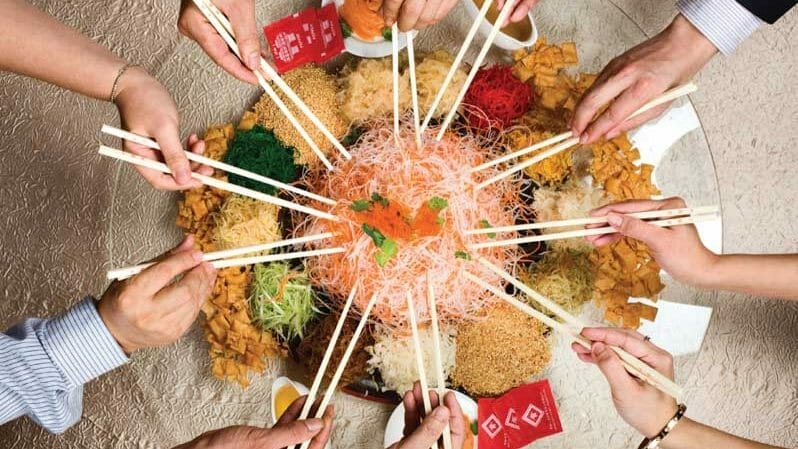 4. Rituals and Superstitions
Singaporean cuisine is not just about eating; it's about culture. From how you sit, the order in which food is served, to the act of saying 'Let's eat' ('Jiak' in Hokkien) before a meal—every detail matters. For instance, during Chinese New Year, a dish called "Yu Sheng" is mixed using chopsticks in a specific manner to invite good luck.
5. Unique Ingredients
Where else but Singapore can you find exotic ingredients like Buah Keluak, a black nut from the mangrove tree, or Bunga Kantan, also known as torch ginger flower? These ingredients aren't just exotic but often have deep cultural or medicinal significance. For instance, Buah Keluak is often used in Peranakan dishes, a testament to the ingenuity of early settlers.
6. Fusion Creativity
Singapore is not just a melting pot; it's also a culinary laboratory. Fusion dishes such as Chili Crab Ice Cream and Hainanese Chicken Rice Sushi may sound bizarre, but they're examples of the island's never-ending culinary innovation. Chefs in Singapore continually push the envelope to create something extraordinary from the ordinary.
_

Read Also:

14 Best Singaporean Local Cuisine and Foods You Must Try

_
7. Iconic Food Trails
The cuisine in Singapore is so deeply rooted in its culture that there are entire food trails dedicated to specific cuisines. Imagine a walking tour where you explore the historical contexts of dishes while relishing them! From Chinatown Food Street to Little India, these trails offer a deep dive into Singapore's culinary history.
8. Health-Conscious Shift
In recent years, there has been a considerable shift towards healthy eating in Singapore. Whether it's vegan Laksa or gluten-free Char Kway Teow, Singaporeans are increasingly mindful of what they consume. Several initiatives like the Healthier Dining Programme by the Health Promotion Board aim to make local dishes healthier without compromising taste.
9. Competitive Food Challenges
While it may sound amusing, Singapore takes its food seriously enough to have competitive eating challenges. For example, there are contests where people battle to consume the most number of Chilli Crabs or Satay sticks within a given timeframe. These contests are not just for bragging rights but also reflect the passionate relationship Singaporeans have with their food.
10. Price Extremes
In Singapore, food prices can range from extraordinarily affordable to exorbitantly high. You can enjoy a satisfying plate of Chicken Rice for as low as $3 at a hawker center or splurge on a gourmet, Michelin-star meal that could cost upwards of $500 per person. This range reflects the egalitarian nature of Singaporean cuisine, where food is accessible yet can be a luxury.
Conclusion
In conclusion, Singaporean cuisine is an epic tale told through an array of spices, ingredients, and culinary traditions. It mirrors the island's history, diversity, and the indomitable spirit of its people. With each bite, you're not just satisfying your taste buds, but also becoming a part of Singapore's rich, multicultural tapestry.
Frequently Asked Questions (FAQ)
Q: What are some must-try dishes in Singapore cuisine?
A: Some must-try dishes in Singapore cuisine include Hainanese Chicken Rice, Char Kway Teow, and Satay.
Q: Where can I find the best hawker centers in Singapore?
A: You can find the best hawker centers in Singapore at places like Maxwell Food Centre, Lau Pa Sat, and Chinatown Complex.
Q: Is Singaporean cuisine suitable for vegetarians and vegans?
A: Yes, Singaporean cuisine offers plenty of vegetarian and vegan options, such as Vegetarian Bee Hoon and Roti Prata without egg.
Q: Are there any unique dining experiences in Singapore?
A: Yes, you can enjoy unique dining experiences like dining in a Peranakan restaurant for Nyonya cuisine or trying seafood by the East Coast Park.
Q: Can you recommend some dessert options in Singapore?
A: Don't miss out on trying traditional desserts like Chendol or innovative treats like ice cream sandwiches from street vendors.
Q: How can I learn to cook Singaporean dishes at home?
A: You can learn to cook Singaporean dishes at home by attending cooking classes or following online recipes from Singaporean chefs and food bloggers.
---
Have an Article to Suggest?
Tropika Club is always looking for new and exciting content to feature in their magazine and they value the input of our readers. If you have any noteworthy content or articles that you believe would be a great addition to Tropika Club's magazine, we are open to suggestions and encourage you to reach out to us via email at [email protected]. By doing so, Tropika Club values your expertise and knowledge in the matter and appreciates your willingness to help. We will review your recommendations and update our list accordingly
Meanwhile, Check Out Tropika Club's Ecosystem of Websites
Tropika Club Magazine – Tropika Club Magazine is a Singapore-based publication that features articles on a wide range of topics with a focus on local businesses and content for the region. The magazine emphasizes supporting local businesses through its #SupportLocal initiative, which includes coverage of everything from neighborhood hawker stalls to aesthetic clinics in town. In addition to highlighting local businesses, Tropika Club Magazine also covers a variety of local content, including beauty, lifestyle, places, eats, and what's on in Singapore and the Asia Pacific region.
Tropika Club Deals – Tropika Club Deals is a leading online deals and voucher shopping site in Singapore, offering amazing discounts on beauty, wellness, and fitness products and services. It's the perfect platform for customers who want to discover the best deals without having to commit to a specific appointment date and time. These deals are available at major beauty stores, facial salons, hair salons, and other brands in Singapore, with no minimum spend required. Choose from guaranteed discounted deals in the categories of hairstyling, hair removal, facial & aesthetics, body slimming, brows & lashes, nails & makeup, massage & spa or fitness & wellness. Tropika Club Deals is also ideal for customers who want to buy vouchers as gifts or to use for the future. So whether you're looking to save money on your next haircut or want to treat yourself to a relaxing massage, Tropika Club Deals has got you covered with the best voucher and coupon deals in Singapore!