7 Free things to do in Singapore
Singapore, although it is often deemed as one of Asia's most expensive tourist destination, is oozing with free excitement and attractions that would surely bring delight to backpackers and frugal travellers. As a matter of fact, you can even indulge on a hearty, healthy and tasty lunch without having to spend a dime in this extravagant Asian hub. From a magnificent light show to exciting nature trips, there are dozens of cool freebies in Singapore that may put you into a state of euphoria. Tropika Club has compiled 7 free things that you can do in Singapore.
---
1. Free walking tours in Singapore City
As a result of the super friendly and charming volunteers of Singapore Footprints, tourists may get guided walking tours for free on the Singapore River and Bras Basah each weekend.
Free Walking Tour: Chinatown By Tour operator: Dragon Day Tours
Mingle with Singapore's Chinese diaspora at landmarks such as Fuk Tak Chi Museum, which was once the oldest Chinese temple in Singapore, and Thian Hock Keng, the oldest Hokkien temple in Singapore. See Chinese areas of worship, such as the Buddha Tooth Relic Temple & Museum and Chinatown Sophisticated, to find out more about this group of migrant men and women. Enjoy a vast array of local dishes such as barbecued stingray and oyster omelette in Chinatown Food Street, which provides diners with a semblance of what early Singapore's road hawker stalls looked like. Keep a watch for Sago Lane–formerly called' the road of the dead' for its many funeral parlours, this area has developed into a bustling intersection of modern and traditional eateries.
For online bookings, learn more here or telephone +65 9151 7567.
2. Stop by the Singapore Art Museum on a Friday day
Every Friday, from six to nine in the evening, the Singapore Art Museum opens its doors without any fee to all art lovers and tourists. While Singapore boasts several excellent museums, galleries and exhibition spaces, the Singapore Art Museum (SAM) holds a particular place in the hearts of neighbourhood artists and aficionados and is the best destination for people who live to be inspired. Notice: Singapore Art Museum's buildings at Bras Basah Road and Queen Street are now undergoing renovation works and can be closed to the public from 2019.
A museum that is completely dedicated to contemporary art–using a finger on the pulse of the latest trends, expressions and innovations–this vibrant area is a stage, incubator and home to a number of the region's most gifted artists.
3. Wander around Little India
With its beautiful little shops and fragrant scents of oils, flowers and spices, a trip to Little India is a blissful journey for your perceptions. It is also a colourful adventure that would provide you with a flavor of the fascinating culture of India. Little India now is one of Singapore's most vibrant districts. As you wander down Serangoon Road and neighbouring roads, explore their mix of Hindu and Chinese temples, mosques and churches.
4. Explore Kampong Glam and the Arab Quarters
Arab Quarters, or also called Kampong Glam, is a laidback artsy district famous for its traditional Arabic fabrics, wares, as well as a flourishing fashion and literary arts arena. While Little India is memorable because of its fragrances, it is the vibrant colours of the stores of the Arab Quarter that stick in the memory. Textile stores and stores selling Persian carpets are the most notable, but you'll also find leather, perfumes, baskets and jewellery available. It's easy to spend a couple of hours weaving in and out of those stores, but don't expect a quiet window-shopping session — a few traders are old hands at drawing you into dialogue, and before you know it, you'll be filled up with sarongs, baskets and leather totes.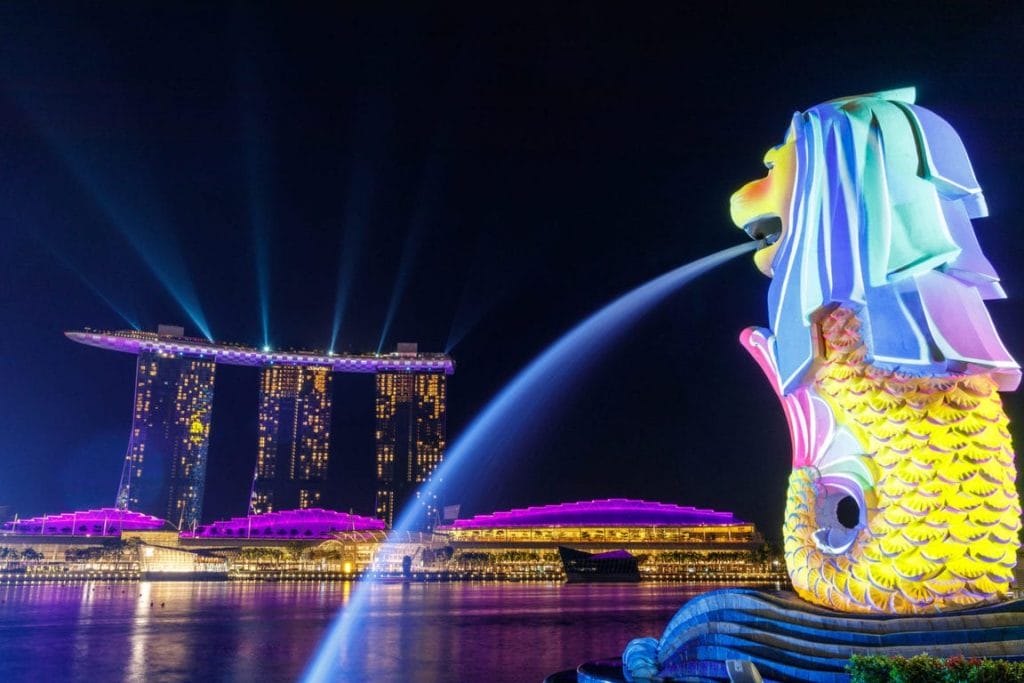 5. Get a selfie with a Singaporean icon, the Merlion
It's pretty much required for anyone who visits Singapore to pose a selfie or a photo with the Merlion, the tourist icon of Singapore. Its mind represents Singapore's unique name, Singapura, or 'lion city' in Malay. Now, you can glimpse this legend in Merlion Park. Spouting water out of the mouth, the Merlion statue stands tall at 8.6 metres and weighs 70 tonnes. This icon is a must-see for tourists visiting Singapore, very similar to other significant landmarks across the world.
Read Also:
6. See the Historic Botanical Gardens
Among the earliest and most stunning gardens in town, Botanic Gardens is a lush oasis full of amazing ponds, flowers, and massive trees. Established in 1859 from the Agri-Horticultural Society, 60 acres of property were changed from a disused farm to the favourite recreational backyard you see today. As well as becoming an ideal recreation venue for running, dining or simply lazing about, the sprawling grounds are also a major centre for botanical and horticultural research. Highlights include The National Orchid Garden, which boasts the world's largest orchid display, with over 60,000 plants and orchid plants.
7. Catch a free arts performance in the Esplanade
The Esplanade, with its incredibly designed thorny Durian outside, is definitely worth a visit because of its unique and spellbinding architectural merit. But, there's more to the glittering jewel than its brilliant architectural design. Billed as the premier performance centre in Singapore, the Esplanade also provides free cultural performances to the public on weekends.
---
Meanwhile, check out Tropika Club's Ecosystem of Websites
Tropika Club Magazine – Tropika Club Magazine crafts articles on all things Singapore, but with a greater emphasis on local businesses based on our #SupportLocalSG initiative. We check out and feature local businesses of all categories, ranging from your neighbourhood hawker stalls to the aesthetic clinics in town. We also cover local content ranging from beauty, lifestyle, places, eats and what's on in SIngapore. Our Top 10 rankings include local food and service establishments based in different regions in Singapore.
Tropika Club Deals – Search for the best voucher and coupon deals. Tropika Club Deals is ideal for customers who want to discover the best deals without having to commit to a specific appointment date and time. Choose from guaranteed discounted deals in the categories of hairstyling, hair removal, facial & aesthetics, body slimming, brows & lashes, nails & makeup, massage & spa or fitness & wellness. Customers can also buy vouchers as gifts or to use for the future.