7 Places for Delicious Macarons in Singapore
Colourful, pillowy, and finely flavoured, macarons are maybe one of the most well-known and treasured French desserts. This meringue-based sweet comes in many tastes and colours, from classic grated caramel to honey and lavender to the wildly fanciful fig and foie gras. If you are looking to try some delicious macarons, where can you find the best places for these lovely bite-sized desserts? Tropika Club will share with you seven places in Singapore where you can buy and try some lovely macarons.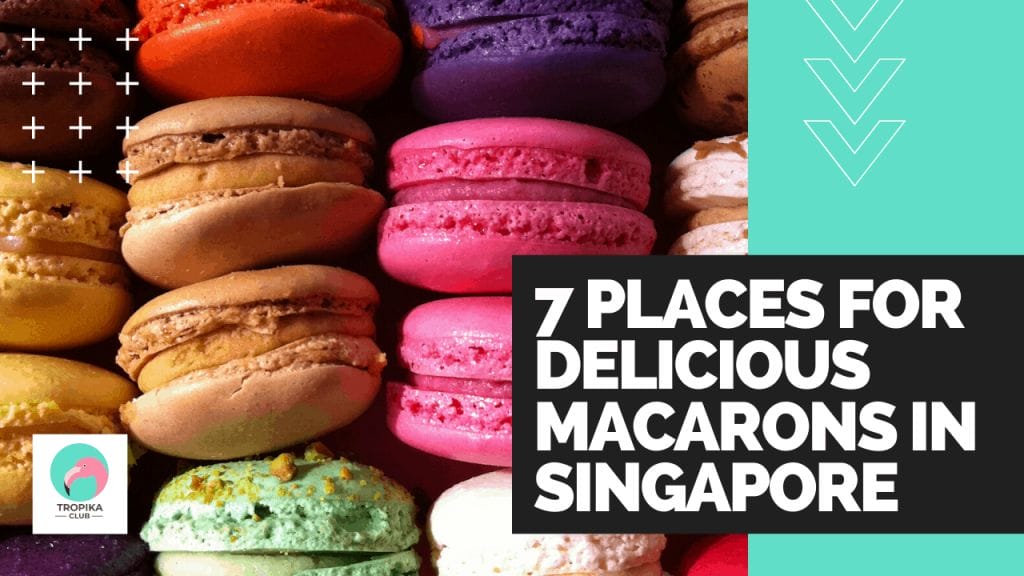 History of Macarons
Macarons are elegant little sandwiches which are made out of meringue, almond flour, and buttercream filling. Now that we have that figured out let's move on to some history.
The first known appearance of the macaron in Europe was back in the Middle Ages. At the moment, the macaron was a small sweet made of almonds, egg white and sugar and was crunchy on the outside and soft on the inside. Even though the French take credit for its macaron, Catherine de' Medici likely brought the Maccarone to France in the 16th century by Italy, where it had been generated in Venetian monasteries since the 8th century. Back then, they have been rather humbly called'warrior's bellybuttons,' due to the pastry's shape.
---
1. Ladurée
Situated at Ngee Ann City, you've probably already fallen in love with Ladurée. This classic and elegant Parisian bakery series is famous for their macarons world over. Have a great time munching on their rose petal macaron or vanilla if you prefer a more classic and authentic taste. Laudree
The story of the Ladurée macaron starts in the middle of the 19th century with Pierre Desfontaines, who first thought of taking two macaron shells and joining them with a delicious ganache filling. The recipe has not changed since. Ladurée's refined atmosphere, charged with history, drew David Holder and his father Francis Holder, founder of the Holder Group attention.
In 1993, they decided to buy this Parisian institution, and to promote and enlarge the famous "Maison". In September 1997, Ladurée opened at 75, avenue des Champs-Elysées. Francis Holder and David Holder, President of Ladurée, sough to create a refined, authentic location on the most beautiful avenue in the world in keeping with the image of the tea room on the rue Royale. Ladurée is a veritable song to sweets and pastry innovation. Every moment of creation is an intense experience, that is why, twice a year, like fashion designers, the House imagines news desserts such as the Rose Religieuse, the Rose- Raspberry Saint Honoré, the Liquorice Millefeuille and the Blackcurrant-Violet Macaron.
Laduree Counter: 391 Orchard Road, #01-24A, Takashimaya Shopping Centre, Ngee Ann City, Singapore 238872
Laduree Boutique: 391 Orchard Road, #02-09, Takashimaya Shopping Centre, Ngee Ann City, Singapore 238872
---
2. Bonheur Patisserie
Bonheur Patisserie is a homegrown pastry shop with almost a decade in operation, specialising in French pastries and macarons. Helm by founder and pastry chef Lin Weixian who is a two-time Pastry Chef of the Year finalist at the World Gourmet Summit Awards of Excellence. Bonheur Patisserie is known for artisanal handmade macarons with over 25 flavours using 100% natural ingredients and also the first to introduce novelty macarons in Singapore. Try Bobnheur if you are looking to get some French-styled macarons.
---
3. Macarons.sg
Macarons.sg was launched by Founder and Executive Chef Kevin Teo in 2013. His wife's love for macarons spurred him to create macarons for a dwelling. Quitting his job, Kevin started baking, taking in orders and soon opened a shop. Aside from the regular-sized round macarons found in their store at Syed Alwi Road, Macarons.sg also offers wedding door presents, macaron towers and even 5-inch giant macarons which can be used as special birthday cakes.
Halal-certified, there are approximately 28 macaron flavours for you to choose from. Along with regular tastes, Macarons.sg brings unique Asian flavoured macarons like the Asian Honey Mango, Chinese Lychee, Chinese White Peach, Ondeh Ondeh, Bandung and Thai Iced Tea.
210 Syed Alwi Road, Singapore 207743
---
4. TWG Tea Salon
This homegrown, global brand offers macarons infused with their signature teas. Regardless of what your choice of drink, there's guaranteed to be a made macaron that you relish. The two sweet pieces of delicate meringue made with vanilla powder and egg whites meet a luxuriously smooth tea-infused ganache, an ideal match for TWG's signature java.
By adding their signature teas to the recipe, TWG Tea Salon transforms the macaron into a uniquely memorable confection, handcrafted with the most exceptional ingredients, where two sweet pieces of delicate meringue made with almond powder and egg whites meet a luxuriously smooth tea-infused ganache. You can also purchase a box of assorted TWG Tea Macarons for $48 per box. https://twgtea.com/tea-table/gourmet-delicacies/twg-tea-macarons-assorted
---
---
5. Antoinette
For the uninitiated, Antoinette is as near a miniature French experience (in Singapore) as you may get. In addition to this cakes, this patisserie is notorious for offering twelve distinct flavours of macarons. Helmed by Chef Pang Kok Keong – one of the most talented pastry chefs in Singapore – is among the food critics' favourite dessert spots in town. Try their antoinette earl grey tea with chocolate, chloe and rose macarons, which will keep you wanting more, despite the sugar rush. Antoinette is one of our 7 places to get great-tasting macarons.
---
6. AnnaBella Patisserie
AnnaBella is not easy to locate (they are situated at Tai Seng area, at The Commerez @ Irving) but they have gotten their fair share of loyal fans over time. A Japanese-French inspired bakery which also specialises in Japanese light cream cakes and macarons, they produce exciting flavours such as Lychee Rose Martini, White Truffle, Passion Sling and Melontino, which are Japanese Musk melon-flavoured macarons with Vodka. These macarons make not only great gifts but also for your own consumption.
20 Bukit Batok Cres, #11-02 Enterprise Centre | ABP Central Kitchen, Singapore 658080
---
7. Patisserie G
Patisserie G is our last venue for the top 7 places for macarons in Singapore. Patisserie G was started by Gwen Lim in 2012 with the aim to provide great-tasting French pastry and baked goods to Singaporeans. Since then, Patisseries G has grown to two outlets at Millenia Walk and OUE Downtown Gallery. What's interesting with Patisserie G is that you can buy Macarons in a Box of 7 or 17, or a Premium Box of 27, or even a Macaron Tower of 42 pieces – which is definitely aesthetically pleasing yet ideal for gathering and parties.
---
Tropika Club Magazine – Tropika Club Magazine crafts articles on all things Singapore, but with a greater emphasis on local businesses based on our #SupportLocalSG initiative. We check out and feature local businesses of all categories, ranging from your neighbourhood hawker stalls to the aesthetic clinics in town. We also cover local content ranging from beauty, lifestyle, places, eats and what's on in SIngapore. Our Top 10 rankings include local food and service establishments based in different regions in Singapore.
Tropika Club Deals – Search for the best voucher and coupon deals. Tropika Club Deals is ideal for customers who want to discover the best deals without having to commit to a specific appointment date and time. Choose from guaranteed discounted deals in the categories of hairstyling, hair removal, facial & aesthetics, body slimming, brows & lashes, nails & makeup, massage & spa or fitness & wellness. Customers can also buy vouchers as gifts or to use for the future.