Feast on Singapore's Top 10 Fusion Restaurants!
Singapore is a melting pot of cultures, and its food is no exception. This article explores the top 10 fusion restaurants in Singapore that showcase the country's unique culinary identity. The list features a variety of cuisines, ranging from Chinese to Indian and even traditional local dishes. Each restaurant has its own specialty that makes it stand out and offers something special to its diners. From tantalizing seafood curries to creative stir-fries, these restaurants offer the best of both worlds.
---
#1 – Siri House
Introduction:
SIRI HOUSE is a lifestyle, social and dining space bringing together people, art, design, food, and retail – all essential elements for a sought-after place of gathering.
Everyone is welcome. Whether you're looking for a weekend brunch spot, a thoughtful gift for a friend or drinks and dinner with loved ones, SIRI HOUSE is the place to be.
Type of Services:
Lunch
Dinner
Private Dining Outdoors
Happy Hour
Location:
8D Dempsey Rd, #01-02 Dempsey Hill,
Singapore 249672
Contact:
+65 9487 1552
Website: Website Link Here
---
#2 – Butcher Boy
Introduction:
Butcher Boy Singapore is an Asian Fusion Bar & Grill set brought to you by the team at Cure Singapore.
Type of Services:
Delivery
Business set lunch
Sunday roast lunch
Location:
31 Keong Saik Road, Singapore, Singapore
Contact:
+65 6221 6833
Website: Website Link Here
---
---
#3 – The Dragon Chamber
Introduction:
The hostess gestures you toward the beer fridge as if to offer you a drink. But instead of pulling out a cold brew, the fridge door opens up a portal into another realm like something out of Alice in Wonderland.
Secretly located within a brightly coloured kopitiam, This hole in the wall offers an unconventional menu serving "guerilla style" food. The dishes are not clearly not your typical banquet style Chinese food.
Type of Services:
Event set menu
Drink
A la Carte Menu
Location:
2 Circular Road Singapore 049358
Contact:
+65 6950 0015
Website: Website Link Here
---
---
#4 – Saveur
Introduction:
A humble bistro serving hearty, honest french cooking. The cuisine showcase timeless regional classic dishes prepared from the best produce and superbly executed recipes.
Type of Services:
Saveur Bistro Experience
Fromages et Dessert
Non-Alcoholic Beverages
Location:
5 Purvis St, #01-04, Singapore 188584
Contact:
+65 6333 3121
Website: Website Link Here
---
#5 – Lady Wu
Introduction:
Crafting experiences is what drives us at Tipsy Collective, we do so with carefully curated elements through Live Entertainment, Gourmet Food and Premium Drinks. More importantly, each concept has a convivial core and an element of fun.
A Modern Asian Rooftop Bar in the heart of Boat Quay. Enjoy Live Music with a panoramic view of Singapore's Central Business District! 6 mins walk from Raffles Place Mrt.
Type of Services:
Ginger Chicken Soup
Main Dishes
Seafood
Fried
Location:
Attic Level, 11 N Canal Rd, The Offshore Building, 048824
Contact:
+65 8338 7479
Website: Website Link Here
---
#6 – Sum Dim Sum
Introduction:
Sum Dim Sum is a newly established dim sum brand. Started in 2019, our founder was inspired by the story of a father and son. Since the age of 14, the father was inspired to be a chef, especially for dim sum. He enjoys seeing smiles on faces after people enjoy his dim sum and hopes to continue his legacy.
The son, the current head-chef at Sum Dim Sum, wants to continue his fathers legacy by making handmade dim sum with the recipe passed on by his father. ​ Sum Dim Sum wants to be more than just a dim sum place for you and your loved ones to dine in. We want to be a place where new memories, laughter and happiness are created. At Sum Dim Sum, we pledge to provide you with quality food and services.
Type of Services:
SDS Signature Set
Dim sum Fried
Rice Roll
Baked
Location:
900 Bedok North Road, HometeamNS Bedok #02-02, Singapore, Singapore, 479994
Contact:
+65 8818 9161
Website: Website Link Here
---
_

Read Also:

Top 10 Best Dim Sum in Singapore

_
---
#7 – Si Chuan Dou Hua Restaurant
Introduction:
At Si Chuan Dou Hua Restaurant, our vision is to present an authentic Sichuan dining experience through cuisine, culture and tea.Every touchpoint with our guests are aimed at educating our diners to better understand the manifold flavours and facets of Sichuan cuisine.
A lifestyle brand of the Pan Pacific Hotels Group (PPHG), Si Chuan Dou Hua Restaurant has three restaurants in Singapore, of which two are located in PARKROYAL hotels managed by PPHG. The third restaurant is an independent outlet located on the 60th storey of the soaring UOB Plaza 1.
Positioned as an elegant restaurant group serving quality and authentic Sichuan cuisine, its prime locations in the city lend the brand an air of superiority not amounting to luxury.
As a subsidiary of a listed company, it possesses a credibility that translates to quality assurance in consumers' minds. This makes the restaurant the choice venue for various occasions including business entertainment, private and corporate functions, and weddings.
Type of Services
High Tea menu
Set menu
A la Carte menu
Location:
80 Raffles Place #60-01, #1 UOB Plaza
Contact:
+65 6535 6006
Website: Website Link Here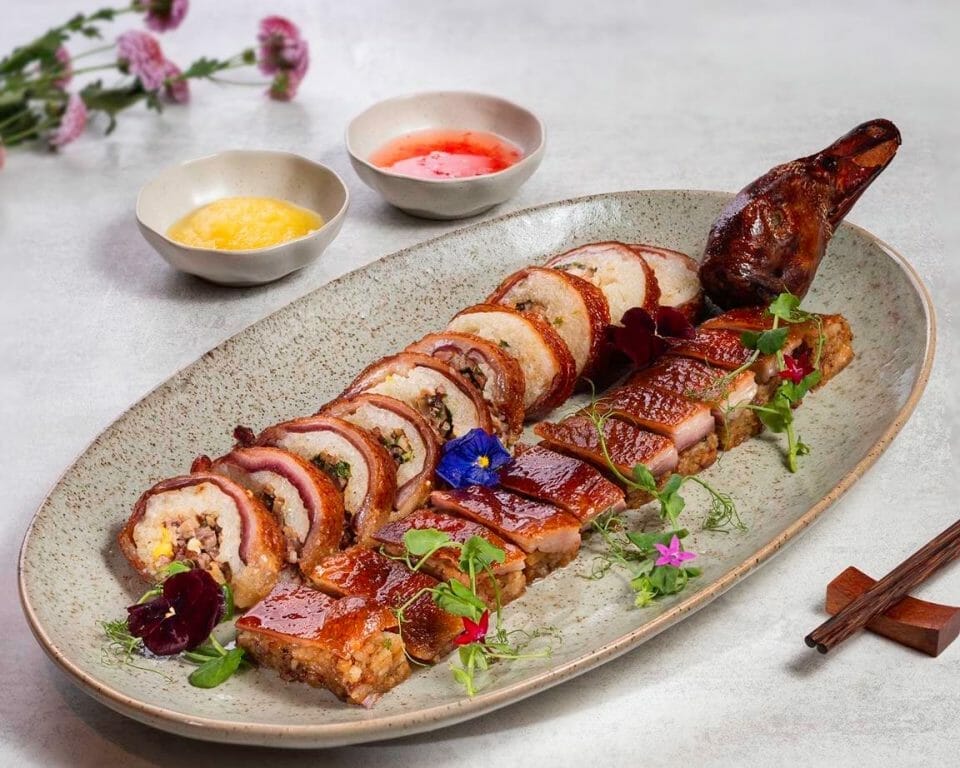 ---
#8 – 49 Seats
Introduction:
Every outlet has raw industrial ambience which is the brand identity of 49 Seats. The hanging lights and metal gates are some of the features you will notice and we also have artists who hand-drawn wall art and created one of the kind lights to add to the characteristics. Food and drinks are also served in the signature metal plate and mugs.
Type of Services:
Tom Yum Seafood Pasta
Smoked Duck Aglio Olio
Wicked Brownie
Location:
The Centrepoint #01-49, Singapore, Singapore
Contact:
+65 6225 4332
Website: Website Link Here
---
#9 – EagleWings Loft
Introduction:
EagleWings Loft features a casual yet sophisticated ambience, bringing you the finest cuisines from Eaglewings' travels around the region, that will take you on a colourful discovery of the East & West. Our signature dish "Lobster Risotto" is a fusion of the finest catch from the sea imbued with wholesome grain rice from land.
Type of Services:
Farmer Pizza
Smoked Salmon Croissant
Curly Fries
Lobster Aglio olio
Location:
9 King Albert Park, #01-33/34/56/57 KAP Residences Mall, Singapore 598332
Contact:
+65 8151 7777
Website: Website Link Here
---
#10 – In Bad Company Restaurant & Craft Beer Bar
Introduction:
They are In Bad Company. A place where the beer is cold and the people are real. A space made by the people for the people. Come in for food and have a beer or five.
Type of Services:
GRILLED MEATBALLS
SOFT SHELL CRAB
WAGYU SLICES
BARRAMUNDI
Location:
66 E COAST ROAD, THE FLOW MALL #05-17
SINGAPORE 428778
Contact:
Website: Website Link Here
---
Have a Place to Recommend?
Your contribution is valuable to us! Are there any outstanding businesses that you believe should be added to our list? If so, please send your recommendations to us at [email protected]. Tropika Club will review your suggestions and update the list accordingly. Thank you for your help in making our list of businesses as comprehensive and accurate as possible.
---
Meanwhile, Check out Tropika Club's Ecosystem of Websites

Tropika Club Magazine – Tropika Club Magazine is a Singapore-based publication that features articles on a wide range of topics with a focus on local businesses and content for the region. The magazine emphasizes supporting local businesses through its #SupportLocal initiative, which includes coverage of everything from neighborhood hawker stalls to aesthetic clinics in town. In addition to highlighting local businesses, Tropika Club Magazine also covers a variety of local content, including beauty, lifestyle, places, eats, and what's on in Singapore and the Asia Pacific region.
Tropika Club Deals – Tropika Club Deals is a leading online deals and voucher shopping site in Singapore, offering amazing discounts on beauty, wellness, and fitness products and services. It's the perfect platform for customers who want to discover the best deals without having to commit to a specific appointment date and time. These deals are available at major beauty stores, facial salons, hair salons, and other brands in Singapore, with no minimum spend required. Choose from guaranteed discounted deals in the categories of hairstyling, hair removal, facial & aesthetics, body slimming, brows & lashes, nails & makeup, massage & spa or fitness & wellness. Tropika Club Deals is also ideal for customers who want to buy vouchers as gifts or to use for the future. So whether you're looking to save money on your next haircut or want to treat yourself to a relaxing massage, Tropika Club Deals has got you covered with the best voucher and coupon deals in Singapore!