10 Interesting Facts about Kusu Island You Didn't Know
No Time to Read? Here's a Snappy Summary of This Article
Cultural Tapestry: Kusu Island weaves a rich blend of Chinese temples, Malay shrines, and vibrant multicultural festivities.
Island Exploration: Beyond Kusu, discover the allure of nearby Lazarus and St. John's Islands with captivating natural beauty.
Annual Pilgrimage: Experience the island's spiritual heartbeat during the annual Kusu Pilgrimage, embracing diverse religious celebrations.
Family-Friendly Oasis: A serene escape for families, featuring a turtle sanctuary, historical sites, and a tranquil natural environment.
Landmarks of Significance: Uncover the stories behind Kusu Island's iconic landmarks, including the revered Da Bo Gong Chinese temple and Malay shrines.
Accessible Adventure: Easily reach Kusu Island via ferry from Marina South Pier, unlocking a convenient yet enriching escape from mainland Singapore.
---
Introduction
Welcome to another exciting edition of Tropika Club Magazine! Today, we're taking you on a virtual journey to one of Singapore's lesser-known treasures—Kusu Island. Situated just 5.6 km to the south of the main island of Singapore, Kusu Island is more than just a weekend getaway. It's a place steeped in history, culture, and natural beauty. So, fasten your seat belts as we unveil 10 interesting facts about Kusu Island that you probably didn't know.
1. The Meaning of Kusu
Kusu Island, which translates to "Tortoise Island" in Chinese, is not just a name but a nod to the island's unique folklore. According to legend, a magical tortoise transformed itself into the island to save two shipwrecked sailors, one Chinese and one Malay. This tale is deeply ingrained in the island's identity, making it a symbol of unity and coexistence.
2. The Sacred Shrines
Kusu Island is home to both a Chinese temple and a Malay shrine, reflecting Singapore's multicultural fabric. The Da Bo Gong Temple is dedicated to the Chinese God of Prosperity, while the Kramats are shrines built to honor 19th-century Malay saints. These sacred sites attract thousands of pilgrims every year, especially during the ninth lunar month.
---
---
3. Unique Flora and Fauna
Despite its small size, Kusu Island boasts a rich biodiversity. From vibrant coral reefs to unique bird species like the Collared Kingfisher, the island is a haven for nature enthusiasts. The government has implemented conservation efforts to protect this fragile ecosystem, making it a perfect spot for eco-tourism.
4. The Blue Lagoons
Kusu Island is surrounded by crystal-clear blue lagoons that are perfect for snorkeling and swimming. These lagoons are not just stunning to look at but are also rich in marine life. From colorful fishes to intricate coral formations, the underwater world of Kusu Island is a sight to behold.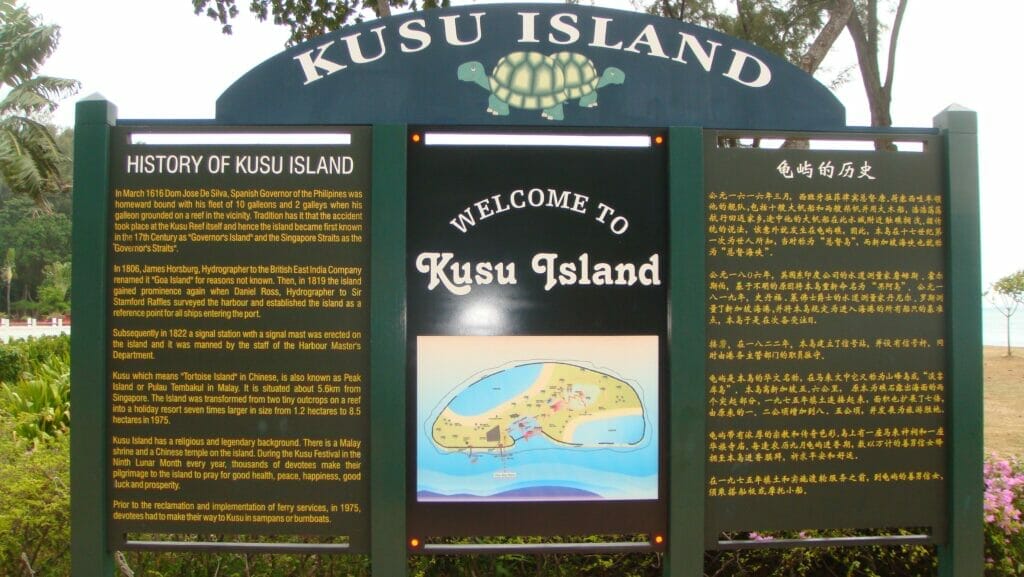 5. Historical Significance
Kusu Island has a rich history that dates back to the early 19th century. It was once used as a sanctuary for Chinese immigrants during the colonial era. The island's historical significance is often overshadowed by its natural beauty, but it remains an important part of Singapore's heritage.
6. The Annual Kusu Pilgrimage
Every year, during the ninth lunar month, thousands of devotees make their way to Kusu Island for an annual pilgrimage. This event is one of the largest religious gatherings in Singapore and is a testament to the island's spiritual importance. The pilgrimage includes various rituals and ceremonies that cater to both Chinese and Malay communities.
_

Read Also:

Top 17 Company Registration Services in Singapore

_
7. Accessibility
Contrary to popular belief, Kusu Island is easily accessible from mainland Singapore. A regular ferry service operates from Marina South Pier, making it a convenient day-trip destination. The island's accessibility makes it an ideal spot for those looking to escape the hustle and bustle of city life.
8. Conservation Efforts
The Singapore government has taken significant steps to preserve the natural and cultural heritage of Kusu Island. From implementing strict fishing regulations to maintaining the cleanliness of the island, concerted efforts are being made to ensure that Kusu Island remains a sanctuary for both wildlife and humans.
9. Community Involvement
Local communities play a crucial role in the conservation and promotion of Kusu Island. Various NGOs and volunteer groups organize clean-up drives, educational tours, and other activities to engage the public. This community involvement is vital for the sustainable development of the island.
10. Future Developments
While Kusu Island has largely remained untouched, there are plans for sustainable development to boost tourism. However, these plans are designed to have minimal impact on the island's ecosystem. The aim is to make Kusu Island a model for sustainable tourism in Singapore.
Conclusion
Kusu Island is not just another spot on Singapore's tourist map; it's a microcosm of the nation's rich cultural, historical, and ecological tapestry. From its sacred shrines to its stunning natural beauty, the island offers a unique blend of experiences that cater to a wide range of interests. So the next time you're planning a local getaway, consider Kusu Island and discover the fascinating facts that make it a true Singaporean gem.
Frequently Asked Questions (FAQ)
Q: What makes Kusu Island a must-visit in Singapore?
A: Kusu Island captivates visitors with its unique blend of cultural heritage, scenic beauty, and spiritual significance, making it an essential destination for those seeking a diverse experience in Singapore.
Q: Are there specific festivals celebrated on Kusu Island?
A: Yes, Kusu Island hosts the annual Kusu Pilgrimage season, drawing worshippers from different faiths to pay homage to the island's sacred sites. The festivities add a vibrant cultural dimension to the island's allure.
Q: How can visitors explore Kusu Island's natural wonders?
A: Island hopping is a popular choice, allowing visitors to not only explore Kusu Island but also enjoy the beauty of nearby Lazarus Island and St. John's Island. It's a perfect day trip for nature enthusiasts.
Q: Is Kusu Island suitable for a family outing?
A: Absolutely! Families can enjoy the tranquil environment, visit the turtle sanctuary, and explore the island's historical and cultural attractions, making it an ideal destination for a memorable day out.
Q: What are the notable landmarks on Kusu Island?
A: Kusu Island boasts landmarks such as the Chinese temple Da Bo Gong and the Malay shrines, each with its own intriguing history and significance, adding depth to the island's cultural tapestry.
Q: How can I get to Kusu Island from mainland Singapore?
A: The most common way is by ferry from Marina South Pier. Visitors can easily access the island, making it a convenient yet rewarding escape from the urban bustle of Singapore.
---
Have an Article to Suggest?
Tropika Club is always looking for new and exciting content to feature in their magazine and they value the input of our readers. If you have any noteworthy content or articles that you believe would be a great addition to Tropika Club's magazine, we are open to suggestions and encourage you to reach out to us via email at [email protected]. By doing so, Tropika Club values your expertise and knowledge in the matter and appreciates your willingness to help. We will review your recommendations and update our list accordingly
Meanwhile, Check Out Tropika Club's Ecosystem of Websites
Tropika Club Magazine – Tropika Club Magazine is a Singapore-based publication that features articles on a wide range of topics with a focus on local businesses and content for the region. The magazine emphasizes supporting local businesses through its #SupportLocal initiative, which includes coverage of everything from neighborhood hawker stalls to aesthetic clinics in town. In addition to highlighting local businesses, Tropika Club Magazine also covers a variety of local content, including beauty, lifestyle, places, eats, and what's on in Singapore and the Asia Pacific region.
Tropika Club Deals – Tropika Club Deals is a leading online deals and voucher shopping site in Singapore, offering amazing discounts on beauty, wellness, and fitness products and services. It's the perfect platform for customers who want to discover the best deals without having to commit to a specific appointment date and time. These deals are available at major beauty stores, facial salons, hair salons, and other brands in Singapore, with no minimum spend required. Choose from guaranteed discounted deals in the categories of hairstyling, hair removal, facial & aesthetics, body slimming, brows & lashes, nails & makeup, massage & spa or fitness & wellness. Tropika Club Deals is also ideal for customers who want to buy vouchers as gifts or to use for the future. So whether you're looking to save money on your next haircut or want to treat yourself to a relaxing massage, Tropika Club Deals has got you covered with the best voucher and coupon deals in Singapore!