Top 10 Best After Sun Care in Singapore
The best defense in sun protection is a good offense—that means sunscreen, every day, all the time. Unlike makeup and some skincare products which offer immediate visible results, good suncare and sunscreens are like insurance you wear on your skin to protect from ultraviolet damage results 10 or 15 years down the road. You will be glad that you put on sunscreen when your skin appears much younger than peers who do not put on sunscreen. Skin cancer is also a very real problem and wearing sunscreen can help prevent that . However, given Singapore's hot and humid weather, some sunscreens aren't the most comfortable to wear. The Tropika Club team has rounded up Top 10 After Sun Care in Singapore. Read on!
---
1. La Roche Posay Posthelium Body Moisturizer Gel Fondant
Description: Repairs, softens and restores lipids to dry skin under the stress of sun exposure. Reparative after-sun care that is easy to apply and enriched with lipid restoring agents to promote repair.
How to Use: Apply after shower or bath and massage gently. External use.
Pricing: $40.62 for 400ml
Where to Find: carethy
---
2. Sisley After-Sun Care Tan Extender
Description: This sun care soothes, cools & moisturizes skin after sun exposure. Lightweight, fine texture & fast penetrating it combines Stevia leaf extract, plant Glycerin & Shea butter to nourish. Features self-tanning ingredients to enhance skin color naturally. Reduces risk of peeling, even the tan and leaves skin satin-smooth, luminous & healthy-looking.
How to Use: Apply evenly throughout the body after sun exposure.
Pricing: $224.25 for 200ml
Where to Find: perfumestore
---
3. NUXE Sun Refreshing After-Sun Lotion
Description: NUXE Sun Refreshing After-Sun Lotion for Face and Body is a refreshing lotion that deeply hydrates and restores the skin after solar exposure. Suitable for the body and face, this multi action fluid lotion immediately soothes the skin and comforts the skin. With Kau Pe Flowers and Water Hyacinth to soothe the skin and moisturize and the Nuxe Sun luxurious fragrance that includes notes of Vanilla, Tiaré Flower and Sweet Orange.
How to Use: Apply NUXE Sun Refreshing After-Sun Lotion for Face and Body on cleansed skin and massage until fully absorbed.
Pricing: $31.92 for 200ml
Where to Find: caretobeauty
---
4. Esthederm After Sun Repair Firming Anti-Wrinkle Face Care
Description: Esthederm After Sun Repair Firming Anti-Wrinkle Face Care is a regenerating after sun face cream. Especially formulated for the delicate skin of the face, neck, and cleavage, contains two exclusive Esthederm technologies, the Global Cellular Protection and Adaptasun complexes. The former protects the skin against the stress caused by solar radiation, whereas the latter evens out and prolongs the tan. This after sun cream achieves the perfect balance between protection and tanning ability. The skin is perfectly moisturized and regenerated, and consequently, preserves its youthful appearance for longer.
How to Use: Apply Esthederm After Sun Repair Firming Anti-Wrinkle Face Care at night, after sun exposure, to the face, neck, and cleavage. In order to maintain the tan for longer, use this product for 1 month after sun exposure.
Pricing: $67.77 for 50ml
Where to Find: caretobeauty
---
5. Soleil Toujours After Sun Rescue + Repair Brightening Serum
Description: An after sun brightening serum. This breakthrough silicone-free serum offers the ultimate in sun-damaged skin rescue and repair. It works as a crucial line of defence to neutralise environmental toxins, and provides advanced anti-ageing and brightening activity, and improves skin tone, texture, brightness and clarity.
How to Use: Apply 2-3 pumps daily morning and evening to a cleansed face and neck. Allow the serum to absorb into your skin. Follow with your daily moisturiser and/or sunscreen.
Pricing: $139 for 30ml
Where to Find: sephora
---
---
6. Moroccanoil After-Sun Milk Soothing Body Lotion
Description: A lightweight, soothing body lotion that enhances and extends your sunkissed glow while nourishing and hydrating skin. Enhance and extend your sunkissed glow with After-Sun Milk Soothing Body Lotion. It soothes, hydrates, and nourishes the skin with cooling aloe, antioxidant-rich argan oil, and vitamin E. Its lightweight, fast-absorbing formula is infused with coconut and passion fruit oils, and it's delicately fragranced with a luxurious Monoï scent.
How to Use: Smooth over the body after sun exposure or daily, concentrating on dry areas. Reapply as needed.
Pricing: $65.23 for 150ml
Where to Find: qoo10
---
7. Herbivore Botanicals After Sun Skin Soothing Aloe Mist
Description: Drench hot, dry and sun-soaked skin in natural relief with a blend of soothing aloe vera, cooling mint and therapeutic lavender.
How to Use: Shake well before use, then spray on freshly cleaned skin, avoiding the eyes. Safe for use on body and face. Best used after the skin has been exposed to sun or any time you need to cool down and hydrate your skin. Keep refrigerated for an extra-refreshing effect.
Pricing: $32 for 240ml
Where to Find: sephora
---
---
8. Korres After Sun Greek Yoghurt Cooling Gel
Description: An ultra-cooling cream gel that provides long-lasting freshness and comfort to the face and body. Ideal for after sun exposure, nourishing Greek Yoghurt hydrates the skin, instantly relieving excessive heat and stinging.
How to Use: Apply to face and body after being in the sun.
Pricing: $60 for 150ml
Where to Find: desertcart
---
9. La Mer The After Sun Enhancer
Description: A refreshing & cooling after-sun gel for body. Helps instantly quench sun-bathed skin to enhance glow. Contains Golden Algae FermentTM to replenish skin with nutrient-rich botanicals. Powered by Miracle BrothTM for regenerating moisturizing & soothing benefits. Infused with antioxidant Lime Tea to neutralize free radicals. Improves the look of skin over time. Unveils smoother & healthier looking body skin with an even sun-kissed glow. Free of parabens, phthalates & sulfates.
How to Use: Apply on body skin after sun exposure. Reapply again every 2 hours or after swimming, perspiring or drying up with the towel.
Pricing: $205.95 for 200ml
Where to Find: cosmeticsnow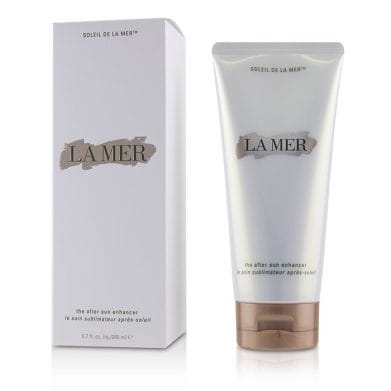 ---
10. SVR Laboratoires Sun Secure After Sun
Description: Treat skin to the soothing properties of SVR Laboratoires Sun Secure After Sun, a creamy and sensorial formula that delivers an immediate sensation of freshness to overheated skin. Suitable for the whole family, including babies and children, the face and body aftersun has a unique, micro-aerated texture that melts into skin without feeling greasy or sticky. Providing soothing, hydrating and repairing care, it contains emollient and repairing ingredients. Coconut Oil to leave skin feeling silky and comforted. Infused with ultra-fine pearlescent particles and a summery scent to help enhance the look of your tan while leaving skin feeling soft.
How to Use: Apply to clean, dry skin after exposure.
Pricing: $21 for 200ml
Where to Find: lookfantastic
---

Got a Product to Suggest?
We need your assistance! Do you have a great experience with any products that fall into this category and would like to recommend for them to be listed? If so, do write to us via our email. Tropika Club will do a review of your recommendations and update the list accordingly.
---
Meanwhile, check out Tropika Club's Ecosystem of Websites
Tropika Club Magazine – Tropika Club Magazine crafts articles on all things Singapore, but with a greater emphasis on local businesses based on our #SupportLocalSG initiative. We check out and feature local businesses of all categories, ranging from your neighbourhood hawker stalls to the aesthetic clinics in town. We also cover local content ranging from beauty, lifestyle, places, eats and what's on in SIngapore. Our Top 10 rankings include local food and service establishments based in different regions in Singapore.
Tropika Club Deals – Search for the best voucher and coupon deals. Tropika Club Deals is ideal for customers who want to discover the best deals without having to commit to a specific appointment date and time. Choose from guaranteed discounted deals in the categories of hairstyling, hair removal, facial & aesthetics, body slimming, brows & lashes, nails & makeup, massage & spa or fitness & wellness. Customers can also buy vouchers as gifts or to use for the future.