Top 10 Best Landscaping Services in Adelaide Australia
Adelaide, Australia is known for its lush landscape and beautiful gardens. Whether you want to create a stunning outdoor area or maintain your existing garden, finding the right landscaping service is key. With so many reliable services available in Adelaide, it can be difficult to choose the best one. To make your decision easier, we have compiled a list of the top 10 best landscaping services in Adelaide. This guide will provide an insight into what each service offers, their experience level and pricing structure.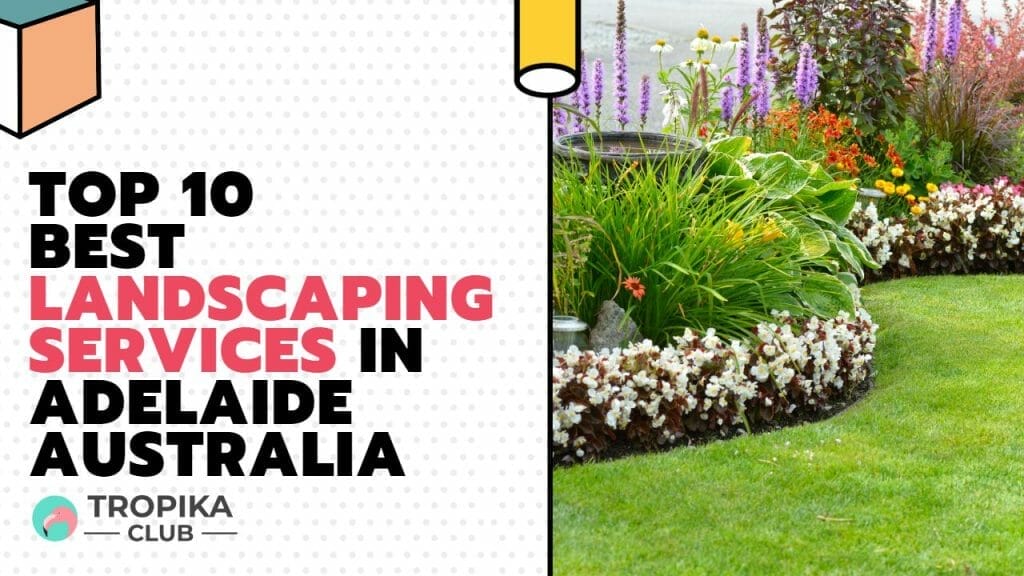 ---
#1 – Garden-R Garden Maintenance & Landscaping
Introduction:
Garden-R is a full-service landscaping and garden maintenance company that provides affordable year-round services to homes in Adelaide. According to their website [1], they believe that every garden is unique and therefore requires a special kind of attention to grow beautifully. To this end, they offer custom maintenance packages for each property they encounter.
Their services include but are not limited to lawn mowing, pruning, weeding, mulching, and planting. They also offer landscape design and construction services, as well as irrigation installation and maintenance. With years of experience in the industry, Garden-R has a team of professionals who can handle any landscaping or garden maintenance project, no matter the size or complexity.
One of the notable things about Garden-R is their commitment to customer satisfaction. They prioritize communication and collaboration with clients to ensure that their needs and preferences are met. They also pride themselves on their attention to detail and quality workmanship, making sure that every job is done to the highest standard.
Type of Services:
Garden Care
Lawn Mowing
Lawn Care
Garden Design
Hedging & pruning
Location:
23/74 Military Road, Tenyson 5022
Adelaide, SA
Contact:
+61 426 124 440
Website: Website Link Here
---
#2 – Get-Eco Adelaide's Sustainable Landscape Designer
Introduction:
Get-Eco is a sustainable landscape design company in Adelaide that aims to create practical, beautiful, and eco-friendly outdoor spaces for their clients. According to their website [1], they prioritize listening to their clients' ideas and needs, and working with them to design landscapes that suit their individual circumstances.
Their services include landscape design and construction, as well as garden maintenance and irrigation solutions. They use space, color, and materials to create lush and pleasing environments that are sustainable and easy to maintain. They also specialize in edible landscapes and can help clients design and create their own vegetable gardens.
Type of Services:
LANDSCAPE DESIGN
PLANTING PLAN
HORTICULTURAL ADVICE
LANDSCAPING SERVICE
Location:
Adelaide, South Australia
Contact: 0423 269 593
Website: Website Link Here
---
---
#3 – Hills Garden Service
Introduction:
Hills Garden Service provides a variety of services to handle any type of gardening task. These services include; garden clean ups, mowing and edging, garden make overs, gutter cleaning, weeding and mulching and tree loping and pruning.
The high quality and personal services offered by Hills Garden Service provides affordable gardening solutions for a variety of clients, these include; residential, STRATA and commercial. At Hills Garden Service,they believe your garden is a valuable asset to your home or business that deserves to be maintained. They see your garden as something to be nurtured and cared for, enquire with Hills Garden Service to see how they can help transform your garden.
Type of Services:
GARDEN DESIGN
WEEDING, MULCHING AND SLASHING
TREE TRIMMING AND REMOVAL
PRUNING
GUTTER CLEANING
MOWING & EDGING
Location:
Adam Hills
Warradale, South Australia
Contact: 0417 287 036
Website: Website Link Here
---
---
#4 – Instant Lawn Adelaide
Introduction:
Instant Lawn Adelaide specialise in creating beautiful high quality lawns and gardens for new or existing homes. As Qualified Landscape Horticulturists, they are able to design a garden or lawn that best suits your home and your requirements. We understand that gardens and lawns need to be beautiful, practical, easy to care for and affordable all at the same time – necessities that they pride themselves in providing.
Type of Services:
Instant Lawn
Irrigation
Lawn Repair
Landscaping
Robotic Mowers
Location:
Adelaide SA 5000
Contact: 1300 571 154
Website: Website Link Here
---
#5 – Visual Landscape Gardening
Introduction:
Adelaide landscaping company, Visual Landscape Gardening (Members of MLSA) offer a complete range of landscaping services with licensed landscapers to carry out paving, fencing, build retaining walls, water features & fish ponds, lay artificial grass and roll out instant lawn across Adelaide too.
As licensed builders, customised verandas, garden sheds, even swimming pools are no problems for Visual Landscape Gardening either, handling everything from design ideas to council approval to completion.
Type of Services:
Residential Landscaping
Low Maintenance Landscaping
Paving
Roll Out Instant Lawn
Artificial Grass
Location:
P.O Box 20 Surrey Downs SA 5126.
Contact: 0417 863 159
Website: Website Link Here
---
#6 – Trusted Garden Maintenance
Introduction:
At Trusted Garden Maintenance we offer a full range of services. These services vary from basic Lawn Mowing Service to complete Garden Service and everything in between. Whether you are looking for a once off service, Garden Clean Up, NDIS support, Rental Property Maintnenace or Regular Garden Maintenance, their team will be able to assist. Take a look at their extensive list of services below
Type of Services:
Lawn Mowing Services
Garden Clean Up
Garden Maintenance
NDIS Services
Rental Property Maintenance
Location:
Greenacres SA 5086
Contact: 1300 855 880
Website: Website Link Here
---
_

Read Also:

Top 10 Best Eats at Sembawang Hill Food Centre

_
---
#7 – Desert Flower Landscaping
Introduction:
Desert Flower Landscaping is a reputable company in Adelaide that offers bespoke landscaping services to residential properties. Their website [1] boasts of an award-winning service that caters to the needs of each client. They specialize in designing, building, and providing maintenance for outdoor spaces.
Their success is achieved together with their clients, meaning they work closely with homeowners to ensure that the end product is exactly what the client envisioned. Their services include but are not limited to landscape design, construction, irrigation, lawn and garden maintenance, and tree management. They also offer water-saving solutions and plant recommendations to ensure that clients have beautiful, sustainable outdoor spaces.
One of the notable things about Desert Flower Landscaping is their attention to detail. They ensure that every aspect of the outdoor space is considered in their design, from the type of plants to the placement of outdoor furniture. Their team of professionals has years of experience and can handle any landscaping project, no matter the size or complexity.
Type of Services:
DESIGN
CONSTRUCTION
MAINTENANCE
EDUCATION
Location:
burnside, Adelaide, SA, Australia, South Australia
Contact: 04 3707 6789
Website: Website Link Here
---
#8 – Zen Adelaide Landscaping
Introduction:
They are a full ѕеrvісе lаndѕсаре соntrасtоr serving and theytake pleasure in Landscaping Adelaide and ALL surrounding areas. They are the premiere Adelaide landscapers, able to take care of all your needs from design, excavation, retaining walls, block walls, lawns, paving and all things landscaping.
​They can keep your lawns maintained on a weekly, fortnightly, monthly or whatever schedule you require.
Type of Services:
GARDENING/YARD MAINTENANCE
NATURAL LAWN/SYNTHETIC LAWN
RETAINING WALLS
BLOCK WALLS
FENCING
Location:
Adelaide
Contact: 8120-4174
Website: Website Link Here
---
#9 – LCS Landscapes
Introduction:
LCS Landscapes is a trusted landscape company in Adelaide that is locally owned and operated. Their website [1] notes that they have a strong reputation for delivering the highest quality standards and levels of professionalism to both public and private clients throughout South Australia.
Their services include landscape design and construction, garden maintenance, irrigation, and hardscaping. They also offer custom solutions to fit each client's unique needs and preferences. With their team of experienced professionals, LCS Landscapes can handle any landscaping project, no matter the size or complexity.
Their clients can be confident that all projects are resourced by an experienced team and lead by a Project Manager dedicated to ensuring that your project comes in on budget and to the highest quality.
Type of Services:
Design
Construction
Maintenance
Location:
27-47 Port Road, Thebarton SA 5031
Contact: (08) 8249 9799
Website: Website Link Here
---
#10 – Rosewall Landscaping
Introduction:
Rosewall Landscaping Adelaide specialising in all types of landscaping from around the home, commercial, industrial and servicing eastern, north and western suburbs of Adelaide.
Their landscape design in Adelaide is innovative, creative and helps you bring the most out of your outdoor spaces. By working in accordance with your tastes, budget and space, they help you create your dream outdoor space.
Type of Services:
PAVING
LAWN
IRRIGATION
STORMWATER
Location:
Beach , Henley Beach, SA, Australia, South Australia
Contact: 0402 877 602
Website: Website Link Here
---
Have a Place to Recommend?
Your contribution is valuable to us! Are there any outstanding businesses that you believe should be added to our list? If so, please send your recommendations to us at [email protected]. Tropika Club will review your suggestions and update the list accordingly. Thank you for your help in making our list of businesses as comprehensive and accurate as possible.
---
Meanwhile, Check out Tropika Club's Ecosystem of Websites

Tropika Club Magazine – Tropika Club Magazine is a Singapore-based publication that features articles on a wide range of topics with a focus on local businesses and content for the region. The magazine emphasizes supporting local businesses through its #SupportLocal initiative, which includes coverage of everything from neighborhood hawker stalls to aesthetic clinics in town. In addition to highlighting local businesses, Tropika Club Magazine also covers a variety of local content, including beauty, lifestyle, places, eats, and what's on in Singapore and the Asia Pacific region.
Tropika Club Deals – Tropika Club Deals is a leading online deals and voucher shopping site in Singapore, offering amazing discounts on beauty, wellness, and fitness products and services. It's the perfect platform for customers who want to discover the best deals without having to commit to a specific appointment date and time. These deals are available at major beauty stores, facial salons, hair salons, and other brands in Singapore, with no minimum spend required. Choose from guaranteed discounted deals in the categories of hairstyling, hair removal, facial & aesthetics, body slimming, brows & lashes, nails & makeup, massage & spa or fitness & wellness. Tropika Club Deals is also ideal for customers who want to buy vouchers as gifts or to use for the future. So whether you're looking to save money on your next haircut or want to treat yourself to a relaxing massage, Tropika Club Deals has got you covered with the best voucher and coupon deals in Singapore!