Top 15 Best Movers in Singapore
A new place signals a new beginning, but moving there can be another story. Moving and relocating can be a hassle: unreliable movers, damaged belongings, hidden charges. Want a moving experience as great as new beginnings? Check out these Top 10 Best Movers and Moving Companies in Singapore by Tropika Club. These are Tropika Club's very own aggregated rankings, or 'rankings of rankings'. We collect information from a variety of sources to ascertain the final rankings here. This is further refined through consulting the TripAdvisor rankings to decide the position of the choices here when there's a tie
.
---
1. The Trio Movers Pte Ltd
Description:
The Trio Movers' experience in the moving industry and its core values, trustworthiness, responsible, integrity and on-time, has allowed them to deliver exceptional services to their clients 24/7.
The Trio Movers aim to make the moving process of their clients as easy as possible. Their commercial and residential movers are highly coordinated, highly efficient, hassle-free and cost-friendly.
In addition to these services, they provide specialized services such as disposal services and storage space rental .
Their reputation for providing excellent moving services in Singapore has become known to the public with their feature on Channel 8 news.
Services:
Contract Delivery & Handyman Service
Customer Review:
Moving was hassle free. Admin was following up closely with our schedule and movers was on time given the rainy weather.
Moving was smooth and the trio team managed to shift our stuff back to our house with a peace of mind. Great service. 👍🏼👍🏼
Website: https://thetriomovers.com.sg/
Location: 31 Woodlands Close, Woodlands Horizon #02-15 (737855)
Contact: +65 6908 7475 (Office)
---
2. Red Sun Movers
Description:
Whether you're moving across the island or just relocating 5 minutes away, moving can prove to be quite a challenge. Moving to a new location requires a lot of planning and work ­ The task of organizing, packing, loading, unloading, unpacking and reorganizing is, frankly, a pain. With Red Sun Movers, the process of relocating can be much less stressful.
Started in 1997, our team of Red Sun Movers is here to ensure that your move will be as hassle free and smooth as possible. We possess a passion for quality service and have the resources and professionals to tailor each move to your individual needs. Whether you're looking for professional movers for a residential relocation or roadshows and events, Red Sun Movers is here to provide you with friendly, professional moving services that are reliable, prompt and cost­ effective.
Services:
Residential Relocation
Commercial and Industrial Relocation
International Relocation
Long, Short Term Storage and Disposal Services
Rest assured, Red Sun Movers will give you peace of mind through a hectic move, no matter if you're moving to a new home or embarking on a new chapter of your business. Being specialist in packing, they can even pack everything for you into boxes and label them accordingly inclusive of all necessary packing materials.
Customer Review:
Excellent experience with Red Sun. Admin Assistants Florence and Sabrina gave quick and useful replies to all my queries at every stage. Supervisor John was punctual, competent, pleasant and professional on the day of the move on 21 August. This is the best overall experience and value for money I've had with moving companies, including some big names in the industry. Keep up the great work, Red Sun! You have a wonderful team!
Website: https://www.redsunmovers.com.sg/
Location: 11 Woodlands Cl, #09-17 Woodlands 11, Singapore 737853
Contact: +65 6366 1548
---
3. Shalom Movers
Introduction: Often used as a salutation by the Jewish, Shalom is a Hebrew word meaning peace, harmony. It's meaning lies at the heart Shalom Movers, who want to give all their customers a peace of mind.
With over 200,000 moves successfully completed, Shalom Movers has grown to become one of the largest moving companies in Asia. To stay ahead of the curve, Shalom Movers has taken on other areas of moving, sucg as fowarding, shipping, logistics, e-commerce logistics, and more.
Offerings: Shalom Movers maintain high standards of service by working with institutions like Institute of Technical Education, and the Institute for Adult Learning to constantly up-skill their team.
Local Residential Moving
Local Commercial Moving
Storage & Disposal
International Moving
Vehicle Hire
Service Offerings:
Certified Packers and Movers
Efficient Customer Support Service and Operational Excellence
Accurate Quotations
Location: 10 Kaki Bukit Road 1, KB Industrial Building, #01-25, Singapore 416175
Contact: +65 6287 6117
Website: https://shalom.com.sg/
---
4. Rodex Movers
Introduction: With a fresh and innovative approach, they aim to exceed every expectations. Since their founding in 1978, they have been providing flexibility and value by offering outstanding customer service.
Offerings: They offer exceptional moving and relocation services for your domestic and corporate needs:
Corporate Moving
Domestic Moving
Express Delivery
Disposal
Warehousing
Service Offerings:
Reliable and Efficient
Extensive Industry Knowledge
Competitive Pricing and Reasonable Rates
Highly Trained and Professional Team
Maximum Cost Efficiency and Minimum Disruption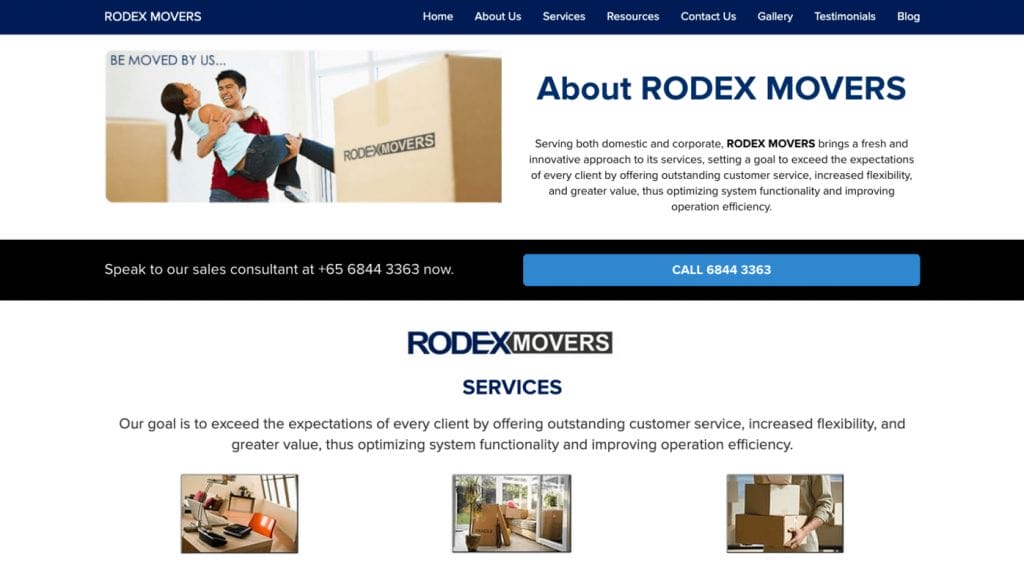 ---
---
5. Kaplan Logistics
Introduction: Kaplan Logistic began operations in earnest in 2007 with a team of professional and dependable movers. They pride themselves on In their commitment to great service, they even provide non-obligatory survey onsite to better understand your requirements.
Offerings: Every move with Kaplan Logistics ensures complete customer satisfaction:
Local Residential Relocation
Commercial Relocation
Relocation to Malaysia
Long & Short Term Warehouse Storage
Purchase of Moving Materials
Disposal Services
Service Offerings:
Non-obligatory onsite survey to understand your relocation requirements
Transparent and competitive quotation
Provision of local uniformed staffs
Provision of regularly maintained, covered trucks
Reliable and efficient service by their committed and experienced staff
Read Also:
---
6. Zealous Mover
Introduction: Driven by Enthusiasm, Diligence, and Passion, Zealous Mover provides local and international moving and relocation services for residential and commercial properties. To serve the needs of different customers, they utilise the latest equipment, tested methodologies, and a skilled team.
Offerings: With the vision to become a leading global provider of comprehensive and innovative solutions for relocation, they consistently deliver dependable and efficient moving services:
Commercial Services
Residential Services
International Relocation
Storage Facilities
Piano Moving
Service Offerings:
Disposal Service
Local Express Delivery Service
Consultation and Survey
---
7. Santa Fe Relocation
Introduction: The origins of Santa Fe Relocation began as fas back as 1892 in Australia, under a different name: Wridgways. It was acquired by Santa Fe in 2011, and then rebranded to Santa Fe in 2014.
Their first Asian office opened in Hong Kong in 1980, and quickly growing into the largest employee relocation and workplace services company covering Asia. Today, their goal is to help people and organisations thrive in new places in any part of the world.
Offerings: Santa Fe Relocation combines the latest technology with personable customer service. Building upon a history of consistency and trustworthiness, they deliver global solutions with local expertise.
Domestic Moving
International Moving
Shipment Protection
Storage Solutions
Service Offerings:
Area Orientation Service
Home Search
School Search
Temporary Housing
Pet Relocation
Language and Cultural Training
Departure Support
Vehicle Shipping
Settling-in Service
---
8. The Trio Movers
Introduction: Their logo clues in to the three brothers that founded this moving company. But their name and logo also alludes to the comprehensive packing, moving, and relocation services they can provide too. The Trio Movers boasts a complete suite of tools and staff at an affordable rate for your relocation needs.
Offerings:
Residential / commercial & industrial relocation
Packing & unpacking services
Storage services
Disposal services
Handyman services
Contract delivery
---
9. Rentalorry
Introduction: Rentalorry moves beyond relocation services. Since their founding in 2013, Rentalorry has been agile in its progress. In a few short years, Rentalorry came to operate one of the largest networks of commercial vehicles in Singapore. By partnering with a wide network of rental and transport companies, they can offer competitive rates for their customers.
Offerings: As a progressive moving company, Rentalorry invests heavily in their movers, training them to move sensitive goods such as plants and pianos, as well as specialised skills such as disposal service, office moves, kitchen moves, and house moves.
Vehicle Rentals
Passenger Transport
House Moving
Office Relocation
International Moves
Service Offerings:
Well-Maintained Vehicles
Flexible Rental Packages
Professional & Experienced Movers
Online Support
Location: 22 Woodlands Link #03-27B, Singapore 738734
Contact: +65 6589 8964
Website: https://www.rentalorrysingapore.com/
---
10. TheLorry
Introduction: TheLorry has big ambitions: to become the most trusted logistics platform and market leader in Southeast Asia. With operations in Singapore, Malaysia, Thailand, and Indonesia they're certainly on their way.
Offerings: They provide aircon servicing based on your needs. With their transparent pricing, you can have your peace of mind. Here are the services they offer:
Small & Medium Enterprise Solutions
Key Account Solutions
Affordable Moving Solutions
Service Offerings:
Instant Quotations
Book Extra Services
Driver Matching
Flexible Payment
Location: 20 Pasir Panjang Road, Mapletree Business City, #03-22/24, Singapore 117439
Contact: +65 3138 9164
Website: https://thelorry.com/sg
Here are 5 more exceptional moving companies.
11. Vimbox Movers
Introduction: After he saw rampant unreliable services in the industry, Wayne Lee started Vimbox so he could provide a dependable alternative to the market.. Seeing the potential of the fledgling enterprise, Hakim Zaini abandoned his Association of Chartered Certified Accountants(ACCA) certification to join Wayne in his endeavour. They put their customers first, making sure their customer service officers reach out to every client.
Offerings: As their customer base burgeoned, they expanded their services to include machinery moving and international moving as well.
House Moving
Office Moving
International Movers
Storage Rental
Event Moving
Safe Moving
Pool Table Moving
Piano Moving
Disposal Services
Container Stuffing & Unstuffing
Lorry Rental with Driver
Packing and Unpacking
Handyman Services
Location: 10 Kaki Bukit Road 1, KB Industrial Building, #03-08, Singapore 416175

Contact: +65 6339 4439
Website: https://vimboxmovers.sg/
---
12. Alpha Zenith Movers & Traders
Introduction: Even they've started operating only in 2015, Alpha Zenith can take care of your relocation needs from start to finish, from fixing dropping taps to rewiring your home.
Offerings:
Commercial Moving
International Packers & Movers
Storage
Parquet Floor Polishing
Laboratory Relocation
Server Movers
Service Offerings:
Excellent Workmanship
No Hidden Cost
Professionally Trained Technicians
Experts in All Brands of Aircons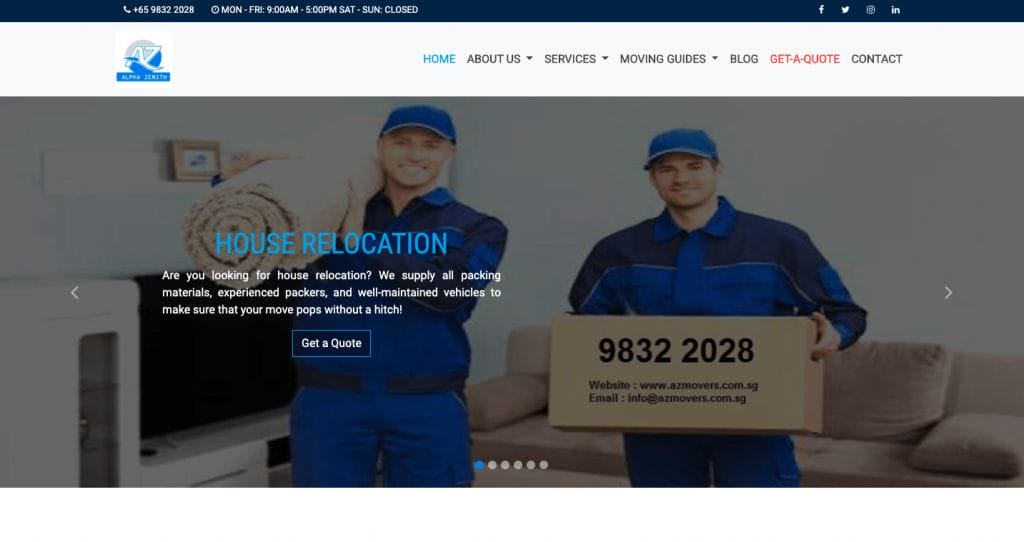 ---
13. Elite Movers
Introduction: Elite Movers has been in business since 2003, working round the clock to make sure their customers are satisfied. Growing from strength to strength, they have covered all kinds of sectors, be it if its Government agencies or residential properties, working for the likes of Building & Construction Authority, National Art Council Singapore, and Continental Automotive Singapore.
Offerings:
Residential Relocation Services
Commercial Moves and Relocations
Moving to Malaysia
Warehousing & Storage Facilities
Piano Moving
Disposal service
Craning
Custom crating
Compactors
Safe and Safety Box
Factory Equipment and Machinery moving
Workshop Machine moves, Lathes, Drill Presses, Ginders, Tapping and Threading machines
Fixtures and Fittings
Location: Block 3018 Bedok North Street 5, Eastlink Building, #04-40, Singapore 486132
Contact: +65 6242 4886
---
14. KNT Movers
Introduction: With their wealth of experience in the market, they can anticipate the unique needs of each of their clients. They constantly strive to provide a seamless relocation experience at competitive prices.
Offerings:
Moving Service in Singapore
Office & Commercial Move
Systematical Packing
Furniture Wrapping
Large Items Removal
Furniture Dismantling
Storage Services
---
15. BEAM Space Storage
Introduction: Growing from their renowned storage services, BEAM has since launched their mobile app on the App Store and the Google Play Store. With the app, you can order storage space on the go, and you don't even need to go to their storage facilities; they'll pick things up for you! What's more? You're paying only for the items you want to store, so you won't be paying for storage space you don't need. .
Offerings:
Storage by Item
Storage by Space
Free Concierge Service at Your Doorstep
Transport Provided
---
Have a Place to Recommend?
We need your help! Do you know any other noteworthy eating places that deserves to be added to this list? If so, do write to us via our email. Tropika Club will do a review of your recommendations and update the list accordingly.

Tropika Club Magazine – Tropika Club Magazine crafts articles on all things Singapore, but with a greater emphasis on local businesses based on our #SupportLocalSG initiative. We check out and feature local businesses of all categories, ranging from your neighbourhood hawker stalls to the aesthetic clinics in town. We also cover local content ranging from beauty, lifestyle, places, eats and what's on in SIngapore. Our Top 10 rankings include local food and service establishments based in different regions in Singapore.
Tropika Club Deals – Search for the best voucher and coupon deals. Tropika Club Deals is ideal for customers who want to discover the best deals without having to commit to a specific appointment date and time. Choose from guaranteed discounted deals in the categories of hairstyling, hair removal, facial & aesthetics, body slimming, brows & lashes, nails & makeup, massage & spa or fitness & wellness. Customers can also buy vouchers as gifts or to use for the future.