Top 10 Spa And Massage Services In Eastern Singapore
Unwind yourself in one of the top picks spa and massage services in the East region of Singapore.
Everyone deserves to be treated with love. The fact that society is running at full speed, stress is taking a toll on our lives. Sometimes, you just need a massage to rid the stress and refresh the body. As they always say, "you are one massage away from good mood". Today, The Tropika Club Team has rounded up the Top 10 Spa & Massage Services in the East region of Singapore (this includes Bedok, Tampines, Simei, East Coast, Katong and Pasir Ris areas) that will help you to find that perfect place. Read on, and pamper yourself with love today!
---
---
#1 Ex Beauty (Tampines Central)
Introduction: EX beauty is dedicated to professional beauty services using the latest technology and methodology in the beauty industry. They specialise in non-invasive and natural sources for their beauty treatment. Their staff are equipped with more than 10 years of working experience in various high profile beauty brand, and they own a recognised professional qualification in the industry. They are committed to upgrading themselves consistently and professionally in their specialised field to bring the best services to their customer.
The Treatment: Back Treatment Massage – this massage send you to a place of peace and relaxation. Coupled with AHA fruits treatment, Cucumber & Oxygen treatment, and Yogurt treatment, you get to enjoy a customised mask that helps to to clarify and soften the skin while providing a deep moisturising treatment. In addition, the O2 Jet Intensive Back Treatment helps to exfoliate, hydrate, rejuvenate, shrink sebaceous glands, improve oily skin, elimination of anaerobic bacteria and prevent acne.
Check them out at:
#2 Faith Beaute
Introduction: A cosy home beauty salon specialising in facial, body firming and slimming treatments. Partnering with international skincare brand from Poland- NOREL by Dr Wilsz, experience their customised facial treatments which includes skin consultation, extraction and customised ampoule.

The Treatment:
Bridal Bliss Back Treatment (1 hr 30 min) – A brightening and oxygenating back treatment to prepare the bride-to-be with a sexy back! This includes their in-house exfoliating scrub, customised serum and ampoule, relaxing back massage as well as brightening back mask. Like a baby skin!
Bio-oxy back treatment (1 hr 30 min) – Bio-oxy back treatment aims to lighten post-acne scars, pigments and dark spots with their customised serum and ampoule. Relaxing back massage and brightening back mask will give you a sexy back!
Gua Sha Treatment (1 hr 30 min) – A traditional East Asian and Chinese technique used to invite well-being, circulation and remove toxin build-up in the body. This treatment encourages collagen production and it sculpts and tones the face shape, allowing inflammation to drain and free from muscle tension. Skin feels supple and radiant!
Check them out at:
---
#3 Avone Beauty Secrets (Century Square Mall)
Introduction: Avone Beauty Secrets (ABS) is the only Beauty and Embroidery Faceworks Chain in Singapore to receive recognition from the prestigious International Beauty And Health General Union of Korea. They believe in delivering a total experience to their precious customers. They get to be pampered with reliable and trusted services by top notch professionals in a comfortable and cosy ambience, enjoying high end treatments at very affordable prices. Be pampered with confidence only at Avone Beauty Secrets!
The Treatment:
It's time to re-balance and revitalise your body. Avone Aroma Therapy is an ancient therapeutic treatment which encompasses a full body mask with a full body massage. It combines elements of shiatsu, reflexology and Swedish massage techniques by using a precious blend of pure aromatic oils to calms your nerves and restore your spirit and mind.
The ultimate relax therapy includes a luxurious body scrub with massage focusing mainly on the back added with their ear candling. This therapy helps to relieve your tension, headache, stress and removes the impurities which improve one's breathing system and sinus conditions.
Check them out at:
Location: 2 Tampines Central 5, #02-11 Century Square, Singapore 529509
Hotline: +65 6260 1817
Website: https://www.avone.sg/
---
#4 Theresa Body Skin Wellness (Tampines 1 Mall)
Introduction: Established in 1987, Theresa Beauty started out in Ang Mo Kio with its first outlet and expanded to other outlets island-wide. Through humble beginnings and a team of experienced aestheticians, they have established the brand as a household name with the support of their loyal customers and team members. At Theresa, they see every customer as a seed of potential beauty. Seeds come together to form the petals of a blooming flower, exemplifying Theresa's mission to help customers develop a fabulous shape by unveiling the potential beauty within them.
The Treatment:
Tension of expecting mothers with 5 to 8 month pregnancy? Prenatal Massage is their signature treatment using a slow and soft strokes to ease your discomforts while keeping your baby safe and healthy. During your pregnancy, your body will enter a beautiful transformation. However, during this process, you may encounter discomforts of water retention, soreness, stress and swelling.
They also offer Postnatal Massage after pregnancy. This massage is a full recuperation to bring your hormones back to pre-pregnancy levels. Their postnatal massage is thoughtfully designed to:
Tone your body
Improve Lactation
Relieve Post Surgery Swellings
Restore Womb Recovery
Check them out at:
---
#5 Mary Chia (Our Tampines Hub)
Introduction: Mary Chia is a homegrown listed beauty & wellness brand, with 40 years of specialised expertise in the field of quality skincare & weight management for women. Their brand ethos has always been built on customer trust, combined with the intelligent use of beauty science and state-of-art technologies in their treatments and products. Now, more than ever, the Mary Chia brand is vibrant and dynamic, seeking ways to empower individuals to live life more confidently and in greater wellness.
The Treatment: Want a weekend to relax and de-stress? Get a massage therapy that can help you wind down by Mary Chia's Pampering Spa with Full Body Massage. By doing this massage, your nervous system enters a "rest and digest" mode while improve your bone blood supply.
Check them out at:
Location: Our Tampines Hub, 1 Tampines Walk, B1-27/28, Singapore 528523
Hotline: +65 6786 6188
Website: https://www.marychia.com/
---
---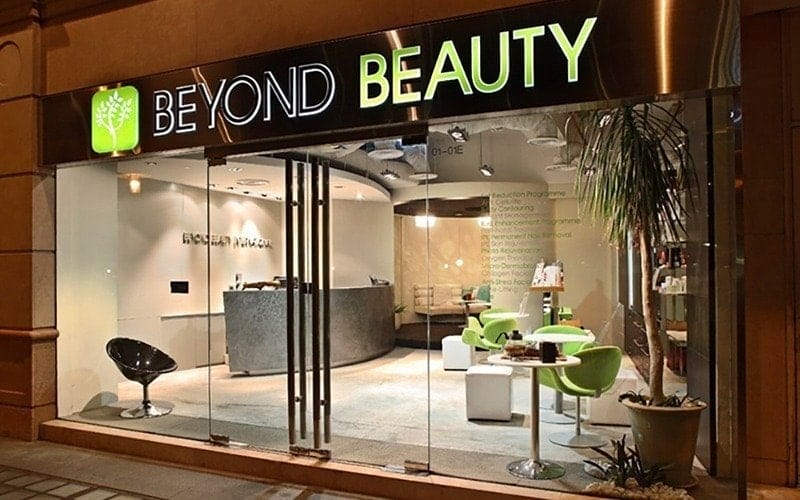 #6 Beyond Beauty – Tampines
Introduction: Beyond Beauty International is a forward-looking company with a holistic approach towards health & beauty, offering total face and body care, complete with slimming and spa services. As one of the most progressive companies in Singapore, their services are a unique blend of the latest technology and the skillful human touch. All this, coupled with the best value, is customised to complement the individual lifestyles of their customers–the modern man and woman.
The Treatment:
Tui na is a form of Chinese manipulative therapy often used in conjunction with acupuncture, moxibustion, fire cupping, Chinese herbalism, tai chi, and qigong. Tui na is a hands-on-body treatment using acupressure that is a modality of Chinese medicine whose purpose is to bring the body into balance.
Swedish massage uses five styles of long, flowing strokes to massage. The five basic strokes are effleurage (sliding or gliding), petrlssage (kneading), tapotement (rhythmic tapping), frlction (cross fiber), and vibration (rocking and shaking movements). Swedish massage has shown to be helpful in reducing pain, joint stiffness, and proven to help individual with poor circulation.
Check them out at:
Location: 5 Tampines Central 6, #01-04/05, Telepark, Singapore 529482
Hotline: +65 6363 8333
#7 Healing Touch
Introduction: Established in 2001, Healing Touch is a multiple award-winning spa committed to caring for people – their customers, staff and the community at large. They have 8 branches across Singapore, and it is the most recommended Singapore spa on Facebook and rated number 3 spa by TripAdvisor users. It is also rated the top spa brand in a 2016 brand survey conducted in Singapore by Brand Alliance (Influential Brands). Healing Touch offers award winning body massage as well as slimming and facial treatments with the underlying emphasis on holistic wellness, and is committed to wow their customers with delightful treatment experience and results.
The Treatment:
Deep tissue massage tends to realign deep layers of muscles and connective tissue, thus ultimately relieving chronic aches in contracted areas.
Thai fusion massage works on acupressure points and energy meridians using finger-thumb-palm pressure. A vigorous and energising experience that includes body stretching and manipulation techniques.
Shiatsu style oil-free massage applied principally with a finger-thumb-palm pressure. Holistic massage that encourages self-healing and balance and enhances your overall sense of well-being.
Manual Lymphatic Drainage is a light rhythmic massage in which the practitioner uses a range of specialised massage movements and gentle pumping techniques to stimulate the lymphatic system.
Check them out at:
#8 For Him (Telepark)
Introduction: For HIM Men's Spa is a subsidiary of Beyond Beauty International Pte Ltd. For HIM is a dedicated one-stop hub for modern men, providing quality service in face care, body slimming, and spa. In this fast paced and highly stressful society, For Him endeavours to educate men on the importance of their total well being. Often in the pursuit of wealth and fame, most men tend to overlook the utmost important aspect of their life – Health. At For HIM, in addition to providing the most effective solutions to treat skin problems and enhancing physical look, they provide an avenue for mental relaxation. Their high technology treatments and pampering spa will indulge your senses, making you look good and feel good from top to toe.
The Treatment: Rejuvenate and recharge your senses with their soothing spa treatments. This include:
Aroma steam bath
Body polish
Healing bamboo massage
Manual lymphatic drainage
Mud / Cream body wrap
Swedish massage
Check them out at:
Location: 5 Tampines Central 6, #01-04/05, Telepark, Singapore 529482
Hotline: +65 6363 8333
#9 Spacio Beauty – Tampines
Introduction: Spacio Beauty, established since 2007, provide its customers with high-efficacy beauty, massage, slimming, hair removal and nail treatments. They have 6 outlets located in the vicinity of Parkway Parade Medical Centre (Marine Parade), Orchard, Clementi, Tampines, The Bencoolen (Bugis) & Northpoint City (Yishun). Here at Spacio Beauty, they are committed to provide high quality treatments for their customers, specialising in non-surgical beauty treatments for both men and women.
The Treatment:
Hot Stone Massage – Hot stone massage helps to take away tension, muscle stiffness and it also increases circulation and metabolism. This is a natural therapy in which warmed stones are placed on parts of the client's body of to make the most of the therapeutic benefit. These stones are heated in sanitising water before use. Hot stone massages are beneficial on both physical and psychological levels.
Lymphatic Massage – Lymphatic drainage massage boosts the immune system so, as well as helping the body ward off illness, treatment can facilitate general feelings of health and vitality. It also has a positive physical effect, improving the appearance of the skin and reducing puffiness caused by water retention, poor circulation or pregnancy. As with other massage, it can help with pain from fractures and sprains and rheumatism, and it promotes the body's own healing mechanisms. Lymphatic drainage massage utilises very light pressure.
Check them out at:
Location: 10 Tampines Central 1, #05-23/24, Singapore 529536
Hotline: +65 6262 3737
Website: https://spacio.sg/
#10 Le' Java Wellness 'n' Reflexology
Introduction: Owner of Le Java Traditional Massage Centre, Mr A.B. Bakri has a very good reputation in his field. "Touch N Tone" , which is now known as Le Java, is no stranger to those who love to be kneaded from head to toe. Mr Bakri has many years of experience in traditional massage. Being a good therapist doesn't mean that Mr Bakri stops there – he always seek to learn. Mr Bakri is also certified in other massage techniques or alternative treatments such as shiatsu, reflexology, sports massage, Swedish massage, reiki and few others. He has clientele ranging from students, professionals and also celebrities! He has done massage for renowned international and local artiste – Jean Claude Van Damme, Jackie Cheung, Elton John and many more.
The Treatment: They provide two different types of service-
Traditional Javanese Massage (60mins) at S$45
Aromatherapy Swedish Massage (60mins) at $55
Check them out at:
Location: 537 Bedok North St 3, #01-513, Singapore 460537
Hotline: +65 8133 6158
---
Have a Place to Recommend?
Your contribution is valuable to us! Are there any outstanding businesses that you believe should be added to our list? If so, please send your recommendations to us at [email protected]. Tropika Club will review your suggestions and update the list accordingly. Thank you for your help in making our list of businesses as comprehensive and accurate as possible.
---
Meanwhile, Check out Tropika Club's Ecosystem of Websites
Tropika Club Magazine – Tropika Club Magazine is a Singapore-based publication that features articles on a wide range of topics with a focus on local businesses and content for the region. The magazine emphasizes supporting local businesses through its #SupportLocal initiative, which includes coverage of everything from neighborhood hawker stalls to aesthetic clinics in town. In addition to highlighting local businesses, Tropika Club Magazine also covers a variety of local content, including beauty, lifestyle, places, eats, and what's on in Singapore and the Asia Pacific region.
Tropika Club Deals – Tropika Club Deals is a leading online deals and voucher shopping site in Singapore, offering amazing discounts on beauty, wellness, and fitness products and services. It's the perfect platform for customers who want to discover the best deals without having to commit to a specific appointment date and time. These deals are available at major beauty stores, facial salons, hair salons, and other brands in Singapore, with no minimum spend required. Choose from guaranteed discounted deals in the categories of hairstyling, hair removal, facial & aesthetics, body slimming, brows & lashes, nails & makeup, massage & spa or fitness & wellness. Tropika Club Deals is also ideal for customers who want to buy vouchers as gifts or to use for the future. So whether you're looking to save money on your next haircut or want to treat yourself to a relaxing massage, Tropika Club Deals has got you covered with the best voucher and coupon deals in Singapore!