Top 10 Best Pressure Cookers in Singapore [2022 Edition]
The Best Pressure Cookers in Singapore will help you get a proper meal on the dinner table, stat. All you need to do is throw in a few ingredients in the electric pressure cooker, let it cook for a while, then presto! You'll have a scrumptious pot of soup or stew. The electric pressure cooker is one of the most versatile kitchen appliance you can have. There are functions and features galore: non-stick inner pot, direct menu buttons, safety features, all sorts of cooking functions and cooking programs. Some even work on induction stoves too. So, be it you need a slow cooker or need shorter cooking times, pressure cooking has never been easier, the best pressure cookers in Singapore are here to help.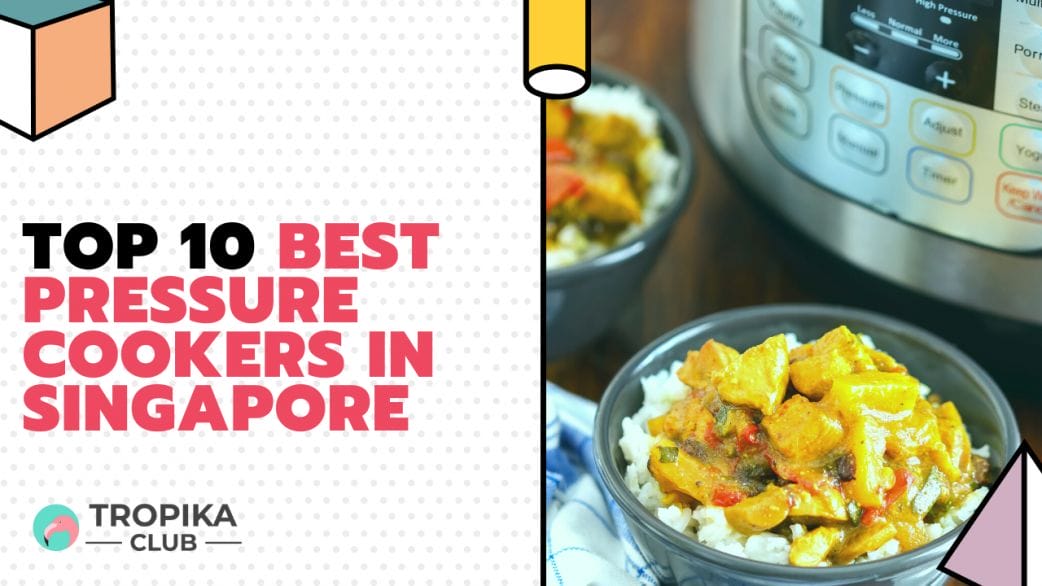 ---
1. Instant Pot Duo 60 V2 7-in-1 Electric Pressure Cooker
About:
Instant Pot Duo 60 V2 7-in-1 Electric Pressure Cooker, 6Qt, 5.7L, 1000W, Brushed Stainless Steel/Black, 220-240V, Stainless Steel Inner Pot, SG 3-pin Plug Instantpot with Instant Pot Tempered Glass Lid. Instant pot, Instant pot and glass lid cover.
Features:
Comes with Singapore 3 pin plug
No more rattles and hisses, no more adjusting the heat to regulate pressure because the Instant Pot Duo does it for you
Duo is a 7-in-1 Multi-Functional Cooker,Pressure Cooker, Slow Cooker, Rice Cooker, Saute/Browning, Yoghurt Maker, Steamer and Warmer
Large, easy to use control panel with 14 built-in Programs, Dual pressure
Automatic keep-warm and 3 temperatures for saute and slow cook
10 proven safety mechanisms
Highly energy efficient and kitchen friendly emitting hardly any noise, heat or steam
3-ply Base stainless steel cooking pot, steam rack andmanual.
The Instant Pot®recipe app is available for both Apple and Android mobile devices.
Enhance your experience with the FREE Instant Pot® App.
Pricing: $255
Where to Find: Lazada
---
2. Philips HD2137/62 Viva Collection All-In-One Multi Cooker
About:
The HD2137 All-in-One Pressure Cooker combines a slow cooker, pressure cooker and a rice cooker all in one machine so you can save room in your kitchen. The pressure cook menus help save time by increasing the pressure and temperature inside the cooker. It use the preset menus and let the machine automatically work out the best cooking time for soups, risottos and meat and poultry. You can also use the pressure cook menus to steam rice or vegetables or just use the manual option for full and customisable control.
Features:
The All-in-One Solution for your cooking needs
Slow cook, pressure cook and multi cook in one machine
Fully customized cooking style and time
Digital
Various Direct Menu Button (Soup, Risotto, Rice, Steam, Meat/Poultry, Manual)
6 Liter
1000W
Easy-to-clean detachable inner lit design
Easy to Program Timer
Up to 12 hours cooking
Pricing: $169
Where to Find: Lazada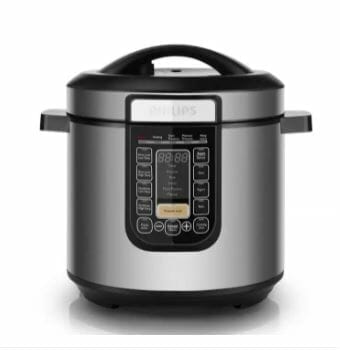 ---
3. Mayer 1.6L Intelligent Multi-Cook Electric Pressure Cooker
About:
Pressure Cooking is MORE Efficient. Food and cooking is a process of discovery. They`ve discovered that a Pressure Cooker is an important tool in our healthier living today. Cooking with a Pressure Cooker results in healthier and better tasting food, food preparation in lesser time. Pressure-cooking helps retain the quality of the foods by preparing them quickly. Mayer Intelligent Multi-Cook Pressure Cooker cooks 70% faster than any other conventional cooking method. It is fast, energy efficient and another healthy way of cooking.
Features:
1.6L gross capacity (0.8L per inner pot)
8 Safety Measures
ONE Touch Button for 8 dishes and that's all you need.
Auto Keep Warm (up to 24Hr) / Cancel
99 minutes Cooking Time Setting
24 Hours Pre-set Time
8 Cooking Programs
Benefits of using Pressure Cooker:
Retain food nutrients and taste better
Energy and Time Saving
Intelligent and Safe
Multi Cooker
Pleasant cooking experience and easy to clean
Automatically adjust pressure
Pricing: $89
Where to Find: Lazada
---
---
4. Noxxa Electric Multifunction Pressure Cooker
About:
With the 'One-Touch-To-Cook' operation system, you can pressure cook, stir fry, steam, slow cook, keep warm, reheat your favourite meals and even bake a cake with just a selection of button on the control panel. Save time and energy.
Features:
Comes with removable 8L non-stick inner pot coated with food grade DUPONT Teflon Platinum coating
LED indicator lights with 2 display windows
10 cooking functions (Soup/Broth, Meat/Stew, Cake/Bake, Low Pressure, Stir Fry, Rice, Multi Grain, Porridge, Steam, Slow Cook) with 3 customisable pre-set time and/or temperature settings (Less, Normal, More) for each function
Auto-start cooking 4 seconds after selecting function
Smart Timer Memory Function – saves and recalls time and/or temperature settings
View internal cooking pressure with LED indicator for pressure cooking functions
Customisable Warm function – Keep food warm for up to 12 hours and option to auto-keep warm or remove Warm function after cooking process ends
Temperature selection – control cooking temperature for Stir Fry and Slow Cook functions
Delay timer to delay cooking process up to 24 hours
Fast preparation of nutritious homemade meals
Pricing: $280
Where to Find: Lazada
---
5. Ninja Foodi OP300 3.7L Pressure Cooker
About:
All-in-one Cooking Appliance which replaces yourpressure cooker, Air Fryer and Slow Cooker. You can grill, steam, bake, roast, pressure cook, air fry, slow cook & etc. All in one compact kitchen machine. Ninja Foodi – The only pressure cooker that crisps.
Features:
Pressure & Crisping lids
3.6 litre Cook & Crisp™ Basket
6 litre cooking pot
1 year warranty
Pricing: $499
Where to Find: Lazada
---
---
6. Tefal Home Chef Smart 6L Multicooker CY601
About:
Countless recipes perfectly cooked, in no time. Prepare delicious meals for the whole family in a fraction of the time. With the Home Chef Smart Multicooker enjoy fast, versatile cooking on a wide array of recipes, thanks to 15 pre-set programs and 2 special functions. Its safe design, large capacity for the entire family and range of convenient features make home cooking easy.
Features:
Fast cooking: pressure cooker for up to 80% faster cooking that saves you time
Versatile: a multicooker offering a wide variety of programs to vary your daily meals
including 15 pre-set programs and 2 special functions
Easy to use: 15 pre-set programs and 2 special functions at the push of a button
Special recipes: functions for special recipes such as Sous-Vide, Abalone and Quick Rice
Special functions: such as Sauce Thickening
Safe: 12 safety features for optimum security during use
Large capacity: perfect for the whole family (6 L)
Convenient: automatic keep-warm function and pre-set timer, both of up to 24 hours
Easy to clean: dishwasher-safe removable parts
Pricing: $129
Where to Find: Lazada
---
7. Fissler Vitaquick Pressure Cooker
About:
The energy-saving cookstar all-stove base can be used on all kinds of stoves, even induction, and ensures optimal heat absorption, distrubution and storage.
Features:
Positioning aid: For simple positioning of the lid.
Cooking settings: For the gentle and speed settings.
Traffic light system: Makes it easy to control the pressure cooking process.
Lockin indicator: Shows optically and acoustically whether the cooker is firmly locked.
Depressurizing: Releases the pressure easily and safely.
Seam without pressure: gentle cooking without pressure.
Removable handle: Makes it easy to clean.
Reach-through handle: For a safe grip. Can lift the cooker body even without the lid.
Pricing: $899
Where to Find: Lazada
---
---
8. Philips Multi-Cooker Pressure & Slow Cooker HD2145
About:
Even on busy days you can enjoy high quality delicious meals, thanks to the Philips HD2145/62 Multicooker. Different ingredients are cooked right under accurate control of pressure and temperature with 50% reduction of heating fluctuation. Dual control system accurately controls temperature. With Dual control system, the new All-in-One cooker accurately controls the temperature and reduces heating fluctuation by 50%*. With this accuracy, different ingredients are cooked just right so that you can enjoy high quality meals and even gourmet cuisine at home easily.
Features:
Digital touchscreen
Preset cooking function
Time control
Keep warm function: 12 hour(s)
Capacity bowl: 6 L
Cord length: 1.2 m
Frequency: 50 Hz
Voltage: 220-240 V
Power: 910-1090 W
Color: Smoked pearl
Material of main body: Stainless steel
Safety Mark Approved
2 Years Warranty
Pricing: $229.80
Where to Find: Lazada
---
9. La Gourmet 6L Pressure Cooker
About:
Lock in Nutrients with La Gourmet technology helps to preserve & lock in all nutrients. Easy detachable to clean, and speed up to 80% faster cooking time. Design with easy to use programme.
Features:
14 IN 1 APPLIANCES
Pressure Cooker | Yoghurt Maker | Stew | Sterilizer | Steamer | Sous Vide | Double Boiler | Rice Cooker | Open Lid Cooking | Black Garlic/Ferment | Essence Extractor | Slow Cooker | Deep Fryer | Bake
Extreme Temperature Protection (auto power cut off)
Auto Cover Sensor (automatic cut off if cover is not closed properly)
Excess Pressure Protection (auto pressure release)
Automatic Temperature Control
Automatic Pressure Control
Pricing: $259
Where to Find: Lazada
---
10. WMF Perfect Plus 8.5 ltr Pressure Cooker
About:
The Perfect Plus pressure cooking system combines proven technology with modern design. Only a few steps are need to operate our simple pressure cooking system. The indicator rings are user friendly and the handle comes off for easy cleaning. Pressure cooking is the healthy way to cook and help reduce cooking time as well.
Features:
Easy cleaning with removable handle
Cromargan: 18/10 stainless steel material: easy to clean and scratch-resistant
Trans herm universal base for all types of hob – including induction
Handling and operating are as easy as 1-2-3.
Pricing: $599
Where to Find: Lazada
---

Have a product to Recommend?
We need your help! Do you know any other noteworthy products that deserve to be added to this list? If so, do write to us via our email at [email protected]. Tropika Club will do a review of your recommendations and update the list accordingly.
---
Meanwhile, check out Tropika Club's Ecosystem of Websites
Tropika Club Magazine – Tropika Club Magazine crafts articles on all things Singapore, but with a greater emphasis on local businesses based on our #SupportLocalSG initiative. We check out and feature local businesses of all categories, ranging from your neighbourhood hawker stalls to the aesthetic clinics in town. We also cover local content ranging from beauty, lifestyle, places, eats and what's on in SIngapore. Our Top 10 rankings include local food and service establishments based in different regions in Singapore.
Tropika Club Deals – Search for the best voucher and coupon deals. Tropika Club Deals is ideal for customers who want to discover the best deals without having to commit to a specific appointment date and time. Choose from guaranteed discounted deals in the categories of hairstyling, hair removal, facial & aesthetics, body slimming, brows & lashes, nails & makeup, massage & spa or fitness & wellness. Customers can also buy vouchers as gifts or to use for the future.