The Top 10 Izakayas You Need to Visit in Singapore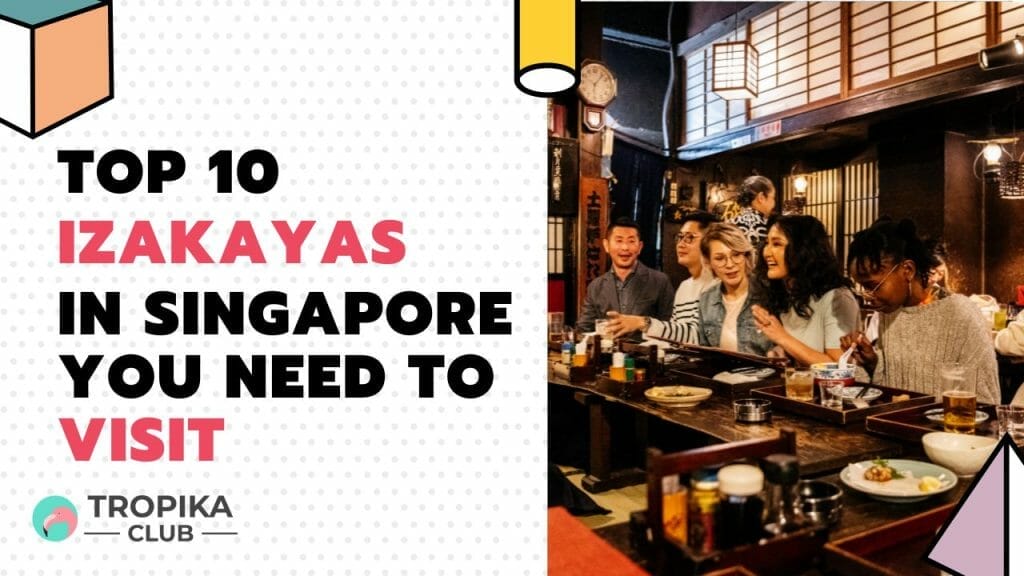 No Time to Read? Here's a Snappy Summary of This Article
Izakaya Invasion: Discover Japan's lively pub scene right in Singapore! Immerse in authentic vibes, food, and drinks.
Culinary Odyssey: Embark on a taste journey with delectable Japanese dishes—sushi, yakitori, and tempura—served with a Singaporean twist.
Sake Soirée: Indulge in an array of sake, from classics to modern infusions, blending cultural flavors in every sip.
Cozy Hideaways: Step into cozy, dim-lit nooks—perfect for intimate gatherings or unwinding after a busy day.
Karaoke Fusion: Sing your heart out in private karaoke rooms, fusing Japanese karaoke culture with Singapore's love for melodies.
Tokyo Nights, Singapore Lights: Experience Tokyo's nightlife vibes through themed decor, vibrant energy, and a bustling social scene.
Introduction
Izakaya is a type of Japanese pub that serves a variety of dishes and drinks in a casual and lively atmosphere. It is a popular place to unwind after work, catch up with friends, or enjoy some authentic Japanese cuisine. Izakayas are known for their grilled skewers, sashimi, salads, noodles, and other small plates that go well with sake, beer, or cocktails.
In Singapore, there are many izakayas that offer a taste of Japan's vibrant bar culture. Whether you are looking for a cosy spot, a hidden gem, or a modern twist, you will find an izakaya that suits your mood and budget. Here are the top 10 best izakayas in Singapore, based on their location, menu, ambience and reviews. Here are our picks for the best izakayas in Singapore:
---
#1 – Shukuu Izakaya
Introduction:
Shukuu Izakaya is a Japanese izakaya and sake bar located in the heart of Singapore's Chinatown district. The restaurant offers a wide variety of Japanese dishes, including yakitori, sushi, sashimi, and tempura. It also has a carefully curated selection of sake, shochu, and beer.
The interior of Shukuu Izakaya is designed to evoke the feeling of a traditional Japanese izakaya. The walls are decorated with Japanese artwork, and the tables are low and communal. The restaurant has a warm and inviting atmosphere, making it a great place to relax and enjoy some good food and drinks with friends.
In 2023, Shukuu Izakaya has introduced a number of new dishes to its menu, including a charcoal-grilled wagyu beef skewer, a sea urchin risotto, and a foie gras terrine. The restaurant has also expanded its sake list to include more rare and artisanal varieties.
Shukuu Izakaya is a great place to experience the flavors of Japan. The food is delicious, the sake is top-notch, and the atmosphere is lively and fun. Whether you're a longtime fan of Japanese cuisine or you're just looking to try something new, Shukuu Izakaya is a great option.
Menu Items:
Kakubin Highball ($12-$168)
Yuzu x Umeshu ($10-$228)
Yasai Miso ($8)
Aka Ebi Umeshisho ($14)
Location: 8 Stanley Street, Singapore (068727)
Contact: +65 6327 9240
Website: Website Link Here
---
#2 – Neon Pigeon
Introduction:
From the East came the 7 Samurai, later redone in the West as the Magnificent 7. Akira Kurosawa initially envisioned making a movie about a solitary day in the life of a Samurai. While researching the film he learned about a group of samurai that defended a village of farmers. The flick was originally going to be called Six Samurai, but they realised that a movie about six
boring samurai was not going to cut it. They needed a character that was more eccentric, more off the wall. The Seventh is Neon Pigeon.
Menu Items:
Hamachi Sashimi ($14)
Chilean Seabass ($39)
Moriawase ($98)
Cointreau, Grey Goose, Bombay Sapphire, Hokkaido Apple Cordial ($24)
Location: 36 CARPENTER STREET, #01-01 SINGAPORE 059915
Contact: +65 3129 7551
Website: Website Link Here
---
---
#3 – Izakaya Niningashi
Introduction:
Izakaya Niningashi is a Japanese izakaya restaurant located in Tanjong Pagar, Singapore. It opened in 2016 and has since become a popular spot for locals and tourists alike. The restaurant offers a wide variety of Japanese dishes, including yakitori, sashimi, and donburi. They also have a wide selection of sake and Japanese beer.
The interior of the restaurant is designed to resemble a traditional Japanese izakaya, with tatami mats and wooden furniture. The atmosphere is warm and inviting, and the staff are friendly and attentive.
In 2023, Izakaya Niningashi has continued to be a popular spot for dining out. They have recently introduced a new menu that features seasonal dishes, as well as a wider selection of sake. They are also offering a number of promotions and discounts, making it a great time to visit.
Menu Items:
Yakitori (grilled skewered chicken)
Sashimi (sliced raw fish):
Donburi (rice bowl topped with meat or seafood):
Location: 2 Craig Rd, Singapore 089662
Contact: +65 6970 0224
Website: Website Link Here
---
_

Read Also:

Top 10 Sake Bars to "Kampai" in Singapore

_
---
#4 – The Public Izakaya
Introduction: From Caffehopping.sg
At The Public Izakaya, they believe that food should be fun. That's why they have a large and diverse menu of delicious dishes made with the freshest ingredients, and served in a casual atmosphere where you can relax and enjoy yourself.
The Public Izakaya are not only serving up some of the best sushi in town; they're also offering a variety of other options for those who want to try something new. They offer traditional Japanese favorites like ramen and udon noodles; delicious appetizers like edamame and gyoza; and even comfort foods like chicken karaage or edamame. If you have any dietary restrictions or preferences, don't worry! Ask their staff about special dishes that will accommodate your needs.
Menu Items:
Cabbage Miso ($8.56)
Hamon Serrano Hamu ($11.77)
Ninki-Ichi Sparkling Junmai Ginjyo 300ml ($29.96)
Hanagaki Junmai Nigori 300ml ($40.66)
Location: 100 Tras St, #01 – 09, Singapore 079027
Contact: +65 6604 9622
Website: Website Link Here
---
#5 – Mikoto Singapore
Introduction: from foodadvisor.com.sg
Mikoto is a modern Japanese restaurant located in Singapore. The restaurant offers a unique dining experience with its contemporary Japanese cuisine. The menu features a variety of dishes, from sushi and sashimi to tempura and teppanyaki. The restaurant also offers a selection of sake, shochu, and other Japanese beverages.
The atmosphere at Mikoto is warm and inviting. The restaurant is decorated with traditional Japanese elements, such as tatami mats and shoji screens. The staff is friendly and attentive, and the service is excellent.
Menu Items:
Otoshi ($5)
Mille – feuille of Pork Belly & Chinese Cabbage ($15)
Minced Chicken & Natto Rice with Miso Soup ($9)
KUROKIRISHIMA Sweet Potato Glass ($9-$80)
Location: 60 Robertson Quay #01-12 The Quayside Singapore 238252
Contact: +65 6235 5277
Website: Website Link Here
---
---
#6 – Bōruto
Introduction:
New Japanese tapas and sake bar Bōruto takes up residence in South Bridge Road, just a stone's throw away from the CBD. Styled as a modern izakaya, the double-storey establishment is opened by Chef Patrick Tan, who also owns Tamashii Robataya, the premium Japanese robatayaki restaurant located nearby.
Meaning "vault" in Japanese, the bar's name is a nod to the premise's past life as a bank. Upon stepping in, you are greeted by a feature wall on the left, where huge sake barrels imported from Japan are displayed from floor to ceiling, representing some of the brands carried at the bar. The décor whispers industrial chic; a stylish and inviting interior made cosy with dim lighting, dark wood tables, black leather chairs and steel stools sitting atop a raw, concrete floor accented with brass inlay strips.
Menu Items:
ROASTED SEASONAL VEGETABLES ($8.80)
SURUME AND SHIRAOU KARAAGE ($12.80)
ITS A "LEMON"… ($14.80)
KOSHIJINO-KOBAI JUNMAI GINJO ($78)
MEIKYOSHISUI JUNMAI TARUHI ($98)
Location: 80 South Bridge Road #01-01, Golden Castle Building Singapore 058710
Contact: +65 6532 0418
Website: Website Link Here
---
#7 – Ishinomaki Grill & Sake
Introduction:
Ishinomaki is a grill & sake dining concept offering both authentic robatayaki/ Izakaya dishes and Japanese cuisine pairing with premium sake & shochu in the house.
Ishinomaki Grill & Sake endeavours to play a part in reviving and preserving the city of Ishinomaki by working closely with local Japanese produce purveyors to deliver high quality and fresh seafood and ingredients from Ishinomaki and other parts of Japan.
Menu Items:
Premium Chirashi Ozen ($39)
Nigiri Sushi & Tempura Ozen ($39)
Draft Beer – Suntory Master's Dream half pint ($16)
Nigor Umeshu (9 years aged) (on the rocks / suda / water) ($18)
Location: 390 Orchard Road, B1-02/02A/03 Palais Renaissance, Singapore 238871
Contact: +65 6737 1065
Website: Website Link Here
---
#8 – Jibiru Craft Beer Bar
Introduction:
Maintaining the authentic flavours of Japan, JiBiru serves a menu of yakitori from the Saitama region north of Tokyo, where pork ("yakiton") is used in addition to the traditional chicken. Using award winning sauces directly imported from the Hibiki yakitori restaurants of Higashi-Matsuyama, JiBiru grills only the finest fresh meats including fresh Sakura chicken and high quality Japanese pork, accompanied by a selection of izakaya dishes such as tempura, gyoza and Japanese style curries.
JiBiru Craft Beer Bar brings Japan's exciting artisanal beer experience to the heart of Singapore's Orchard Road. Serving a wide range of hand crafted brews including unique and hard to find brands, JiBiru, meaning "local beer" in Japanese, is a truly unique yet authentic modern Japanese drinking experience.
Menu Items:
Happy Hour Pint (from $12)
US Pint (from $15)
Japanese Curry (from $13)
Tempura (from $8)
Location: 313 Orchard Rd, Singapore 238895
Contact: +65 6732 6884
Website: Website Link Here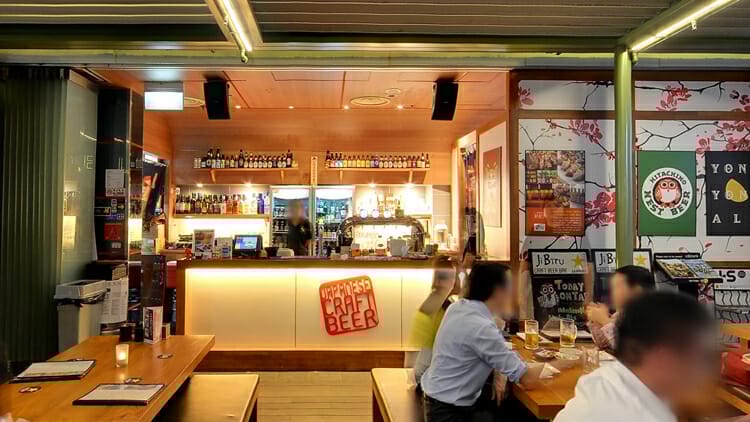 ---
#9 – Shunjuu Izakaya
Introduction:
Shunjuu Izakaya is a Japanese restaurant in Singapore serving an exciting menu of Japanese favorite casual cuisine – Sumiyaki (charcoal-grill). Also known as Japanese Tapas, it is fun to order many small dishes and wash them down with our selection of 60 Nihonshu (Japanese sake) on the menu.
Located in Robertson Quay (minutes walk from Clarke Quay), the unpretentious hideaway is right in front of the Singapore River. Diners can enjoy alfresco dining of Japanese cuisine with a riverfront view.
Menu Items:
Sashimi Gohan Setto ($25)
Wakadori Karaage Don ($13)
Tori Ume Shiso, Tsukune, Tebasaki, Negima, Shiitake ($19)
Kakushi Gura (from $18-$90)
Iichiko (from $14-$70)
Location: 30 Robertson Quay #01-15 Riverside View, S238251 Singapore.
Contact: +65 8427 8155
Website: Website Link Here
---
#10 – Nomiya
Introduction:
Nomiya is a Japanese izakaya and sake bar located in Chinatown, Singapore. It is a popular spot for both locals and tourists, and is known for its delicious food, extensive sake list, and lively atmosphere.
The menu at Nomiya features a wide variety of Japanese dishes, including small plates, skewers, noodles, and rice dishes. Some of the popular dishes include the karaage chicken, the salmon sushi, and the wagyu beef tataki. The sake list at Nomiya is also impressive, with over 100 different sakes to choose from.
Nomiya is a great place to go for a casual meal with friends or a romantic dinner for two. The atmosphere is lively and fun, and the staff are friendly and attentive. Nomiya is also a great place to try sake, as the staff are knowledgeable about the different varieties and can help you choose the perfect one to complement your meal.
In 2023, Nomiya has expanded its menu to include more vegetarian and vegan options. They have also introduced a new happy hour menu, which is available from 5pm to 7pm daily.
Menu Items:
Sashimi Moriawase ($39)
Ikura Negitoro Pie Tee ($17)
Yuzu Soy Mushrooms ($13)
Kaoru Kocha-shu ($12.30)
Sapporo Premium Draft Beer 330ml bottled ($15.30)
Location: 11 Trengganu Street (Chinatown) Singapore 058465
Contact: +65 6232 7827
Website: Website Link Here
---
Conclusion
So there you have it, my friend. You don't need a plane ticket to Japan to experience its pub culture. Just head over to these top izakayas in Singapore and let the good times roll. Tropika Club Magazine's got your back, ensuring you'll have an unforgettable blend of Japanese tradition and Singaporean vibes in each and every sip, bite, and moment. Cheers to a whole new way of experiencing the best of both worlds!
---
Frequently Asked Questions (FAQ)
Q: What is an izakaya?
A: An izakaya is a Japanese-style pub that offers a mix of drinks and delicious small dishes, creating a relaxed and social atmosphere.
Q: Are these izakayas authentic?
A: Absolutely! The featured izakayas blend Japanese tradition with a Singaporean twist, giving you an authentic experience without leaving the country.
Q: What type of food can I expect at these izakayas?
A: You can indulge in a variety of dishes, from classic sushi and yakitori to innovative creations that infuse Japanese flavors with local ingredients.
Q: Do these izakayas serve sake?
A: Definitely! These izakayas offer an impressive selection of sake, ranging from traditional choices to modern and unique blends.
Q: Can I reserve private karaoke rooms at these izakayas?
A: Yes, some of the featured izakayas have private karaoke rooms, combining the lively karaoke culture of Japan with Singapore's musical spirit.
Q: Are these izakayas suitable for intimate gatherings?
A: Absolutely! With their cozy and dim-lit ambiance, these izakayas provide the perfect setting for intimate get-togethers or unwinding after a busy day.
---
Have a Place to Recommend?
Your contribution is valuable to us! Are there any outstanding businesses that you believe should be added to our list? If so, please send your recommendations to us at [email protected]. Tropika Club will review your suggestions and update the list accordingly. Thank you for your help in making our list of businesses as comprehensive and accurate as possible.
---
Meanwhile, Check out Tropika Club's Ecosystem of Websites

Tropika Club Magazine – Tropika Club Magazine is a Singapore-based publication that features articles on a wide range of topics with a focus on local businesses and content for the region. The magazine emphasizes supporting local businesses through its #SupportLocal initiative, which includes coverage of everything from neighborhood hawker stalls to aesthetic clinics in town. In addition to highlighting local businesses, Tropika Club Magazine also covers a variety of local content, including beauty, lifestyle, places, eats, and what's on in Singapore and the Asia Pacific region.
Tropika Club Deals – Tropika Club Deals is a leading online deals and voucher shopping site in Singapore, offering amazing discounts on beauty, wellness, and fitness products and services. It's the perfect platform for customers who want to discover the best deals without having to commit to a specific appointment date and time. These deals are available at major beauty stores, facial salons, hair salons, and other brands in Singapore, with no minimum spend required. Choose from guaranteed discounted deals in the categories of hairstyling, hair removal, facial & aesthetics, body slimming, brows & lashes, nails & makeup, massage & spa or fitness & wellness. Tropika Club Deals is also ideal for customers who want to buy vouchers as gifts or to use for the future. So whether you're looking to save money on your next haircut or want to treat yourself to a relaxing massage, Tropika Club Deals has got you covered with the best voucher and coupon deals in Singapore!