What to Eat at Sentosa Singapore
If you're looking for a delicious place to eat while visiting Sentosa Singapore, look no further! This article will provide you with five great options, all of which are sure to satisfy your taste buds. From traditional Singaporean cuisine to international fare, there's something for everyone at Sentosa. So what are you waiting for? Read on to find out more!
---
#1 – Ocean Restaurant
Introduction:
Resorts World Sentosa (RWS), Asia's premium lifestyle destination resort, is located on Singapore's resort island of Sentosa. Spanning 49 hectares, RWS is home to world-class attractions including Universal Studios Singapore, S.E.A. Aquarium, Dolphin Island and Adventure Cove Waterpark. Complementing the adventure and adrenaline of its theme parks and attractions are six unique luxury hotels, the world-class Resorts World Convention Centre, and a casino. RWS offers award-winning dining experiences and exciting cuisines from around the world across its many renowned celebrity chef restaurants, establishing itself as a key player in Singapore's vibrant and diverse dining scene and a leading gourmet destination in Asia for epicureans. The integrated resort also offers world-class entertainment, from original resident productions to concerts. RWS has been named "Best Integrated Resort" since 2011 for nine consecutive years at the TTG Travel Awards which recognises the best of Asia-Pacific's travel industry.
Born and trained in France, Chef Olivier Bellin began his culinary career as an apprentice in Lycée Le Paraclet, Quimper. He would go on to work with master chefs Joël Robuchon, Jacques Thorel, Jean Coussau and Guy Guilloux. Chef Olivier eventually returned to his parent's inn and transformed it into the famed two Michelin-starred L'Auberge des Glazicks. A dedicated chef with a great fondness for his hometown, his signature dishes often reflect a hint of his beloved Brittany.
A passionate advocate for sustainable dining, Chef Olivier's menus revolve around responsibly sourced seafood and locally farmed produce. His zero-waste approach and use of sustainable ingredients echoes the S.E.A. Aquarium's dedication to ocean conservation.
Chef Olivier strives to create a fully immersive dining experience for his guests as he believes that a good meal should leave a strong, emotional impression from the very first bite.
Menu Items:
Lunch Menu
4 Course Menu $148 / WIne Pairing $78
6 Course Menu $188 / Wine Pairing $128

Starter

Sustainable Hamachi, Seaweed Whipped Cream, Trout Roe
Breaded Frog Leg, Parsley Coulis, Garlic Cloud
Lobster Soup, Poached Lobster, Foie Gras Parfait, Seaweed Dust

Main Course

Seaweed Butter John Dory, Green Bean Puree, Parma Ham, Basil Oil
Duck Breast, Green Pea, Apricot, Jus
Bourguignon Style Wagyu Beef Cheek, Char-Grilled Carrots, Black Garlic, Red Wine Sauce

Dessert

12-hour Marinated Apricot, Basil, Mint, Apricot Sorbet, Almond Crisp, Tuile

Dinner Menu
6 Course Menu $248 / Wine Pairing $148
8 Course Menu $288 / Wine Pairing $198

Cold Starter

Cauliflower Cream, Smoked Ink Sauce, Kaviari Caviar
King Crab, Tarragon, Brick Dough, Corn Soup

Hot Starter

Oyster, Haricot Vert, Basil Oil, Lemon Confit, Sea Urchin Sauce
Grilled Hand-dived Scallops, Celeriac,Lardo di Colonatta, Bottarga
Lobster Raviolo, Granny Smith, Foie Gras, Roasted Shell Sauce

Main Course

Butter-poached Dover Sole
Tomato Marmalade, Trout Roe, Seaweed, Chilled Tomato Sauce
Josper Oven-baked Wagyu Beef, Seared Asparagus, Gherkin, Confit Seaweed Potatoes, Beef Jus

Dessert

Strawberry Pavlova, Diplomat Matcha Tea Cream, Strawberry Sorbet
Location: Equarius Hotel, 22 Sentosa Gateway, B1M, #B1-455 & 456, 098136
Contact: Phone Number: 6577 6869, Email: [email protected]
Website: Website Link Here
---
#2 – table65
Introduction:
Here at table65, you will join us on an award-winning culinary adventure as celebrity chefs Richard van Oostenbrugge and Thomas Groot abandon the formality of the fine-dining experience at table65, without compromising culinary quality or artistry.
Sit at the open kitchen at a communal table and watch as the chefs skilfully prepare their modern-European signatures and re-interpret lobster, caviar, foie gras and more within the casual fine-dining experience. Attention to detail on the palate is applied to the combining of colours, shapes and textures to create a work of art or mini sculpture in every dish.
The signature 'Apple' dessert, a sculpted sorbet "apple core" encased in a gorgeous sugar glass bubble is virtually a given on your menu order, but there are many more surprises and delights waiting to excite your senses.
Menu Items:
LUNCH MENU
Amuse- bouche table65
Poached langoustine, coffee and lemon, dashi Albufeira, katsuobushi
Duck breast from Toh Thye San farm, confit of duck leg and chestnut
Cacao Leaf, Dominican chocolate, sea buckthorn, marigold
SET MENU
Amuse-Bouche
Ceviche of sea bass with tiger milk and kaffir lime
Fluffy egg "Soufflé", vin jaune with bacon and black truffle
Turbot 'Bordelaise' bone marrow, onion, and swiss chard
Roasted Duck from Toh Thye San farm, confit leg, braised daikon and foie
OR
A4 Kagoshima wagyu striploin oyster and caviar
($70 supplement)
Apple, salted caramel, puff pastry and walnut
Signature Cocktails
Table65 Spiced Punch

Spices l Red wine l Antica formula l Orange l Dutch secret

Bleu Fairy

Chartreuse Verte l Absinthe l Blue Curacao l Lemon

Transcendence

Rice wine infused with Grains of Paradise l Aloe Vera l Lime

Love without B…..

Crema de Mezcal l Lychee l Lemon l Hibiscus l Honey

My Asian Crown

Cherry l Gin l D.O.M Benedictine l Cointreau l Butterfly pea

Yin

Yuzu l Dessert wine l Red Dragon fruit l Lemon

Aphrodite

Lychee l Dessert Wine l Cranberry l Lemon l Agave syrup

Negroni table65

Mezcal l Campari l Antica Formula

Wŏ Ài Nĭ

Cardamom Bourbon l Chartreuse Jaune l Antica Formula

Heavens eye

Gin l Lemon l Star Anise l a pinch of magic

Mon Chéri

Chambord l Don Julio Reposado l Pommegranate l Lemon
Location: 26 Sentosa Gateway, #01-104 & 105 Hotel Michael, 098138
Contact: +65 6577 7939
Website: Website Link Here
---
---
#3 – Osia Steak & Seafood Grill
Introduction:
If you have an appetite for succulent Australian prime beef and the freshest seafood, all colourfully plated to perfection, Osia Steak and Seafood Grill certainly won't disappoint. This award-winning, casual fine-dining restaurant offers a decadent selection of the finest, freshest ingredients grilled and roasted in a stone hearth oven to bring out maximum flavour.
Signature dishes include Stockyard Beef's colossal 1.5kg ribeye tomahawks, Mayura Station's lucious Matsusaka full-blood Wagyu ribeye MS8+, grilled lobsters and Skull Island king tiger prawns. Savour these succulent delights along with a remarkable selection of Antipodean wines, enjoyed in good company in a convivial atmosphere.
Menu Items:
Set Lunch
Beverage Recommendations
white or red wine (12cl)
gamet nv brut" champagne (12cl)
lunch mocktail
little creatures pale ale (33cl)
Starters
[add on] start with 3pcs of fresh oysters
rocket salad
coppa ham, manchego, quince paste
OR
rockliff spanner crab
compressed watermelon, tarragon mustard
[add on] soup of the day to complement the meal
Desserts
mango passion fruit cake with lime ice cream
OR
cheese selection with sesame lavash
Set Dinner
akami tuna – guacamole, grilled pimentos pepper, lemon myrtle dressing
[add on] king scallops – salted cod brandade, granny smith, verjus sauce
salad of smoked duck – ice plant crystalline, berry compote
poached barramundi – zucchini, flat parsley, warm citrus vinaigrette
OR
australian "2gr" full blood wagyu striploin – mushroom potato gnocchi, parmesan foam, smoked tomato jus
osia toddler menu
for all your lovely kids of six years or under
Penne Pasta
chicken breast, parmesan cheese, tomato coulis
OR
breaded fish fillet
potato wedges, romaine salad, lemon,
tomato mayonnaise
OR
grilled beef skewer
sweet potato mousseline, mesclun salad,
citrus vinaigrette
Ice Cream
honey comb, vanilla sauce
Location: 26 Sentosa Gateway, Festive Walk, #02-140 & 141, 098138
Contact: +65 6577 6560
Website: Website Link Here
---
_

Read Also:

The Amazing Powers of Hyaluronic Acid for Your Skin
---
#4 – Syun
Introduction:
The pinnacle of Japanese fusion fine dining, skilfully presented as a culinary work of art.
Indulge in exquisitely plated fresh sushi, sashimi and exceptional cuts of meat flown in fresh from Japan and expertly paired to bring out the distinct natural flavours of each quality ingredient. Sample gourmet fusion delights and culinary artistry that is the work of Hal Yamashita, the master and creator of nouvelle Japanese cuisine.
Menu Items:
JYU-BAKO SET
Kurobuta-pork Don with Ginger Sauce and Spicy Mayo (Served with Chawanmushi and Miso Soup)
HAL YAMASHITA Tokyo Premium Beef Curry (Served with Chawanmushi and Miso Soup)
Kaisen Bara Chirashi Sushi Jyu (Served with Chawanmushi and Miso Soup)'
Charcoal Grilled Unagi and Foie Gras Teriyaki Jyu (Served with Chawanmushi and Miso Soup)
PREMIUM SET
Charcoal Grilled Tajima Wagyu Beef and Kaisen Jyu (Served with Chawanmushi, Miso Soup and Dessert)
Premium Sushi and half roll (9 types) (Served with Chawanmushi, Miso Soup and Dessert)
Syun Premium Bento Box
Tajima Wagyu, Sashimi (5 types) and Assorted Sushi (3pcs) (Served with Chawanmushi, Miso Soup and Dessert)
A LA CARTE
Omi Beef and Sea Urchin rolls topped with Smoked Caviar (2pcs)
Chef's Selection of Premium Nigiri Sushi (7pcs)
Chef's Selection of Sashimi (3 types)
Chef's Selection of Sashimi (5 types)
DINNER MENU
APPETIZER
Chawanmushi
Grilled Edamame with Truffle Salt
Fried Tatami Iwashi (Dried Baby Sardine)
Dried Puffer -Fish
Kagoshima Kurobuta Pork Ginger Salad
MAIN DISH
Grilled Salmon with Saikyo Miso and Parmigiano
Kampung Chicken Skewer with Yuzu Ginger Sauce
Kagoshima Black Pork Cutlet with Red Wine Miso Sauce
Double Steamed Unagi Fillet with Teriyaki Sauce
Grilled Fish Head Kabuto Yaki
Choice of Sea Bream, Salmon, Yellow Tail
Kagoshima A4 Wagyu Beef Marinated with Kome-Koji
Sake Kasu Sauce – 80g
RICE & SOUP
Steamed Japanese Rice
SYUN Miso Soup
Fried Rice
HAL YAMASHITA TOKYO Premium Mini Beef Curry
Mini Bara Chirashi
SASHIMI
Scallop
Salmon
Seabream
Salmon Roe
SUSHI
Salmon
Amberjack
Seabream
Salmon Belly
SUSHI ROLL AND HAND ROLL
Mini Cucumber Roll
Mini Salmon Roll
Mini Tuna Roll
California Hand Roll
DESSERT
Homemade Sasho Pepper – flavoured Ganache
Black Sesame Sasa-shigure Mochi (2 pcs)
Japanese Hojicha Blancmange
JAPANESE SAKE
HOT SAKE
Miinokotobuki Biden Yamahai Junmai
Ookarakuchi (Dry)
Kariho Yamahai Junmai Chokarakuchi (Dry)
COLD SAKE
Tatenokawa Shuryu Junmai Daiginjo
Gasanryu Kisaragi Daijinjo
SHOCHU
JAPANESE WHIKSY
Suntory Hibiki Harmony
Suntory Yamazaki 12 Years
Location: Sentosa Gateway, 098138
Contact: +65 577 6867
Website: Website Link Here
---
#5 – Fratelli
Introduction:
Fuel up with an indulgent breakfast of local and Western delights.
Fratelli is the place for a hearty breakfast and is a popular destination for our guests as they get ready to start the day. The menu is designed to appeal to the palate of all guests. Select from local, Western and Vegetarian sets as well as healthier choice options.
Breakfast favourites include Steamed Char Siew Bun; Seafood Porridge; Scrambled Eggs, Bacon and Hash Brown; Fresh Fruits; Chia Seeds, Granola and Fruit Yoghurt and Hot Oatmeal with Raisins and Walnut for a great way to fuel up for an amazing day exploring Resorts World Sentosa.
Menu Items:
Breakfast Menu
American Breakfast
Continental Breakfast
Asia Breakfast
Healthy Breakfast
A La Carte
Beverage
Black Coffee
Espresso
Cappuccino
Latte
Tea
English Breakfast
Earl Grey
Sencha
Moroccan Mint
Chamomile
Location: 26 Sentosa Gateway, #02-144 Hotel Michael, 098138
Contact: +65 6577 6555
Website: Website Link Here
---
---
#6 – Sabio By The Sea
Introduction:
Step into Singapore's first restaurant specialising in Pisan cuisine and savour a sumptuous spread of artisanal dishes featuring the true flavours of Italy like handmade pasta, divine seafood and more. Made from ingredients imported directly from Pisa and the surrounding region of Tuscany, these rustic dishes are designed to give you an authentic experience of Pisan cuisine at its finest.
To make your meal truly memorable, pair it with celebrated Super Tuscan wines direct from Pisa, and classic Italian cocktails.
Menu Items:
Lunch menu
3 Course Choice of Antipasto, Pasta or Secondi, Dolce $48
4 Course Choice of Antipasto, Pasta, Secondi, Dolce
Antipasti
Burratina
Caprese
Baccalà e Ceci
Pappa al Pomodoro di Mare
Panzanella
Pasta & Risotto
Fusilli di Pisa
Fusilli di Pisa
Casarecci
Reginette
Risotto Nero
Orzetto
Secondi
La Tagliata
Merluzzo
Porchetta di Buti
Dolci
Ricotta & Ciliegie
Torta co' Bischeri
Affogato 'Pisano'
Dinner Menu
Antipasto
Burratina

Burrata cheese, served in signature pesto, aged balsamic vinegar
vine ripened tomatoes, rucola, ice plant
NV. Pizzolato, Spumante Prosecco Brut

Zuppa
Carote

Spiced carrot soup
Marinated sea scallops, rosemary croutons, grated Italian truffle

Pasta
Spaghetti

Spaghetti pasta served in langoustine sauce
Langoustine tails, artichokes, Colonnata lardo ham
2019 Corte Giara Soave Allegrini

Secondo
Merluzzo

Atlantic cod fish in rich spicy tomato sauce 'Livornese'
Garlic mashed potatoes, olives, marinated tomatoes
OR
La Tagliata

Grilled Black Angus striploin "Tagliata" served with truffle sauce
Caramelized red onions, sautéed porcini "Trifolati", seasonal Italian truffle

Dolce
Torta co' Bischeri

Pontasserchio rich 70% dark chocolate & risotto cake
Raisin, pine nuts, candied fruits
Beverage and Wine Menu
Cocktail Gls
Aperol Spritz
Bellini
Negroni Sbagliato

Campari, Sweet Vermouth, Prosecco

Americano

Campari, Sweet Vermouth, Soda

Cardinale
Sgroppino

Vodka, Prosecco, Lemon Sorbet
Mocktail
Ambra

Orange, Raspberry Syrup, Sparkling Water

Delizia

Strawberry, Lime Juice, Soda

Vento

Passionfruit, Orange, Lime Juice, Tea
Location: 31 Ocean Way, #01-02, 098375
Contact: +65 6690 7568
Website: Website Link Here
---
#7 – Trapizza
Introduction:
rapizza is a casual Italian eatery located on Siloso Beach, just a 5-minute walk from the resort.
With a large dining space and a bold menu featuring authentic, hearty Italian fare as well as creative re-interpretations of classic cocktails, Trapizza assures diners a memorable dining experience.
Helmed by Native Italian Chef, Alessandro Delle Cave, who brings with him authentic flavours from Italy, long-time fans of Trapizza will be pleased to enjoy our signature thin-crust pizzas, pastas and desserts.
Menu Items:
Salad
Siloso prawn salad
Protobello salad
Panzanella salad
Ceaser salad
Pizza
Pizza porcini
Pizza italia
Pizza mediterranean
Pizza siciliana
Antipasti & Insalate
Fettunta bruschetta
Melon & Proscuitto ham
Crispy fried calamari
Pasta & Risotto
Trapizza linguine
bucatini vongole
Spaghetti aglio olio
Dessert
Cannoli
Lava cake
Tiramisu
Strawberry panna cotta
Location: 10 Siloso Beach Walk, 098995
Contact: +65 6376 2662
Website: Website Link Here
---
#8 – Coastes
Introduction:
Situated along a golden stretch of Sentosa's Siloso Beach, Coastes beach bar & restaurant offers a rustic charm and casual, laid-back beach vibe where the sunbeds and deck chairs flow right to the water's edge. A stone's throw away from Sentosa Beach station, this unique & breezy beachside restaurant in Singapore has it all – from premium beers, house pour spirits and beach cocktails to delicious beach food, desserts and ice cream. This sea-view restaurant in Sentosa is your ultimate escape from the hustle & bustle of the city.
Menu Items:
Beach Breakfast
Coastes Signature Breakfast
Fluffy Pancake Or Crispy Golden Waffles
Fresh Croissants
Homemade Granola with Greek Yoghurt & fresh Summer Berries
Salad & Starters
Coastes Garden Salad
Greek Salad
Chilled Tiger Prawn & Avocao Salad
Beach Bun
Ayam Panggang Burger
Premium Angus Beef Burger
Impossible Burger
Sandwishes
Grilled Ham & Cheese Sandwish
Smoked Chicken & Avocado Ciabatta
Pasta & Risotto
Penne Bacon Amatriciana
Impossible Beef Bolognese
Pizza
Margherita
Chorizo & cheese
Hawaiian
Forest Mashroom & Pocini
Seafood
Salmon Gravlax
Wine Poached Tiger Prawns
Japanese Scallops
Fish & Chips
Location: 50 Siloso Beach Walk, #01-06, 099000
Contact: [email protected]
Website: Website Link Here
---
#9 – Feng Shui Inn
Introduction:
Be inspired by the culinary delights of Chef Li's menu, showcasing Cantonese cuisine at its finest, with dishes created before you in an open kitchen. Watch in wonder as his maestro chefs prepare decadent dishes from the freshest ingredients. From freshly made dim sum to stir-fried dishes infused with 'wok hei', succulent roast meats to nourishing double-boiled soups, every recipe is a tribute to authentic Cantonese cooking the way it should be.
Complement your exquisite culinary experience with a rich tea menu and your choice from a delectable selection of fine wines, champagnes and spirits.
Menu Items:
Classic Dim Sum Set Menu
Dim Sum Platter

Chef's Special Daily Soup
Sautéed Roasted Pork Belly with Red Onion
Wok-fried Rice with Egg White and Scallop
Black Sesame Paste with Black Glutinous Rice and Ice Cream
Dinner Menu
Braised Australian 6-Head Abalone with Crispy Japanese Style Prawn
Chef's Special Daily Soup
Steamed Atlantic Cod and Shredded Kurobuta Pork
Kampung Chicken Fillet in Singapore Style Chili Sauce
Wild Fungus Wok-fried Rice with Pickled Olive Vegetables
Black Sesame Paste with Black Glutinous Rice and Ice Cream
Desserts
Mango Pomelo Sago Cream with Ice Cream
Black Sesame Paste with Black Glutinous Rice and Ice Cream
Osmanthus Jelly with Diced Apple
Chef's Special Chuan Bei Herbal Jelly with Manuka Honey
Beverage Menu
Jasmine Pearl
Imperial Pu Er
Ah Li Shan Oolong
Eight Treasures
Wu Yi Red Robe
Long Jing Tea
Location: 8 Sentosa Gateway Equarius, Hotel, Lobby Resorts World Sentosa, 098269
Contact: +65 6577 6599
Website: Website Link Here
---
#10 – The Kitchen Table
Introduction:
Experience the good life at W Singapore – Sentosa Cove, where destination dining centers on inventive cuisine and craft cocktails. Enjoy innovative takes on world cuisine at the kitchen table and the quintessential Champagne brunch, or visit SKIRT, known as one of the best restaurants around the island for steak and sustainable seafood. Partake of dynamic concoctions at WOOBAR and WET pool bar. Wherever you choose to satisfy your appetite, W Singapore – Sentosa Cove takes dining in Sentosa to a new level.
Menu Items:
Appetizer
From The Parrilla Grill
Brandt USDA Prime Grain-fed Flat Iron Fillet
Something On The Side
Lobster, Pork Mac & Cheese
Olive Oil Mashed Potato
Truffle Fries
Keeping It Small
Kale Ceasar Salad
Heirloom Tomatoes & Burrata
Pork & Chicken Satay
Cocktails
NEGRONI TWIST
O.G. OLD FASHIONED
MOD-TINI
Wines
White Wine
Bubbly
Red Wine
Location: 21 Ocean Way, Sentosa, 098374
Contact: +65 6808 7268
Website: Website Link Here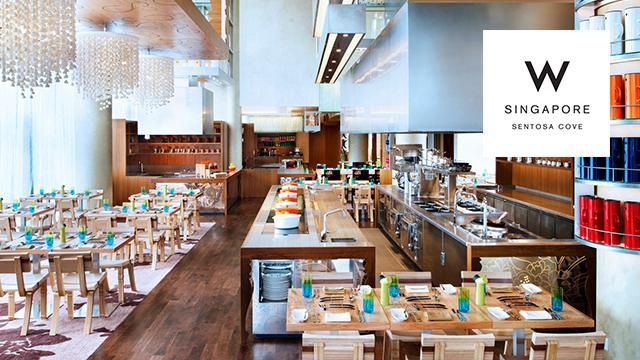 ---
Have a Place to Recommend?
Your contribution is valuable to us! Are there any outstanding businesses that you believe should be added to our list? If so, please send your recommendations to us at [email protected]. Tropika Club will review your suggestions and update the list accordingly. Thank you for your help in making our list of businesses as comprehensive and accurate as possible.
---
Meanwhile, Check out Tropika Club's Ecosystem of Websites

Tropika Club Magazine – Tropika Club Magazine is a Singapore-based publication that features articles on a wide range of topics with a focus on local businesses and content for the region. The magazine emphasizes supporting local businesses through its #SupportLocal initiative, which includes coverage of everything from neighborhood hawker stalls to aesthetic clinics in town. In addition to highlighting local businesses, Tropika Club Magazine also covers a variety of local content, including beauty, lifestyle, places, eats, and what's on in Singapore and the Asia Pacific region.
Tropika Club Deals – Tropika Club Deals is a leading online deals and voucher shopping site in Singapore, offering amazing discounts on beauty, wellness, and fitness products and services. It's the perfect platform for customers who want to discover the best deals without having to commit to a specific appointment date and time. These deals are available at major beauty stores, facial salons, hair salons, and other brands in Singapore, with no minimum spend required. Choose from guaranteed discounted deals in the categories of hairstyling, hair removal, facial & aesthetics, body slimming, brows & lashes, nails & makeup, massage & spa or fitness & wellness. Tropika Club Deals is also ideal for customers who want to buy vouchers as gifts or to use for the future. So whether you're looking to save money on your next haircut or want to treat yourself to a relaxing massage, Tropika Club Deals has got you covered with the best voucher and coupon deals in Singapore!