5 Amazing Cake Shops with Delicious Cakes.
Nothing beats the Circuit Breaker blues with a good ol' slice of cake. A celebration at home can still be a special memory with these 5 amazing cake shops for the Circuit Breaker, recommended by the team at Tropika Club.
No Time to Read? Here's a Snappy Summary of This Article
Heavenly Delights Bakery: Indulge in a delightful array of cakes with exquisite flavors and heavenly taste.
Sweet Treats Patisserie: Experience a sweet wonderland of creatively crafted cakes that will satisfy your dessert cravings.
Cake Paradise: Discover a paradise of cakes with a diverse selection of mouthwatering options for every taste bud.
The Cake Co.: Delight in the scrumptious offerings of The Cake Co., known for their delicious and visually stunning cakes.
Sugar Dreams Bakery: Treat yourself to dreamy cakes made with love and the finest ingredients, leaving you wanting more.
---
1. Lola's Café
If you're a native of Serangoon, Hougang, and Kovan native, you've probably heard of this café before. Lola's Café affordable, scrumptious fare has graced the pages of prominent food blogs, such as Miss Tam Chiak and Ladyironchef. Their cake delights include the Lychee Rosewater Cake and Lola's Chocolate Cake. See if you can catch their Seasonal Feature Cakes during the Circuit Breaker too!
Delivery Fee: Free islandwide delivery with orders over $80. For orders less than that, you can just pick it up at the café.
Check them out at:
5 Simon Road, Singapore 545893
+65 6284 0349
---
2. Ugly Cake Shop
Their cakes are anything but! They chose that name because they avoid artificial coloring and flavors, fondant (because it's too sugary), and gum paste, making their cakes 'uglier'. Expect fresh, balanced flavours with the high-quality, natural ingredients they use.  
And when you're satisfying your sweet tooth with the Ugly Cake Shop, you'd be supporting undernourished children in Timor-Leste too. They actually send part of the profits to fund a school's nutrition fund in Timor-Leste. 
Delivery Fee: $20.50. The fee is waived for orders over $300 (terms & conditions apply). They need 3 days' notice if you're ordering their cakes.
Check them out at:
535 Kallang Bahru, GB Point, #01-06, Singapore 339351
+65 8228 8300
---
3. Ciel Pâtisserie
For a taste of French heaven, try CIEL Pâtisserie, a hidden gem tucked away in the quiet of Hougang, CIEL is actually French for 'sky' or 'heaven'. The owner, Chara, graduated from the esteemed French culinary arts school, Le Cordon Bleu Paris. Then she apprenticed with the legendary Parisian delicatessen–Fauchon. And now you can savour her sublime creations as you snuggle in bed.
Delivery Fee:  $20 per order, with a $10 surcharge for deliveries to Sentosa.
Check them out at:
#01-1444, 124 Hougang Ave 1, Singapore, 530124
+65 6383 0803
---
---
4. Cupplets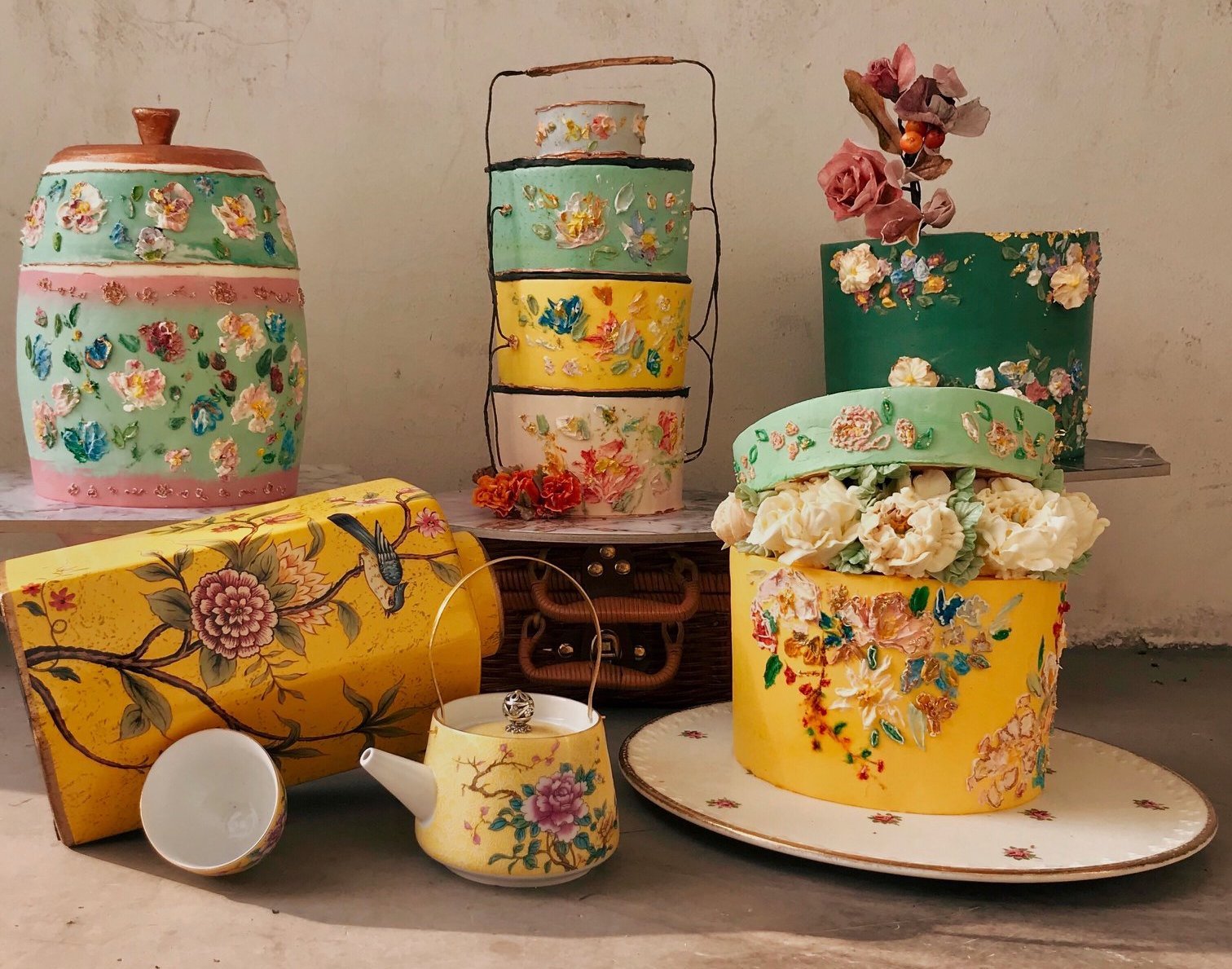 Another amazing cake shop for your consideration during the Circuit Breaker. The artisans at Cupplets find inspiration in paintings, nature, and flowers. So each and every one of their creations is exquisite; blooms and elegant strokes of watercolors paper over them. The flavours are just as intricate: lychee rose, lemon & lavender, raspberry red velvet.
Delivery Fee: $15 for Standard Delivery. They need 3 days' notice if you're ordering their cakes.
Check them out at:
Newest, 1 West Coast Drive, Singapore 128020 *by appointment only 
---
5. Butter Studio
Butter Studio serves up a generous dollop of Halal-certified goodness. They're masters of switching up trendy ingredients with flavours we know and love, creating soulful thrills like salted caramel & red velvet and hazelnut praline butterscotch. Their new Ondeh Ondeh cake has gula-Melaka infused cream cheese frosting in between layers of Pandan cake. Topping it all off is a sprinkling of desiccated coconut.
With one bakery café at Rochor and 3 retail outlets at Tampines, Orchard, and Bugis, getting delectable cakes during the Circuit breaker is a breeze. And now you can add your own twist to their flavours too! They came up with the Stay-Home DIY Cupcake Boxes for the whole family to have fun and create your own whimsical creations to beat the Circuit Breaker glum.
Delivery Fee:  Free delivery with minimum orders of $100.  
[PROMO] $5 Delivery Charge with minimum orders of $30! 
Check them out at:
Conclusion
Alright, listen up! I've got some mouthwatering cake news for you! If you're a dessert lover like me, you're gonna love these 5 amazing cake shops with the most delicious cakes ever.
First up, we have Heavenly Delights Bakery. And let me tell you, their cakes are pure heaven! With a wide range of flavors to choose from, you're in for a treat. Whether it's a classic chocolate cake or a unique fruit-infused creation, they've got it all.
Next on the list is Sweet Treats Patisserie. This place is like a sweet wonderland! They take cake decorating to a whole new level. From elegant wedding cakes to fun birthday designs, their creativity knows no bounds. And the best part? Each slice tastes as good as it looks!
Now, brace yourself for Cake Paradise! Trust me, this place lives up to its name. It's a true paradise for cake enthusiasts. Their selection is mind-boggling – you'll be spoiled for choice. And the flavors? Oh boy, they'll take your taste buds on a flavor journey like never before!
Oh, but wait, there's more! The Cake Co. is up next, and let me just say, they've got some serious cake game. Their cakes are not only delicious but also visually stunning. You won't be able to resist taking pictures before devouring them. They know how to make a cake that's almost too pretty to eat – almost!
Last but not least, we have Sugar Dreams Bakery. Just the name itself sounds dreamy, right? Well, their cakes are even dreamier! Baked with love and the finest ingredients, you can taste the passion in every bite. Once you try their cakes, you'll be hooked.
So there you have it, my friend – 5 incredible cake shops that will satisfy all your dessert cravings. Whether you're celebrating a special occasion or just want to treat yourself, these cake havens have got your back!
Frequently Asked Questions (FAQ)
1. What are the must-try cake flavors at Heavenly Delights Bakery? Indulge in the best cake flavors at Heavenly Delights Bakery, including their rich chocolate cake, delectable fruit-infused creations, and other delightful surprises.
2. Are there any unique cake designs available at Sweet Treats Patisserie? Explore the enchanting world of cake designs at Sweet Treats Patisserie, where you'll find stunning wedding cakes, fun birthday creations, and more.
3. Does Cake Paradise offer gluten-free or vegan cake options? Cake Paradise caters to various dietary needs, offering a selection of gluten-free and vegan cake options for those with special preferences.
4. What are the signature cakes available at The Cake Co.? Discover the signature cakes at The Cake Co., known for their visual appeal and exquisite taste, including their best-selling creations and seasonal delights.
5. Can I customize a cake design at Sugar Dreams Bakery? Sugar Dreams Bakery offers customization options, allowing you to create a personalized cake design for special occasions, adding a personal touch to your celebration.
6. Which cake shop offers express delivery during the Circuit Breaker in Singapore? Find out which cake shop provides express delivery services during the Circuit Breaker in Singapore, ensuring you can enjoy delicious cakes without leaving your home.
7. What are the top recommendations for cake shops for small gatherings or parties? Discover the top cake shops recommended for small gatherings or parties, perfect for intimate celebrations with loved ones.
8. Are there any seasonal or limited-edition cakes available at these shops? Learn about any seasonal or limited-edition cakes that the featured shops may offer, adding excitement to your cake-tasting adventures.
9. Can I place cake orders online, and is there an option for contactless payment? Explore the convenience of online cake orders and contactless payment options at these cake shops, providing a safe and seamless experience.
10. How can I stay updated on the latest cake promotions and discounts from these cake shops? Stay in the loop on the latest cake promotions and discounts by subscribing to the cake shops' newsletters or following them on social media platforms.
---
Have a Place to Recommend?
Your contribution is valuable to us! Are there any outstanding businesses that you believe should be added to our list? If so, please send your recommendations to us at [email protected]. Tropika Club will review your suggestions and update the list accordingly. Thank you for your help in making our list of businesses as comprehensive and accurate as possible.
---
Meanwhile, Check out Tropika Club's Ecosystem of Websites
Tropika Club Magazine – Tropika Club Magazine is a Singapore-based publication that features articles on a wide range of topics with a focus on local businesses and content for the region. The magazine emphasizes supporting local businesses through its #SupportLocal initiative, which includes coverage of everything from neighborhood hawker stalls to aesthetic clinics in town. In addition to highlighting local businesses, Tropika Club Magazine also covers a variety of local content, including beauty, lifestyle, places, eats, and what's on in Singapore and the Asia Pacific region.
Tropika Club Deals – Tropika Club Deals is a leading online deals and voucher shopping site in Singapore, offering amazing discounts on beauty, wellness, and fitness products and services. It's the perfect platform for customers who want to discover the best deals without having to commit to a specific appointment date and time. These deals are available at major beauty stores, facial salons, hair salons, and other brands in Singapore, with no minimum spend required. Choose from guaranteed discounted deals in the categories of hairstyling, hair removal, facial & aesthetics, body slimming, brows & lashes, nails & makeup, massage & spa or fitness & wellness. Tropika Club Deals is also ideal for customers who want to buy vouchers as gifts or to use for the future. So whether you're looking to save money on your next haircut or want to treat yourself to a relaxing massage, Tropika Club Deals has got you covered with the best voucher and coupon deals in Singapore!
all of the cakes look so amazing!