7 Best Places to Buy Supplements Online in Singapore
The Straits Times Singapore reported that Singaporeans spent a total of S$490 million on supplements in 2017. This expenditure would have gone up significantly in 2020. Many Singaporeans are busy and constantly on the move; hence they generally feel that supplements will help them with their dietary needs. Also, in this COVID-19 situation, there are various news reports advocating tips on using supplements to boost one's immune system during this pandemic. In this quick article by Tropika Club, we share on the seven best places, both large and small, overseas and local, which you can buy quality supplements online at a good price.
---
1. iHerb
In business since 1996, iHerb is run from multiple distribution centres in the United States and Asia. iHerb guarantees that you will receive the best overall value in the world for over 30,000 natural products — all authentic brands sold in the U.S. market. We will also guarantee the delivery of your order. With an inventory turnover rate averaging 8.1 times per year, iHerb is able to offer you the FRESHEST products possible! You can even see the expiration or best-by dates on most products, like holding the actual product in a traditional store.
---
2. Wellaholic
Wellaholic's Health and Fitness Supplements are all made in USA in a FDA-registered and inspected manufacturing facility, with a 80,000 sq feet warehouse and 130 employees. The facility is certified with GMP and NSF and all products are covered with an international liability warranty against product defects.
---
3. The Supplement Warehouse
The Supplement Warehouse Pte Ltd (or TSW), established 2003, is a speciality retailer of sports supplements ranging from whey protein, general nutrition to advanced sports nutritional formula in Singapore. TSW own and manage retail outlets at Circuit Road (MacPherson) and Toa Payoh. Cash, NETs, Amex, Visa, Master are all accepted in all their outlets. They also offer free home delivery* service within the next 1-3 working days for online orders.
---
4. NutriFirst
NutriFirst specialise in sports nutrition & health supplement products mainly from USA, as well as countries like Europe, Japan, Australia & New Zealand. Currently, NutriFirst distributes & retail in countries such as Singapore, Malaysia, Indonesia, Brunei, Thailand, Vietnam, Cambodia, Myanmar & Hong Kong. NutriFirst carries one of the largest range of supplement found in Singapore.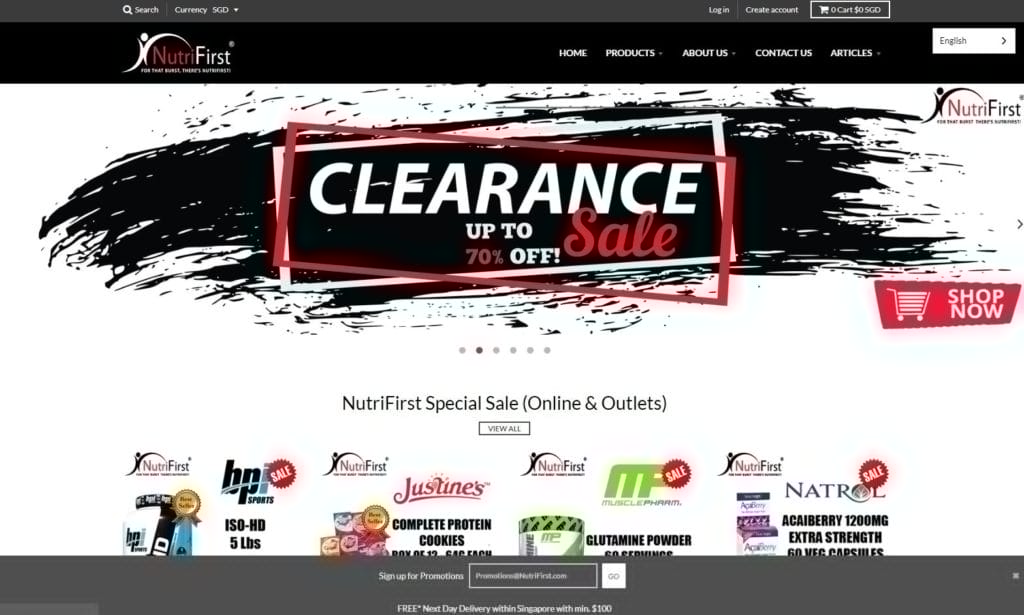 ---
5. Supplement Shop
The Supplement Shop is Singapore's leading online supplements mega store since 2007. They strive to provide high quality products at an affordable price, and also offer customers great value with their SS Reward Points.
---
6. Vitadeals
Thanks to the Internet, for the first time Vitadeals can cut out the middlemen, and deal directly with you, the customer. They are buying in bulk directly from the manufacturers in the USA. By keeping our costs low, and using modern, efficient business practices, they can deliver the products you want, the brands you know, at the almost same price as consumers in the US are paying.
---
7. GNC
GNC is the world's largest chain of health food stores, and has been America's largest nutritional supplement manufacturer since the 1930's. Today, there are more than 8,000 GNC stores worldwide. GNC is the leader in the development and manufacture of dietary supplements and is committed to producing the highest quality products available. Let GNC supplements play a part in your goal towards a healthier and more balanced lifestyle!
---
---
Tropika Club Magazine – Tropika Club Magazine crafts articles on all things Singapore, but with a greater emphasis on local businesses based on our #SupportLocalSG initiative. We check out and feature local businesses of all categories, ranging from your neighbourhood hawker stalls to the aesthetic clinics in town. We also cover local content ranging from beauty, lifestyle, places, eats and what's on in SIngapore. Our Top 10 rankings include local food and service establishments based in different regions in Singapore.
Tropika Club Deals – Search for the best voucher and coupon deals. Tropika Club Deals is ideal for customers who want to discover the best deals without having to commit to a specific appointment date and time. Choose from guaranteed discounted deals in the categories of hairstyling, hair removal, facial & aesthetics, body slimming, brows & lashes, nails & makeup, massage & spa or fitness & wellness. Customers can also buy vouchers as gifts or to use for the future.